FREE PREGNANCY CHALLENGE: say bye-bye to harsh chemicals & toxins.
---
Baby Registry Must Haves: Natural & Non-Toxic
Green Baby Deals is reader-supported. When you buy through links on our site, we may earn an affiliate commission. As an Amazon Associate, we earn from qualifying purchases.  Learn more.
Connect with others from pregnancy through motherhood (on a free app). Join community now.
Woah wait, are you here because you're a first-time mom and totally frustrated with all the things your baby supposedly "needs"?
That's marketing, friend. And overwhelmed and frazzled is exactly how I felt after I realized I was bringing a little bean into the world.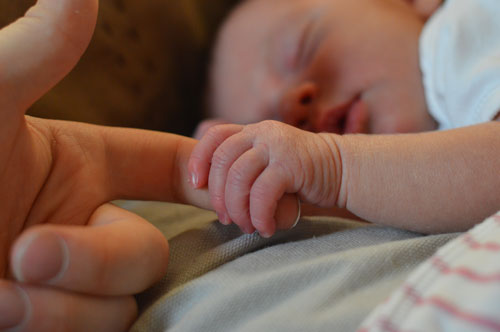 The fact is, I'm pretty simple and low-key with everything else, so why should this be any different?
If you're anything like me, you're in the right spot. I'm going to show you exactly what you need (and don't need) for your little one.
Just like I showed you how to save money on maternity clothes here.
So here it is — the real baby registry must haves. Let's get to it.
What Should I Put on My Baby Registry List?
Most registry checklists have 100+ items. What you truly need is much less. This minimalist baby registry list is under 65 items and includes the newborn stage and beyond.
No guessing games of good, better and best. The list below is minimal, non-toxic and organic where it matters most (like where your baby will sleep).
Reuse & Reduce
People come out of the woodwork when they hear you're expecting. Graciously accept what they give or let you borrow. It can save you tons and keeps it green of course. But use your judgement: some things you'll want to buy new for your baby — like a crib mattress.
Buying new? If you have the room, keep the original packaging. It's awesome for re-selling or donating to help pay it forward.
Take It Personally
Look, I totally get it, we're not all the same. You'll have your personal preferences (e.g. cloth diapering). Use this list as a guide and then go with your (beautiful pregnant) gut.
When Should I Start My Baby Registry?
The typical start time for your registry is around 12 weeks of pregnancy, and it should be completed before your baby shower invitations go out (which is usually around 2-3 months before your baby arrives.)
That's typical. I can tell you in no way was I starting my registry at 12 weeks. That's too many weeks spent on thinking about and shopping for baby stuff!?
C'mon mamas, we've got better things to do with our time. We're growing a baby! We need naps and healthy food and chats with friends.
When you have the Green Your Baby Registry Guide, there's no time wasted. You create it in snap.
Where Should I Start My Baby Registry?
Amazon's Baby Registry still wins at being the best. You can easily find a massive selection of organic and non-toxic baby items. And, you can add items from any online store.
Other Amazon Baby Registry perks:
Get a 10% completion discount or 15% completion discount and 20% off diaper subscriptions for Amazon Prime/Family members (which includes a ton of other perks). Note this discount can only be used once and has a time frame: up to 60 days before or up to 60 days after your baby's arrival date. The completion discount is only valid on selected items in the Baby, Beauty, Grocery, Drugstore, Toys, and Maternity Departments sold on Amazon.com. Even with disclaimers, it's still a fantastic deal.
Amazon supports a lot of small businesses by having their items available that typically wouldn't be an option at big-box stores.
Amazon carries a lot of organic and non-toxic options that big-box stores typically don't carry.
Returns are always easy with Amazon. They have a free 90-day return policy after your due date (Amazon credit).
Group gifting is also an option for those big-ticket items.
Emailing friends and family is a simple way to spread the word about your good news. The registry also includes a convenient "thank you list" feature that tracks gift purchases (needed for baby brain).
Is it Rude to Put Your Baby Registry on the Baby Shower Invite?
To put it bluntly, NO. The main purpose is to receive gifts for your baby! It's also to prepare you best for baby, so that includes getting what you need and want vs. a bunch of random things.
Should I Put Diapers on My Registry?
If you're cloth diapering, 100% absolutely yes. Even if you're not, yes. It gives your friends and family some direction as to which kind you want (i.e. non-toxic).
Let's Do This
All you need to do is check out the awesome natural baby stuff below, then get the Baby Registry guide here.
---
1. SLEEPING Baby Registry Items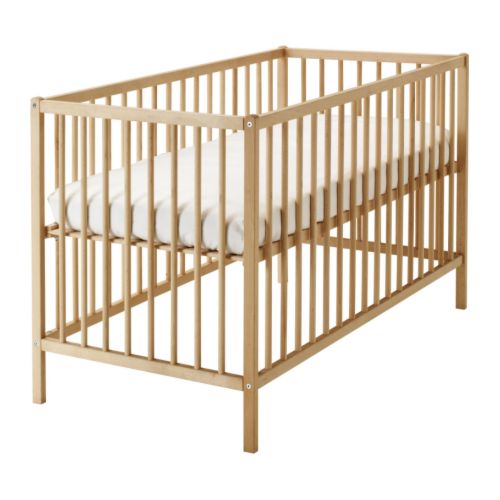 Solid Wood Crib
Keep it simple with the IKEA Sniglar crib. It's the best combination of affordable and non-toxic. Because it's made of solid beech wood, it doesn't have the concern of formaldehyde-filled MDF, particle boards or VOC off-gassing.
Bonus: it's a convertible crib, so you can take off one side and use it as a toddler daybed. Conversion kit included (most other cribs require an additional purchase).
All of this makes it about the cheapest, most non-toxic crib on the market. Your baby won't know the difference between this and a $500 crib.
And remember, when you go with the Amazon Registry, you can easily add this IKEA crib.
---
Crib Mattress with Organic Cover
Put your money where it matters most. You need to avoid polyurethane foam, fire retardants, formaldehyde and VOCs that are lurking in most conventional crib mattresses.
Take the sting out of buying a more expensive organic mattress by choosing the Sniglar crib (above).
Need an in-depth article about why you should spend a little more for a new organic one? Read more about crib mattresses here. Yup, include this in your baby registry.
Benefits of OrganicDream Crib 2-Stage Lightweight Mattress:
100% organic cotton breathable cover
2-stage design — firm support infant side (for safety) & slightly softer for toddler side
Lightweight design for easy lifting & changing sheets
Pure-Air™ Polymer Core made from baby safe, food grade polymer (responsibly sourced)
GREENGUARD GOLD® Certified (strictest safety standards: free of toxic chemicals, VOCs, and phthalates) 
Free of flame retardants, latex, polyurethane foam, soy, Vinyl/PVC, and formaldehyde
100% organic non-toxic and water resistant surface
Safe hypoallergenic design: breathable organic cotton naturally deters mold, dust, and allergen growth
Machine-washable removable cover
Standard Dimensions: 52″ x 28″ x 6″ in (note this will fit your IKEA Sniglar crib as well)
Made in the U.S.A.
The OrganicDream Crib mattress is a perfect balance between safe and affordable. And it includes a 100% organic cotton cover which is wet resistant for up to 16 hours.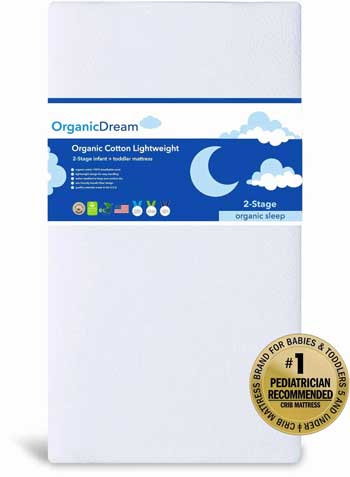 ---
Organic Cotton Swaddle Blankets
Some babies love to be swaddled for sleeping; some don't. Either way, these GOTS certified organic muslin cotton swaddle blankets will be sufficient for swaddling and/or daytime blanket use as they grow.
Swaddling may seem hard and you may be tempted to buy a baby blanket with velcro or something similar, but sleep sacks can get pretty pricey.
Just think about how they did it back in the day. And now we've got YouTube, woah. Find some inspiration here.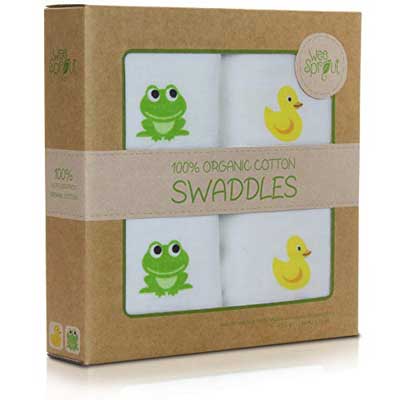 ---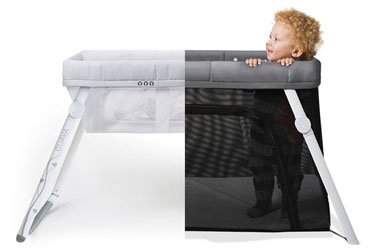 Non-Toxic Bassinet (& Travel Crib)
This is a little pricier, but hear us out:
Save money by combining your bassinet, play yard, and travel crib. Since your baby will spend many hours in this (especially at the beginning), we choose to put our money into one that is super non-toxic.
Remember this: your baby may use this as a play area up to age three. The Guava Lotus bassinet and crib combo is GreenGuard Gold Certified and free of flame retardants, PVC, lead, phthalates, formaldehyde and heavy metals. It also comes with the crib and bassinet mattress.
What's included: a non-toxic travel crib, backpack, crib mattress, bed-level conversion bassinet (rocking or stationary), organic crib sheet, organic bassinet sheet, all for under $350. That's a steal.
One more thought: do you NEED a bassinet? If you have a big enough bedroom, you can have baby sleep in her crib in your room for the first months, then move the crib into nursery. If that works for you, just get the Lotus travel crib for a bit less.
And remember, when you go with the Amazon Baby Registry, you can easily add this Lotus bassinet and crib.
---
Other Items Needed for Sleeping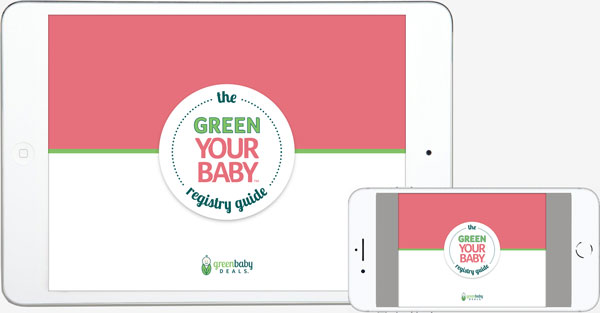 Lovin' the list?
Create your entire natural baby registry without leaving your comfy couch.
---
2. FEEDING Baby Registry Items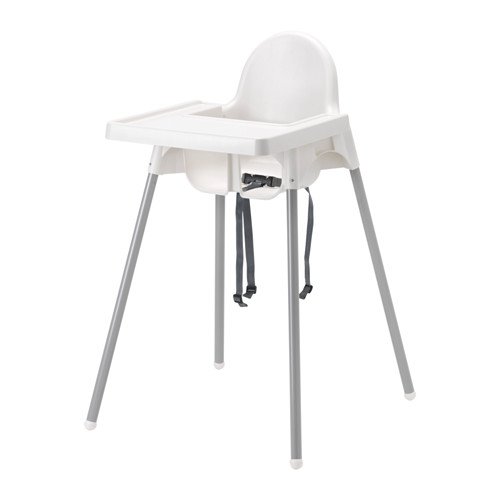 Non-Toxic High Chair
Most wooden high chairs are very nice but come with a hefty price tag of $200+. The IKEA Antilop high chair has everything you need and can't be beaten for the price tag.
It's made of the safe #5 plastic: thick hard polypropylene. Wash with warm soapy water.
---
Safe Dish Soap
Avoid dish soap that's potentially harmful but still gets the job done. The ATTITUDE Non-Toxic Ecologo Certified Baby Dish Soap is free of fragrance, dyes and chlorine. It's also EWG Verified, the highest ranking on EWG. (source)
Use it for everything — from your glass baby bottles to your dirtiest pans. And when you run out? ATTITUDE offers a nice eco-refill option, reducing plastic.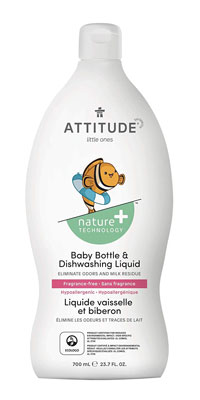 ---
GREENGUARD Gold Nursing Chair & Ottoman
If you can't find a used nursing chair that meets your needs and don't have a suitable chair already, go with a new one that has less-toxic fabric than the rest. The DaVinci Maya Swivel Glider and Ottoman is GREENGUARD Gold certified (meaning it won't emit significant chemical compounds into the air).
It's a great affordable choice between premium non-toxic chairs that'll set you back $2000+, and really toxic crap.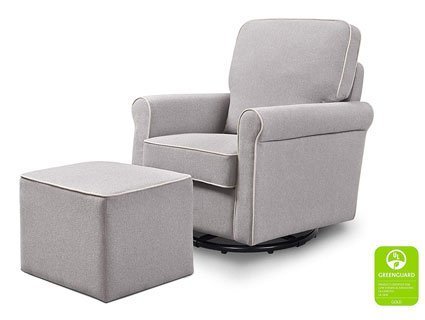 ---
Other Items Needed for Feeding
Join the FREE PREGNANCY CHALLENGE and say bye-bye to harsh chemicals & toxins.
(By entering your email you agree to receive emails from Green Baby Deals. No spam, just awesome. Unsubscribe anytime.)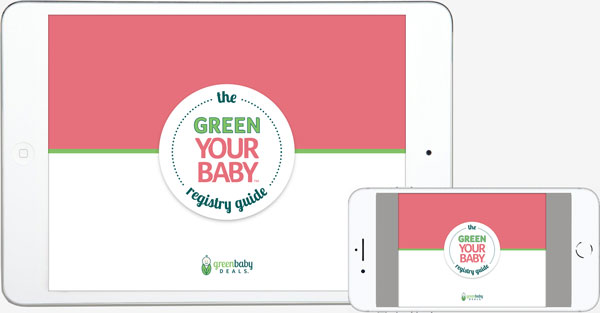 Tired of overwhelming "good, better, best" lists?
I was too, so I made a simple guide. Create your entire natural baby registry without leaving your comfy couch.
---
3. DIAPERING Baby Registry Items
Natural Baby Wipes
In general, the goal is to not use too many wipes — best for the planet and your pocket. It's easy to have some reusable wipes and DIY spray nearby when you're at home. And if you're cloth diapering, just throw them in the wash together.
I love these Charlie Banana Organic Reusable Baby Wipes. Then, use your own spray of water with a little olive oil and natural soap, or get the Noleo Organic 3-in-1 Diaper Lotion (has the best rating on EWG).
But disposable wipes are great to have on hand for daycare use, travel, and maybe even a blowout-poop-where-you-need-so-many-wipes-you-run-out-of-reusable (been there done that). WaterWipes are free of fragrance and alcohol. They contain 99.9% water and a drop of grapefruit seed extract.
Note the wipes do include benzalkonium chloride, which has brought up some concern in the natural mama club. The company's response: "Trace amounts of benzalkonium chloride are a byproduct of the grapefruit seed extraction process…The level of benzalkonium chloride that exists in WaterWipes is extremely small (amounts at or below 0.002%) and has no impact on safety of the product. US/European standards tell us that 0.1% or higher must be declared." I'm ok with this response and feel it's probably a lot less than what's put in alternative options. WaterWipes scores a 1 on EWG.
Tip 1: Because these wipes aren't high in preservatives, use within 30 days of opening and don't store in high heat.
Tip 2: Throw these in the wash with your cloth diapers, then reuse them for a disposable cleaning wipe. See my pile? Awesome (and apparently I'm not cleaning enough).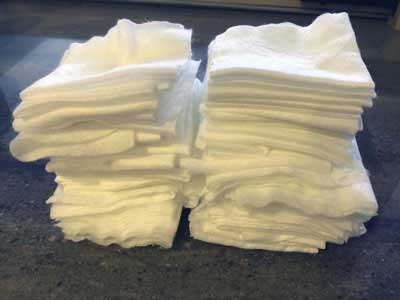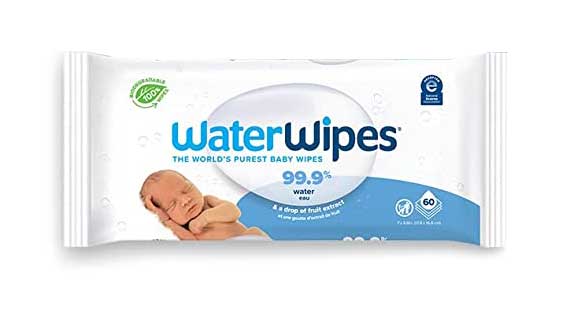 ---
Baby-Safe Laundry Detergent
You need a non-toxic laundry detergent. Molly's Suds Laundry Powder is made without harsh chemicals and carcinogens, but still tough on dirt AND works for cloth diapers.
Skip the laundry detergent that's marketed for babies and use this for your entire family. Read more about safe laundry detergent here.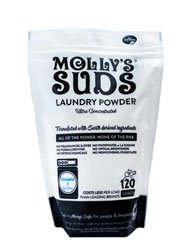 ---
Non-Toxic Changing Pad
Save serious money by taking the changing table off your baby registry checklist. Instead, use a simple changing pad on your dresser. Bonus: it's portable when you need it.
But, do you spring for the $100 organic changing pad? I didn't and here's why: your baby won't be on it for that long. It's not like a crib mattress. I felt comfortable enough putting a few washable covers over it. 
The Sealy changing pad is an affordable choice for a GREENGUARD Gold certified and CertiPUR-US certified safe foam pad. I covered it with changing pad liners and an organic changing pad cover found below.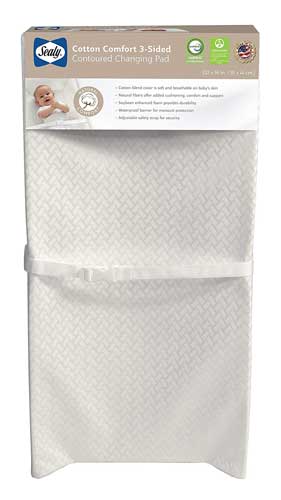 Other Items Needed for Diapering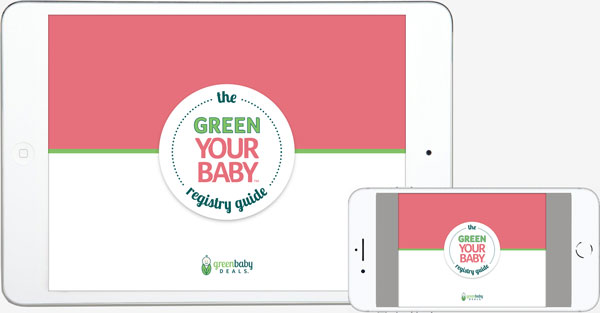 Checklists are for people who like checklists.
Create your entire natural baby registry without leaving your comfy couch (and without a checklist).
---
4. BATHING Baby Registry Items
Non-Toxic Baby Bathtub
There isn't a need for an infant-specific tub for a baby bath when you can have this non-toxic convertible one that will last through toddlerhood. The Primo Euro-Bath baby tub is an affordable, made-in-U.S.A. option that's free of BPAs, PVCs, phthalates and lead.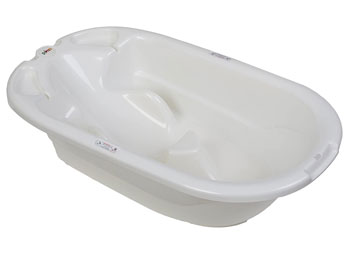 ---
Baby Soap
Babies are pretty clean and don't need much soap. In fact, too much soap will strip your baby's natural oils and will dry out the skin. The all-natural Earth Mama Angel Baby Wash is my favorite for both skin and hair. And don't have sticker stock: the 34 oz. foaming wash lasted over a year for me!
Why you'll love: made without synthetic fragrances, triclosan, phthalates, parabens, harsh sulfates, petrochemicals, petroleum or petroleum byproducts. And the buy in bulk option = less waste of packaging.
Note: this is not a "no-tear" formula (those are typically made with the bad stuff). Use the self-foaming bottle so the wash stays just where you want it, and use extra care around the eyes.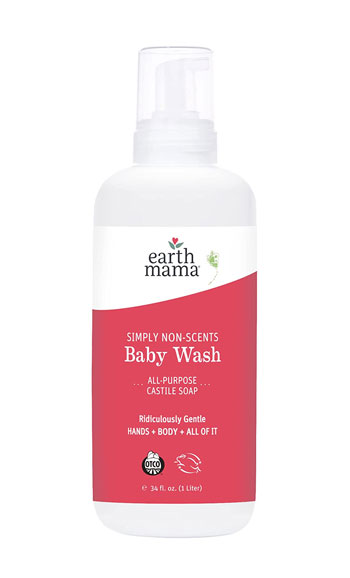 Other Items Needed for Bathing
Organic Bamboo Baby/Toddler Towel — Save money by passing on the small thin infant towels that don't absorb and don't last. This organic bamboo bath towel is super soft, eco-friendly and large enough (35″ x 35″) to be used at least a few years or more. And it still has the hood for cute photo opps with your happiest baby.
Organic Washcloths — Although marketed as wipes, you'll love to keep the Charlie Banana organic cotton soft washcloth within arm's reach to clean your baby's skin. It comes as a handy 10-pack and a percentage of the sale is donated to Operation Smile.
Join the FREE PREGNANCY CHALLENGE and say bye-bye to harsh chemicals & toxins.
(By entering your email you agree to receive emails from Green Baby Deals. No spam, just awesome. Unsubscribe anytime.)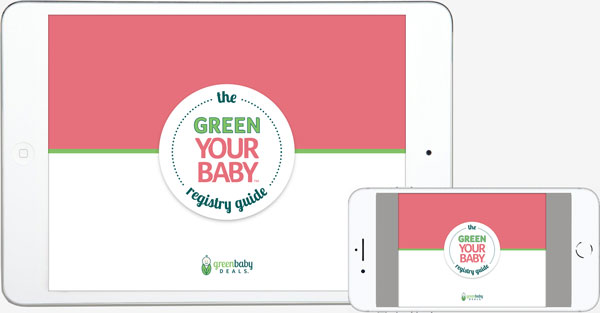 Create your entire baby registry faster than a crawling baby.
Say goodbye to silly checklists and the dreaded "good, better, best" lists.
That's all confusing when you need simple, non-toxic solutions for your baby.
---
5. TRAVELING Baby Registry Items
Non-Toxic Convertible Car Seat
Save serious cash and waste by skipping the infant car seat and going straight to a convertible. Better yet, the Britax One4Life ClickTight All-in-One Car Seat goes from 5 lb. to 120 lb., has a steel frame and is safe to use for 10 years. It also has a fantastic maximum rear-facing weight of 50 lbs. (rear-facing is 5x safer, so the longer your baby can sit rear-facing, the better). I personally didn't miss the infant car seat.
Make sure you get the Otto SafeWash fabric, which is a great choice for a non-toxic car seat without flame retardants. It's removable and safe for up to 30 washes (you'll need it).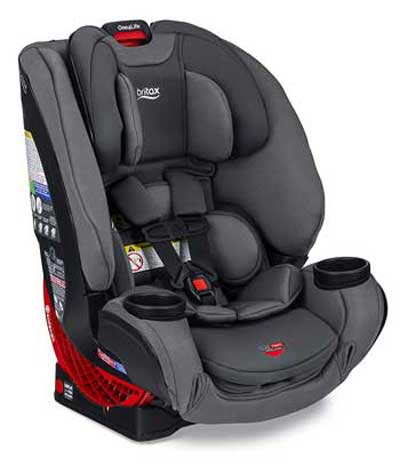 ---
City Mini GT Stroller
Although the City Mini is a little pricier, it will last throughout your baby years and has excellent resale value.
Here's what's great about this baby gear:
Easily reclines for an infant (no infant carrier needed)
All-terrain wheels
A legit, large sun canopy
Light-weight and easy-to-fold
Super easy to push and turn, even on grass
You don't need the latest and greatest with a stroller. Save a ton and get a used older model locally or online: it's still awesome (just be sure to check for recalls).
The City Mini GT is free of flame retardants, PVC, BPA, latex, Teflon, phthalates, AZO dyes and Scotchguard.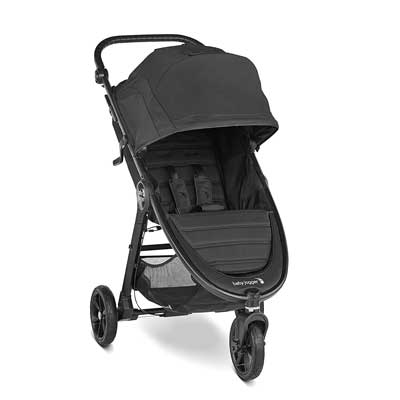 ---
Soulsten Diaper Bag Backpack
Since your baby won't be nestled up to the diaper bag, an organic one isn't worth the cost.
Skip the typical diaper bag and get yourself a backpack. Because the weight is distributed better, backpacks are so much better for your body.
It's made with a waterproof oxford canvas fabric with 15 compartments (yup, you'll need them all).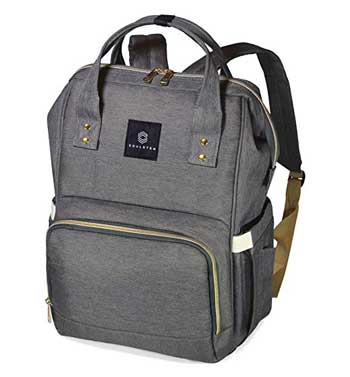 ---
Other Items Needed for Traveling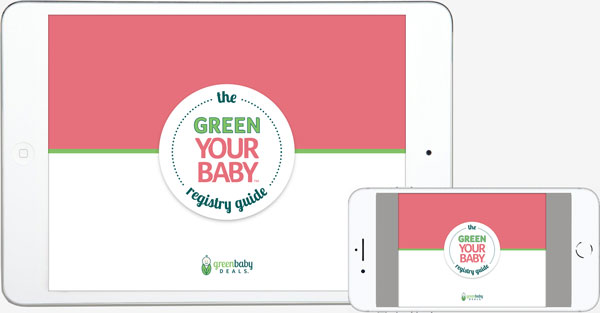 Do countless hours of RESEARCH give you the heebie-jeebies?
That's how I felt and I knew there had to be a better way. Create your entire natural baby registry in a snap.
---
6. HEALTH & SAFETY Baby Registry Items
That's all for now, hope this helps! Get the entire natural baby registry guide here.
If you want to start slower, check out the interactive PDF baby registry checklist here and some cool baby names here. Peace, love and baby kicks.
Care to share?
Jen Brady — Chief Green Mama
Mom of two. Wife of one. Holistic nutritional consultant. Amateur biohacker. Guide of the Green Yourself Pregnancy Challenge. Author of the Green Your Baby Registry Guide.
I'm wild about pregnancy and babies (in a sane way) and I need to steer you away from harsh chemicals and hormone disruptors. Stick with me to keep it lean and green.