FREE PREGNANCY CHALLENGE: say bye-bye to harsh chemicals & toxins.
---
Baby Registry Checklist PDF
Green Baby Deals is reader-supported. When you buy through links on our site, we may earn an affiliate commission. As an Amazon Associate, we earn from qualifying purchases.  Learn more.
Connect with others from pregnancy through motherhood (on a free app). Join community now.
Hello there and congrats on the future arrival of your baby!
I can tell you it's a fun & wild ride. Below is a baby registry checklist PDF to help you get started. It's printable and interactive — so you can check off items as you go. It also includes blank spots to add in other items.
I focus on natural and non-toxic. Because it's a little baby after all.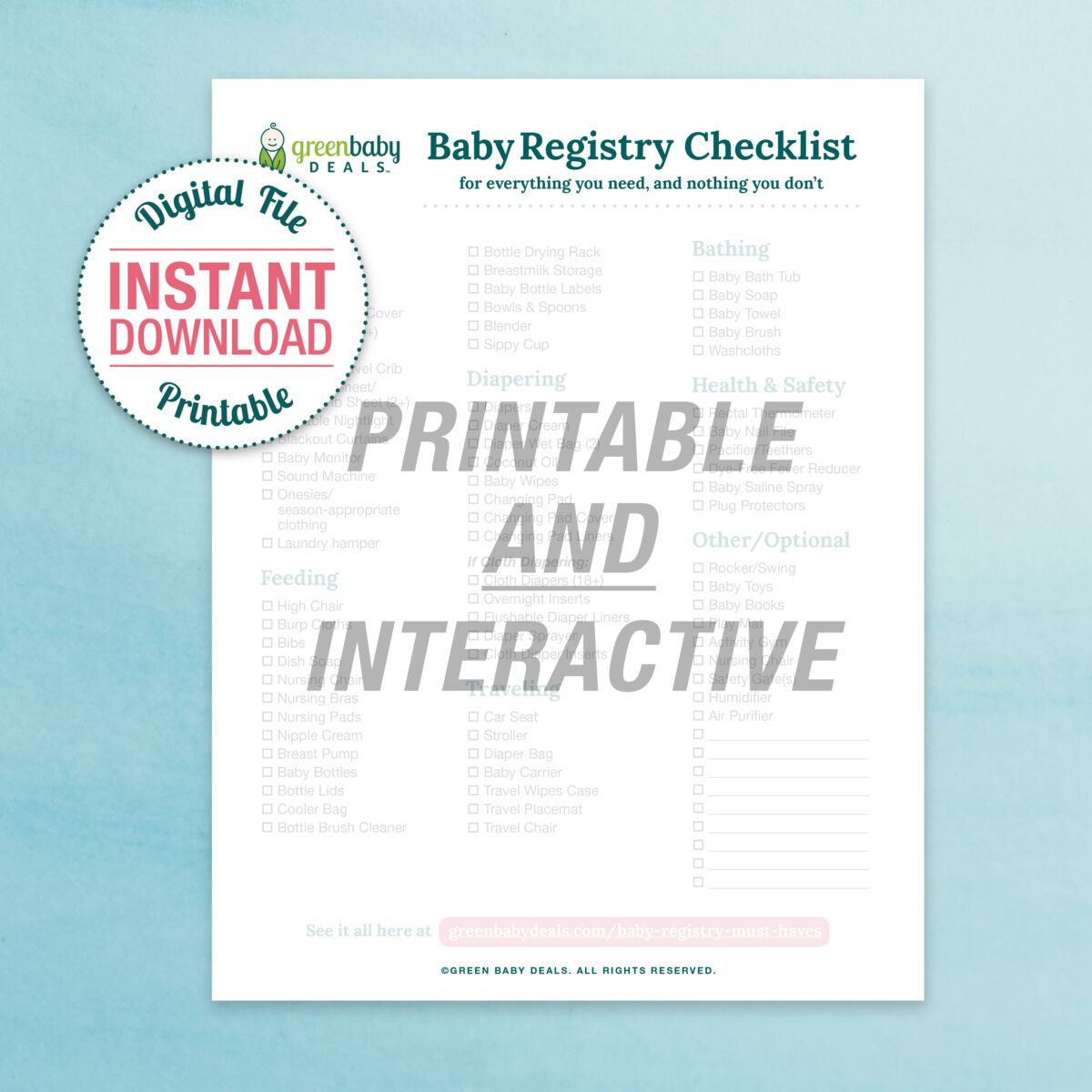 How Many Items Do I Need on My Baby Registry?
For the newborn stage, you can have all you really need with under 60 items. Most registry checklists have 100+ items. What you truly need is much less.
This baby registry checklist PDF list is under 75 items and includes the newborn stage and beyond. It also includes an optional cloth diaper section.
How Many Baby Registries Should I Have?
There's no need to complicate things: have only one baby registry and make sure it's a universal one. With a universal baby registry, you can add items from any store.
When Should I Start a Baby Registry?
The typical start time for your registry is around 12 weeks of pregnancy, and it should be completed before your baby shower invitations go out (which is usually around 2-3 months before your baby arrives.)
I go into more detail about this here: when to start a baby registry.
Where Should I Start My Baby Registry?
Amazon's Baby Registry still wins at being the best. You can easily find a massive selection of organic and non-toxic baby items. And, you can add items from any online store. This makes it considered a "universal baby registry".
Other Amazon Baby Registry perks:
Get a 10% completion discount or 15% completion discount and 20% off diaper subscriptions for Amazon Prime/Family members (which includes a ton of other perks). Note this discount can only be used once and has a time frame: up to 60 days before or up to 60 days after your baby's arrival date. The completion discount is only valid on selected items in the Baby, Beauty, Grocery, Drugstore, Toys, and Maternity Departments sold on Amazon.com. Even with disclaimers, it's still a fantastic deal.

Amazon supports a lot of small businesses by having their items available that typically wouldn't be an option at big-box stores.

Amazon carries a lot of organic and non-toxic options that big-box stores typically don't carry.

Returns are always easy with Amazon. They have a free 90-day return policy after your due date (Amazon credit).

Group gifting is also an option for those big-ticket items.

Emailing friends and family is a simple way to spread the word about your good news. The registry also includes a convenient "thank you list" feature that tracks gift purchases (needed for baby brain).
Where Can I Find the Baby Registry on Amazon?
The bigger Amazon gets, the trickier it can be to find things. You can start your baby registry here:
What Items Should I Not Have on My Baby Registry?
Oh, I could go on and on about this. Because of marketing and "new flashy" items, there are so many things available that just aren't necessary.
Some of these are wipe warmers, bottle warmers and baby food makers. See more here: What Not to Put on Baby Registry.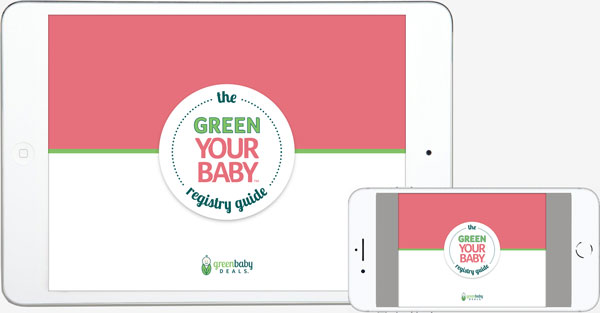 Tired of overwhelming "good, better, best" lists?
I was too, so I made a simple guide. Create your entire natural baby registry without leaving your comfy couch.
Ready for more? Head over to Baby Registry Must Haves. Peace, love and baby kicks.
Care to share?
Jen Brady — Chief Green Mama
Mom of two. Wife of one. Holistic nutritional consultant. Amateur biohacker. Guide of the Green Yourself Pregnancy Challenge. Author of the Green Your Baby Registry Guide.
I'm wild about pregnancy and babies (in a sane way) and I need to steer you away from harsh chemicals and hormone disruptors. Stick with me to keep it lean and green.