Join the FREE PREGNANCY CHALLENGE and say bye-bye to harsh chemicals & toxins.
(By entering your email you agree to receive emails from Green Baby Deals. No spam, just awesome. Unsubscribe anytime.)
---
7 Easy Ways to Save on Your Maternity Wardrobe
Green Baby Deals is reader-supported. When you buy through links on our site, we may earn an affiliate commission. As an Amazon Associate, we earn from qualifying purchases.
Learn more.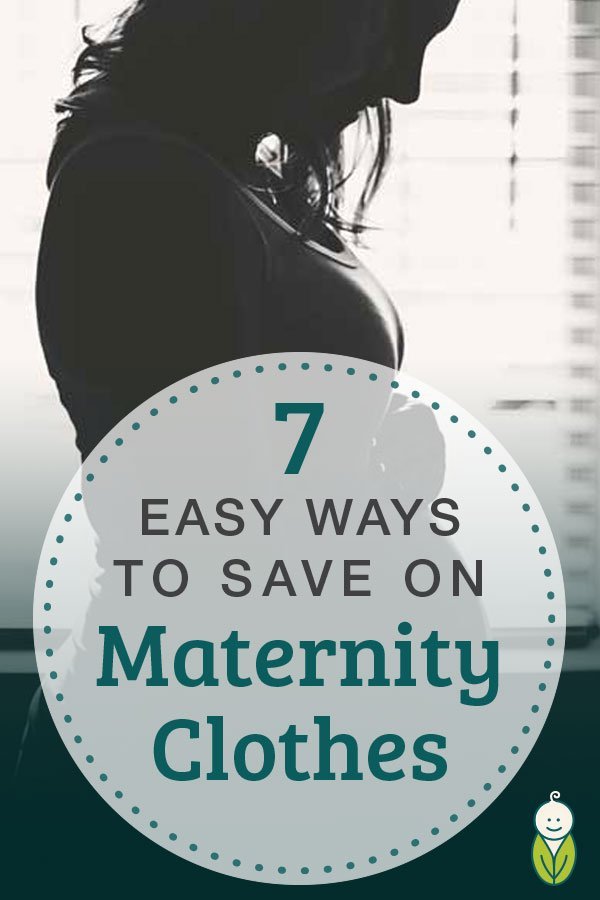 What should your maternity wardrobe cost? Finding cheap maternity clothes isn't always the greenest (or cheapest) way to go. Here are some of our favorite ways to save money on your maternity wardrobe and also keep it eco-friendly:
This is by far our favorite maternity accessory and worth the $20. Why? As your belly grows, pants will get a little tighter. If you can't quite get them buttoned, wear the band over them and they will appear smooth and breathing will be easy. This will help your current wardrobe last longer, allowing you to spend less on maternity clothes. In addition, the belly band is designed
to support the lower back and abdomen during pregnancy and can be worn after pregnancy for support
as you take the needed time to adjust back to your size. Find
the belly band online here
or at your local consignment shop.
Your chest will gradually grow right along with your pregnant belly (yay). Just like belly bands, the bra extenders will also lengthen the life of your clothing – which means keeping you in your favorite bras a bit longer. Contrary to popular belief, you may not even need a new cup size. These
bra extenders
may be enough and you can use the money you save for the nursing bras you will eventually need. Check out how great and easy these bra extenders are:
A rubber band will work too, but we think hairbands are a little softer on your bare belly. This is a great maternity hack that allows your non-maternity pants last a little longer (maybe even through the entire pregnancy, depending on how you carry your baby). And, it's a great trick for post-maternity as well. Here's how:
Thread the hairband through the hole of your unbuttoned pants.
Loop both sides onto the pants button.
Zip or don't zip, depending on your comfort level.
Pair this with the belly band option above and it really smooths out the look of your unbuttoned pants. Here's a quick how-to video of the maternity hairband technique:
You may not think you will need nursing pads until after baby arrives, but your body may have a different plan. Be prepared and stock up on these before your due date. There's no need to buy disposable and, did you know some disposable pads contain plastic backing that can actually harm your breast or cause a yeast infection? Yuck. The
Kindred Bravely organic bamboo nursing pads
provide a nice contoured fit with three layers: a soft, organic bamboo; a middle absorbing microfiber layer; and a waterproof back layer. It's the perfect combination and still very thin. They come in a 4-pair pack and we suggest having two packs during your pregnancy and nursing days.
5. Shop your closet

You may find long stretchy tops, bigger sweaters, or cute skirts that have an elastic top that will work fine throughout your pregnancy. Big comfy t-shirts are great for bedtime and around the house. And, don't be afraid to shop your spouse's, friend's and family's closets.
6. Buy used
Huge money saver. Just like baby clothes, maternity clothes are rarely worn for long. Sometimes at consignment or thrift stores, the tags are even still on them. Find your local thrift store at TheThriftShopper.com, or do a local search online for "maternity consignment + (your zip code)". Our online fave? Hands down: thredUP.com
7. Buy in bulk
If you aren't too picky and you find your growing belly isn't working with the tips above, your best maternity deal is going to be on Craigslist or Ebay. The trick is to search for "maternity lot + (your size)". Sometimes it also helps to put in the season when searching. We've found some super deals this way. Then, just resell or donate afterward.
How much will your maternity wardrobe cost?
We've researched what women typically spend for their entire maternity wardrobe, and it averages between $200-350. Here's a breakdown and total estimated cost of a maternity wardrobe if you use our tips above:
Belly band: $20
Bra extenders: $8
Hair bands: $5
Reusable nursing pads: $20
Closet shopping: FREE
Buy used/in bulk: $65
The total average cost for your maternity wardrobe totals $118.
Now that's a deal.
Ready for more? Take the FREE pregnancy challenge or create your natural baby registry here in a snap.