FREE PREGNANCY CHALLENGE: say bye-bye to harsh chemicals & toxins.
---
Glass Baby Bottles: Everything You Need to Know
Green Baby Deals is reader-supported. When you buy through links on our site, we may earn an affiliate commission. As an Amazon Associate, we earn from qualifying purchases.  Learn more.
Connect with others from pregnancy through motherhood (on a free app). Join community now.
Hey there, why on earth would you choose glass over plastic for a baby?
The truth is, they can actually cost less, they're important for the health of your baby, and they're better for our planet.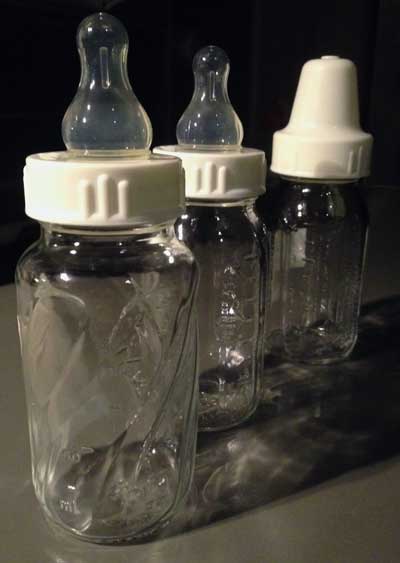 SPOILER ALERT: Go with the Evenflo Classic Glass Bottles for the best bang for your buck.
This is part of the awesome master list of baby registry must-haves here.
Glass vs Plastic: a Clear Winner
Glass for a baby isn't crazy. In my mind, plastic for a baby kinda is.
Why? BPA (Bisphenol-A) was abandoned by manufacturers of baby bottles and sippy cups after a public outcry.
Enter "BPA-free" plastic you now see everywhere: it may contain even more harmful chemicals than BPA, such as BPS (bisphenol-S).1
"I don't think we fully understand these chemicals just yet, but think about what we've learned about asbestos and mercury…"
— Peter Orris, MD, MPH 2
The plastic bottles get heated up, the chemicals get into the liquid and your baby drinks it.
Why take the risk? Glass is made from superheated sand, soda ash and limestone: a much more natural material.
And unlike plastic, glass bottles don't break down when you sterilize them. This makes them super green and helpful for possible baby #2, reselling or donating.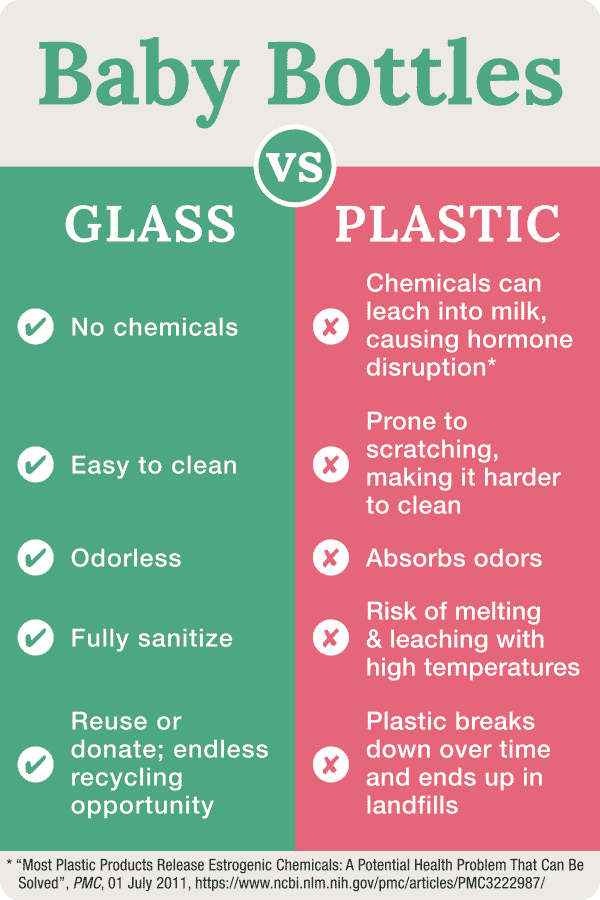 Benefits of Glass Baby Bottles
Super durable
Choose a bottle made from tempered glass, which means it has a lot more strength than normal glass.
My babies (and um, perhaps me too in a sleep-deprived state) have dropped them a few times and all was good. Obviously, look for cracks or chips, but it's never happened to me.
Easy to clean
The Evenflo bottles have only four parts: much less than some of the competitors. This makes them a lot easier to clean, allowing more snuggle time. They're also dishwasher-friendly.
Proper cleaning
Since glass can withstand higher temperatures than plastic, you have a clean bottle, done the right way.
Thermal-shock resistant
If you spring for the fancier Evenflo Wide Neck glass bottles, they'll have the ability to withstand sudden changes in temperature. (Think: crying baby and going directly from freezer to pan to heat.)
Oh the taste
Glass doesn't hold the odors as plastic does. Your babe can't tell you this, but we all know things just taste better in a glass. 
Endless recycling
Even if your glass bottles have seen the end of their days, they can be recycled endlessly into other glass without chemical processing. Plastic? Not so much.
"The Earth is a fine place and worth fighting for."
— Ernest Hemingway
What are the Best Bottles?
Glass is best, and I've found you don't need the priciest of options. Some bottles cost more than $10 each (what?!)
I've heard a lot of moms say their babies won't take certain nipples, and they end up buying many kinds with hefty price tags.
From my experience, babies only know what you give them. They're super adaptable and unless they have a medical condition, they'll learn to take the bottle no matter the brand.
Stick with the 4 or 6oz. size: it's enough milk for one feeding and won't be as heavy as the bigger bottles.
I used Evenflo Classic Glass for my babies and they worked great. Evenflo is a trusted, affordable brand that's been around for decades. And, they're recommended by Tamara from Lead Safe Mama.

Here's a breakdown of their two current glass bottles:
Evenflo Classic Glass Bottles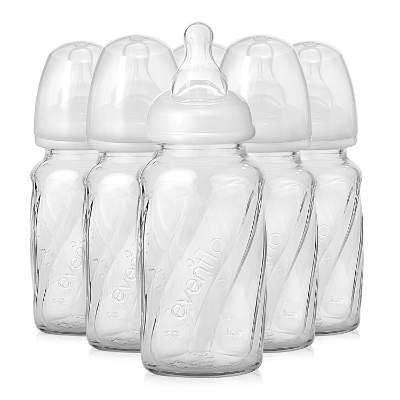 Features a nice easy-to-hold wavy design.
Tempered glass easy sanitizing, recycling, and sustainability.
Silicone nipple with Micro Air Vents™ helps prevent nipple collapse (I've never had any collapsing issues).
Super easy to clean. Each bottle has only 4 parts (compared to fancy ones that typically have 6+).
Includes everything you need: bottle, nipple ring, nipple and cap.
Dishwasher-safe on the top rack.
Perfect for breastmilk: fits on Medela and Ameda pumps without adapters.
These 4 oz. glass baby bottles are by far the best value.
Evenflo Balance + Wide Neck Glass Bottles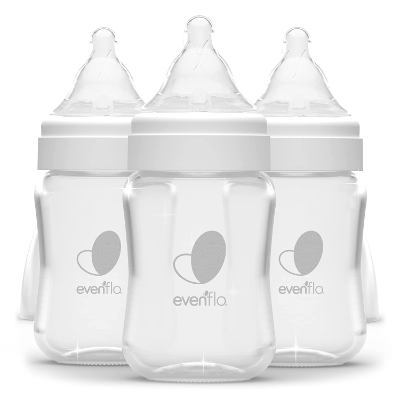 Developed with Pediatric Feeding Specialists: unique, naturally-sloped nipple promotes a healthy wide latch for your baby.
Thermal shock resistant glass.
Integrated venting helps prevent colic, gas, and fussiness.
Super easy to clean. Each bottle has only 4 parts (compared to fancy ones that typically have 6+).
Dishwasher-safe on the top rack.
You need to purchase an adapter to fit on breastpump (bummer, but you can buy one here).
These 6 oz. glass baby bottles are are a bit pricier than the classic, due to holding 2 more ounces, updated nipple shape and being thermal-shock resistant.
Can't I Just Buy Used?
Heck yeah you can buy your bottles used – that's the great thing about glass. And the Earth thanks you.

Take a look on Ebay here, FB Marketplace, or head over to your local consignment baby shop.

You'll probably want to get new bottle nipples since they can break down over time. Grab a nipple pack here.
How Many Bottles Do I Need and What Size?
If daycare is in the picture: 8-12 is a good number. You'll have 4 for pumping, 4 for your baby, and 4 "just in case" for the fridge, freezer or lazy (aka sleep-deprived) dishwashing.

Stick with the 4 or 6oz. size — 8 oz. is too much for one feeding and the bottles are heavier.
How to Clean Your Baby Bottles
If you're new to the baby bottle and breast pump washing process, it can be a little daunting. The good news is you can do it all at once.
Baby bottle sterilizers just aren't necessary, so save your money. All you need is a pan, hot water and non-toxic soap. 
Of course, always wash hands thoroughly before starting. Bring about 20-30 oz. of water to a boil in a tea kettle (or anything that will hold water that you can easily pour).
Separate and rinse any milk residue off all bottle and breast pump parts and place in a pan. (Keep an eye on those pesky white flapper things, which are called "membranes".)
Add a little non-toxic dish soap. You can get the Ecover Zero Dish Soap here in bulk. It gets a great score on EWG.
Pour the hot water into the pan and let sit for about 5 minutes.
Scrub all parts with a bottle cleaner: I love the OXO tot bottle brush here which includes a nipple cleaner on the handle and stand.
Rinse thoroughly and place all parts onto a drying rack (get the "grass" drying rack here which is free of phthalates, PVC and BPA).
Your bottles and pump will be dry and ready to go for the next morning.
Here's a quick how-to video showing the process of soaking glass baby bottles:
How to Store Your Breastmilk
Since you're taking the step to eliminate plastic, don't store your extra breastmilk with plastic. Do this instead:
• Pump directly into the bottle. It's safe up to 4 hours out of the fridge at room temp (up to 77°F).
• Breastmilk is safe up to 4 days in your fridge.
• Freezing for later? It's best to freeze right after pumping. Bring a cooler if you're on-the-go, then store as soon as possible (up to 24 hours). Pump into your glass bottle, then pour into glass storage containers, like these borosilicate 4oz. glass jar containers you can get in bulk here. Label and date them with reusable labels like these and store in the back of freezer where it's coldest.
After each pumping, you can:
Keep milk at room temperature. Breastmilk is OK for up to 4 hours after pumping at room temperature (up to 77°F).
Refrigerate it. Breastmilk is OK in the refrigerator for up to 4 days.
Place milk in the freezer. If you're not going to use refrigerated breastmilk within 4 days of pumping, freeze it right after pumping.
Use cooler packs. You can put breastmilk in a cooler or insulated cooler pack with frozen ice packs for up to 24 hours after pumping. After 24 hours in a cooler the breastmilk should be refrigerated or frozen.
What About Formula?
In certain situations you might need formula. Whether to just have it on hand or use exclusively, go organic and go Euro. 
Get 5% off here at My Organic Company – use code GREENBABYDEALS.
Reusable Baby Bottle Labels
Labeling baby bottles is imperative if you'll be freezing, storing in fridge or if your babe is headed to daycare. I know they're cute but skip the personalized ones: you won't be able to reuse or donate in the future.
Here's what you need for easy labeling:
Pumpkin Doodle Baby Bottle Labels for Daycare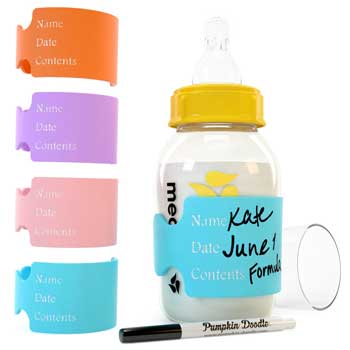 Write, erase and reuse: includes 4 labels and one dry erase marker.
Made from food-grade silicone.
Available in 11 colors.
Dishwasher/hot water safe (although personally I take them off before washing).
Ample room for marking name, date and contents.
Jokari Erasable Labels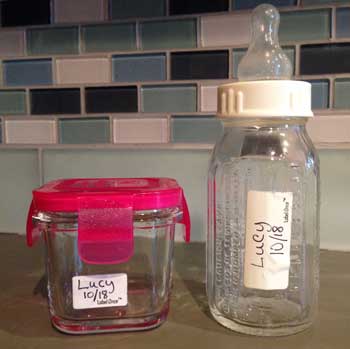 Easy write-on, reusable labels that come with a marker and eraser.
Multiple sizes included.
Great for labeling your frozen breastmilk containers.
You can (and will) use these for everything: from the food containers that require your little one's name in daycare to your own leftovers in the fridge or freezer.
Tip: writing on and erasing the labels at room temperature will work best.
Bottle Tips
Traveling: Slip a thick cloth in between the bottles in case the cooler they're in slips out of your hands (whoops, I've learned from experience).
Freezing: The glass bottles freeze very well. Just leave a little room at the top for milk expansion. Don't freeze the nipples; use these caps instead (they'll only fit the Classic bottles mentioned above).
Summary
Glass baby bottles — Go with the Evenflo Classic Glass Bottles or the Wide Neck Glass Bottles.

Non-toxic dish soap — Avoid dish soap that's potentially harmful but still gets the job done. The Ecover Zero Unscented Dish Soap is biodegradable and free of fragrance, dyes and chlorine.

Travel cooler — This inexpensive cooler bag will discreetly fit your manual pump and four glass bottles. Heading back to work? You'll need two of these: one for you to store pump and bottles at work, and one for your baby at daycare. Also grab these ice packs.

Freezer storage — Get these borosilicate 4oz. glass jar containers in bulk for storing milk and beyond: they're also perfect for baby food, snacks and travel as your little one grows.

Reusable labels — Check out these reusable silicone labels. Alternatively use these reusable write-on labels for your bottles, storage containers and anything else for your food labeling needs.
That's all there is to it, mamas. Congrats on taking one more easy step toward living a safer greener life for you and baby.
Ready for more? Take the FREE Pregnancy Challenge or check out all the non-toxic baby registry must-haves here.
Peace love & baby kicks.
Care to share?
Sources
1 "BPA substitutes may be just as bad as the popular consumer plastic." Robert F. Service, AAAS (American Association for the Advancement of Science), 13 September 2018, https://www.sciencemag.org/news/2018/09/bpa-substitutes-may-be-just-bad-popular-consumer-plastic
2 "Why Consumers Should Skip Receipt Slips." Nichole Odijk DeMario, Chicago Health, 9 July 2018, https://chicagohealthonline.com/the-dangers-of-paper-receipts-why-businesses-and-consumers-should-skip-the-slip/
"Creating my natural baby registry will be fun & stress-free."
— said no mama, ever.
Let's get real.
Jen Brady — Chief Green Mama
Mom of two. Wife of one. Holistic nutritional consultant. Amateur biohacker. Guide of the Green Yourself Pregnancy Challenge. Author of the Green Your Baby Registry Guide.
I'm wild about pregnancy and babies (in a sane way) and I need to steer you away from harsh chemicals and hormone disruptors. Stick with me to keep it lean and green.