How to Make an Organic Crib Mattress Affordable
Green Baby Deals is reader-supported. When you buy through links on our site, we may earn an affiliate commission. As an Amazon Associate, we earn from qualifying purchases.
Learn more.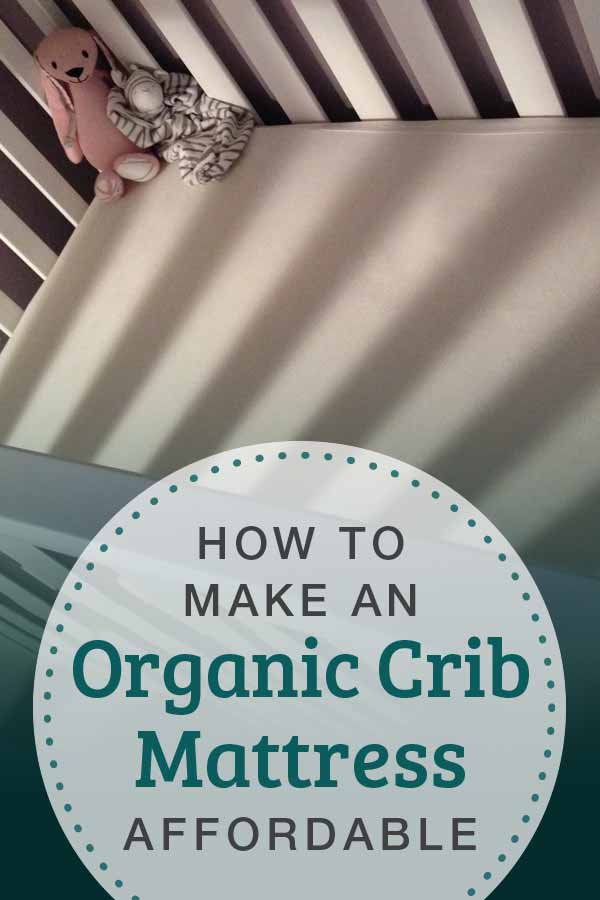 Your baby will spend a LOT of time in the crib.
Babies need sleep. It's a good thing. It's how they develop. So you need to make sure they aren't breathing in any toxic chemicals as they rest.
<strong>In This Article:</strong>
SPOILER ALERT: Go with the Naturepedic Organic Lightweight ($$$) or the Lullaby Earth Wisp-Air Breathable mattress ($$).
How Do I Choose a Safe Crib Mattress?
Caveat emptor (let the buyer beware) is more important today than ever before, especially in the U.S. Because it takes a long time to put a ban on something, companies can continue to put toxic chemicals into products, even though they may have been proven to cause harm.
Unfortunately, this is the case with mattresses. Similar to buying anything else these days, you need to look at what to avoid.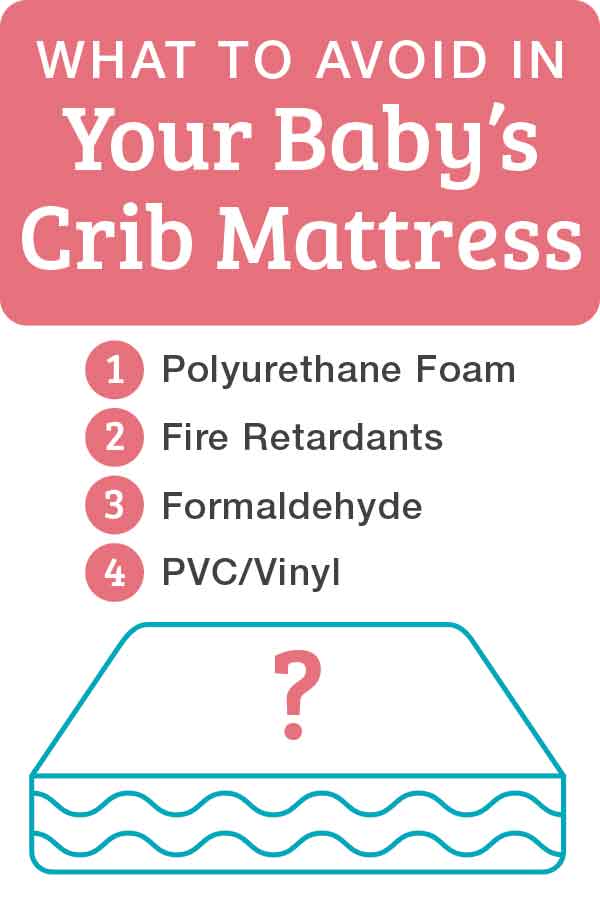 What Chemicals are Lurking in Crib Mattresses?
Polyurethane Foam
Foam is common in many mattresses and contains solvents, resins and adhesives. These materials release into the air and produce Volatile Organic Compounds (VOCs).
Maybe you're most familiar with VOCs in paint. But studies are showing even low concentrations (with chronic exposure) can cause lung infections, allergies and asthma in infants. And sadly, this exposure is happening with crib mattresses.
"A clear understanding of infant exposure to these emerging SVOC contaminants emitted from crib mattresses, which may disproportionately affect infants and children and lead to lifelong illnesses and disabilities, is urgently needed. The experimental data and the methodology developed in this study will help to achieve this goal."1
This statement was from 2014. Companies continue to use them.
Fire Retardants
Fire retardants have to be added to polyurethane foam because it's highly flammable. If your baby's mattress contains these fire retardants, they're exposed to them two ways: by breathing and by absorbing the chemicals through their skin.
In 2017, the Consumer Product Safety Commission issued a strong warning:
"Consumers, especially pregnant women and young children, should avoid products containing organohalogen flame retardants (OFRs), a class of chemicals found in children's toys, mattresses, furniture, and the plastic casings of electronic devices."2
Because infants have smaller body masses, they're especially prone to the possible effects of flame retardants.3 These include hormone disruption, immune system issues, reproductive toxicity, neurologic function and cancer.4
Side note: these flame retardants are ineffective and can actually make fires worse.5
Banning these toxic chemicals will take years to pass, so again, buyer beware. It also seems impossible to avoid them everywhere, but where your baby is sleeping should be top concern. You have to put your money where it matters most.
Formaldehyde
Gross right? Although not typically added to foam, formaldehyde might be present due to adhesives and chemical reactions. It's a known human carcinogen and scores the highest-concerning rate of 10 by the Environmental Working Group.6
You need a mattress that's certified to be free of formaldehyde.
PVC/Vinyl
The plasticizers used to soften the PVC plastic are phthalates.
What's wrong with phthalates? They've been linked to endocrine disruption and harm to the reproductive system and development.7 
So what can you do about all these toxins in your baby's crib mattress?
Environmental Working Group (EWG) is working hard to raise awareness. Join them and they will send you occasional petitions to sign to help put an end to allowing companies to make potentially harmful mattresses.
Join EWG here. It's free, easy and worth it.
What Causes SIDS?
The cause of SIDS (Sudden Infant Death Syndrome) is sadly still unknown. However, researchers have narrowed it down to three factors: at-risk infant (unknown problem), the many changes in the infant's first 6 months of development, and stressors in the environment.
This is called the "Triple-Risk Model" and all three must be present according to this theory.8
The first two factors are uncontrollable, but what if you could reduce stressors in the environment?
Buying a safer, non-toxic mattress could greatly improve your baby's air quality.
Has the toxic gas explanation for SIDS been scientifically proven?
"No, it has not. Nor has it been disproven. We definitely need more research. But when you look at the evidence we do have, it's compelling and it makes sense."9
Other ways to reduce the risk of SIDS based from the American Academy of Pediatrics (AAP):10
Always place your baby on back to sleep.
Use a firm or flat sleep surface with a fitted sheet. Nothing else goes in the crib/bassinet. No blankets, no pillows, no crib bumpers.
Breastfeed.
Keep your baby close to your bed in your room for at least 6 months, ideally 1 year.
No smoking.
Consider a pacifier.
Don't let your baby get too hot during sleep. Ceiling fans can help.
Don't use wedges or positioners under the sheet.
Lots of tummy time for your baby.
Do I Really Need a Bassinet?
When you add up the cost of a smaller version of a crib and all of its accessories, it's a lot. Bassinets also have weight limits and can usually only be used for the first few months.
Considering the AAP recommends sleeping in the same room with your newborn, do you have room to put a crib in your bedroom?
The IKEA Sniglar crib (and most cribs) adjust to a higher position which is similar to a bassinet height.
Bassinets provide a smaller enclosed area that may be comforting to newborns. Consider swaddling with these GOTS organic swaddle blankets or these GOTS wearable blankets to replicate that coziness.
We know it's not ideal, but putting a crib in your bedroom (or camping out in your baby's room for the first 6 months) could save you a LOT. And, less baby stuff in the house.
Can't I Just Buy a Used Organic Crib Mattress?
Hey, I'm all for hand-me-downs and reusing. But there's some concern about that second-hand crib mattress.
First, it may not be as firm as it once was, and babies need a firm surface for safety.
Considering you can use your crib mattress through toddlerhood (YES, they fit toddler beds), the mattress could be over 4 years old. It may no longer be firm enough for a newborn. We don't recommend them.
Second, a study from Scotland showed a significant link to used crib mattresses from another home and SIDS.11 Older mattresses are more susceptible to have mold, mildew, and fungus. These can cause respiratory issues for baby.
Are Crib Mattress Pads Safe?
The short answer is yes, if you buy the right kind and they're used properly.
Don't use with newborns. Since they can't move around yet, just get some organic cotton diaper inserts to put under their bottom area (underneath the sheet). They're not waterproof but will absorb most of the leak.
Once they start moving, go with a full crib mattress pad. It definitely makes middle-of-the-night leaks easier. And even though your mattress is waterproof, the pad will ensure the mattress stays clean.
And as your baby gets older, there will be more vomit, drool, snot, etc. This is when the mattress pad REALLY comes in handy.
Mattress pad tips:
Make sure the pad fits very securely and doesn't move around.
Machine wash with cold water and dry with low heat to avoid shrinkage.
Choose a GOTS organic crib mattress cover with an OEKO-TEX certified waterproof layer. Here's our fave: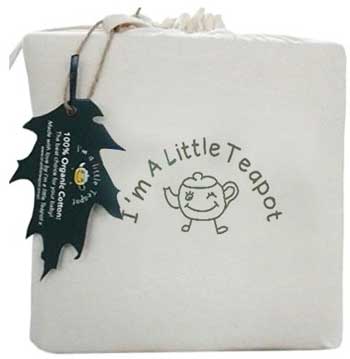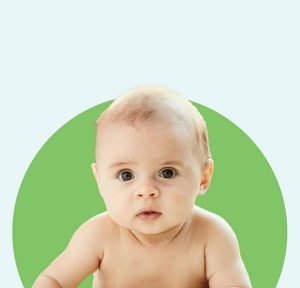 "I'd like some breast milk with a side of toxins."
— said no baby, ever.
Time to Green Yourself?
Take the FREE 7-day pregnancy challenge.
Which Organic Crib Mattress Should I Buy, and Can I Afford It?
If you've read all of the above, you know by now you need to put a little more money into a safe, non-toxic, organic crib mattress. It's worth it, mamas.
And remember, a crib mattress WILL fit a toddler bed, so you'll be using it for longer than you think.
Why you need the Naturepedic Lightweight Organic Cotton Crib Mattress:
100% organic cotton fabric and filling. Entire mattress is GOTS certified (the highest organic certification available).
Firm but weighs only 10-12 lbs. for easy sheet changes.
Free of polyurethane foam, latex, soy, GMOs, vinyl/PVC, phthalates, formaldehyde, flame retardants, and perfluorinated compounds (PFCs).
Meets or exceeds GREENGUARD Gold emissions standard and UL/GREENGUARD formaldehyde free standard.
Easy-to-clean, stain-resistant food-grade polyethylene waterproof surface.
Seamless waterproof edges prevent moisture, dust mites and bed bugs.
Lifetime limited warranty.
Family owned business in Chagrin Falls, Ohio. U.S. made by skilled Amish craftsmen.
Stellar customer service.
Seeing some negative reviews about mattress dipping? Naturepedic listened and acted quickly: they've made some changes and it should no longer be an issue. They stand behind their mattresses. And if something's wrong, just save your receipt: they have a lifetime warranty.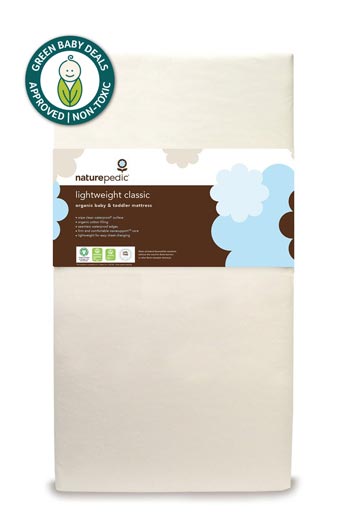 No worries, if you reduce the cost of your crib (which you should for a non-toxic untreated wood), you could end up spending only a little extra:

Turns out the difference could be $47! That's a deal for a safe night's sleep.
Wait, That's Still Too Much for Me.
We get it and here's a cheaper option for the mattress, AND it's still free of all the bad stuff. Naturepedic has a sister company: Lullaby Earth, which has a non-toxic breathable mattress.
The Lullaby Earth mattress is certified by Made Safe, GREENGUARD Gold, and UL formaldehyde free.
It's free of vinyl/PVC, polyurethane foam, antimicrobials, perfluorinated compounds, phthalates and flame retardants. It's made with food-grade PE waterproofing and recycled polyester fiber fill.
This mattress isn't organic but it's economical and still an excellent choice. We'd feel at peace with our babies sleeping on the Lullaby Earth WispAir Breathable Crib Mattress.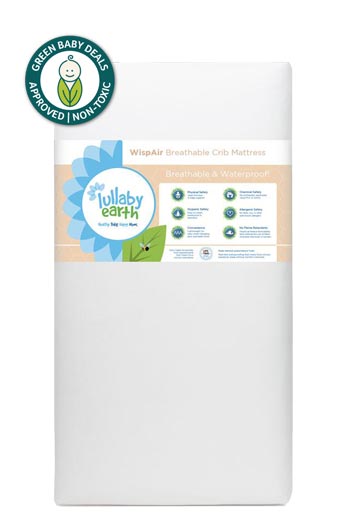 Summary
Mattress — Get the Naturepedic Organic Lightweight ($$$) or the Lullaby Earth Wisp-Air Breathable mattress ($$).
Crib — Get a convertible with unfinished solid wood: IKEA Sniglar crib.
Mattress Protector — After the newborn stage, use a GOTS organic crib mattress pad.
Crib Sheets — Go with GOTS certified organic sheets (and stock up).
That's all there is to it, mamas. Congrats on taking one more easy step toward living a safer greener life for you and baby.
Ready for more? Take the Green Yourself pregnancy challenge or create your natural baby registry here in a snap.
Peace love & baby kicks.
Care to share?
"Creating my natural baby registry will be fun & stress-free."
— said no mama, ever.
Let's get real.
Sources
1 "Infant Exposure to Emissions of Volatile Organic Compounds from Crib Mattresses." Brandon E. Boor, Helena Järnström, Atila Novoselac, Ying Xu, ACS Publications, 18 February 2014, https://pubs.acs.org/doi/abs/10.1021/es405625q?source=cen
2 "New Warning to Consumers: Avoid These Flame Retardants." Jeneen Interlandi, Consumer Reports, 29 September 2017, https://www.consumerreports.org/toxic-chemicals-substances/avoid-these-flame-retardants-cpsc-warning/
3 "Identification of Flame Retardants in Polyurethane Foam Collected from Baby Products." Heather M. Stapleton, Susan Klosterhaus, Alex Keller, P. Lee Ferguson, Saskia van Bergen, Ellen Cooper, Thomas F. Webster and Arlene Blum, ACS Publications, 18 May 2011, https://pubs.acs.org/doi/full/10.1021/es2007462%20
4 "Flame Retardants." National Institute of Environmental Health Sciences, https://www.niehs.nih.gov/health/topics/agents/flame_retardants/index.cfm
5 "Flame Retardants are Ineffective, Toxic and Bad for Business." Susan Inglis, LA Weekly, 10 August 2018, https://www.laweekly.com/flame-retardants-are-ineffective-toxic-and-bad-for-business/
6 "Formaldehyde." Skin Deep®, Environmental Working Group, https://www.ewg.org/skindeep/ingredient/702500/FORMALDEHYDE/
7 "What to Look for When Buying a Crib Mattress." Olga Naidenko Ph.D. and Tasha Stoiber, Environmental Working Group, 1 December 2017, https://www.ewg.org/news-and-analysis/2017/11/what-look-when-buying-crib-mattress
8 "What Causes SIDS?" Eunice Kennedy Shriver National Institute of Child Health and Human Development, https://www.nichd.nih.gov/health/topics/sids/conditioninfo/causes
9 "Has The Cause of Crib Death (SIDS) Been Found?" Jane Sheppard, Healthy Child Enterprises LLC, https://www.healthychild.com/has-the-cause-of-crib-death-sids-been-found/
10 "Ways To Reduce The Risk Of SIDS And Other Sleep-Related Causes Of Infant Death." Eunice Kennedy Shriver National Institute of Child Health and Human Development, https://safetosleep.nichd.nih.gov/safesleepbasics/risk/reduce
11 "Used infant mattresses and sudden infant death syndrome in Scotland: case-control study." PMC, National Center for Biotechnology Information, 2 November 2002, https://www.ncbi.nlm.nih.gov/pmc/articles/PMC131017/#B1