FREE PREGNANCY CHALLENGE: say bye-bye to harsh chemicals & toxins.
---
5 Simple Reasons You Need a Glass Sippy Cup
Green Baby Deals is reader-supported. When you buy through links on our site, we may earn an affiliate commission. As an Amazon Associate, we earn from qualifying purchases.  Learn more.
Connect with others from pregnancy through motherhood (on a free app). Join community now.
Glass? For a baby or toddler? It may sound crazy – but the truth is – even plastic BPA alternative plastics (also called "BPA-free") are cause for concern. Let's dig in.
In this article:
5 Reasons to Go with a Glass Sippy Cup
1. You'll avoid the moldy sippy cup.
This actually made the news: sippy cups develop mold in places where you didn't even know you should be cleaning. This was only discovered after children were continuously getting sick – yuck.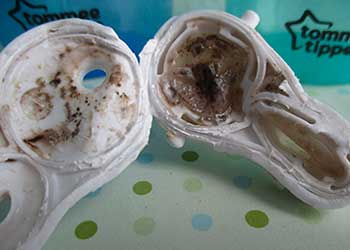 You need a sippy cup that easily opens up and is super easy to clean.
2. Glass sippy cups are natural, non-toxic and safe.
Your baby will be drinking liquids that touch only glass and silicone.
BPA (Bisphenol-A) was abandoned by manufacturers of baby bottles and sippy cups after a public outcry. But, there have been reports stating "BPA-free" plastic may contain even more harmful chemicals than BPA, such as BPS (bisphenol-S). (See the study here and the Washington Post article here.)
Why take the risk? Glass is a much more natural material. It's made from superheated sand, soda ash and limestone. Therefore, there is no concern or worry about unknown chemicals when it comes to feeding your baby.
Silicone is a man-made polymer and has a backbone of silicon and oxygen. Many green folks use it as an alternative to plastic.
Food-grade silicone doesn't react with food or drinks or produce any hazardous fumes. Thus, silicone is a safe option that won't leach harmful chemicals into your baby's liquids.
3. Glass sippy cups are made to not break.
Of course, all glass can break. But companies making glass sippy cups know toddlers are using them and put certain protectors in place.
Look for silicone covers, outer polypropylene protective covers that don't come in contact with liquids, and shock-absorbent bases. With the occasional drop from a parent or throw from a toddler tantrum, the goal is to prevent glass breakage.
4. A glass sippy cup can grow with your baby.
The options below will work for your 6-month-old baby or your 2-year-old toddler. Multiple transition cups aren't needed. Buy one and you're done.
5. Glass sippy cups are easy to take clean.
At first, any glass sippy cup was a hard no for me because of all the parts. Turns out that cleaning the Green Sprouts Sip & Straw was super easy.
And I love knowing that the entire cup is clean, safe, non-toxic and non-moldy (see reason #1 above). There's no place for the mold to grow and hide! Here's a quick video of putting it together with the straw insert:
Here are a list of my favorite sippy cups. I'm including some food-grade silicone options as well, in case you're still hesitant to give glass to your little one.
The Best Sippy Cups
1. Best all-around: Green Sprouts Sip & Straw Glass Sippy Cup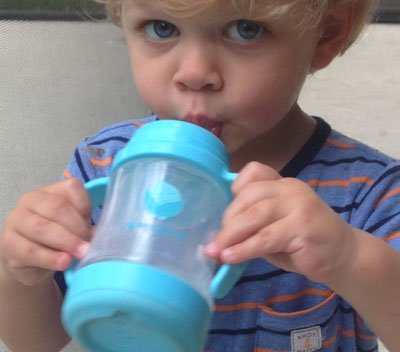 I loved this glass sippy cup and used it for a long time.
The Green Sprouts glass sippy cup comes with a silicone sip spout and a silicone straw top. They are both drip-free spouts with a vented free flow for a natural transition from breastfeeding. You can also remove the handles as your toddler grows.
It also comes with a barrier that blocks glass in case of breakage. But with all glass sippy cups: use under adult supervision and check for breakage often.
PROS
+ Sippy spout, straw top and removable straw
+ Liquids only touch borosilicate glass and silicone
+ Easy-grip handles
glass inner cup
+ Outer shield and shock-absorbent base
CONS
– Holds only 4 ounces.
---
2. Best Etsy choice: Silicone sippy cup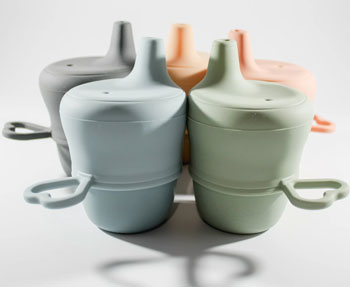 If you're still unsure about the glass, your next best choice is to go with silicone.
This silicone sippy cup is a breeze to take apart and clean. Adorable handle included.
PROS
+ Made of BPA-free, FDA-approved food-grade silicone.
+ Handmade
+ Lid can be used with most standard cups.
+ Easily converts to a cup.
CONS
– Straw not included.
– Glass is more sustainable than silicone.
---
3. Best on a budget: Elk & Friends Glass Sippy Cups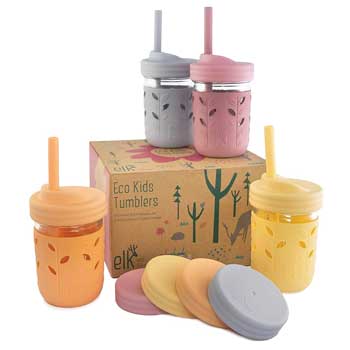 I love Elk & Friends. This 4-pack is a little more upfront but consider this: these will last.
They also come with covers so they can be used for snacks, leftovers, anything.
PROS
+ The lid can be used as a sipping spout without the straw.
+ The straws have stoppers to prevent toddlers from pulling them out.
+ Jars have embossed measurement markings.
+ Holds 8 ounces.
CONS
– Custom-sized mason jar, so sleeves and lids won't fit on other standard mason jars.
– Easier to break than other options because not made of borosilicate glass.
---
Sippy Cup FAQs
Are glass sippy cups better than stainless steel?
Yes, glass sippy cups are better because stainless steel can leach iron, chromium, and nickel into acidic beverages. (source)
In addition, some bottles claiming they are "stainless steel" are actually made from aluminum, which has been linked to diseases such as Alzheimer's. Because aluminum isn't food-grade, they often come with a plastic liner, which can contain BPA and/or other harmful chemicals.
Are Glass Sippy Cups Safe?
Yes, glass sippy cups are the safer option than plastic and stainless steel. In addition, most come with covers to prevent glass breakage.
What sippy cup is best for milk?
The best sippy cup for milk is made of glass or food-grade silicone. See above for the highest-recommended options.
Are sippy cups bad for teeth?
Sippy cups can prevent normal development of the mouth and cause tooth decay and cavities. They can also misshape the oral cavity and result in speech problems. However, this is typically true of only the hard rigid plastic.
All of the sippy cups mentioned above have silicone sippy spouts and straws. The straw spout is best for your baby and you probably won't be using the sippy spout for very long. Your baby will learn very quickly how to suck on the straw since he's been doing it for so long with the breast and/or bottle.
I only used the sippy spout for a week or two, and then the cup easily converts to the straw spout. The straw cup "provides the same convenience while also promoting better oral motor development." (source)
That's all mamas, hope this helps! Congrats on taking one more easy step toward living a greener life for you and baby. Check out all the non-toxic baby registry must-haves here.
Care to share?
Jen Brady — Chief Green Mama
Mom of two. Wife of one. Holistic nutritional consultant. Amateur biohacker. Guide of the Green Yourself Pregnancy Challenge. Author of the Green Your Baby Registry Guide.
I'm wild about pregnancy and babies (in a sane way) and I need to steer you away from harsh chemicals and hormone disruptors. Stick with me to keep it lean and green.
Up Next:
• 18 Awesome Natural Baby Items
• 11 Best Wooden Toys for Babies