Join the FREE PREGNANCY CHALLENGE and say bye-bye to harsh chemicals & toxins.
(By entering your email you agree to receive emails from Green Baby Deals. No spam, just awesome. Unsubscribe anytime.)
---
5 Simple Reasons You Need a Glass Sippy Cup (w/ video)
Green Baby Deals is reader-supported. When you buy through links on our site, we may earn an affiliate commission. As an Amazon Associate, we earn from qualifying purchases.
Learn more.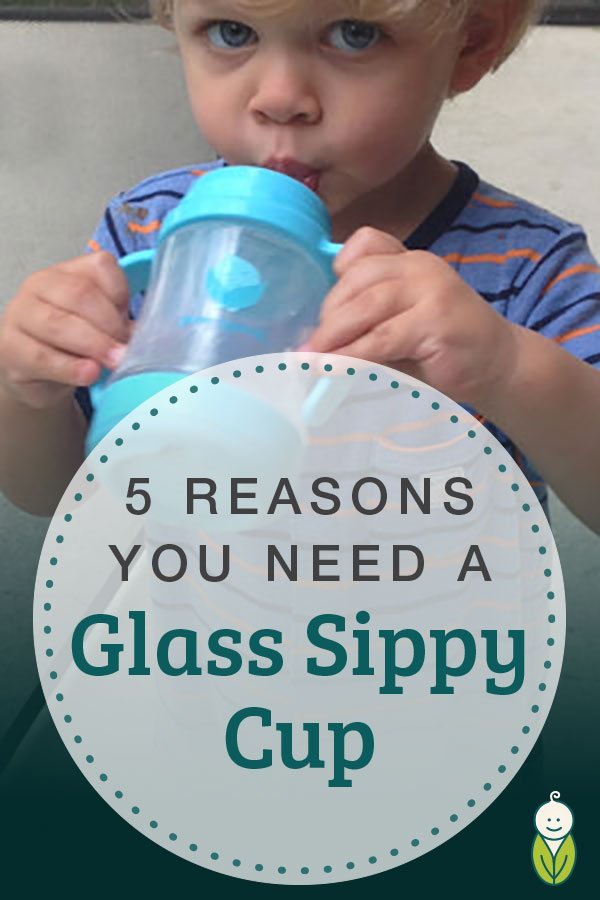 Glass? For a baby or toddler? It may sound crazy – but the truth is – even plastic BPA alternative plastics (also called "BPA-free") are cause for concern. Here are five reasons you should choose the Green Sprouts Sip & Straw glass sippy cup for your baby: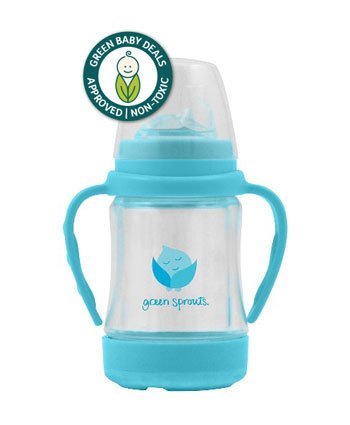 1. You will avoid the moldy sippy cup.

You may have seen recently in the news some concern about sippy cups developing mold in places where you didn't even know you should be cleaning. This was only discovered after children were continuously getting sick – 
yuck
. (You can 
read the full article here
.) We've been researching sippy cups long before the shocking mold news story. You need a sippy cup that easily opens up and is super easy to clean.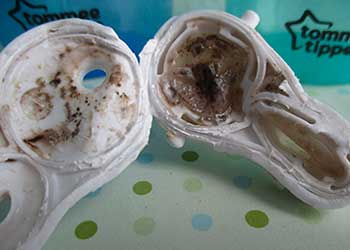 2. It's natural, non-toxic and safe.

Your baby will be drinking liquids that touch only borosilicate glass and silicone. BPA (Bisphenol-A) was abandoned by manufacturers of baby bottles and sippy cups after a public outcry. But, there have been reports stating "BPA-free" plastic may contain even 
more
 harmful chemicals than BPA, such as BPS (bisphenol-S). (See the
study here
 and the 
Washington Post article here
.) Why take the risk?
Glass is a much more natural material. It's made from superheated sand, soda ash and limestone. Therefore, there is no concern or worry about unknown chemicals when it comes to feeding your baby.
Silicone is a man-made polymer and has a backbone of silicon and oxygen. Many green folks use it as an alternative to plastic. Food-grade silicone does not react with food or drinks or produce any hazardous fumes. Thus, we see silicone as a safe option that won't leach harmful chemicals into your baby's liquids.
3. It won't break.

Of course, all glass
can
break. But the outer shell of this sippy cup protects the glass insert. The outer polypropylene protective cover doesn't come in contact with the liquids inside the cup. It also has a shock-absorbent, non-slip base. These two features prevent glass breakage – even the occasional drop from a parent or throw from a toddler tantrum.
4. It grows with baby, so it's the only sippy cup you'll need.

YES, this sippy cup will work for your 6 month old baby or your 2 year old toddler. Multiple transition cups are not needed. Buy one and you're done. The Green Sprouts glass sippy cup comes with a silicone sip spout and a silicone straw top. They are both drip-free spouts with vented free flow for natural transition from breastfeeding. You can also remove the handles as your toddler grows.
5. It's easy to take apart, clean and put back together.

At first, this glass sippy cup made us a little nervous to clean because of all the parts. And it comes with a lot of "bonus" parts (most of which you won't really use). Cleaning the Green Sprouts Sip & Straw is super easy, and we love knowing that the entire cup is clean, safe, non-toxic and non-moldy (see reason #1 above). There is no place for the mold to grow and hide! Here's a quick video of putting it together with the straw insert:
Why choose a glass sippy cup instead of stainless steel?

The two safe non-toxic alternatives to plastic sippy cups are typically glass and stainless steel. Here's why we will
always
choose the glass sippy cup:
Some bottles claiming they are "stainless steel" are actually made from aluminum, which has been linked to diseases such as Alzheimer's. Because aluminum isn't food-grade, they often come with a plastic liner, which can contain BPA and/or other harmful chemicals.
Stainless steel bottles can leach iron, chromium and nickel into alkaline and acidic beverages (source)
Are sippy cups bad for teeth?

Once your baby is off the bottle, it's time for a sippy cup. Sippy cups can prevent normal development of the mouth and cause tooth decay and cavities. They can also misshape the oral cavity and result in speech problems. However, this is typically true of only the hard rigid plastic.
The Green Sprouts Sip & Straw comes with a silicone sippy spout and a silicone straw spout. The straw spout is best for your baby and you probably won't be using the sippy spout for very long. Your baby will learn very quickly how to suck on the straw since he's been doing it for so long with the breast and/or bottle.
Honestly, we only used the sippy spout for a week or two, and then the cup easily converts to the straw spout. The straw cup "provides the same convenience while also promoting better oral motor development." (source)
What about lead?

Full disclosure: In the past, some of the Green Sprouts Sip & Straw cups were being sold with writing on the glass part that tested positive for lead. The company submitted the product for additional testing to the CPSC after public concerns arose regarding lead in markings on the outside of the cup's glass insert. The product has been tested and examined and meets or exceeds all safety standards for lead, and poses no harm to children. Regardless, the glass with paint should no longer be available for purchase.
Here is the full compliance message.
Please make sure when you receive yours, there are NO markings on the glass part of your sippy cup.
What does the Green Sprouts Sip & Straw cup include?

sippy spout, straw top and removable straw
travel cap and travel disc
easy grip handles
glass inner cup (holds 4 oz.)
outer shield and shock-absorbent base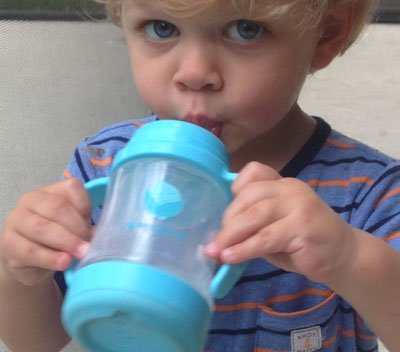 Why we love the Green Sprouts Sip & Straw glass sippy cup

This cup grows with your child. It's super easy to clean. (We recommend
this straw cleaner
.) The glass is protected from breaking (without having to buy a separate cover). It's safe and non-toxic. It's the best sippy cup with a straw that won't leak. It received the Eco Friendly Product Award in 2017 from
Baby Maternity magazine
. It's a little pricier than what we would normally spend on a sippy cup, but cost is justified because it's the
only
sippy cup you'll need: from babyhood through toddlerhood.
Buy the Green Sprouts Sip & Straw Cup here.
Need anything else? Take the FREE pregnancy challenge or check out all the baby registry must-haves here.
Peace, love and baby kicks.
Jen Brady — Chief Green Mama
Mom of two. Wife of one. Holistic nutritional consultant. Amateur biohacker. Guide of the Green Yourself Pregnancy Challenge. Author of the Green Your Baby Registry Guide.
I'm wild about pregnancy and babies (in a sane way) and I need to steer you away from harsh chemicals and hormone disruptors. Stick with me to keep it lean and green.