Confidently create your natural, non-toxic baby registry in a snap.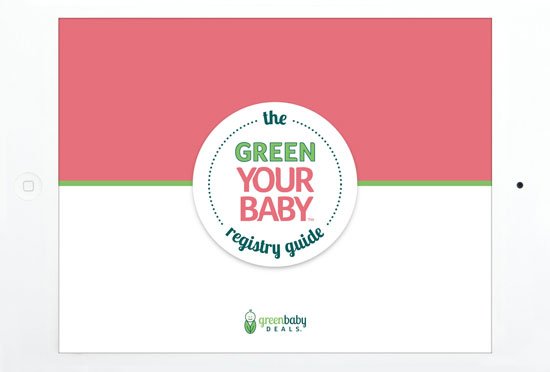 Say goodbye to silly checklists and the dreaded "good, better, best" lists.
That's all confusing when you need simple non-toxic solutions for your on-the-way baby.
Your Natural Baby Registry Made Simple
Do you feel sick? It could just be the pregnancy (awesome). But it could also be the overwhelming pressure of the ridiculous baby product market that's out there.
Maybe you've started a checklist, read a few articles, talked to a few friends. But you're still as confused as a fart in a fan factory.
What you choose matters. You want (nope, need) the best for your baby. But this doesn't mean the $500 crib. No, we're talking about natural and non-toxic.
Reality is: most companies only care about their bottom line and trust us, it's not your baby's bottom. They'll use harsh chemicals, carcinogens and hormone disruptors — things you obviously don't want for your newborn. And they'll make it sound like it's the best thing for your baby, using words like "#1 brand" and "recommended by pediatricians." Side note: this stuff also isn't great for our planet.
Caveat emptor, mamas! (Let the buyer beware.) You need to find the companies that do care, and stick with them.
---
Fragrance is considered a high health hazard by EWG and has "been associated with allergies, dermatitis, respiratory distress and potential effects on the reproductive system." source
It's also found in many of the top-selling baby shampoos.
Exposure to flame retardants (found in most conventional crib mattresses) are associated with hormone disruption, immune system issues, reproductive toxicity, neurologic function and cancer source
Yet baby registry "must-have" lists often include a crib mattress loaded with these flame retardants.
Sodium Laureth Sulfate (SLS) may be contaminated with 1,4-dioxane. 1,4-dioxane is a toxic chemical and is listed by the U.S. Environmental Protection Agency (EPA) as a probable human carcinogen. source
And it's the second ingredient found in a popular laundry detergent marketed for babies.
But I get it: obviously, it's impossible to avoid everything that "may be" a concern.
So what can you do? Reduce the amount of exposure to these harsh chemicals as much as you can.
How? By starting your baby with the best: a natural, non-toxic baby registry.
---
Won't a Non-Toxic Baby Registry Cost a Fortune?
Natural, organic, non-toxic — these typically come with a hefty price tag. Actually, a lot of smaller companies doing the right thing are spending less on advertising and more on better ingredients. And we find them for you.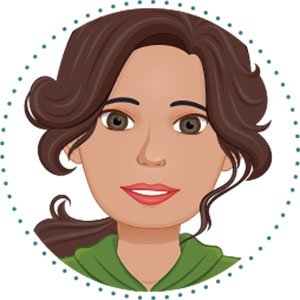 ---
How I Can Help with Your Natural Baby Registry
I've been in your shoes...the ones that actually fit before pregnancy.
Hi, I'm Jen. When I first found out I was having a baby, I became overwhelmed with the supposed "stuff" you "need". I bought a book on baby bargains and while informative, it left me about as puzzled as I was after my first prenatal appointment. It was filled with "good, better and best" lists and the natural/non-toxic section was extremely limited.
Turns out you really don't need all that, there's a ton of baby crap on the market, and it is possible to keep things natural, simple and cheap. But it took me hours, days, weeks of rigorous research to figure it all out.
Creating my baby registry was like writing a thesis (ok maybe not that terrible, but things amplify a little when you're pregnant). It was a constant battle of choosing the best, most natural organic product and then seeing the hefty price tag that came with it.
I also tried one of those "baby registry aggregator sites" so I could have it all on one site – bleh, didn't work. It was ridiculously frustrating for a pregnant mama who only wanted the best for her baby, and also just wanted to put down the laptop and take a nap.
That's when I realized there had to be a better, easier way than what I did. But it wasn't out there. I made a promise to myself to fix that — once I was no longer carrying an extra 30 lbs. in my gut.
So here we are. I discovered a way to make it easy and help other mamas just like me.
GO NATURAL
Keep your baby safe and protected with natural, non-toxic solutions. So you can both sleep like a baby at night.
SAVE TIME
Build your registry in less than a day instead of weeks. You'll be taking a much-needed nap while others are fidgeting with the fold-up mechanism of every stroller in the Target aisle.
SAVE MONEY
Keep it minimal with low-cost solutions to stay on budget. So your dollars can be saved to send your baby to college.
  An instant downloadable book for your smartphone, tablet or laptop. It covers what you need and why you need it. Each baby registry item has a detailed description and photo.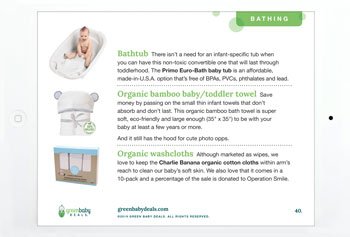 An easy, clickable Table of Contents page for each baby category (sleeping, feeding, traveling, etc.).
  Tips, tricks and videos, including:
• The cloth diaper washing method that actually works.
• The easy way to wash glass baby bottles.
• The free wipe warmer method.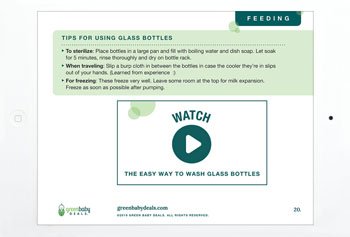 Tons of money-saving ideas, including:
• Using cloth diapers (not up for it? we give you the best disposable diaper option too).
• Non-toxic containers that last through the stages: from breastmilk to kid-friendly snacks.
• The only non-toxic car seat you'll need from birth to booster-seat age.
  A bonus section about what you really don't need and why.
  A pre-filled Amazon baby registry. This is the gold mamas. Step-by-step illustrated instructions for easily adding everything to your Amazon baby registry, including from any other store.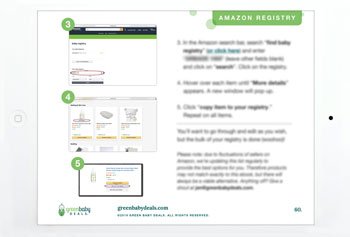 Baby Registry Guide Reviews
"
As a soon-to-be first time mom, this ebook was just what I needed! I had just begun searching for products that I would feel comfortable using on my daughter without having to worry about potentially exposing her to harmful chemicals. Unfortunately, most of the items I was finding were super expensive and I was starting to lose hope that "safe" products were not as easily affordable as I had hoped. That is until I came across Green Baby Deals. This book addressed all of the products that a new mom would need to prepare for a safe environment to welcome her baby into the world and the best part was that all of the research was done for me. I didn't need to spend hours on end searching the internet, but could also be assured that the items I would be adding to my registry would be safe for my little girl!
Tricia M. — mom-to-be
"
Natural and affordable are so often seen as conflicting terms. Highlighting specific items to immediate purchase ability is most helpful and eliminates need for making lists. I only wish such a catalog were available for us as young people. This guide will rescue a lot of nervous, confused parents-to-be.
Christine C. — mom & grandma
"
Wow! This is awesome. How I wished I had this with my first child. Luckily I have another on the way! This information is exactly what I need all in one place. I'm always looking for healthy, organic, clean options. Can't wait to share this with friends. Thank you!
Cathy C. — mom
"
I am expecting my first child and really needed help to streamline the process of finding affordable, organic items that we will need once baby arrives. I don't want my family or friends to purchase gifts that aren't safe or full of toxic chemicals. Once I started looking, I soon realized it was going to take me forever to research and read reviews, locate items and compare prices for my registry. When I found this site and reviewed the registry, it just seemed easier to have the leg work done for me and not be overwhelmed by the choices! My favorite find is the Organic Crib Mattress — such an important item to be organic and chemical free. I was shocked at some of the prices out there. Another example I love (and never would have thought of) is the Bumworks Diaper Sprayer kit — what a great idea! This site has really helped me feel confident that the items I ask for will be safe, non-toxic and high quality. Bravo, Green Baby Deals, thank you!
Kate B. — mom-to-be
"
When I got pregnant with my daughter last year, I started making a conscious effort to change the products I used on and in my body, and in my home.  When I was introduced to Green Baby Deals, I realized that I was using toxic products and spending too much money on unhealthy, but popular, commercialized everyday items. This lifestyle switch focused my attention on my baby registry. Not only was I a new mom-to-be, but I was also way more informed about the need for baby items that are safe for my little one too. The registry took all the guesswork out of wondering what I truly needed! I love how it is organized by categories and offers pictures, descriptions, and helpful advice. I can't say I registered for all of the items (I'm not a reusable diaper kind of mom), but I will say that most items were exactly what I was looking for, especially knowing which crib mattress to buy, the best baby soap and shampoo, and how many bottles I'll need, for example. These are all things a new mom really has no idea about until she's in the thick of it. I also found it super helpful that the items were linked to Amazon for purchase/adding to my existing baby registry. There are also items on there for moms postpartum, which again I didn't know what I needed until at that stage, such as nipple cream and nursing bras and pads. I recommend this to EVERY mom because it's concise, easy to use, money savvy, and health conscious. Even now that my little one is 5 months old, I still refer to it to make sure I have everything we need for a healthy, happy future.
Erin C. — new crunchy mom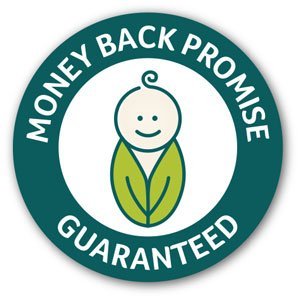 If you're still confused about creating a natural baby registry, we give you your money back.
I'm confident you'll find the Green Your Baby Registry Guide helpful. But if you don't? I'll refund your money within 30 days (that's about 4 weeks in pregnancy time).
Non-Toxic Baby Registry Guide FAQs
Q. Is there a physical copy of the book?
No, we're keeping it lean and green. It's also continuously being updated, because changes in the baby product market happen about as often as changing your baby's diaper. You can print it out from home if needed (double-sided please).
Q. How is the book delivered?
Upon purchase, we'll send you a link to download. Two formats are included: PDF and EPUB (if you have a book reader app).
Q. What if I'm not pregnant?
Sorry for all the crazy pregnant references, but if you're expecting a baby because someone is carrying your baby, you're a dad (or two), you're adopting, or anything else we missed, this book is also for you.
Q. What if I have an endless budget?
Sweet, can we be friends? If money isn't a concern, we still give you the best options in each category. If you have oodles of money left over, consider giving to other first-time moms in need.
Q. What if I'm not really "green"?
Part of being green is about using less and protecting our planet. But when you're having a baby, it's also about protecting them from harsh chemicals and hormone disruptors found in many baby products. Which means you'll naturally be greener by choosing companies who act responsibly. It's a win-win.
Q. What if I don't want to use Amazon as my baby registry?
The big bonus of this book is easily creating your entire baby registry through our system, but it's based on Amazon. If you prefer to use another registry, the first part of this book will still be beneficial. (And keep in mind you can add from any other store to your Amazon baby registry.)
Q. Shouldn't my baby registry be based on personal choices?
Yes, which is why you should take it personally. We give you all the natural necessities plus some really useful other items to have, then you can pick and omit as you see fit.
Q. Is the book just full of sponsored products?
Nope, not one. We weren't compensated from companies in any way to recommend these products (similar to Consumer Reports). And it's why we have to charge you a little for the book (sorry about that). It's based on personal experience and rigorous research.
Q. Can't I just buy used?
You bet and it's encouraged. People come out of the woodwork when they hear you're expecting. Graciously accept what they give or let you borrow. It can save you tons and keeps it green of course. But keep it safe: always check for product recalls and some things you'll want to buy new for your baby — like a crib mattress. In the guide you can easily pick and choose what you want for your own registry.
Q. Is there a money-back guarantee?
Of course. We put a ton of love into this book. If you really don't find it useful, let us know within 30 days and we'll give you a full refund. No questions asked. (Well, maybe just one, because really, really want to know why, so we can fix it.)
Q. Is my credit card secured?
Absolutely, 100% yes. We use Stripe and PayPal to handle the billing and provide a secure 256-bit encryption. Your credit card data is safer with our SSL than it is buying late-night pregnant-craving snacks from a convenience store (which is still probably all good ladies). Your transaction is completely protected from fraud.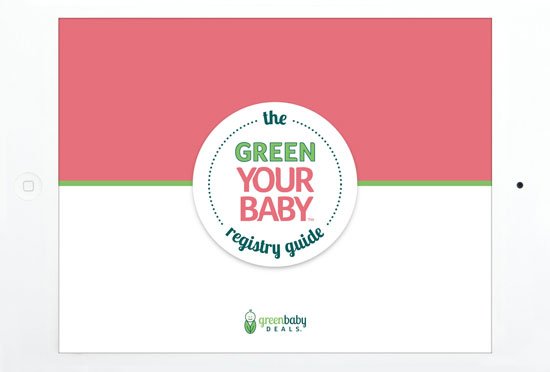 The Green Your Baby Registry Guide
Ready to create your natural non-toxic baby registry faster than pushing out a baby?