FREE PREGNANCY CHALLENGE: say bye-bye to harsh chemicals & toxins.
---
3 Cool Car Seats Without Flame Retardants
Green Baby Deals is reader-supported. When you buy through links on our site, we may earn an affiliate commission. As an Amazon Associate, we earn from qualifying purchases.  Learn more.
Connect with others from pregnancy through motherhood (on a free app). Join community now.
Welcome, and congrats on being aware of harmful chemicals found in everyday baby products.
Non-toxic car seats are an important consideration. Why? Because your baby will be in contact with their car seat from birth to many years later.
Now it's time to find the best cars seats without flame retardants to safeguard your little ones.
Spoiler alert: the Green Baby Deals Best Buy choice for saving $$$ and going non-toxic is the all-in-one Britax One4Life.
Here's what you'll learn in this article:
Why flame retardants should be avoided.
If flame retardants are even effective.
The best non-toxic car seats without flame retardants options.
Let's dig in.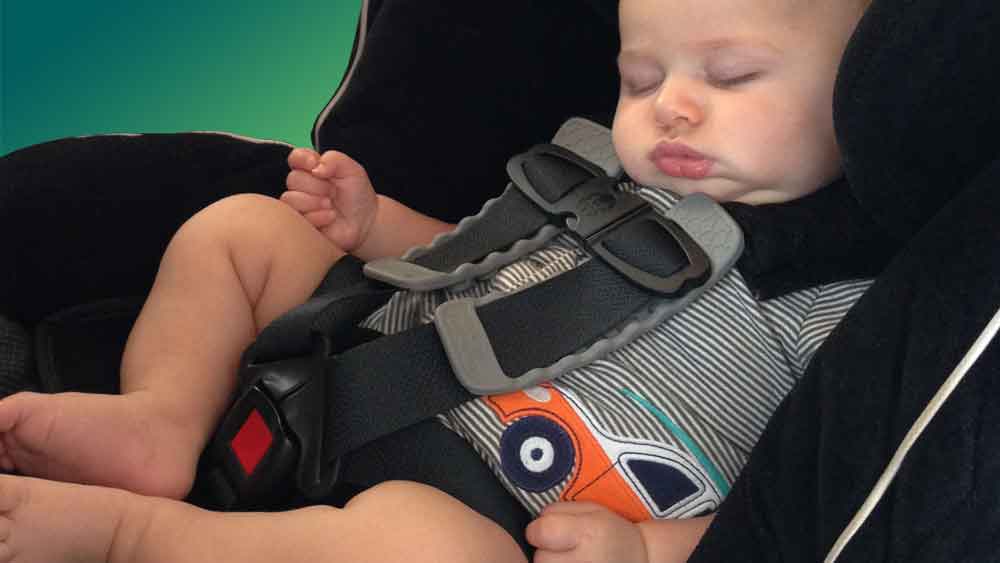 Are Flame Retardants a Health Risk to a Child?
As per the auto industry's flammability standard, flame retardants are added to car seats. Many federal rules concerning car seat safety are in place, but they are only directed to prevent traffic-related injuries.
All tested infant and child car seats are registered at The National Highway Traffic Safety Administration (NHTSA); however, the detailed safety requirements don't include chemical testing.
Unfortunately, there are major problems with flame retardants added to car seats. Their effectiveness in preventing fires is disputed, and they pose serious health risks to children. 
Highly toxic flame retardant chemicals added to children's car seats can harm a child's body over time. Hormonal, neurological, immune system, developmental and reproductive development can all be damaged by these harmful chemicals. This happens when a child constantly comes into contact with them.
UV rays and high temperatures accelerate chemicals released as a car sits in the sun. Flame retardants are easily released into the hot air in a confined space like a car. Combining chemical flame retardants that easily off-gas with high temperatures increases the risk of exposure to young children.  
Flame retardants pose high risks to children while children grow and their organs develop. Exposure to harmful chemicals is associated with many health issues in children. Infants and children are exposed to these harmful chemicals through ingestion, skin absorption, and inhalation.
Toxins can accumulate in the body over time and cause problems later in life. Some of the health risks car seats treated with flame retardants can cause are:
Impaired neurological development; reduced IQ.
Endocrine disruption.
Reproductive harm.
Developmental delays.
Autism.
Cancer.
Immune system disruption.
The different types of flame retardants used on car seats are:
Non-Halogenated (Nitrogen and Phosphate based): They're not as toxic as the halogenated, but still high risk enough for concern.
Halogenated (Chlorinated and Brominated based): These chemicals are the most toxic chemical used and cause environmental pollution as they stay in the environment.  
PLEASE NOTE: While avoiding chemicals is advised, car seats are mandatory safety devices that can save your child's life, and parents should always use a child's car seat when driving in a car.  
Other Toxic Chemicals Found in Car Seats
PFAS – Waterproofing Chemicals
Poly-fluoroalkyl materials (PFAS) make non-stick products, waterproof and stainproof items.
Unfortunately, these chemicals are linked to cancer, endocrine disruption, weakened immunity, and reproductive problems in humans. PFAS are not environmentally friendly and are considered forever chemicals. 
Check out Dark Waters if you're up for a disturbing but extremely well-done flick on PFAS.
Thankfully there are non-toxic car seats available on the market manufactured by forward-thinking companies that are free of both PFAS and flame retardants. 
Are Flame Retardants Even Effective?
Remember the brominated and chlorinated flame retardants I was telling you about earlier? Well, if there's a fire, these poisonous gases can potentially be a huge risk to you and your baby.
How big of a risk? Scientific American stated, "Flame retardants may create deadlier fires…a document signed by more than 200 scientists from 30 countries disputes that flame retardants have been proven effective…"
Are Car Seats Without Flame Retardants Safe in Case of a Fire?
Car seat manufacturers have to meet federal flammability regulations. Most materials like synthetic fibers and foam are highly flammable. That's why chemical flame retardants are used on car seats: to meet the flammability regulation imposed on companies.
The flammability requirements can be met without using chemical flame retardants when wool is used in manufacturing. Wool is naturally flame-resistant and safe to use in children's car seats.
Another option to meet the flammability requirements without using wool is weaving fabric in the seat cover and design. 
My take on any type of controversy is to always take the safer route. In this case, it's choosing a car seat without flame retardants.
What Are the Best Car Seats Without Flame Retardants?
First, I'll always recommend a convertible car seat option. Why? Because you save money and waste by skipping the infant seat and going straight to the convertible.
Some manufacturers even have car seats that also convert to booster seats. That's buying one car seat instead of three.
Can you live without the infant seat? The convertible car seat typically starts at 5 lbs. It's rare, but if you have an extra little peanut that doesn't weigh 5 lbs. yet, you'll need to have someone quickly buy an infant seat before leaving the hospital. Again, this is rare and I was willing to take that chance to save the $$$.
With an infant seat, there's also the convenience of separating it from the base and putting it in the stroller or grocery cart. I never had that convenience and honestly didn't miss it. I carried my babies often in an organic baby carrier and they rarely awakened. Plus, I loved them close to me.
And the stroller? I got the Baby Jogger City Mini GT stroller which easily reclines for an infant.
OK, on to the car seat list:
1. Britax Car Seats with SafeWash Flame Retardant Free Covers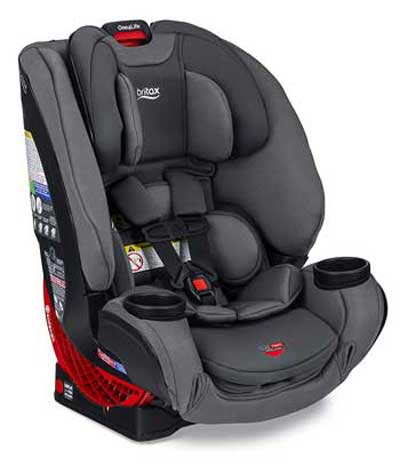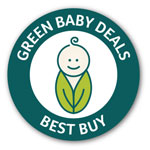 Britax car seats are not entirely free from flame retardants. However, they don't use any highly toxic chemicals, PFAS, or brominated flame retardants (independent testing by the Ecology Center).
The Ecology Center tests many car seat manufacturers for flame retardant chemicals and confirmed Britax as one of the best brands for non-toxic child car seats. Britax car seats are produced in the United States.
Britax introduced the SafeWash car seat covers in 2019. Make sure you choose the SafeWash fabric because these machine-washable covers are entirely free of flame retardants.
Infant:
Rear-facing: 4 to 35 lbs.
Convertible:
The Britax One4Life is a convertible all-in-one car seat that'll go from birth to school years.
Rear-facing: 5 to 50 lbs.
Forward-facing: 22 to 120 lbs.
I'll always recommend the convertible car seat option because it's a huge money saver!
The Britax One4Life car seat gets the Green Baby Deals Best Buy because it's the lowest-cost convertible seat with zero flame retardants on the car seat cover (the most important area since it will touch your baby's skin).
2. Nuna Car Seats — Completely Flame Retardant Free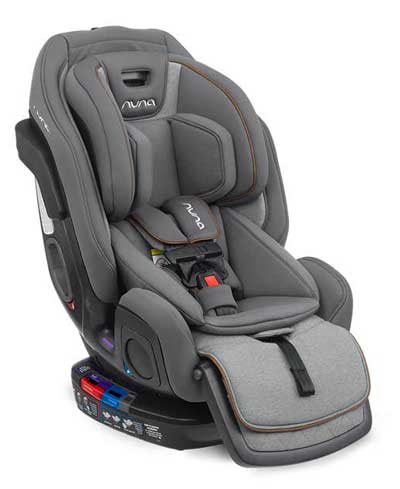 Nuna's entire car seat line is made with fire retardant-free material, is naturally flame resistant, and is free of PFAS.
In addition, they're GreenGuard Gold Certified (thoroughly tested and certified to meet stringent emissions standards).
The Nuna car seat line is premium and impressive. It comes with a bigger price tag so you have to decide if it's worth the extra cost.
Infant:
Rear-facing: 4 to 32 lbs.
GreenGuard Gold Certified
Convertible:
The Nuna Exec™ is a convertible all-in-one car seat that'll go from birth to school years.
Rear-facing: 5 to 50 lbs.
Forward-facing: 25 to 120 lbs.
Made with merino wool
GOTS™ certified organic cotton insert, harness covers & crotch cover
GreenGuard Gold Certified
3. Clek — Certain Models are Flame Retardant Free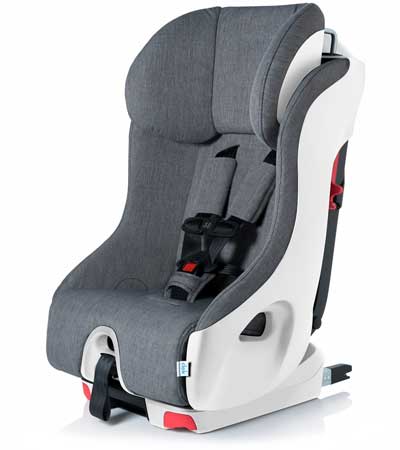 Clek has a mixed bag when it comes to car seats. As of this writing, only some are free of flame retardants.
Whether you go infant or convertible, you'll want to choose the Mammoth collection (Oeko-Tex certified and free of flame retardants and PFAS).
Infant:
Rear-facing: 4 to 35 lbs.
Free of brominated and chlorinated flame retardants, while the Mammoth collection is free of any flame retardants.
A bit pricey for an infant seat.
Convertible:
Although the Clek makes a convertible car seat, you'll still need to purchase the infant insert and booster seat.
Rear-facing: 5 to 50 lbs. (only if you also buy the infant insert).
Forward-facing: 22 to 65 lbs.
Free of brominated and chlorinated flame retardants, while the Mammoth collection is free of any flame retardants.
This isn't all-in-one (you'll need to purchase a separate booster seat).
Considering you need to buy an infant inserter and a booster, this gets pretty pricey.
What? Only 3 brands? Yup I like to keep things short and sweet. I also only picked the ones that had the best ratings. You won't find analysis paralysis here.
Join the FREE PREGNANCY CHALLENGE and say bye-bye to harsh chemicals & toxins.
(By entering your email you agree to receive emails from Green Baby Deals. No spam, just awesome. Unsubscribe anytime.)
What Should You Do If You've Already Purchased a Car Seat With Flame Retardants?
Car seats are costly, and it's not always possible to replace them immediately. If you have a car seat with flame retardants, don't panic.
Consider how long your baby will use this current car seat still and if it's only for a bit, replace it with the next upgrade to a car seat without flame retardants.
Why does this work? Heat and UV rays accelerate the release of the chemicals. Leaving the car seat outdoors in the sun will release some of the harmful chemicals to outgas before it's put into your car. 
In addition to leaving the car seat outside, you could also wash and scrub it with some fabric cleaners to reduce the flame retardant. Washing and scrubbing the car seat might not remove all of the chemicals, but it'll reduce it in some way and reduce exposure. Just make sure to read the the manufacturer's washing instructions to make sure this is ok.
Some companies like Target offer car seat trade-in programs with coupon vouchers to purchase new car seats. Check with a Target in your area to upgrade the car seat to a non-toxic car seat.
That's all there is to it, mamas. I hope this list of car seats without flame retardants helps you make the best choice for your baby's safety and health.
Congrats on taking one more easy step toward living a safer greener life for you and baby.
Ready for more? Take the FREE Pregnancy Challenge or check out all the baby registry must-haves here.
Peace love & baby kicks.
Care to share?
Sources
1. "Toxic flame retardants are in children's car seats." ScienceDaily, 3 December 2018, https://www.sciencedaily.com/releases/2018/12/181203080322
2. "Chemicals Linked to Decreased Fertility, Impaired Learning, Liver Toxicity, and Cancer." Healthy Stuff, A Project of the Ecology Center, https://www.ecocenter.org/healthy-stuff/reports/childrens-car-seat-study/press_release
3. Israel, Brett. "Flame Retardants May Create Deadlier Fires." Scientific American, 4 April 2012, https://www.scientificamerican.com/article/flame-retardants-may-create-deadlier-fires/
4. "What are PFAS Chemicals?" EWG, Environmental Working Group, https://www.ewg.org/pfaschemicals/what-are-forever-chemicals.html
5. "New Study Reveals Toxic Chemicals In Most Children's Car Seats." NC Child, The Voice for North Carolina's Children, December 2018, https://ncchild.org/new-study-reveals-toxic-chemicals-childrens-car-seats/
Jen Brady — Chief Green Mama
Mom of two. Wife of one. Holistic nutritional consultant. Amateur biohacker. Guide of the Green Yourself Pregnancy Challenge. Author of the Green Your Baby Registry Guide.
I'm wild about pregnancy and babies (in a sane way) and I need to steer you away from harsh chemicals and hormone disruptors. Stick with me to keep it lean and green.