FREE PREGNANCY CHALLENGE: say bye-bye to harsh chemicals & toxins.
---
Prevent Diaper Rash (and Cancer) the Non-Toxic, Talc-Free Way
Green Baby Deals is reader-supported. When you buy through links on our site, we may earn an affiliate commission. As an Amazon Associate, we earn from qualifying purchases.  Learn more.
Connect with others from pregnancy through motherhood (on a free app). Join community now.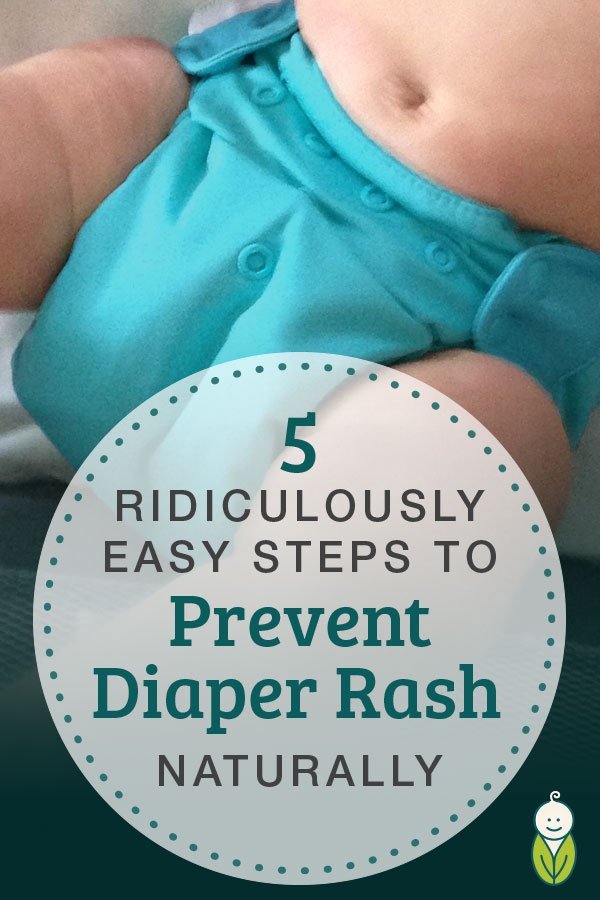 Johnson & Johnson has hit the news yet again, this time with having to pay $417 million for not adequately warning users of the cancer risks of talc in its baby powder. In 2016, they had to pay $72 million in damages to an Alabama woman (now sadly deceased) who claimed the company's baby talcum powder and other products caused her ovarian cancer.
But wait, Johnson's baby powder is regularly added to baby registries because it's just part of the diaper changing process, right? No, we're here to change your thoughts on this very, very important topic. Below we'll show you how to prevent diaper rashes without using powder, and a simple home remedy for a diaper rash.
What is Talc?
Talc is a naturally occurring mineral found in baby powders. Its main job is to reduce moisture, therefore reducing diaper rashes. But, the fine particles can be harmful if your baby breathes them in.
Pediatricians began discouraging it for health reasons as far back as 1985 (read the archive here). The main ingredient/culprit (talc) has not changed since then. In addition, talc in its natural form may contain asbestos, a known carcinogen.
The FDA does not allow talc-based products to contain any asbestos. However, these products don't have to be reviewed or approved by the FDA, so there's no guarantee that they haven't been contaminated.
So, can "asbestos-free" talc cause ovarian cancer? It's unclear, but as we continue to say, why would you ever take the risk, especially with your baby? Honestly, we can't believe this stuff is still on the market.
What about cornstarch for a diaper rash?
Cornstarch is a popular alternative to talc-based baby powders. Its particles are larger but can still be inhaled, which can be problematic for infants.
Honestly, we're not big fans of cornstarch either. If your baby has a yeast rash, it will thrive on cornstarch since starch is a complex sugar. So what can you use while changing your baby's diaper?
Here's How to Prevent Diaper Rashes the Non-Toxic, Powder-Free Way:
When you remove the dirty diaper, it's best to have an absorbent layer underneath, just in case (we love these super-absorbent prefolds). Also, put the clean diaper directly underneath.
Thoroughly wipe and clean soiled area with a homemade or nontoxic wipe. Our favorite disposable wipes are WaterWipes.
Now here's the trick to preventing diaper rash: dry the area extremely well. Use a clean, dry homemade wipe to pat dry and blow. Then pat dry again. Then blow. Make sure the entire area is very dry before the next step, so moisture isn't trapped in (the cause of most diaper rashes). PRO TIP: if using WaterWipes, just throw them into the wash with your cloth diapers and dry; these are perfect for reusing as a dry wipe.
Apply a non-toxic moisturizer for rash prevention. Our favorites: a thin layer of unrefined virgin organic coconut oil or Earth Mama Angel Baby Bottom Balm (both cloth-diaper friendly).
Enjoy this time with your little one. This is a chance for you to connect.
What Causes a Diaper Rash in Newborns, Babies and Toddlers?
It's tough to tell exactly what causes a diaper rash. Sometimes it's the harsh chemicals in diapers, so you should consider cloth or a non-toxic disposable diaper. If your baby is just starting solids, it may be a food intolerance. Or, a diaper rash could even appear if a dirty diaper is on for too long.
The Best Home Remedy for a Diaper Rash
If your baby does get a diaper rash, our remedy is very similar to the diaper-changing steps above. Just replace the coconut oil with a cloth-diaper safe cream to help heal it: go with the Boudreaux Natural Butt Cream found here.
When possible, let your baby go diaper-free. Air is your best friend at this point and will promote healing.
In addition, change the diaper often. If you're feeding at night, change every time you feed (sorry tired mamas, but this will help heal).
That's all there is to it, mamas. Congrats on taking one more easy step toward living a safer greener life for you and baby.
Ready for more? Take the FREE Pregnancy Challenge or check out all the baby registry must-haves here.
Peace love & baby kicks.
Care to share?