FREE PREGNANCY CHALLENGE: say bye-bye to harsh chemicals & toxins.
---
Non-Toxic Diapers: The 3 Best You Should Know About
Green Baby Deals is reader-supported. When you buy through links on our site, we may earn an affiliate commission. As an Amazon Associate, we earn from qualifying purchases.  Learn more.
Connect with others from pregnancy through motherhood (on a free app). Join community now.
Welcome, can I guess why you're here? Because you don't want strange chemicals touching your baby's bum. And perhaps the cloth diaper thing just isn't for you.
In this article, you'll learn what's in disposable diapers, why most of it isn't great, and the best non-toxic disposable diaper options. Let's dig in.
Best Non-Toxic Diaper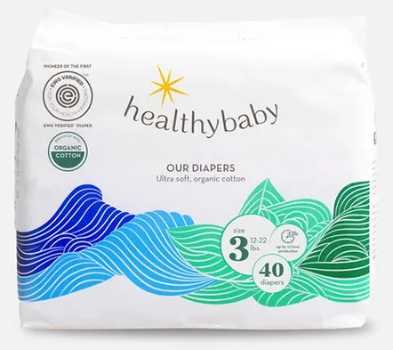 Best Bamboo Diaper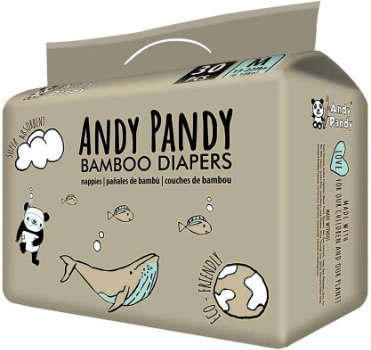 Best Budget Diaper
Why Use Non-Toxic Diapers?
Choose non-toxic diapers because they're naturally hypoallergenic, better for the planet, and the best option for babies with sensitive skin.
Non-toxic or organic diapers are going to be pricier than traditional. So are you just throwing money away? I always put my money where it matters most, which is why I opted for organic cloth diapers.
But I get it — that option doesn't always fit everyone.
The next best thing to cloth diapers is choosing non-toxic diapers. This is because traditional diapers can have some pretty harsh ingredients and chemicals in them. This can potentially cause harm to both your baby's bum and the environment.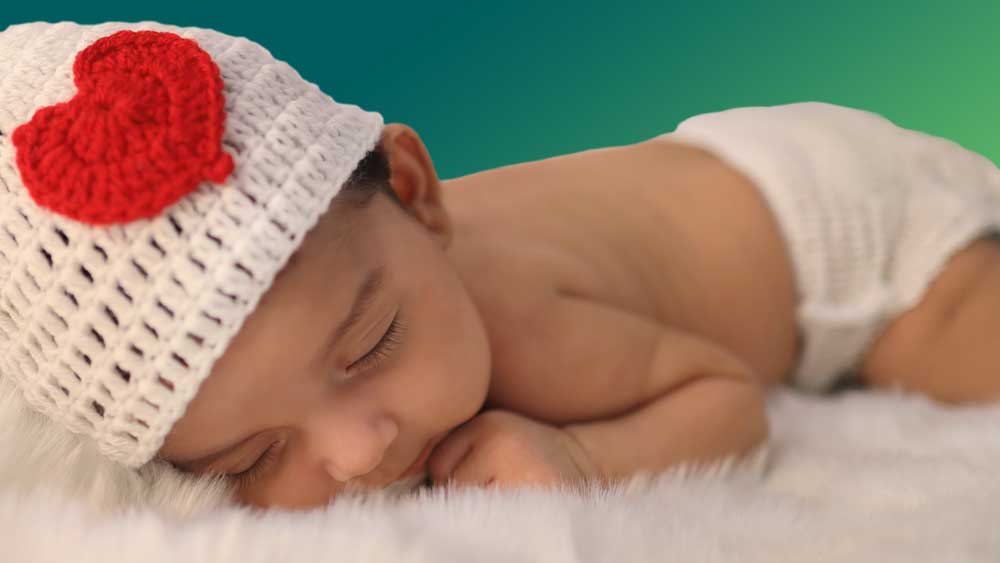 Which Chemicals are in Disposable Diapers?
Traditional disposable diapers can have the following in them: chlorine, sodium polyacrylate, TBT (tributyltin), VOCs, phthalates, latex, fragrances, parabens, and petroleum-derived plastics.
To see the entire list that can (but shouldn't) be in your baby's diapers: check out EWG's Diaper Ingredient List here.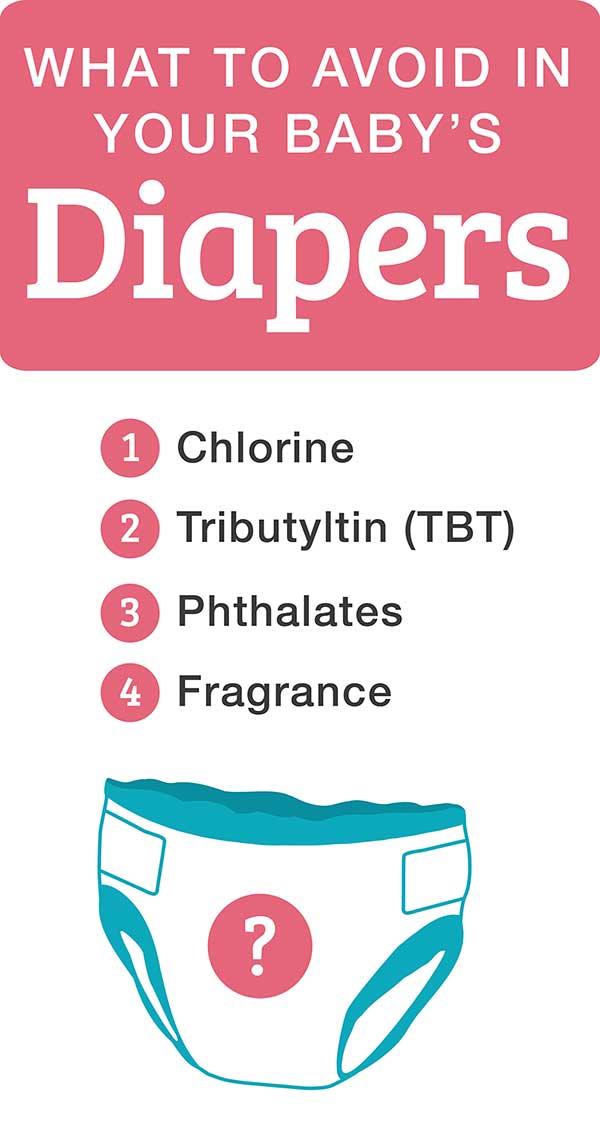 Not only do most of these have the potential to cause rashes, but they're also not great for the environment. Let's break down some of these disposable diaper ingredients:
Chlorine
Chlorine is often used to bleach the material in disposable diapers. The issue? This results in traces of dioxins, which the WHO states "can cause reproductive and developmental problems, damage the immune system, interfere with hormones and also cause cancer"1
Unfortunately, dioxins are present everywhere (with the highest concentration in our food source). But we should still opt for a chlorine-free diaper. Here's why: the bleaching process of diapers creates dioxins that end up in the environment and eventually our food supply chain.
With diapers, you'll often see ECF (elemental chlorine-free pulp) or TCF (total chlorine-free pulp). For the reasons mentioned above, always choose TCF.
Tributyltin (TBT)
"TBT has been considered as one of the most toxic contaminants entering the environment." 2
"…development of new sustainable technologies to remove TBT compounds are clearly necessary." 3
Choose diapers that steer clear of TBT.
Phthalates
You'll want to avoid phthalates as much as you want to avoid attempting to pronounce it (but if you're curious – it's "tha-lates"). This ingredient is used to make other ingredients more flexible.
Phthalates aren't only in diapers but can be found in many other baby products like toys, shampoo and lotions. The less exposure the better, and here's why:
Phthalate exposure can disrupt normal growth and development. And remember, baby's skin is more absorbent than ours. 4
Avoid, avoid, avoid.
Fragrance
This is a big one. Since companies (in the U.S.) don't have to disclose all of their ingredients, the term "fragrance" can contain hundreds of ingredients. This can include phthalates (listed above) and other chemicals linked to hormone disruption and cancer. 5
Fragrance is considered a high health hazard by the Environmental Working Group. It's "been associated with allergies, dermatitis, respiratory distress and potential effects on the reproductive system." 6
superabsorbent polymer (SAP)
Superabsorbent polymer (SAP) is typically sodium polyacrylate — they're the absorbent gel-like crystals found in baby diapers.
The Environment Canada Domestic Substance List classifies sodium polyacrylate as "expected to be toxic or harmful." 7
The data is only fair on SAP which is why EWG gives it a pretty low score of concern at 2.
Unfortunately, if you want to completely avoid SAP, you need to consider cloth diapering. Even the EWG-verified (best rating) healthynest diapers contain SAP.
OK, ready for some eco- and bum-friendly non-toxic diapers? Here we go:
What are the Best Non-Toxic Diapers?
1. healthybaby™ Non-Toxic Organic Diapers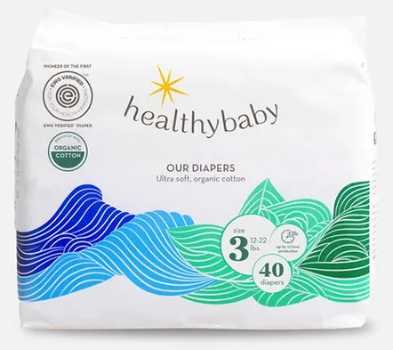 Check out the first diaper to have the EWG Verified stamp of approval. It's also my #1 choice for a non-toxic diaper. Here's why:
It's made with organic cotton and OEKO-TEX® Standard 100 certified (tough to find). Only plant-based materials will touch your baby's skin. The diapers are manufactured using renewable energy. And it's all paper packaging.
All of this awesomeness and of course it'll keep your baby dry.
PROS:
Ingredient transparency.
TCF (total chlorine-free pulp aka the good one).
Made with organic cotton.
Made with FSC certified wood pulp.
OEKO-TEX® Standard 100 certified.
EWG Verified.
MadeSafe Verified.
Free of chlorine, TBT, phthalates, fragrances, optical brighteners, parabens and all of the other banned ingredients in the EWG list here.
Bonus: healthynest is a Certified B Corporation.
Co-founder Shazi Vizram is a true inspiration (you can watch Shazi's story here).
You can save a bit when you subscribe monthly (I typically hate those but diapers are a justified monthly subscription).
CONS:
2. Andy Pandy Non-Toxic Diapers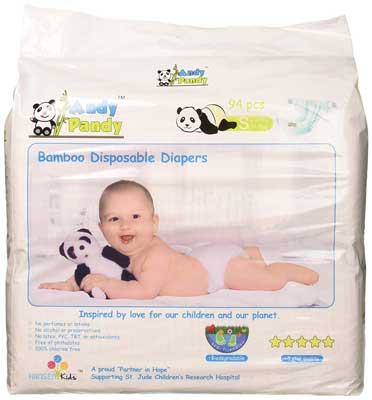 "Award-winning, eco-friendly disposable diapers that work. All day, every day." They're soft, strong, and super absorbent.
They're also naturally hypoallergenic and antibacterial. And, the backsheet is made of 100% bamboo fiber which makes them 87% biodegradable.
Andy Pandy Bamboo diapers have an advanced moisture wicking technology and thermal regulating bamboo material.
This makes the diapers breathable and comfortable.
PROS:
Ingredient transparency.
TCF (total chlorine-free pulp aka the good one).
Free of chlorine, TBT, phthalates, fragrances, alcohol, preservatives, latex, PVC, and antioxidants.
Includes wetness indicator (PH strip).
Partner and supporter of St. Jude's Children's Research Hospital
CONS:
Some say they degrade a bit if it stays soaked for too long.
3. ATTITUDE® Non-Toxic Diapers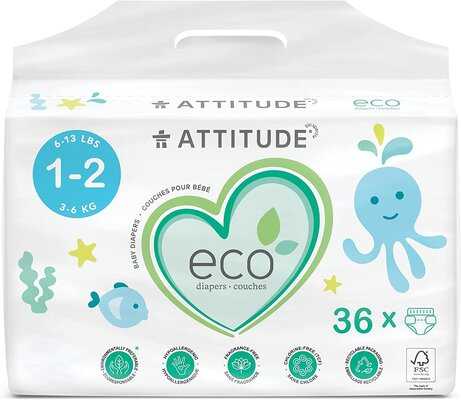 I love the Canadian-based ATTITUDE brand and its consistent innovative products that focus on our planet.
ATTITUDE's mission: Clean products, less plastic, and more trees.
I use a ton of their products and they always perform well while staying non-toxic.
The diapers are no exception. Here's what's great:
PROS:
Ingredient transparency.
TCF (total chlorine-free pulp aka the good one).
Made with FSC certified wood pulp.
Leakage is minimized with the diaper's shape, wings and elastic openings hugging the baby's body to adapt to its shape.
Free of chlorine, TBT, phthalates, fragrances, BPA, PVC, alcohol, formaldehyde, preservatives, dyes, and parabens.
Recieved the North American Parent Tested Parent Approved Award (PTPA).
CONS:
Some say they run a little big.
Join the FREE PREGNANCY CHALLENGE and say bye-bye to harsh chemicals & toxins.
(By entering your email you agree to receive emails from Green Baby Deals. No spam, just awesome. Unsubscribe anytime.)
Are Pampers Pure Actually Non-Toxic?
Pampers Pure diapers state they're free of fragrance, chlorine, latex and dioxins. However, they don't mention phthalate-free.
Because disposable baby diapers are not classified as medical devices, the diaper manufacturers aren't required to disclose their ingredients to ensure safety. 
So when it comes to diapers, if they don't say it's not in there, assume it's in there.
Rule of thumb: Buy from manufacturers who give complete transparency in their diaper ingredients.
Because Pamper Pure diapers don't mention they're phthalate-free, I choose to pass on them.
They're also made with ECF (elemental chlorine-free pulp), and remember the better choice is TCF (total chlorine-free pulp).
Which Disposable Diapers are the Safest?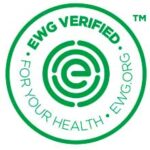 Go with healthynest non-toxic diapers. They have complete transparency with their formula and are EWG VERIFIED™.
What are the Best Non-Toxic Diapers for Blowouts?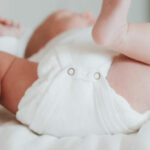 Typically the cause of blowouts are incorrect sizing. If you're getting more than your fair share of blowouts, it's time to check the fit and potentially go up in size. Any non-toxic diaper that fits properly shouldn't cause a blowout.
What Else is Important in a Non-Toxic Diaper?
Now that you know it's best to choose diapers not filled with chemicals, of course you need the diaper to work.
So besides being non-toxic, here's what to look for:
Absorbency
It's super important for a diaper to be as absorbent as possible. That's what keeps your baby dry and comfortable and avoids irritation, rashes, discomfort, etc.
Diapers, even the non-toxic ones, have come a long way and include advanced moisture-wicking materials for the best absorbency. 
Typically, the better the diaper absorbs, the less leakage there'll be. Look for multiple layers for extra leakage protection.
All of the above non-toxic diapers mentioned above have high absorption.
Comfort and fit
It's absolutely vital that the diaper is comfortable and fits your baby. Too tight = unnecessary extra tears. Too loose = well, don't experiment with this one.
Reality is: one diaper doesn't always fit all.
You may need to get a small pack and try them out. Because life would be boring if all babies were made the same.
How to Save Money on Diapers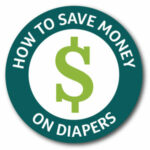 1. Amazon's Diaper Discount: Use Amazon's Baby Registry and they'll give you 20% off diapers for the first year. Add the Subscribe & Save options and you're up to 40% off. Serious savings.
2. Join TopCashBack. It's free and the savings add up fast. Vitacost is on there and it's often up to 6% cashback. It's easy to redeem as well.
3. Use Honey. Forget trying to look up coupon codes. Use Honey and it'll find the best usable codes when you go to checkout. I've saved hundreds.
4. Vitacost. No membership fee and there's always a coupon code. Use TopCashBack and Honey with Vitacost, and your diaper savings are huge.
5. Cloth diaper. No doubt — if you truly want to save money on diapers, consider cloth diapering. You can even find them used. My faves are the all-in-one options (buy one size and it's good from newborn to potty time).
Best Non-Toxic Diapers Summary
That's all there is to it, mamas. Congrats on taking one more easy step toward living a safer greener life for you and baby.
Ready for more? Take the FREE Pregnancy Challenge or check out all the baby registry must-haves here.
Peace love & baby kicks.
Care to share?
Sources
1 "Dioxins and their effects on human health" World Health Organization, 4 October 2016, https://www.who.int/news-room/fact-sheets/detail/dioxins-and-their-effects-on-human-health
2 Okoro, H.K.; Fatoki, O.S.; Adekola, F.A.; Ximba, B.J.; Snyman, R.G. "Tributyltin." ScienceDirect, Elsevier, 14 April 2014, https://www.sciencedirect.com/topics/neuroscience/tributyltin
3 Antizar-Ladislao B. "Environmental levels, toxicity and human exposure to tributyltin (TBT)." PubMed, National Library of Medicine, 23 October 2007, https://pubmed.ncbi.nlm.nih.gov/17959247/
4 Braun, Joseph M.; Sathyanarayana, Sheela; Hauser, Russ. "Phthalate Exposure and Children's Health." PMC, National Center for Biotechnology Information, 1 April 2014, https://www.ncbi.nlm.nih.gov/pmc/articles/PMC3747651/
5 "Expert Panel Confirms that Fragrance Ingredient Can Cause Cancer." Environmental Working Group, 7 August 2014, https://www.ewg.org/enviroblog/2014/08/expert-panel-confirms-fragrance-ingredient-can-cause-cancer
6 "Fragrance." Skin Deep®, Environmental Working Group, https://www.ewg.org/skindeep/ingredient/702512/FRAGRANCE/#
7 "SODIUM POLYACRYLATE" Skin Deep®, Environmental Working Group, https://www.ewg.org/skindeep/ingredients/706159-SODIUM_POLYACRYLATE/

Jen Brady — Chief Green Mama
Mom of two. Wife of one. Holistic nutritional consultant. Amateur biohacker. Guide of the Green Yourself Pregnancy Challenge. Author of the Green Your Baby Registry Guide.
I'm wild about pregnancy and babies (in a sane way) and I need to steer you away from harsh chemicals and hormone disruptors. Stick with me to keep it lean and green.