FREE PREGNANCY CHALLENGE: say bye-bye to harsh chemicals & toxins.
---
These 18 Natural Baby Products Will Keep it Safe (& Cheap)
Green Baby Deals is reader-supported. When you buy through links on our site, we may earn an affiliate commission. As an Amazon Associate, we earn from qualifying purchases.  Learn more.
Connect with others from pregnancy through motherhood (on a free app). Join community now.
After a ridiculous rabbit hole that led me to weeks of research, I've learned what you choose for your baby absolutely matters. 
Trust me, pass on: harsh chemicals, carcinogens and hormone disruptors — things you obviously don't want for your newborn.
Even with things you're unsure of (like is PEVA safe for babies?), I dig deep into the research. 
Say hello to: natural, non-toxic, organic, sustainable, chemical-free… all the good stuff.
As always, I scope out the products that won't blow your baby budget.
Check out my Green Your Baby Registry Guide for even more.
Ok here we go:
Bathing your baby should be simple and natural.
The bathroom can be full of plastic, from the shower curtain to your toothbrush. Which ones are OK and which should we try to avoid?
Well for starters, many tubs are made from PVC. The plasticizers used to soften the PVC plastic are phthalates.
What's wrong with phthalates? Animals exposed to phthalates are more likely to develop liver cancer, kidney cancer, and male reproductive organ damage.1 
Add to that: children are far more sensitive than adults to toxic chemicals in the environment.2 
So you need non-toxic and something that lasts. Infant tubs may seem like a good idea, but they can cost up to $50 and your little one will grow out of them, fast. 
Get something that will last you a bit longer: the convertible tub. (Don't know me by now? "Convertible" is one of my favorite money-saving words — whether it's a car seat, crib or tub.)
1. Primo EuroBath Non-Toxic Baby Bathtub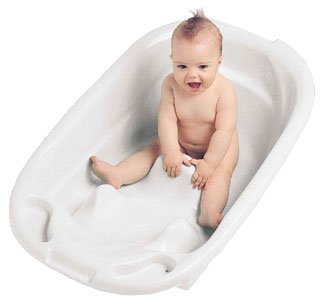 Two-stage system: transition from newborn to toddler age.
Made in U.S.A.
100% polypropylene (recyclable).
Free of BPAs, lead and phthalates.
Tip: Put a soft washcloth behind your newborn's head to reduce slipping and for more comfort.
How about bath toys? Sorry rubber ducky — you are not the one.
While it's fine to make some exceptions for plastics in our life, soft plastics are not ok. The little ducks typically contain PVC (remember, the bad stuff, and it's going in their mouth).
And before you know it, they fill with water, it's impossible to get out and it develops mold. Yuck.
Simple rule of thumb: if it's soft and squishy plastic, you don't want it in your baby's mouth.
So, what can a baby play with in the tub? Non-fun info: your baby's skin dries out quickly and bathtime should be limited. That said, it's still nice to have a little something in the tub.
2. Kala the Whale Natural Rubber Baby Bath Toy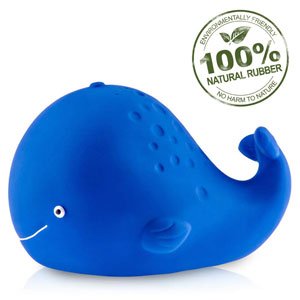 100% natural rubber (the exception to the soft and squishy rule).
Free of BPAs, PVCs, phthalates and nitrosamine.
Made with food-grade paint.
Completely sealed design prevents water from getting inside.
3. Green Toys Bath Set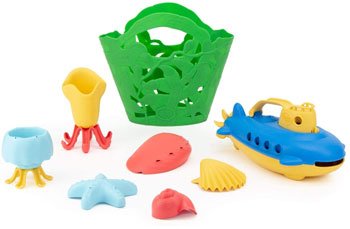 100% recycled plastic.
Made in U.S.A.
Grows with baby (fun for toddlers too).
Budget tip: don't forget about kitchenware you don't use regularly (I know you've got them!) Measuring cups and a whisk can be really fun and cheap for tubby time.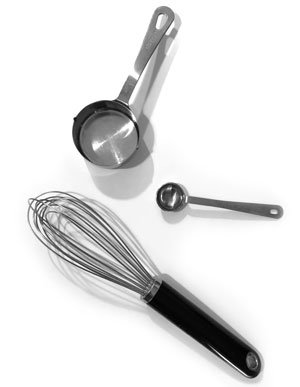 So how about washing? Don't fall for the marketing trap: newborns aren't dirty and need very little (if any) soap!
As they grow, they still don't need a whole lot. Choose a non-toxic body wash and shampoo in one.
4. Earth Mama Simply Non-Scents Baby Wash

Pricey, but large 34-oz. bottle will last a long time.
Made with organic herbs and oils; certified by Oregon Tilth.
Free of artificial fragrance, triclosan, phthalates, parabens and sulfates.
Ingredients: water, organic coconut (cocos nucifera) oil, organic olive (olea europaea) fruit oil, potassium hydroxide*, vegetable glycerin, citric acid, organic shea (butyrospermum parkii) butter, organic calendula (calendula officinalis) flower extract, organic aloe (aloe barbadensis) leaf juice (*none present in final product).
Almost done with bathtime here. You'll also want some washcloths and a towel (organic of course).
5. 100% GOTS Organic Washcloths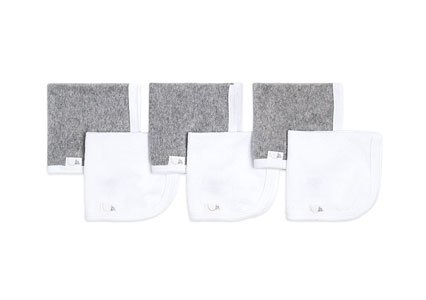 Set of 6 — 8.5″ x 8.5″.
100% GOTS certified organic cotton.
Knit terry: smooth on one side, loop on the other.
6. 100% GOTS Organic Towel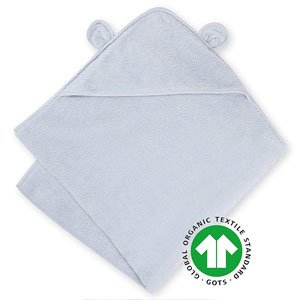 Skip the tiny newborn towels: get one that lasts through toddlerhood. Generously sized at 35″ x 35″.
100% GOTS certified organic cotton.
Plush, absorbent, fast drying and a lifetime guarantee.
Cute hood is ideal for photo opps.
The epitome of saving green and being green is choosing cloth diapers.
I did it for 4 years and it's definitely a poop-and-time commitment. But once you get over the learning curve and get into your daily routine, it's truly no big deal.
7. GroVia All-in-One Organic Cloth Diapers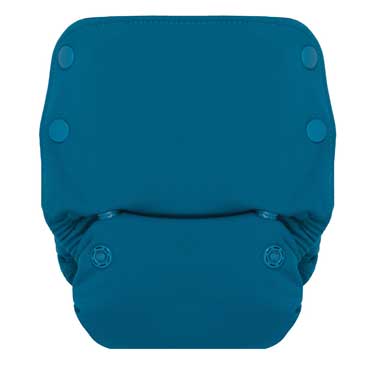 Make the process simple with an all-in-one diaper: no folding, stuffing, or keeping track of covers.
One-size feature (10-35+ lbs) will last through almost the entire diaper stage.
Waterproof outer layer: 100% water-resistant TPU lined with two layers of organic cotton. Ultra-absorbent inner soaker: four layers of 100% certified organic cotton. 
Get at least 18 diapers and plan on doing a load of laundry every other day.
Don't have sticker shock and do the math: buying these now could save you thousands of dollars in disposable diaper costs.
You can find everything you need that goes with cloth diapering in the Green Your Baby Registry Guide.
Skip the newborn cloth diapers: they're pricey and your babe will fit into the one-size diapers in no time. Go with a non-toxic newborn diaper.
Not up for cloth diapering? No judgement. Check out the best non-toxic disposable diaper options here.
8. Andy Pandy Non-Toxic Diapers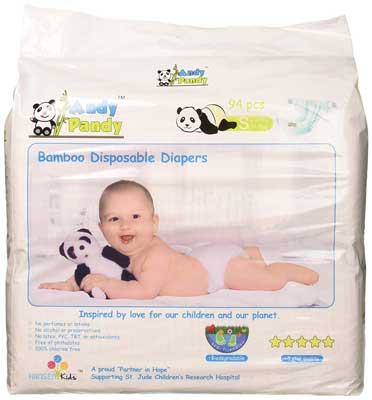 100% free of chlorine, phthalates, latex, PVC, TBT, alcohol, and preservatives.
They have a "no leak guarantee."
Andy Pandy is a partner and supporter of St. Jude's Children's Research Hospital.
Now you need a non-toxic laundry detergent to wash all those diapers (and baby clothes!)
9. Molly's Suds Laundry Powder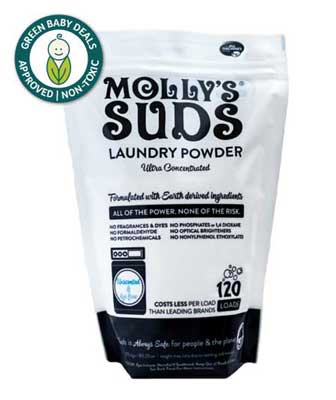 Made with just 4 earth & mineral-derived ingredients: Sodium carbonate sourced from the Green River Basin in Wyoming, sodium bicarbonate, magnesium sulfate (heptahydrate), and unrefined sea salt.
Ideal for all washing machines including HE.
Free of harsh chemicals, toxins, fillers, carcinogens, preservatives and GMO ingredients.
Gluten-free, certified vegan, and certified cruelty-free by Leaping Bunny.
Fantastic customer service.
It's not just about what you put on your baby. So let's talk plastic. In the kitchen, plastics can be everywhere and tough to avoid.
Why avoid them? Certain plastics leach into the food and water they contain. BPA exposure has been associated with adverse neurobehavioral development, cancer, asthma, and fertility outcomes.3 
As if that's not enough, there've been some reports stating "BPA-free" plastic may contain even more harmful chemicals than BPA, such as BPS (bisphenol-S).4 
Here's what I used to avoid plastic with my littles:
10. Evenflo Classic Glass Bottles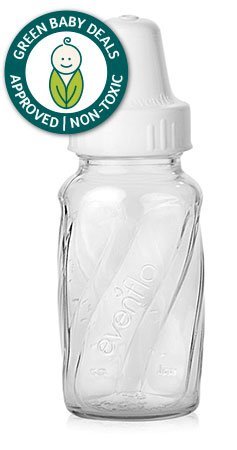 Tempered glass easy sanitizing, recycling, and sustainability.
Silicone nipple with Micro Air Vents™ helps prevent nipple collapse (I've never had any collapsing issues).
Super easy to clean. Each bottle has only 4 parts (compared to fancy ones that typically have 6+).
Includes everything you need: bottle, nipple ring, nipple and cap.
Perfect for breastmilk: fits on Medela and Ameda pumps without adapters.
11. Green Sprouts Glass Sippy Cup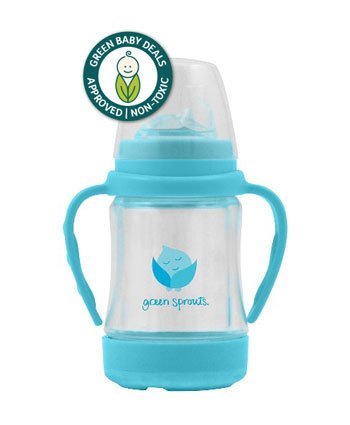 Liquids only touch glass and silicone.
Drip-free spout with vented free flow for natural transition from breast-feeding.
Non-slip, shock-absorbing base helps resist breaks.
12. Wee Sprout Glass Containers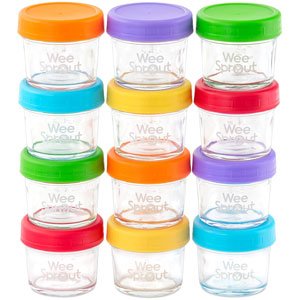 Save big by using these for all stages: store your milk in the freezer to organic baby food to toddler snacks.
4 oz. high-grade food-safe glass containers with lids.
100% free of BPAs, phthalates, and PVCs.
Bonus dry erase marker included for easy labeling.
13. 2-Pack Silicone Bowls and Spoons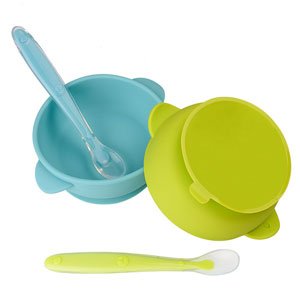 Easy to clean silicone bowls with suction cup base.
Highest silicone food safety standards (LFGB).
Free of BPAs, lead, phthalates, and latex.
Now you need to wash all that — use a safe dish soap, cloth and scrub:
14. Ecover Zero Dish Soap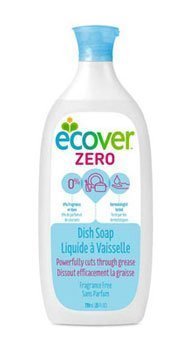 Biodegradable and free of dyes, chlorine and fragrance (seriously, you don't need to have nice-smelling dishes from a fake fragrance).
Scores an "A" on Environmental Working Group. (source)
Use it for everything — from your glass baby bottles to your dirtiest pans.
15. Skoy Reusable Cloth and Scrub Pack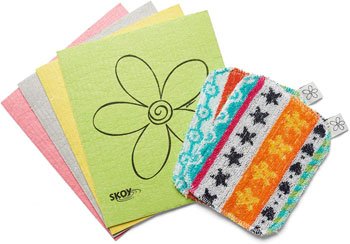 Love Skoy! Long-lasting and durable.
Replace paper towels, sponges, rags and dishcloths.
Sustainable and environment-friendly
The Skoy cloth is chlorine-free, unbleached, and non-GMO. Water-based colors and inks.
Cotton cloth and scrub can be cleaned for reuse (in the dishwasher too).
Cloth is compostable and breaks down within 5 weeks.
Of course the main goal is to use plastic as little as possible. But let's face it, plastics are all around us, especially in the kitchen.
If and when you need to use them, follow these tips:
Never microwave plastic. Ever.
Use plastics for foods/liquids that have already been cooled down enough for your baby to eat/drink.
Never reuse plastics intended for a single use (labeled as #1 plastic).
Wash plastics thoroughly by hand with warm soapy water. (This will reduce wear and tear caused by the dishwasher.)
Don't store anything in plastic.
Plastic Safe Numbers Chart
Which plastic numbers are safe? Check out the chart: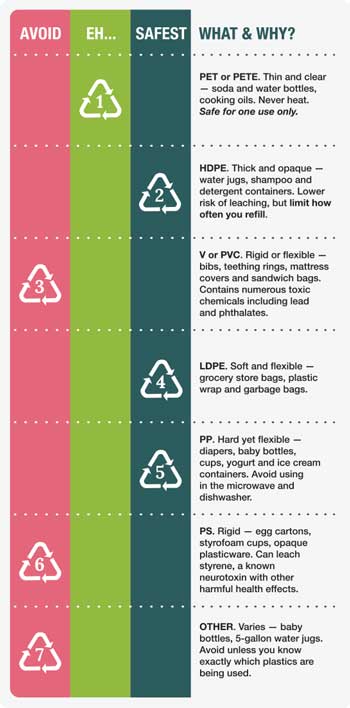 Recycling Numbers Reference:
♻ #1
PET or PETE (Polyethylene Terephthalate). Thin and clear — soda and water bottles, cooking oils. Never reuse, refill or heat. Repeated use increases the risk of leaching and bacterial growth. Recyclable. Safe for one use only.
♻ #2
HDPE (High-Density Polyethylene). Thick and opaque — water jugs, shampoo and detergent containers. There's a lower risk of leaching than #1, but limit how often you refill. Recyclable.
♻ #3
V or PVC (vinyl). Rigid or flexible — bibs, teething rings, mattress covers and sandwich bags. Contains numerous toxic chemicals including lead and phthalates. Known as the "poison plastic." Not recyclable. Avoid, avoid, avoid.
♻ #4
LDPE (low-density polyethylene). Soft and flexible — grocery store bags, plastic wrap and garbage bags. Recyclable, but typically not curbside and often dumped into landfills. Use less of these (click here to see tips below), or check where to recycle your plastic bags and wraps here.
♻ #5
PP (Polypropylene). Hard yet flexible — disposable diapers, plastic baby bottles, cups, yogurt and ice cream containers. Avoid using in the microwave and dishwasher. Recyclable.
♻ #6
PS (Polystyrene). Rigid — egg cartons, styrofoam cups, opaque plasticware. Can leach styrene, a known neurotoxin with other harmful health effects.5 Not recyclable. Avoid, avoid, avoid. 
♻ #7
OTHER. Varies — baby bottles, sippy cups, 5-gallon water jugs. Any other plastic not mentioned are dumped into this category. It could include polycarbonate with potential cancer-causing BPA.6 So it's best to avoid. Not recyclable.
Side note: all recycling programs are unique (and confusing)! Check with your local county to see what you should be doing curbside.
Also check here to see what's recyclable in your area.
So how in the world do you remember all this? You can download the safe plastic numbers printable chart here, or try this (kinda) simple rhyme:
7, 6 and 3: not for baby and me.
Plastic Alternatives
Even when the plastic number is recyclable, only a small percentage ends up being recycled.
So consider the following for a truly sustainable kitchen:
Of course you'll pay a tad more upfront, but the savings for you (and the earth) in the long run are priceless.
On to the fun stuff. The world of toys is full of cheap plastic. Consider the below instead.
And always check out your local consignment store for some hardly-used non-toxic toys.
16. HABA Color Pyramid Clutching Toy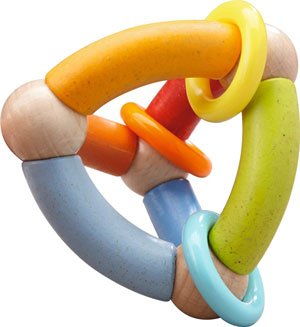 For babies ages 6 months and up.
Made in Germany.
Wooden beads are made of beech wood (naturally colored) that comes from sustainable forestry in Germany. Three plastic rings move and rattle when shaken.
Colored rods are made from a naturally occurring organic material (from 100% renewable resources).
Passes all U.S. and European safety standards.
See other baby wooden toys here.
17. Non-Toxic Newborn Book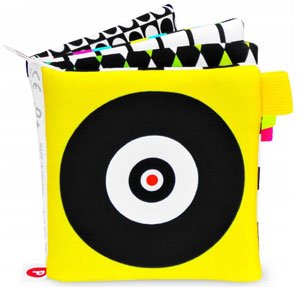 Inspired by images for optical calibration and instructions in the LEA Vision Tests for infants.
Food grade micro knitted fabric, hypoallergenic fill, non-toxic sublimation inks, and woven elastic without latex.
Made of safe materials of the highest quality OEKO-TEX® | STANDARD 100 certification, using sublimation printing.
Machine washable.
Hygienically packed in PP foil.
18. Under the Nile Scrappy Buddy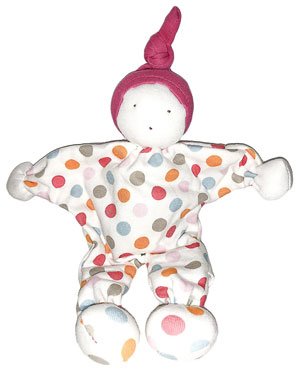 8″ tall.
100% organic Egyptian cotton, certified by GOTS and Gold Seal of authentic Egyptian Cotton.
Stuffed with 100% organic Egyptian cotton — safe for babies to chew.
Colors vary: quirky and colorful — made from leftover scraps from their clothing production (so cool!)
Made in Egypt at a sustainable Certified Fair Trade facility without the use of pesticides or chemicals throughout the entire production process.
That's all there is to it, mamas. Congrats on taking one more easy step toward living a safer greener life for you and baby.
Ready for more? Take the FREE Pregnancy Challenge or check out all the baby registry must-haves here.
Also check out the best wooden toys for babies.
Peace love & baby kicks.
Care to share?
"Creating my natural baby registry will be fun & stress-free."
— said no mama, ever.
Let's get real.
Sources
1 "Phthalates and Children's Products." Paul Brown, Keris KrennHrubec, Dana Casciotti, Ph.D., Brandel France de Bravo, MPH, and Stephanie Fox-Rawlings, PhD, National Center for Health Research, http://www.center4research.org/phthalates-childrens-products/
2 "Children's Vulnerability To Toxic Chemicals: A Challenge And Opportunity To Strengthen Health And Environmental Policy." Philip J. Landrigan and Lynn R. Goldman, Health Affairs, May 2011, https://www.healthaffairs.org/doi/10.1377/hlthaff.2011.0151
3 "Further Limiting Bisphenol A In Food Uses Could Provide Health And Economic Benefits." Leonardo Trasande, Health Affairs, February 2014, https://www.healthaffairs.org/doi/10.1377/hlthaff.2013.0686
4 "BPA-Free Plastic Containers May Be Just as Hazardous." Jenna Bilbrey, Scientific American, 11 August 2014, https://www.scientificamerican.com/article/bpa-free-plastic-containers-may-be-just-as-hazardous/
5 "Neurotoxic effects of styrene: further evidence." N Cherry and D Gautrin, US National Library of Medicine, National Institutes of Health, January 1990, https://www.ncbi.nlm.nih.gov/pmc/articles/PMC1035091/
6 "Bisphenol A and Hormone-Associated Cancers: Current Progress and Perspectives." Hui Gao, MD, Bao-Jun Yang, MD, Nan Li, MD, Li-Min Feng, MD, Xiao-Yu Shi, MS, Wei-Hong Zhao, MD, and Si-Jin Liu, PhD, US National Library of Medicine, National Institutes of Health, January 2015, https://www.ncbi.nlm.nih.gov/pmc/articles/PMC4602822/#:~:text=BPA%20can%20mimic%20estrogen%20to,to%20cancer%20development%20and%20progression.
Jen Brady — Chief Green Mama
Mom of two. Wife of one. Holistic nutritional consultant. Amateur biohacker. Guide of the Green Yourself Pregnancy Challenge. Author of the Green Your Baby Registry Guide.
I'm wild about pregnancy and babies (in a sane way) and I need to steer you away from harsh chemicals and hormone disruptors. Stick with me to keep it lean and green.