FREE PREGNANCY CHALLENGE: say bye-bye to harsh chemicals & toxins.
---
Here are the 11 Best Wooden Toys for Babies
Green Baby Deals is reader-supported. When you buy through links on our site, we may earn an affiliate commission. As an Amazon Associate, we earn from qualifying purchases.  Learn more.
Connect with others from pregnancy through motherhood (on a free app). Join community now.
And so it's official: we're living in the age of plastic. When it comes to toys for babies, plastic is cheap and durable, making it quite common and popular. Walk the aisle of any toy aisle and it's filled with bright colors, batteries required and "Made in China." What can we do?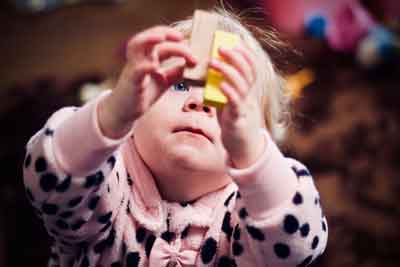 More and more parents are returning to the old traditional toys made out of wood, as they realize they are far better for both the baby and environment.
Reality is — babies like to chew absolutely everything. It's part of their learning and development. So when they do? Let's make it safe. OK here we go.
Are Wooden Toys for Babies Safe?
YES. Wooden toys are safe for babies. That said, you'll want to make sure it's a hard wood, since babies are often teething/chewing/drooling. And absolutely know and trust the company that makes the toy.
Chewing plastic isn't the healthiest, as it can often contain many toxic products and chemicals (think BPA, PVC or phthalates). In contrast, wood is a natural material, meaning a lot safer for your baby. 
Are Wooden Toys Hygienic?
Wooden toys are actually more hygienic than plastic toys. Because wood is porous, it can absorb moisture and bacteria from the surface. The bacteria eventually dies off as opposed to multiplying on plastic. Therefore, wood has a natural antibacterial quality.
Wait, wooden toys are self-cleaning? Sign me up. OK, not totally, you should still read the manufacturer's guidance on wiping down the toys (especially after a good ol' baby drool session).
And, is "antibacterial wood" actually a real thing? I had to find out, and yes it is, when comparing it to plastic. Almost all of the studies are with cutting boards (also important!)
Check out this study comparing plastic and wood which states: "Plastic blocks were readily recovered for minutes to hours and would multiply if held overnight. Recoveries from wooden blocks were generally less than those from plastic blocks… These results do not support the often-heard assertion that plastic cutting boards are more sanitary than wood."
(Side note mamas: say goodbye to those plastic cutting boards and stick with wood!)
Why Are Wooden Toys for Babies Better?
Wooden toys are better because they're safer than plastic, they encourage imaginative play, they can be more durable than cheap plastic toys, and they're more environmentally-friendly.
Wooden toys might come across as simple and uninteresting, as they don't use batteries to move around or have any modern attributes to come alive.
But the opposite is true — a 2015 study in the journal JAMA Pediatrics found this:
"Electronic toys for infants that produce lights, words and songs were associated with decreased quantity and quality of language compared to playing with books or traditional toys."
Granted it was a small-sample study, but I'm willing to bet had it been larger scale, the results would be similar. It just makes sense.
I've compiled a list of the best wooden toys depending on your spending comfort level. Of course the ones handmade in the U.S. will cost a bit more than imported and high-volume.
Just keep in mind these toys will last. My kiddos are a bit older and they still pick up some of these toys for pretend play. The majority of them are also considered Montessori toys.
In a hurry?
You can't go wrong with the Hape Store Pound & Tap Bench with Slide Out Xylophone. 
I love Hape — it's my go-to brand because it's good quality without breaking the bank.
Even though Hape toys come from China, they maintain control of their factory and many of the materials are sourced in Germany. The quality controls are strict. They make safe educational toys and minimize their environmental impact.
Read more about Hape being safe here.
Main features:
Best-selling product and highly recommended.
Multifuncional musical toy, with xylophone and balls.
Helps develop musicality and audio recognition.
Promotes dexterity and motor skills.
100% safe, non-toxic, and highly durable.
Winner of the 2018 Cribsie Award for the favorite musical toy.
Alright, let's get to the full list in detail:
1. Hape Store Pound & Tap Bench with Xylophone Wooden Toy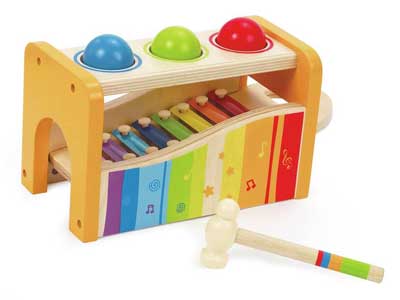 You already know I'm a big fan of Hape, and this one's my fave because it's compact but still has a lot of play options.
The Pound & Tap Bench with slide out Xylophone has a surface with three detachable balls, and a slide-out xylophone underneath that can be played with a small hammer (included).
The xylophone element helps develop the baby's musicality, as well as audio recognition and musical exploration.
This toy helps promote dexterity, hand-eye coordination and arm movement.
The vibrant-colored paint is water-based, therefore non-toxic. And the wood? Non-toxic, highly durable and sustainable.
It's a best-selling and fun toy to have around the house, enjoyed by many babies (toddlers and kids too!). Arguably the best wooden toy out there.
As a major plus, it's also won the 2018 Cribsie Award for favorite musical toy suitable for ages between 12 months and 3 years.
PROS:
Best-selling product and highly recommended.
Multifuncional musical activity toy with xylophone and balls.
Helps develop musicality and audio recognition.
Promotes dexterity and motor skills.
100% safe, non-toxic and highly durable.
Winner of the 2018 Cribsie Award for the favorite musical toy.
CONS:
The xylophone is out of tune.
The balls are a bit heavy, so watch out when your little one starts to throw.
---
2. Hape Double Bubble Wooden Baby Toy
Zig, zag and zoom. Your baby will be amazed with a maze.
Keep your baby entertained and out of trouble with the Hape Double Bubble.
It helps develop shape, size and color recognition. It also promotes dexterity and (eventually) learning to count.
And it's super stable with four sturdy suction cups to secure the wooden base to smooth surfaces. So you can stick it wherever your baby is playing.
The finishing touches and colors added are all non-toxic, ensuring the baby can play with the toy safely.
Overall, it's a great toy for on-the-go and a perfect addition to the collection.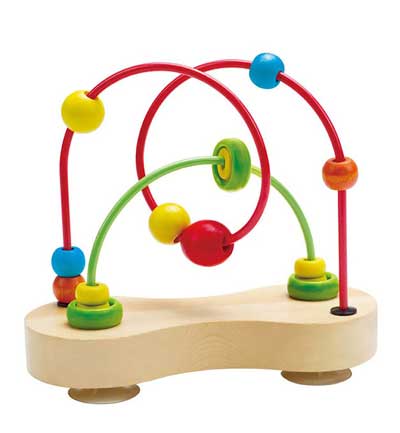 PROS:
Super stable with suction cups — great for on-the-go.
Helps develop shape, size and color recognition.
Recommended for 6 months and up.
100% safe and non-toxic.
CONS:
Not all beads are wooden.
---
3. PlanToys Wooden Rainbow Baby Roller with Sound
Wait, I can buy a baby toy with a recommended age of 6 months to 8 years? Sign me up.
The Wooden Rainbow Roller is awesome. It has a ball inside that creates a sound when rolled.
But it's not the annoying loud battery-operated sound. It's a mellow wooden sound. Result? Your baby is entertained and you don't go mama-crazy.
It's an award-winning toy that stimulates sight and hearing.
Lastly, this cool baby roller is made from chemical-free rubberwood in Thailand. What in the world is rubberwood you ask? It's known as the "environmentally friendly" wood, because it's from rubber trees that have already served their purpose. Three years prior to removing the trees, farmers stop adding fertilizer to ensure that all wood is free from toxins.
PlanToys is the first manufacturer of wooden toys in the world to use reclaimed rubberwood. They fulfill or exceed the European (EN71) and American (ASTM) safety requirements. They use certified E-Zero formaldehyde-free glue, organic color pigment and water-based dyes. It's preservative free and naturally processed, making it safe for your baby to chew on.
Another quick note about PlanToys: they use alternative clean energy as much as possible. Example: surplus wood pieces are burned to be a bio-fuel to produce the heat to use in PlanWood production. They also use solar energy and use food waste from the factory's canteen to turn to be biogas and use that for cooking.
Because their toys are made from wood, use non-toxic color and no harmful chemicals, they're mostly all biodegradable. (Can you tell I love PlanToys?)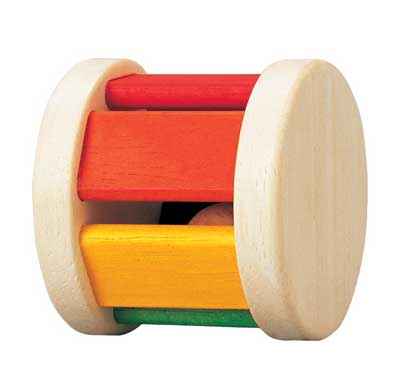 PROS:
Recommended age: 6 months to 8 years.
Made from chemical free rubberwood in Thailand.
Makes sound, but not the harsh irritating kind.
Sustainably made from chemical free rubberwood trees, formaldehyde-free glues, organic pigments, water based dyes; safety tested.
Wins "Best Toy Award" (Oppenheim Toy Portfolio).
CONS:
It's pretty small (under 3 inches).
---
4. PlanToys Baby Wooden Key Rattle
You can't avoid babies and toddlers wanting your keys. They'll want them — every time. The PlanToys Key Baby Rattle will give them something safe to chew on.
These colorful keys are made from sustainable rubberwood and coated with a non-toxic finish. And the colors? Made from vegetable dye of course.
While they're teething, babies relieve pain by chewing and biting down on things even more often than they usually do. So it's ideal to have something they can hold and chew.
And babies can learn to make music from just about anything — wave these keys around and they'll clack against each other (but not annoyingly loud).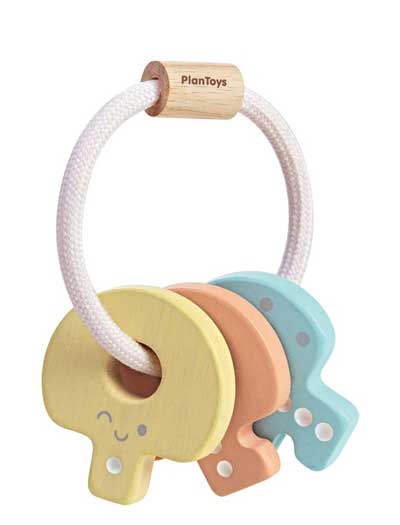 PROS:
Great for teething.
Made from chemical free rubberwood in Thailand.
Keys are easy for baby to hold.
Helps develop fine motor skills.
Colorful and tactile. 
CONS:
The paint will fade after time from moisture (aka baby spit).
---
5. PlanToys Wooden Baby Car Toy
Allow me to suggest one more PlanToys… this wooden car toy is award-winning and pretty slick.
The push or pull action helps develop fine motor skills. Its design makes it easy for small hands to push, pull, and flatten, but not pinch fingers in any way.
The 6 colorful, flexible disks change position when touched. They also bounce back when your baby stops applying pressure.
The Baby Car has wheels so babies can scoot, crawl, and (eventually) walk with it. It measures 3.3 x 3.9 x 2.8 inches and is made from chemical-free rubberwood in Thailand.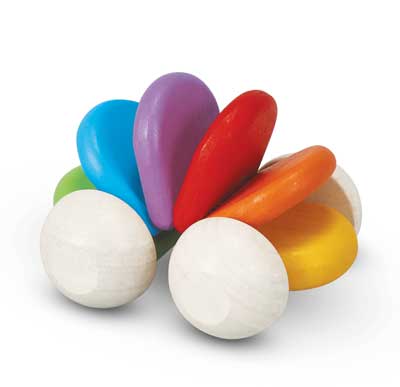 PROS:
Award-winning toy.
Helps develop fine motor skills.
Made from chemical free rubberwood in Thailand.
Bright colors made from safe organic pigments and water-based dyes.
CONS:
Small for a car toy (under 4 inches).
---
6. HABA Clutching Pyramid Wooden Baby Toy
Every baby needs a good clutcher. The HABA wooden rattle and teether won't disappoint.
Although HABA manufactures worldwide, all of HABA's baby clutching toys are made in Germany. They fulfill all European and American regulations for materials and processing. They use PEFC certified beechwood or maple.
The colored rods are made from HABAform, a naturally occurring organic material made from 100% renewable resources.
The clutching toy is brightly colored and includes two movable plastic rings — great for fine motor skills and reflexive clutching.
Wait what, plastic? I know, but when Haba uses plastic, it's the best of the best (aka safest): polypropylene or ABS.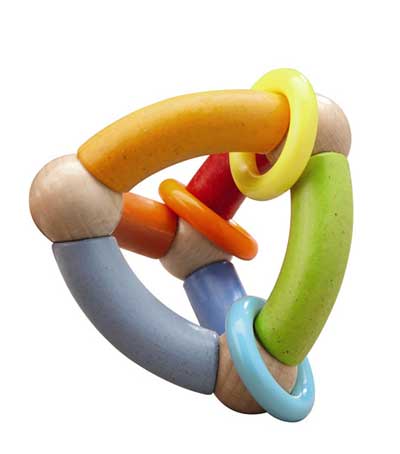 PROS:
Measures approximately 3.5″ in diameter — great for tiny hands.
Made in Germany of solid beechwood and colored with a non-toxic water-based stain.
Babies loves to shake and make it rattle.
Super durable and easy to clean; resistant to wear and tear.
CONS:
Although great as a toy, the shape is not ideal for teething relief.
---
7. HABA Baby Gym
I lived without a play gym for my babies (remember how frugal I am…) But in hindsight? It probably would've given me a few more moments of sanity.
Why a play gym? It helps develop your baby's senses and motor skills. It also inspires imagination and self-discovery.
I would've chosen this HABA play gym to keep with the wooden theme. I love the simple design. And it's not too overwhelming (think of the plastic play gyms with every color and sound in the universe).
Watch your baby when they reach up to the frog and discover the clicky-clack sound.
Designed in Germany and made with care in Bulgaria. HABA fulfills all European and American regulations for materials and processing. Made from solid beech and beech plywood.
HABA uses only water-based, non-toxic paints, stains and lacquers.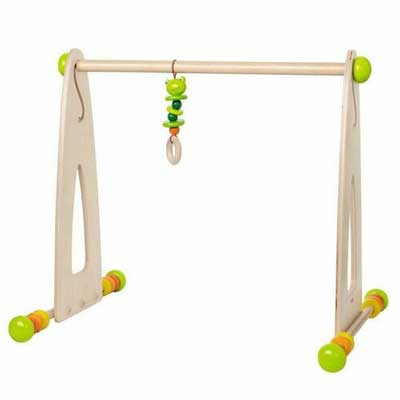 PROS:
Adjustable height.
Great gift idea.
Sleek design looks awesome in any living room.
Slim design makes storage a breeze.
Designed in Germany and made in Bulgaria from solid beech and beech plywood.
Colored with non-toxic water-based stains.
CONS:
Only comes with one dangler; you might want to get one or two more.
---
8. Smiling Tree Toys ABC Wooden Blocks
Smiling Tree Toys has a mission: "to create lifelong childhood memories for families and green the earth for all kids to come."
They're a family business. They handcraft all of their toys in a renovated red barn in southwestern Minnesota.
Their toys are safe, non-toxic and hypoallergenic.
Prior to making these awesome wooden baby toys, they were Peace Corps volunteers. They also prioritize minimizing their eco-footprint.
AND, they plant a tree for every toy sold.
Alphabet blocks are a staple in any family household because they're fun at all ages. At the baby stage, they're perfect for development.
My fave video ever? My little one knocking down the block stack I made and giggling uncontrollably. Have your camera ready.
These blocks are a set of 26 and measure 1.5 inches.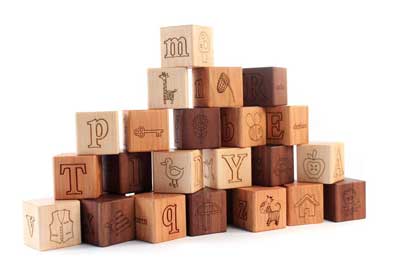 PROS:
Made using maple, cherry and walnut wood, organic camelina oil and beeswax.
Each wooden block is engraved on all 4 sides: uppercase letter; word; lowercase letter and picture
Letters and images will never fade or wear off.
Safe for all ages, including teething little ones.
Handmade in the USA.
CONS:
A little pricey for ABC blocks (but also supporting small biz).
---
9. Smiling Tree Toys Custom Wooden Teether
A perfect gift idea or for your baby's first teether — get an adorable custom one with their name.
Smiling Tree Toys' wooden teethers are made from non-splintering solid hardwood with no oils or finishes. And, it's sustainably harvested American hardwoods.
This teether is another fave of mine from the awesome Smiling Tree Toys.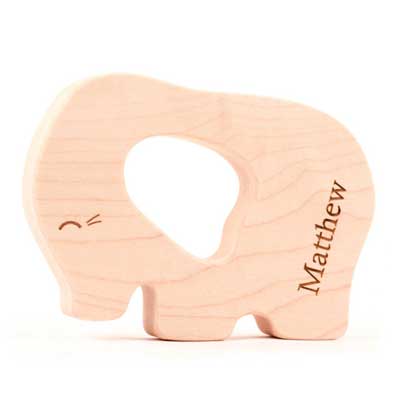 PROS:
The engraved name creates an heirloom keepsake.
Fairly inexpensive for a customized toy.
Safely soothes sore gums.
Promotes early hand-eye coordination.
Certified sustainably harvested hardwoods without any oils or finishes applied.
Naturally antibacterial, non-splintering, and non-toxic.
Perfectly smooth and rounded for easy grasping.
Hand-sanded silky smooth.
Lifetime guarantee.
CONS:
Since it's customized, it's not "at your door in an instant" that we've so gotten used to.
---
10. Smiling Tree Toys Custom Wooden Shape Sorter
Another beautiful piece from Smiling Tree Toys. Perfect for display in the nursery and playtime.
Shape sorters are super fun as baby grows. Frustration at first, then the look of amazement and pride when they get it right.
It's made from three American-grown hardwoods for a natural contrast: maple, walnut and cherry. Finished with an organic oil blend. This is a quality wooden toy.
The sorting stand measures 4.25″ x 6.5″ It comes with eight blocks of two each: circle, rectangle, triangle and square.
Bonus — they plant a tree for every toy sold.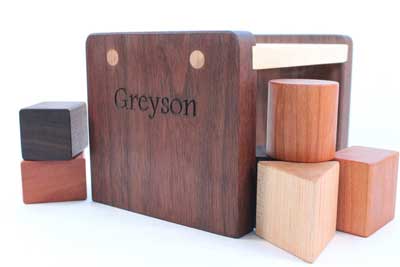 PROS:
The engraved name creates an heirloom keepsake.
Promotes early hand-eye coordination.
Handmade with 100% solid hardwoods.
Finished with an organic oil blend.
Includes a USA-made drawstring bag.
Lifetime guarantee.
CONS:
Not "at your door in an instant".

Although I love the customization, it makes it trickier to resell or donate.
---
11. Hape Block & Roll Wooden Cart
While a walker is not a toy per se, how cool is this one?
Not only does it not have all those annoying lights and sounds, it holds 20 colorful blocks with a non-toxic finish.
Great for improving balance and coordination.
And, as with all Hape products, it's made with water-based paints.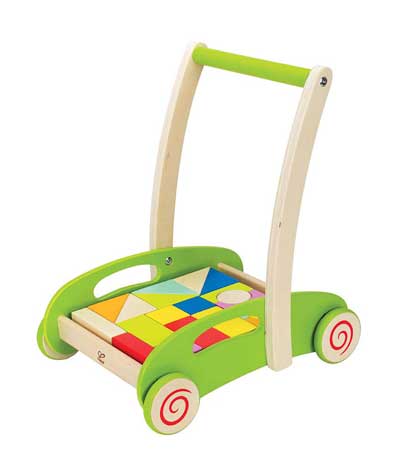 PROS:
Two toys in one: a push/pull wagon with 20 colorful blocks.
Natural sturdy design.
Encourages touch, physical learning, imagination and creative skill.
CONS:
At under 1 lb., it's not very heavy. Mama tip: put a few weights in it if you'd like to use it for a sturdy walker.

Recommended age: 12+ months, but life happens fast. You could put the walker part away for a bit while your baby explores the blocks.
Hope this list is helpful! A few other common questions:
What are the Best Wooden Toys for a 6-month-old?
Since a 6-month-old will discover, learn and play using their hands and mouth, it's important to choose a true non-toxic wooden toy.
For this stage, my fave options are the PlanToys Baby Key Rattle (find on Amazon here) and Smiling Trees Wooden Stacking Toy (find on Etsy here).
How Do I Take Care of Wooden Toys?
It's super easy to take care of wooden toys. Here's how:
1. Clean with a damp cloth only (no need to fully wash).
2. Store in a dry place.
3. Keep out of direct sunlight.
How Do I Get Mold Off of Wooden Toys?
Vinegar is a safe way to get mold off of wooden toys. Here's how:
1. Make a solution of 1 part vinegar to 10 parts water.
2. Wipe (don't soak) your toy with the solution.
Note this won't happen very often! But, if a toy sits in a humid environment and stays wet for too long, know you can use something natural to make it like new again.
Buying wooden toys instead of plastic can be extremely beneficial for your baby and a lot more sustainable and better for the environment than plastic. I love win-wins.
Peace love and baby kicks.
Care to share?
Jen Brady — Chief Green Mama
Mom of two. Wife of one. Holistic nutritional consultant. Amateur biohacker. Guide of the Green Yourself Pregnancy Challenge. Author of the Green Your Baby Registry Guide.
I'm wild about pregnancy and babies (in a sane way) and I need to steer you away from harsh chemicals and hormone disruptors. Stick with me to keep it lean and green.