FREE PREGNANCY CHALLENGE: say bye-bye to harsh chemicals & toxins.
---
How to Choose Pregnancy Safe Makeup (Even If You're Not a Cosmetologist)
Green Baby Deals is reader-supported. When you buy through links on our site, we may earn an affiliate commission. As an Amazon Associate, we earn from qualifying purchases.  Learn more.
Connect with others from pregnancy through motherhood (on a free app). Join community now.
Your skin is the largest organ of the human body. So, nobody wants to slather substances on it that potentially contain harmful chemicals. Especially when you're expecting.
But good news — if you enjoy wearing makeup, you don't have to stop for nine months. There are some best pregnancy safe makeup brands out there to enjoy. Bonus: you might even find new favorites. 
When looking for safe makeup for pregnancy, watch out for chemicals such as formaldehyde, phthalates, and fragrance.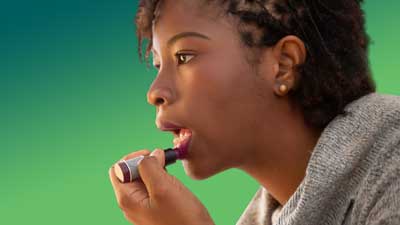 What you'll learn today:
Makeup ingredients to avoid
Best non-toxic makeup brands
Best non-toxic makeup by product type (foundation, blush, etc.)
Humans are waterproof up to a point, which is how we can take nice long baths without dissolving (phew). However, while we have low permeability, studies have shown containments do get into our bodies through our largest organ.1
The facial skin is also more permeable than other areas, such as the forearms. Thus, what we put on our faces matters. 
Disclaimer time: Although I studied holistic nutrition, I'm not a doctor or a biochemist. I research ingredients because we all need to look out for ourselves. My goal is to choose what I believe is "safer" based on what I discover. If you have any concerns about the products below or any others, please ask your doctor or midwife.
Also, anyone can have a sensitivity to anything, even if it's considered a safer ingredient. So whenever you buy something new, especially makeup, I always suggest you do a 24hr. skin test in a small area on the back of your hand before applying it to your face.
OK let's dig in.
In This Article:
Makeup Chemicals to Avoid
Safer Makeup Brands for Pregnancy
Best Pregnancy Safe Makeup by Product:
• Lipstick
• Lip gloss
• Eye shadow
• Eyeliner
• Eyebrow liner
• Mascara
• Foundation
• Face powder
• Concealer
• Blush
• Makeup Remover
Is Makeup Safe to Use During Pregnancy?
Research has indicated that a number of cosmetic chemicals are linked to reproductive problems and other illnesses. Although some makeup is safe, it's best to read and understand the ingredients before you buy.
Do I Need to Change My Makeup When Pregnant?
You may need to change your makeup during your pregnancy, depending on what's currently in your collection. You'll want to avoid certain ingredients such as formaldehyde, phthalates, and even fragrance.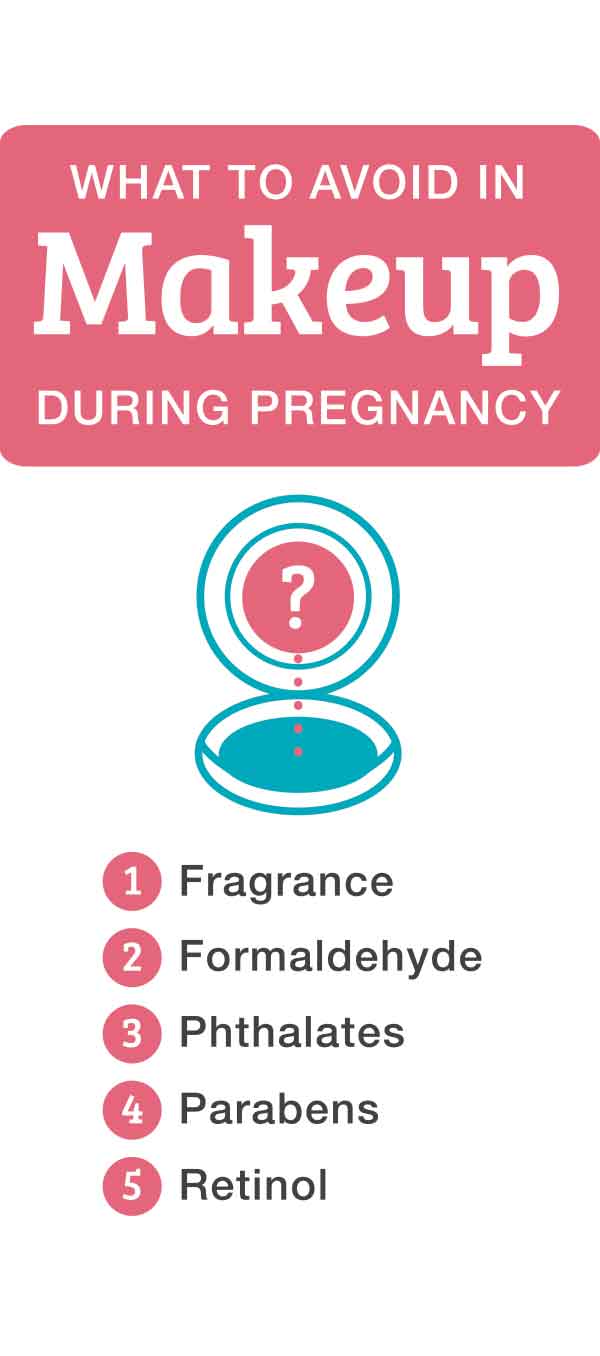 Common Cosmetic Chemicals to Avoid When Pregnant
Cosmetic ingredients are tricky cocktails. For example, what goes into one lipstick or foundation might differ from another shade, even from the same brand and line. 
Also, pregnancy and breastfeeding are times where extra caution is required. Ingredients a full-grown adult can safely handle might not suit your bump's cargo. That's why there may be products not suitable for pregnancy, even in eco-friendly brands.
Here are some common chemicals found in makeup that aren't ideal when pregnant: 
Fragrance
Why would you need fragrance in your makeup?
Here's why: since companies (in the U.S.) don't have to disclose all of their ingredients, the term "fragrance" can contain hundreds of ingredients, including phthalates (listed below) and other chemicals linked to hormone disruption and cancer.2
Fragrance is considered a high health hazard by the Environmental Working Group and has "been associated with allergies, dermatitis, respiratory distress and potential effects on the reproductive system."3
Formaldehyde
Doesn't formaldehyde remind you of dissecting frogs in Biology 101? Unfortunately, it's a popular ingredient in nail polish, eyelash glue, and hair straightening products. It's also sometimes found in blush, lotion, and mascara. 
Here's what the American Cancer Society has to say about it:
"Exposure to formaldehyde has been shown to cause cancer in laboratory test animals. Exposure to relatively high amounts of formaldehyde in medical and occupational settings has been linked to some types of cancer in humans, but the effect of exposure to small amounts is less clear."4
Let me repeat that: "…the effect of exposure to small amounts is less clear." Um, less clear? Even if I wasn't pregnant, I want to avoid this one.
It's a known human carcinogen and scores the highest-concerning rate of 10 by the Environmental Working Group (EWG).5
Formaldehyde is popularly listed as:
2-bromo-2-nitropropane-1
3-diol
Diazolidinyl urea
Dimethyl-dimethyl
Hydantoin
Imidazolidinyl urea
Quaternium-15
Sodium hydroxymethylglycinate
PHTHALATES
You'll want to avoid phthalates as much as you want to avoid attempting to pronounce it (but if you're curious – it's "tha-lates"). This ingredient is used to make other ingredients more flexible.
What's wrong with phthalates? It's another hormone disruptor and it can cross the placental membrane.6 Phthalates have been shown to impact fetal development in pregnant women, and "phthalate exposure is associated with a shorter duration of pregnancy."7 Avoid, avoid, avoid.
Parabens
Parabens are everywhere, even in some foods. Thus, this preservative is incredibly hard to avoid. But hey, for every paraben you avoid, that's one less exposed to your body. Do what you can.
Parabens are basically preservatives. They're are absorbed through the skin, mimic estrogen (more hormones ugh), and its use is linked to breast cancer.8 No thanks.
Popularly listed as:
Methylparaben
Butylparaben
Benzylparaben
Isobutylparaben
Methyl 4-hydroxybenzoate
Propyl 4-hydroxylbenzoate
Retinol
Retinol is common in many cosmetics, including serums and even lipstick. It's sometimes prescribed by doctors. The chemical is derived from Vitamin A, which makes it sound safe. However, research is still being done on whether it can cause birth defects.9 
As Dr. Murphy-Rose explained, "Ingredients applied to the skin have the potential to be absorbed…and passed to the baby through the placenta."10
Thus, until science reaches a firm conclusion on retinol, pregnant and breastfeeding people are advised to steer clear. As it stands, the research is pointing towards it being unsafe.  
Retinol scores a 9 on EWG and the "FDA recommends that women of child-bearing age limit their intake of retinol to 5000 IU (1.5 mg retinol)/day."11
This is just the short list. If you want to nerd out and read 1,000+ pages on EWG's unacceptable ingredient list, you can find it here. Many of these are banned from Europe and the ASEAN Cosmetics Association. Why not the U.S.?
Safer Makeup Brands for Pregnancy
Thankfully, there's pregnancy safe makeup out there, along with pregnancy safe deodorants, laundry detergent, sunscreen and soap.
Note even though the brands are good in general, you really have to look at each product individually — which is why I give you my fave makeup product in the next section.
Here are my top 3 brands for using makeup during pregnancy (…and beyond): 
---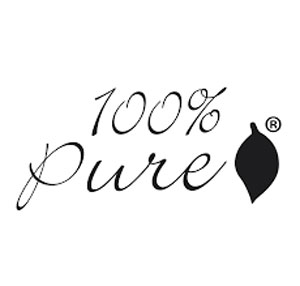 1. 100% Pure: Pregnancy-Friendly Makeup
100% Pure is a cruelty-free and fair-trade cosmetic company. They use natural pigments for their products such as fruit, vegetables, cocoa, and minerals. They also provide talc-free powder foundation in their Fruit Pigmented® line. They use rice powder instead, which leaves the skin feeling smooth and silky, not dry (so important). 
Check all of 100% Pure's EWG ratings here. You'll want the score to be either EWG VERIFIED™ or 1, like their Fruit Pigment Pomegranate Lipstick and Fruit Pigmented Blush.
The company's also working on its sustainable packaging. By 2024, they aim to have their petrochemical-based packing reduced by 75%. In addition, they're increasing the amount of post-consumer recycled materials. 
100% Pure is strong in philanthropy and charitable gifts, including their 1 Order = 1 Bowl of Dog Food promise. The first dog-friendly makeup ever? — a dog is fed a meal for every order they receive. 
---

2. Maia's Mineral Galaxy: Pregnancy-Friendly Makeup
Maia's Mineral Galaxy has natural mineral makeup made from pure botanicals. Their products are:
Non-synthetic
Non-fragrant
Non-toxic
Hypo-allergenic
Free of chemicals and artificial colors
The best part is Maia's Mineral Galaxy is a member of the EWG VERIFIED™ program. This means you can be sure it's free from EWG's chemicals of concern and meets their strictest standards for your health.
Maia's mineral cosmetics are produced from loose powders without fillers. With their skincare line, your skin will be left feeling light and healthier as opposed to heavy, caked, or oily. Huge bonus: they make their products fresh on a per order basis.
Check out Maia's on Etsy here.
---

3. Sally B's Skin Yummies: Pregnancy-Friendly Makeup
Founder and formulator Sally Larsen has been creating non-toxic products alternatives since 2005.
Sally B's products are:
Made in Atlanta, GA
Non-GMO
Cruelty-free
Fair trade
Gluten-free
Vegan (with the exception of sustainably harvested beeswax)
Organic whenever possible
In addition, many of their products are EWG VERIFIED™ which is a high standard. Look for the EWG logo on each product as you browse the site. Check out their amazing reviews and See Sally B's entire makeup line here. Get 15% OFF your order with code GREENBABYDEALS.
---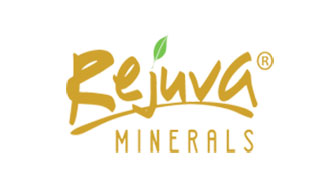 4. Rejuva Minerals: Pregnancy-Friendly Makeup
President and founder Brenda started Rejuva Minerals in 2006 after tiring of the irritating beauty products found in many beauty products. This mineral makeup contains only naturally derived and organic ingredients.
Rejuva Minerals has the following seals and certifications: EWG VERIFIED™ and MADE SAFE®. They also focus on eco-friendly containers made from regenerated materials. Proudly made in the USA.
See Rejuva Mineral's entire makeup line here.
Join the FREE PREGNANCY CHALLENGE and say bye-bye to harsh chemicals & toxins.
(By entering your email you agree to receive emails from Green Baby Deals. No spam, just awesome. Unsubscribe anytime.)
---
Best Pregnancy Safe Makeup by Product
Here are my fave, cleanest, best-reviewed cosmetics by specific product:
Non-toxic LIPSTICK:
Rejuva Minerals Pur' Lips is formulated without parabens, soy, GMOs, FD&C dyes, animal byproducts, or carmine.
This vegan lipstick is colored with minerals and fruit only and blended with certified organic fruits, berries, and botanicals.

It has the EWG VERIFIED seal of approval, and it was worn by Rachel Bloom on Emmy night.
---
Non-toxic LIP GLOSS: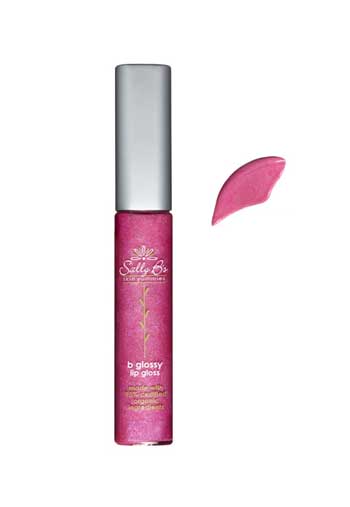 All of Sally B's Lip Glosses get the EWG VERIFIED™ seal of approval.
Free of all the bad stuff: GMOs, parabens, lead, artificial coloring, and petroleum-based ingredients.
98% certified organic, moisture-rich ingredients come in beautiful shades like Primrose and Sweet Plum.
Get 15% OFF your order with code GREENBABYDEALS.
---
Non-toxic EYESHADOW: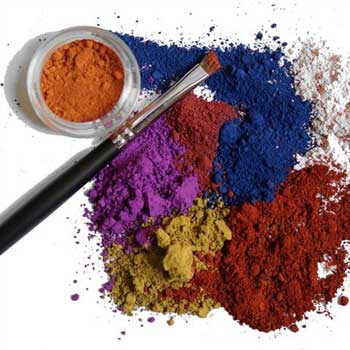 What I've noticed many times with natural eyeshadow is the color isn't vibrant enough.

Enter Maia's Mineral Galaxy: beautiful, rich color and still gets the EWG VERIFIED™ seal.
What I love about Maia's is you can also buy eyeshadow samples on their site.
---
Non-toxic EYELINER: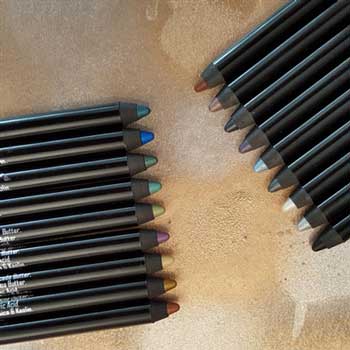 I've never loved the liquid eyeliners and some of the pencils just continued to break on me.
Maia's Mineral Galaxy eyeliners are sharpenable and will stay together. It'll glide on smooth and the collection includes many colors.
You won't be disappointed with this eyeliner.
---
Non-toxic EYEBROW LINER: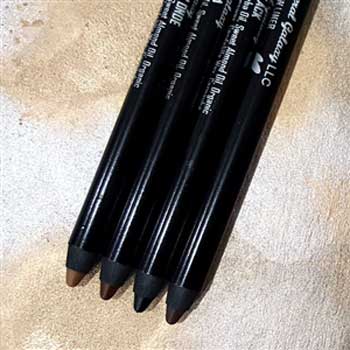 Confession: my frugal self just uses a brown eyeliner when I want to accent my brows a little.
My friend/makeup mentor says this is a no-no.
So if you're looking for a clean eyebrow liner with great reviews, check out Maia's Mineral eyebrow liner.
---
Non-toxic MASCARA: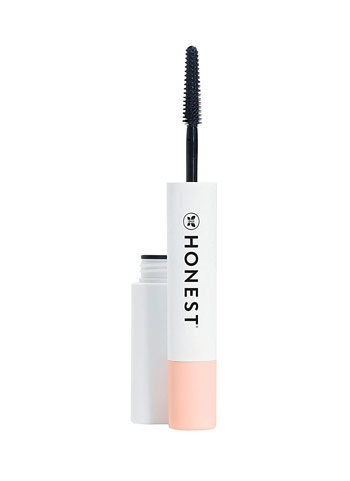 Meet the mascara that gets the EWG VERIFIED™ seal of approval and the Allure Reader's Choice 2021 Award.
Made with jojoba esters and made without parabens, paraffins, synthetic fragrances, silicones, and mineral oil.
It's a bestselling double-sided mascara and lash primer for ultimate length and volume.
It's also packaged in a 100% tree-free paper carton.
---
Non-toxic FOUNDATION: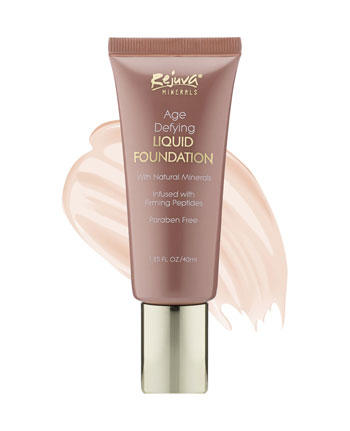 Meet the age-defying liquid foundation that not only gets the EWG VERIFIED™ seal of approval but also the winner of the Best Makeup category for the 2021 Dirty Thinkers' Choice Awards.
Free of nanotechnology, animal byproducts, GMOs, soy, mica, and talc.
It's infused with Certified Organic botanicals, advanced peptides and 100% plant-based hyaluronate.
I also love that you can order a smaller size if you don't wear foundation often.
---
Non-toxic FACE POWDER: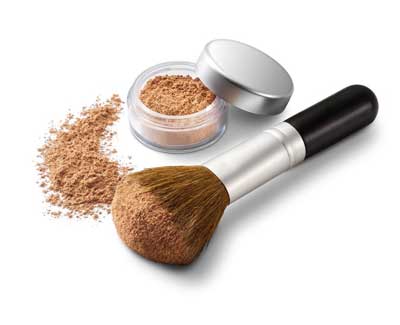 So, my makeup guru friend tells me face powder beats liquid foundation, every time.

Well you know I need it to be EWG VERIFIED™, and Maia's delivers again.
This face powder is formulated with pure minerals and is as light as air, giving you even coverage.
Try it out and if you're not convinced dry is best — it converts well to a wet foundation if you spritz your face first.
---
Non-toxic CONCEALER: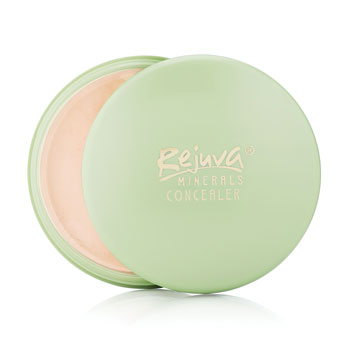 Enter the concealer formulated without mica, titanium dioxide, FD&C colors or carmine. It's blended with certified organic fruits, berries and botanicals.

And it delivers. Not only is it EWG VERIFIED, but it's also used on celebrities Emily Ratajkowski, Shailene Woodley, and Zooey Deschanel. Woah.
---
Non-toxic BLUSH: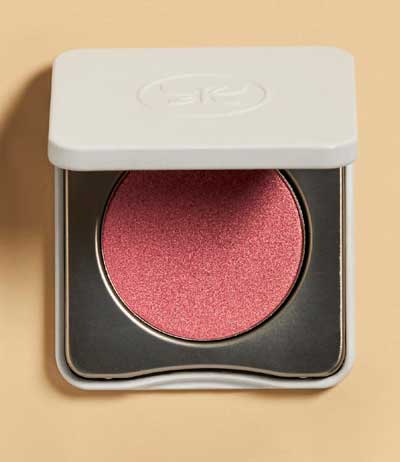 Here's another winner from Honest: EWG VERIFIED™ seal of approval and the Allure Reader's Choice 2019 Award.
This blush is USDA Organic and made with sustainably sourced mica pearl. Made without talc, silicones, parabens, and animal by-products (ew, guess that's a thing).
A 2-in-1 formula of pigment and pearl gives a luminous look, so a highlighter is unnecessary.
Note: Honest is working on making their packaging more sustainable (woohoo), so their new packaging may vary from what's shown.
---
Non-toxic MAKEUP REMOVER: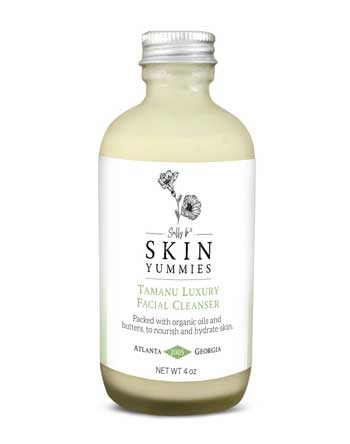 You can't spend all this time with non-toxic makeup and then remove it with something that contains propylparaben or fragrance.
Money-saver: I effectively use my regular face wash and a splash of organic witch hazel (leftover from the padsicles I made).
If you want something fancier (and arguably one of the best cleansers around), go with Sally B's EWG VERIFIED™ Tamanu Luxury Facial Cleanser.
Get 15% OFF your order with code GREENBABYDEALS.
---
How to Save Money on Natural Makeup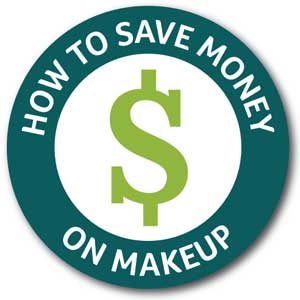 1. If you've got some time to experiment, consider swapping out a product or two with homemade makeup. Check out this natural blush recipe.
2. Join TopCashBack. It's free and the savings add up fast. Vitacost and Honest® are on there and it's often up to 6% cashback. It's easy to redeem as well.
3. Use Honey. Forget trying to look up coupon codes. Use Honey and it'll find the best usable codes when you go to checkout. I've saved hundreds.
4. Vitacost. No membership fee and there's always a coupon code. Mineral Fusion has a large selection on Vitacost. Use TopCashBack and Honey with Vitacost, and your non-toxic makeup savings are huge.
5. Shop Rejuva Mineral's specials for some serious savings on non-toxic makeup.
That's all there is to it, mamas. I hope this safe makeup list helps you! Congrats on taking one more easy step toward living a greener life for you and baby.
Ready for more? Take the FREE Pregnancy Challenge or check out all the baby registry must-haves here.
Peace love & baby kicks.
Care to share?
Sources
1. "The role of skin absorption as a route of exposure for volatile organic compounds (VOCs) in drinking water." PMC, National Center for Biotechnology Information, May 1984, https://www.ncbi.nlm.nih.gov/pmc/articles/PMC1651599/
2. "Expert Panel Confirms that Fragrance Ingredient Can Cause Cancer." Environmental Working Group, 7 August 2014, https://www.ewg.org/enviroblog/2014/08/expert-panel-confirms-fragrance-ingredient-can-cause-cancer
3. "Fragrance." Skin Deep®, Environmental Working Group, https://www.ewg.org/skindeep/ingredient/702512/FRAGRANCE/#
4. "What is formaldehyde?" American Cancer Society, Inc., 23 May 2014, https://www.cancer.org/cancer/cancer-causes/formaldehyde.html
5. "Formaldehyde." Skin Deep®, Environmental Working Group, https://www.ewg.org/skindeep/ingredient/702500/FORMALDEHYDE/
6. "Cumulative Chemical Exposures During Pregnancy and Early Development." PubMed Central®, National Center for Biotechnology Information, December 2015, https://www.ncbi.nlm.nih.gov/pmc/articles/PMC4626367/
7. "In utero exposure to phthalates and fetal development." PubMed, National Center for Biotechnology Information, 2006, https://www.ncbi.nlm.nih.gov/pubmed/17017909
8. "Parabens." Breast Cancer Prevention Partners, https://www.bcpp.org/resource/parabens/
9. "What is retinol and how can a person use it?" Medical News Today, Healthline Media UK Ltd, https://www.medicalnewstoday.com/articles/retinols
10. Matta, Cat. "Can I Use Retinol While Pregnant?" Verywell Family, About, Inc. 19 September 2021, https://www.verywellfamily.com/can-pregnant-women-use-retinol-5197846
11. "Retinol (Vitamin A)." Skin Deep®, Environmental Working Group, https://www.ewg.org/skindeep/ingredients/706889-retinol/
Jen Brady — Chief Green Mama
Mom of two. Wife of one. Holistic nutritional consultant. Amateur biohacker. Guide of the Green Yourself Pregnancy Challenge. Author of the Green Your Baby Registry Guide.
I'm wild about pregnancy and babies (in a sane way) and I need to steer you away from harsh chemicals and hormone disruptors. Stick with me to keep it lean and green.