FREE PREGNANCY CHALLENGE: say bye-bye to harsh chemicals & toxins.
---
The 3 Best Non-Toxic Soaps for Your Pregnancy and Glowing Skin
Green Baby Deals is reader-supported. When you buy through links on our site, we may earn an affiliate commission. As an Amazon Associate, we earn from qualifying purchases.  Learn more.
Connect with others from pregnancy through motherhood (on a free app). Join community now.
This is part of the Pregnancy Safe Skin Care Guide found here.
Listen up mamas — what you put on your skin could help protect your baby. Natural skincare during pregnancy is crucial because there are so many controversial ingredients. The skin is your largest organ and has the ability to absorb whatever it wants.
This is why you need to look at your labels and choose natural, non-toxic, safe soap for your pregnancy and beyond.
Disclaimer time: Although I studied holistic nutrition, I'm not a doctor or a biochemist. I research ingredients because we all need to look out for ourselves. My goal is to choose what I believe is "safer" based on what I discover. If you have any concerns about the products below or any others, please ask your doctor or midwife.
Let's dig in. 
In This Article:
Soap Ingredients to Avoid
Is Dove Soap Safe During Pregnancy?
Is Cetaphil Safe During Pregnancy?
Best Non-Toxic Soaps for Pregnancy
Non-Toxic Soap FAQs
How to Save Money on Soap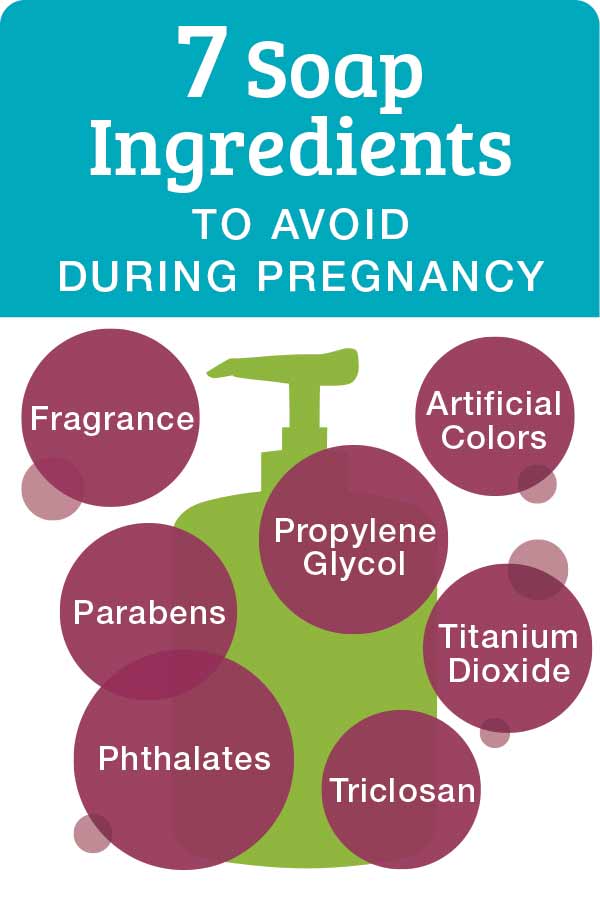 Soap Ingredients to Avoid
Take a look at the soaps you're currently using. Do they contain any of these ingredients?
Artificial Colors
Look for FD&C or D&C followed by a color and/or number. These are artificial colors and are derived from petroleum or coal tar sources.1 They're typically found in food but also show up in many beauty products.
They're completely unnecessary. They can "induce adverse behavioral effects in children."2 Remember your skin absorbs too, so avoid these in your soap.
Triclosan
Triclosan is a common antibacterial chemical. You've probably heard of it being used in hand soaps. That's because in September 2017, it was BANNED (finally!) from liquid soaps.
It's an endocrine disruptor, meaning it can really mess up your hormones. Who needs that on top of all the other pregnant hormones? In addition, it's linked to breast cancer.3

Oh, and triclosan was proven to directly transfer to fetuses and was found that can "lead to developmental and reproductive problems in animals and potentially in humans."4

It's also disruptive to our planet: it doesn't break down, ends up in our waters and is very toxic to aquatic life.5
Although banned from soaps, it's still important to make sure it's not in YOUR soap.
Parabens
Parabens are basically preservatives. They may be listed as methylparaben, propylparaben, butylparaben, benzylparaben, isobutylparaben, methyl 4-hydroxybenzoate and propyl 4-hydroxylbenzoate. These are absorbed through the skin, mimic estrogen (more hormones ugh), and its use is linked to breast cancer.6 No thanks.
Propylene Glycol
Propylene glycol or Polyethylene glycol (listed as PEG or PG) are probably the most common ingredients but you should still avoid them. Why? They actually help other chemicals get deeper into the skin. They're also considered a moderate health hazard by Environmental Working Group.7
Fragrance
This is a big one. Since companies (in the U.S.) don't have to disclose all of their ingredients, the term "fragrance" can contain hundreds of ingredients, including phthalates (listed below) and other chemicals linked to hormone disruption and cancer.8
Fragrance is considered a high health hazard by the Environmental Working Group and has "been associated with allergies, dermatitis, respiratory distress and potential effects on the reproductive system."9
Titanium Dioxide
You're probably most familiar with this showing up in your sunscreen, but it's also in many other beauty products, including soap.
While titanium dioxide claims to have low skin penetration and is only a possible cancer-causing human carcinogen through inhalation,10 it's best to avoid.
Why avoid titanium dioxide? Studies are still inconclusive about its long-term use, including putting it on your skin. "Until relevant toxicological and human exposure data that would enable reliable risk assessment are obtained, TiO2 nanoparticles (titanium dioxide) should be used with great care."11
Phthalates
You'll want to avoid phthalates as much as you want to avoid attempting to pronounce it (but if you're curious – it's "tha-lates"). This ingredient is used to make other ingredients more flexible.
Phthalates may show up in soap ingredients as DBP (di-n-butylphthalate), DEP (diethylphthalate), DMP (dimethyl phthalate) or BzBP (benzylbutyl phthalate). Or, they may just categorize it under "fragrance".
What's wrong with phthalates? It's another hormone disruptor AND it can cross the placental membrane.12 Phthalates have been shown to impact fetal development in pregnant women, and "phthalate exposure is associated with a shorter duration of pregnancy."13 Avoid, avoid, avoid.
So what can you do about all this crap in your soap?
Environmental Working Group (EWG) is working hard to raise awareness. Join them and they will send you occasional petitions to sign to help stop putting these toxins and chemicals into our products and food.
Join EWG here. It's free, easy and worth it.
Is Dove Soap Safe During Pregnancy?
Still unsure about your own soap? Let's look at a popular soap brand: Dove.
Check out the ingredients for the "Dove Beauty Pink Bar":
Sodium Lauroyl Isethionate, Stearic Acid, Sodium Tallowate and/or Sodium Palmate, Sodium Isethionate, Lauric Acid, Water, Sodium Stearate, Cocamidopropyl Betaine, Sodium Cocoate or Sodium Palm Kernelate, Fragrance, Sodium Chloride, Propylene Glycol, Tetrasodium EDTA, Tetrasodium Etidronate, Red 4, Red 33, Titanium Dioxide.
So we already know we want to avoid Fragrance, Propylene Glycol, Red 4/33, and Titanium Dioxide.
Sodium Lauroyl Isethionate isn't a huge toxic concern, but can be terribly drying for you skin.
The Environmental Working Group gives a moderate hazard rating to Cocamidopropyl Betaine. It's been "associated with irritation and allergic contact dermatitis" and is "suspected to be an environmental toxin."14 Yuck.
Is Cetaphil Safe During Pregnancy?
Many doctors recommend Cetaphil as a better alternative to soap, so it must be safe right? Hold on, take a look at this "gentle skin cleanser":
Water, Cetyl Alcohol, Propylene Glycol, Sodium Lauryl Sulfate, Stearyl Alcohol, Methylparaben, Propylparaben, and Butylparaben.
I give them credit for a limited ingredients list, but that's about it.
Perhaps it's gentle because the first ingredient is water. (Note: you're paying a LOT for water.) But remember, you don't want propylene glycol and all of those parabens in your skin solution. Even if it's at the end of the ingredients list and it's a small amount: it's best to avoid.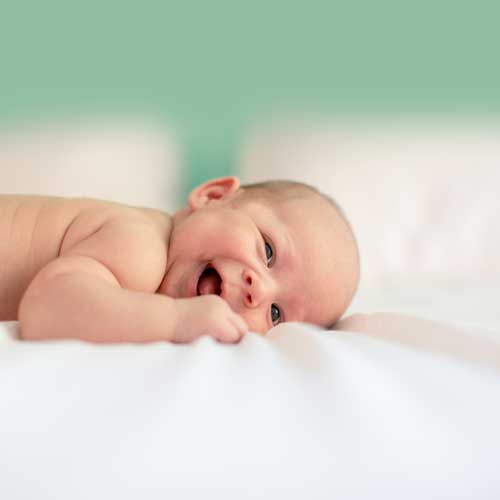 ---
Best Non-Toxic Soaps for Pregnancy
…and beyond.
If your current soap has any of the ingredients listed above, please consider switching. Your skin, body, environment, baby, everything, will thank you.
TIP: The bar soaps are soothing enough that you can actually ditch your shaving cream and use it instead. That's a lot of money saved and one less thing to have in the shower.
---
Best Natural "Bang for Your Buck" Soap Bar
Himalayan Salt Soap
Handmade in USA with 100% vegan ingredients from The Soap Haven. Comes in a 4-pack; each bar is 4.5 ounces.
It's unscented and ideal for sensitive skin. Himalayan salt has natural antimicrobial properties. Olive and coconut oil soften skin, and shea butter provides hydration.
Nothing bad here, mamas.
Ingredients: Saponified Olive Oil, Coconut Oil, Organic Palm Oil, Shea Butter, Himalayan Salt, Sea Salt.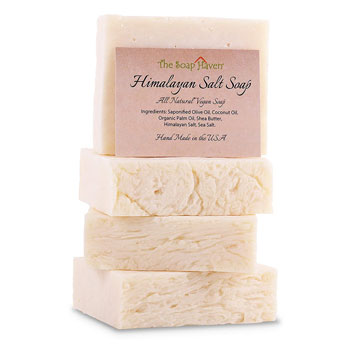 ---
Organic Handmade Soap on Etsy
PROS:
All-natural handcrafted soap bar weighing 4.5 – 5.5 oz.
Ingredients: Saponified Certified Organic Extra Virgin Olive Oil
Perfect for sensitive skin.
The wrapping is made of plantable flower seeded paper.
A portion of the proceeds goes towards the care of endangered orangutans.
The next best thing to making it yourself.
CONS:
A little pricey (but supporting handmade and small biz).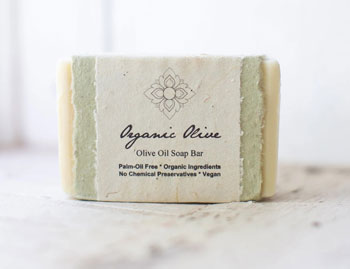 ---
Other Ways to Find Natural Bar Soap
We know soap can be a personal preference. Now that you know which ingredients to avoid, you can easily find a soap that's right for you.
Local farmer's market. Soap making is on trend and easy to find. Often times you can chat with the soap maker.
Make your own. Honestly I've never attempted it, but if you've got the time and motivation, you can save lots.
---
Best Face Soap
The skin on our face is a bit more sensitive. Some soaps will strip the natural oils. Others will clog our pores. What's a pregnant mama to do? Here are a few tested options:
Face Cleanse Option #1
I typically steer away from "pregnancy-specific" products because of the bloated price tag, but the ATTITUDE Blooming Belly Foaming Face Cleanser gets my approval.
It's made from plant and mineral-based ingredients only, and is EWG Verified (the best of the best). 
It also carries the ECOLOG certification, which means it has reduced environmental impacts and has met environmental performance standards. It's also made in Canada.
And of course, it does a great job at keeping your beautiful glow.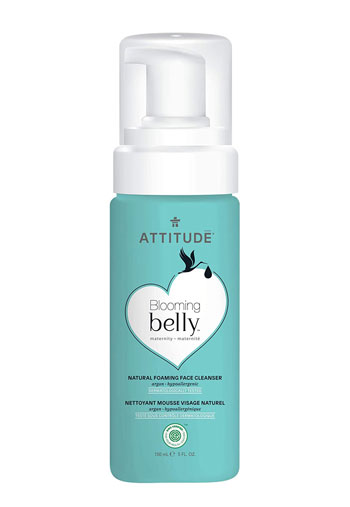 ---
Face Cleanse Option #2: Salis Skincare
This one's my fave! Salis is a clean, handmade skincare company with "6 or fewer ingredients in every product, 100% organic, nothing from a lab."
The face scrub contains salt and exfoliates your skin (often needed during pregnancy). Because it also contains organic jojoba oil, it's a unique blend of exfoliating and moisturizing.
Next is the serum. I choose the serum with frankincesnse (which is considered a safe essential oil during pregnancy). But if you'd like to avoid all essential oils, go with the unscented salt scrub and plain serum.
I absolutely love this skincare line and suggest pairing the face scrub with the serum.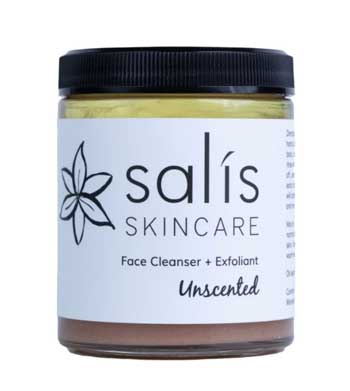 Remember with all of these — you only need a small amount so a little goes a long way! Meaning these bottles could last until your little bun in the oven is out and about
---
Face Cleanse Option #3: Super Budget-Friendly
On a tight budget or just so over the fancy stuff? Switch to good ol' water, bar soap and hemp oil.
Since you'll now be using a bar soap with pronounceable, non-toxic ingredients, it's often gentle enough for your face.
After washing, skip the lotion and moisturize with a few drops of organic hemp oil.
---
Best Hand Soap
Remember, you don't need a harsh antibacterial when washing your hands. You need soap, water, time and proper washing technique to prevent germs from spreading. So treat your hands with non-toxic ingredients just like you would the rest of your body.
Vermont Soap Company's Foaming Soap
Simple ingredients: Organic Aloe Juice, Organic Saponified Oils (Coconut, Shea Butter, Olive, Sunflower & Jojoba), Organic Vegetable Glycerin and Rosemary Extract.
Refill packaging saves you money and better for the environment.
A little goes a long way with foaming soap: use 1 part soap to 5 parts water (average cost w/ water is 12 cents per oz). Remember this proportion, because it's not listed on the bottle, but the soap will still foam and last a long time.
GMO free, cruelty free and made in the USA.
USDA Certified Organic.
They pledge 1% of sales to the preservation and restoration of the natural environment.
NOTE: this is a foaming soap, so you need to use a foaming soap dispenser. Go with this glass dispenser pump or if you need something safer around little ones, here's a great plastic one.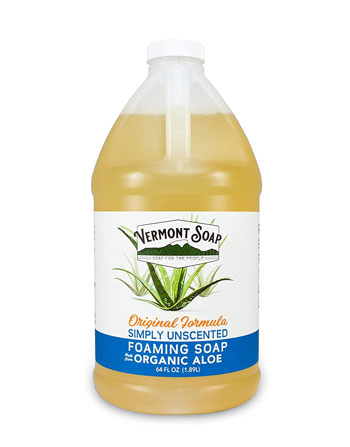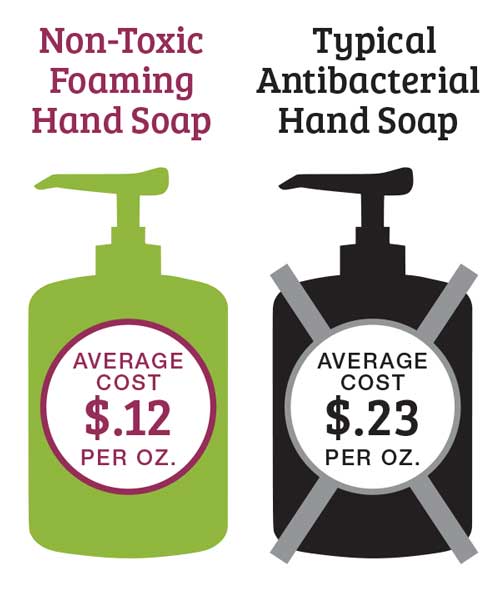 ---
Non-Toxic Soap FAQs
How Will My Skin Change During Pregnancy?
This can be a loaded question, because what doesn't change during pregnancy? We can usually thank hormones for these common skin changes while you're growing a baby:
Stretch marks
Breakouts
Spider veins/varicose veins
Skin tags
Random dark spots (on breasts and/or thighs)
Linea nigra (brown pregnancy line on abdomen)
Melasma ("mask of pregnancy" – skin darkening)
Dry, itchy skin – especially on belly as it grows
Pregnancy glow (this is actually a good one!)
No worries – all of these typically subside when your baby is born or when nursing is over. If one of these things is worrying you or seems extreme, always ask your midwife or doctor. These skin changes make it even more important to use a more natural, non-toxic soap. Also consider dry brushing during your pregnancy.
Can I Use Hand Sanitizer When Pregnant?
Yes, it's safe to use hand sanitizer when pregnant. Even under maximum-use conditions (healthcare workers using hand sanitizer 100+ times during their shifts), the results were 160 times less than the threshold of concern of alcohol entering the body.17
That said, washing your hands properly with soap and water is always best, so choose this option first whenever possible.
When choosing a hand sanitizer, go with a non-toxic one that doesn't have added nasty ingredients like fragrance, artificial coloring, phthalates and parabens. You'll also want one that won't dry out your hands.
Lemyn Organics makes a medical-grade USDA Certified Biobased Product hand sanitizer made in the USA. It kills 99.9999% of illness-causing germs in 15 seconds. And it's tested by an independent lab for impurities. Their COA is actually on their website front and center.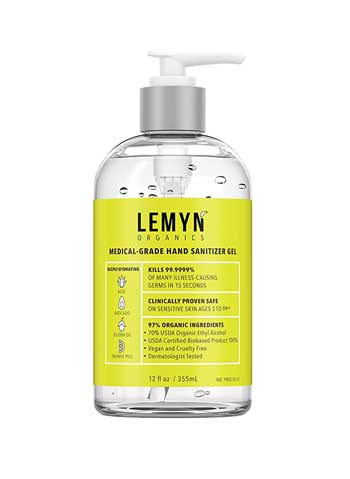 Is Hand Soap OK to Use?
Since you wash your hands so frequently throughout the day, it's important to check out what you're using.
Let's look at the ingredients for "Dial Gold Antibacterial Liquid Hand Soap":
Active Ingredient: Benzalkonium Chloride 0.13%. Inactive Ingredients: Aqua (Water, Eau), Lauramidopropylamine Oxide, Glycerin, Lauramine Oxide, Cetrimonium Chloride, Sodium Chloride, PEG-120 Methyl Glucose Dioleate, Citric Acid, Sodium Benzoate, Zinc Sulfate, Myristamidopropylamine Oxide, Parfum (Fragrance), Dimethyl Lauramine, Tetrasodium EDTA, Alcohol, Dimethyl Myristamine, CI 19140 (Yellow 5), CI 14700 (Red 4), Butylphenyl Methylpropianol, Coumarin, and Linalool.
Run run run from this type of soap which includes artificial colors, fragrance and parabens.
Oh, and Benzalkonium Chloride scores a 6 (moderate hazard) on EWG, because it's a known human toxicant or allergen.15
But Don't I Need Antibacterial Soap?
No, using plain ol' soap and water will prevent illness just as well. Even the FDA is saying this now: "The benefits of using antibacterial hand soap haven't been proven. In addition, the wide use of these products over a long time has raised the question of potential negative effects on your health."16

What About Liquid Body Soap Wash?
If you're used to using a liquid body wash, can you live without it?
Try, and here's why:
Liquid soaps usually contain preservatives, and you should avoid when possible.
Bar soaps are generally cheaper per ounce than liquid soap.
Earth-friendly packaging: a small box is better than a large plastic container.
How to Save Money on Soap
1. Join TopCashBack. It's free and the savings add up fast. Vitacost is on there and it's often up to 6% cashback. It's easy to redeem as well.
2. Use Honey. Forget trying to look up coupon codes. Use Honey and it'll find the best usable codes when you go to checkout. I've saved hundreds.
3. Vitacost. No membership fee and there's always a coupon code. Use TopCashBack and Honey with Vitacost, and your soap savings are huge.
Best Non-Toxic Soaps Wrap-Up

BODY BAR SOAP: Himalayan Salt Soap Bars (Amazon) or Organic Handmade Soap (Etsy).
FACE SOAP: Salis scrub and serum.
HAND SOAP: Vermont Soap Company's Foaming Soap with a glass or plastic foaming soap dispenser.
HAND SANITIZER: Lemyn Organics Hand Sanitizer Gel.
That's all there is to it, mamas. Congrats on taking one more easy step toward living a safer greener life for you and baby.
Peace love & baby kicks.
Care to share?
Sources
1 "Color Additives: FDA's Regulatory Process and Historical Perspectives", U.S. Food and Drug Administration, 2003, https://www.fda.gov/ForIndustry/ColorAdditives/RegulatoryProcessHistoricalPerspectives/default.htm
2 "Synthetic Food Colors and Neurobehavioral Hazards: The View from Environmental Health Research" PMC, National Center for Biotechnology Information, January 2012, https://www.ncbi.nlm.nih.gov/pmc/articles/PMC3261946/
3 "Progression of breast cancer cells was enhanced by endocrine-disrupting chemicals, triclosan and octylphenol, via an estrogen receptor-dependent signaling pathway in cellular and mouse xenograft models." PubMed, National Center for Biotechnology Information, 2014, https://www.ncbi.nlm.nih.gov/pubmed/24684733
4 "Pregnant women and fetuses exposed to antibacterial compounds face potential health risks." ACS, American Chemical Society, 10 August 2014, https://www.acs.org/content/acs/en/pressroom/newsreleases/2014/august/pregnant-women-and-fetuses-exposed-to-antibacterial-compounds-face-potential-health-risks.html
5 "Effects of triclosan on various aquatic organisms." PubMed, National Center for Biotechnology Information, 2004, https://www.ncbi.nlm.nih.gov/pubmed/15746894
6 "Parabens." Breast Cancer Prevention Partners, https://www.bcpp.org/resource/parabens/
7 "Propylene Glycol." Skin Deep®, Environmental Working Group, https://www.ewg.org/skindeep/ingredient/705315/PROPYLENE_GLYCOL/
8 "Expert Panel Confirms that Fragrance Ingredient Can Cause Cancer." Environmental Working Group, 7 August 2014, https://www.ewg.org/enviroblog/2014/08/expert-panel-confirms-fragrance-ingredient-can-cause-cancer
9 "Fragrance." Skin Deep®, Environmental Working Group, https://www.ewg.org/skindeep/ingredient/702512/FRAGRANCE/#
10 "Titanium Dioxide." Skin Deep®, Environmental Working Group, https://www.ewg.org/skindeep/ingredient/706561/TITANIUM_DIOXIDE/
11 "Titanium dioxide in our everyday life; is it safe?" PMC, National Center for Biotechnology Information, December 2011, https://www.ncbi.nlm.nih.gov/pmc/articles/PMC3423755/
12 "In utero exposure to phthalates and fetal development." PubMed, National Center for Biotechnology Information, 2006, https://www.ncbi.nlm.nih.gov/pubmed/17017909
13 "Cumulative Chemical Exposures During Pregnancy and Early Development." PubMed Central®, National Center for Biotechnology Information, December 2015, https://www.ncbi.nlm.nih.gov/pmc/articles/PMC4626367/
14 "Cocamidopropyl Betaine." Skin Deep®, Environmental Working Group, https://www.ewg.org/skindeep/ingredient/701520/COCAMIDOPROPYL_BETAINE/
15 "Benzalkonium Chloride." Skin Deep®, Environmental Working Group, https://www.ewg.org/skindeep/ingredient/706561/TITANIUM_DIOXIDE/
16 "Antibacterial Soap? You Can Skip It, Use Plain Soap and Water", U.S. Food and Drug Administration, 2 September 2016, https://www.fda.gov/ForConsumers/ConsumerUpdates/ucm378393.htm
17 "Researchers to FDA: Alcohol Hand Rubs Pose No Risk to Pregnant HCWs", Relia Media, 1 September 2017, https://www.reliasmedia.com/articles/141233-researchers-to-fda-alcohol-hand-rubs-pose-no-risk-to-pregnant-hcws
Jen Brady — Chief Green Mama
Mom of two. Wife of one. Holistic nutritional consultant. Amateur biohacker. Guide of the Green Yourself Pregnancy Challenge. Author of the Green Your Baby Registry Guide.
I'm wild about pregnancy and babies (in a sane way) and I need to steer you away from harsh chemicals and hormone disruptors. Stick with me to keep it lean and green.
Up Next:
• Best Pregnancy Safe Natural Deodorant
• Safe Hair Products for Pregnancy