Join the FREE PREGNANCY CHALLENGE and say bye-bye to harsh chemicals & toxins.
(By entering your email you agree to receive emails from Green Baby Deals. No spam, just awesome. Unsubscribe anytime.)
---
Science Shows Why You Need a Safe Deodorant for Pregnancy
Green Baby Deals is reader-supported. When you buy through links on our site, we may earn an affiliate commission. As an Amazon Associate, we earn from qualifying purchases.
Learn more.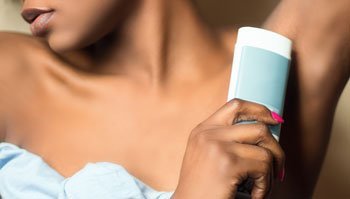 There are a million things to think about when you're having a baby.
Well, here's another one to consider: is your deodorant safe to use while pregnant? There are so many controversial ingredients. It comes down to this: the less you have on, in and around your body, the better. For you and baby.
Pssssst: this is part of the Pregnancy Safe Skin Care Guide found here.
By the end of this article you'll get why I choose non-toxic and natural, every time. OK, here we go.
SPOILER ALERT: Go with Schmidt's Natural Deodorant for your pregnancy and beyond.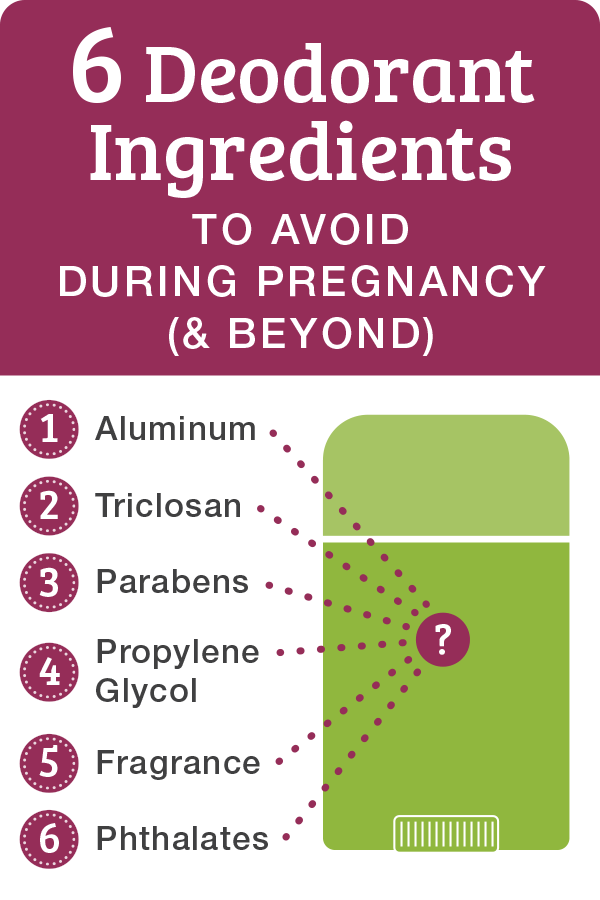 Deodorant Ingredients to Avoid
Take a look at the deodorant you're currently using. Does it contain any of these ingredients?
Aluminum
Aluminum salts used in many deodorants clog and plug your underarm pores so sweat doesn't escape. Hence the term "antiperspirant".
There are two main issues with this:
1. Aluminum used in deodorant is controversial (and remains  inconclusive)1 to cause cancer and
2. Our bodies are designed to sweat. Yup, even our pits.
Triclosan
Triclosan is a common antibacterial chemical. You've probably heard of it being used in hand soaps. That's because in September 2017, it was BANNED from liquid soaps.
It's an endocrine disruptor, meaning it can really mess up your hormones (who needs that on top of all the other pregnant hormones?) In addition, it's linked to breast cancer.2
It's also disruptive to our planet: it doesn't break down, ends up in our waters and is very toxic to aquatic life.3
Although banned from soaps, it's still allowed in other products, including deodorant. Yuck.
Parabens
Parabens are basically preservatives. They may be listed as methylparaben, propylparaben, butylparaben, benzylparaben, isobutylparaben, methyl 4-hydroxybenzoate and propyl 4-hydroxylbenzoate. These are absorbed through the skin, mimic estrogen (more hormones ugh), and its use is linked to breast cancer.4 No thanks.
Propylene Glycol
Propylene glycol or Polyethylene glycol (listed as PEG or PG) are probably the most common ingredients but you should still avoid them. Why? They actually help other chemicals get deeper into the skin. They're also considered a moderate health hazard by Environmental Working Group.5
Fragrance
This is a big one. Since companies (in the U.S.) don't have to disclose all of their ingredients, the term "fragrance" can contain hundreds of ingredients, including phthalates (listed below) and other chemicals linked to hormone disruption and cancer.6
Fragrance is considered a high health hazard by the Environmental Working Group and has "been associated with allergies, dermatitis, respiratory distress and potential effects on the reproductive system."7
Phthalates
You'll want to avoid phthalates as much as you want to avoid attempting to pronounce it (but if you're curious – it's "tha-lates"). This ingredient is used to make other ingredients more flexible.
Safe, natural deodorants may be a little harder to adhere to your skin by not including this ingredient. But my opinion — it's worth the effort.
What's wrong with phthalates? It's another hormone disruptor and it can cross the placental membrane.8 Phthalates have been shown to impact fetal development in pregnant women, and "phthalate exposure is associated with a shorter duration of pregnancy."9 Avoid, avoid, avoid.
Is Dove Deodorant Safe During Pregnancy?
Still unsure about your own deodorant? Let's break down some ingredients to a popular brand. I don't mean to pick on Dove, but admittedly I used Dove for many years and always loved the smell.
Here are the ingredients for the "Dove Go Fresh Advanced Extra Care Rejuvenate Antiperspirant" which is actually a Best of Beauty Award Winner from Allure (2018).
Active Ingredient: Aluminum Zirconium Tetrachlorohydrex GLY (15.2%) Inactive Ingredients: Cyclopentasiloxane, Stearyl Alcohol, C12-15 Alkyl Benzoate, PPG-14 Butyl Ether, Hydrogenated Castor Oil, PEG-8, Dimethicone, Fragrance (Parfum), Silica, Polyethylene, Helianthus Annuus (Sunflower) Seed Oil, Steareth-100, BHT, Hydroxyethyl Urea.
So we already know we want to avoid the aluminum, PEG-8 and fragrance. The Environmental Working Group gives "moderate hazard" ratings to cyclopentasiloxane, dimethicone, steareth-100, and BHT. These all have evidence linked to cancer, endocrine disruption, and/or neurotoxicity.10,11,12,13 Gross.
What About Crystal Deodorants?
You may have seen or heard about the "all-natural salt sticks" that are trending in the natural deodorant category. They typically contain one ingredient. That's one of the indicators that they could be considered safer than other options.
However, the one ingredient is usually "potassium alum". Although it's a naturally occurring mineral salt, don't use this during pregnancy.
Potassium alum is stated to be unabsorbable by our skin, because it's a larger molecule. A French study proves otherwise.14 The fact is, natural crystal deodorant stones do contain aluminum, and it has the potential to be absorbed.
Again, we are putting this on our skin, close to our lymph nodes. There must be a better alternative. Ah, yes…
How to Choose a Safe Natural Deodorant
Now that you know the dangers of certain ingredients found in deodorants, it's time to take action.
If your current deodorant has any of the ingredients listed above, please consider switching. A good start is your local health food store or Whole Foods and peruse the natural section. But it doesn't stop there.
Many of the "natural" stores will still sell products with these toxic ingredients. So you must read the ingredients. General rule of thumb: the less ingredients, the better.
We've tested out a few and our favorite – considering price and ability to de-stink – is Schmidt's Natural Deodorant.
Last update on 2021-06-18 / Affiliate links / Images from Amazon Product Advertising API
Why You'll Love Schmidt's Deodorant
Here are the ingredients for the Schmidt's Fragrance-Free Deodorant:
Maranta Arundinacea (arrowroot) Powder, Sodium Bicarbonate (baking soda), Cocos Nucifera (coconut) Oil, Butyrospermum Parkii (shea butter), Caprylic/Capric Triglyceride (fractionated coconut oil), Euphorbia Cerifera (candelilla) Wax, Simmondsia Chinensis (jojoba) Seed Oil, and Tocopherol (vitamin E; sunflower-derived).
The ingredient list is under 10 and includes layman's terms.
Certified vegan and cruelty-free.
Products are always free of aluminum, propylene glycol, SLS, PEG, parabens, phthalates, artificial fragrance, artificial flavor, artificial colorants, and artificial sweeteners.
Started in Portland, Oregon; now available worldwide.
It's a moderately-priced natural deodorant option. It lasts a long time though, and you can often get a deal on 2 or 3-packs.
In the rare instance you have a reaction to baking soda, a sensitive skin formula is available.
Sustainable company: "All manufacturing, processing, and production of our ingredients are responsibly stewarded and minimize unnecessary steps"15
Other Natural Deodorant Options
Deodorant isn't always one-destink-fits-all. Here are some other GBD-approved options:
Purelygreat Cream Deodorant
Last update on 2021-06-18 / Affiliate links / Images from Amazon Product Advertising API
What to Expect When Switching to a Natural Deodorant
Repeat after us: You CAN live without an antiperspirant. Sweat is a necessary function in your body to detoxify and keep balanced. And here's the good news: the aluminium in antiperspirant is why your shirts are yellowing, not sweat.
There may be an initial period of extra sweat. Please don't sweat it: this is completely normal. Your body is purging some toxins – that's what we want for baby! The natural deodorant is (finally) allowing your skin to breathe. It will regulate in a week or two, so you have to hang in there.
Do I Have More Body Odor When I'm Pregnant?
You may think you're smellier than you actually are. Hyperosmia is a heightened sense of smell. It's common in early pregnancy and beyond. This strange pregnancy symptom can actually help protect your baby from things like rancid food.
When in doubt, just ask someone you love. Chances are, it's your supernatural pregnant senses that are detecting the stink.
What About an Armpit Detox?
You may have read about armpit detoxes and how they may help the transition to a more natural deodorant. We don't recommend any type of detox during pregnancy. And if you're not using the right type of charcoal to detox, it could potentially contain lead.
Let your body detox naturally. Ditching your current deodorant and eating a healthy diet for pregnancy is what you need right now.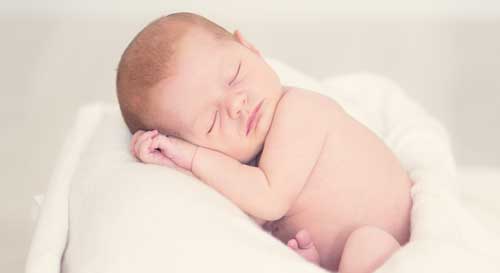 Can't I Just Make My Own Deodorant?
Absolutely, and you'll save some dough. Back in the day (aka before I had babies), I totally made our own and loved it. Maybe someday I'll get back to that. But for now, Schmidt's it is.
Anyways, here's the recipe that worked for me:
Mix together to form a toothpaste-like consistency. Store in an airtight glass container. If it's cooler weather, you may have to heat up the coconut oil first. Once the deodorant is made, you can warm up with your fingers to apply.
Homemade Deodorant vs. Store Bought: Cost Breakdown
(Prices are accurate at time of publishing.)
Using the recipe above, you will make about 85 g.
3 Tbsp. coconut oil: $0.48
3 Tbsp. arrowroot powder: $1.07
10 drops essential oil: $0.60

Important note on essential oils: there are some you need to avoid during pregnancy. Check out this list or ask your doctor/midwife.
Total average cost of homemade deodorant (85 g): $2.15
Average cost of Schmidt's Natural Deodorant (92 g): $9.00
No doubt about it: you'll save some dough if you choose to make it yourself. But if your time is precious, Schmidt's is the way to go.
Whichever you choose, the benefits for you and baby are priceless.
---
5 Simple Steps to Using a Safe Deodorant During Pregnancy
Check your current deodorant.

Does it contain aluminum, triclosan, parabens, propylene glycol, fragrance, and/or phthalates? Is the ingredient list very long and hard to understand? If you answered yes to any of these, it's time to make the switch.

Chuck toxins responsibly.

Empty the deodorant as best you can into trash and if the container is recyclable, do so.

Buy (or make your own) natural deodorant.

Buying? Choose a deodorant with natural antibacterials and scents, such as arrowroot, coconut oil and essential oils. My favorite is Schmidt's Natural Deodorant.

Don't apply immediately after shaving.

This gives your pores a chance to close and avoids potential irritation. If the weather is cooler, you may need to warm the deodorant up a little by holding it under your pit before applying.

Use only what you need.

You may find after scrubbing your pits with a natural soap in the shower, you need very little to none. Or if it's the middle of the summer and you're active, you may need to reapply before the day is done.
---
That's all there is to it, mamas. Congrats on taking one more easy step toward living a safer greener life for you and baby.
Ready for more? Take the FREE Pregnancy Challenge or check out all the baby registry must-haves here.
Peace love & baby kicks.
Care to share?
"Creating my natural baby registry will be fun & stress-free."
— said no mama, ever.
Let's get real.
Sources
1 Darbre, Philippa D. "Underarm antiperspirants/deodorants and breast cancer" BMC, Springer Nature, 13 December 2009, https://breast-cancer-research.biomedcentral.com/articles/10.1186/bcr2424
2 "Progression of breast cancer cells was enhanced by endocrine-disrupting chemicals, triclosan and octylphenol, via an estrogen receptor-dependent signaling pathway in cellular and mouse xenograft models." PubMed, National Center for Biotechnology Information, 2014, https://www.ncbi.nlm.nih.gov/pubmed/24684733
3 "Effects of triclosan on various aquatic organisms." PubMed, National Center for Biotechnology Information, 2004, https://www.ncbi.nlm.nih.gov/pubmed/15746894
4 "Parabens." Breast Cancer Prevention Partners, https://www.bcpp.org/resource/parabens/
5 "Propylene Glycol." Skin Deep®, Environmental Working Group, https://www.ewg.org/skindeep/ingredient/705315/PROPYLENE_GLYCOL/
6 "Expert Panel Confirms that Fragrance Ingredient Can Cause Cancer." Environmental Working Group, 7 August 2014, https://www.ewg.org/enviroblog/2014/08/expert-panel-confirms-fragrance-ingredient-can-cause-cancer
7 "Fragrance." Skin Deep®, Environmental Working Group, https://www.ewg.org/skindeep/ingredient/702512/FRAGRANCE/#
8 "Cumulative Chemical Exposures During Pregnancy and Early Development." PubMed Central®, National Center for Biotechnology Information, December 2015, https://www.ncbi.nlm.nih.gov/pmc/articles/PMC4626367/
9 "In utero exposure to phthalates and fetal development." PubMed, National Center for Biotechnology Information, 2006, https://www.ncbi.nlm.nih.gov/pubmed/17017909
14 "Crystal Deodorants Contain Aluminum." Bubble and Bee Organic, 27 February 2018, https://bubbleandbee.com/blog/crystal-deodorants-contain-aluminum/
15 Schmidt's About page. Schmidt's Deodorant Company, https://schmidts.com/our-story
Jen Brady — Chief Green Mama
Mom of two. Wife of one. Holistic nutritional consultant. Amateur biohacker. Guide of the Green Yourself Pregnancy Challenge. Author of the Green Your Baby Registry Guide.
I'm wild about pregnancy and babies (in a sane way) and I need to steer you away from harsh chemicals and hormone disruptors. Stick with me to keep it lean and green.