FREE PREGNANCY CHALLENGE: say bye-bye to harsh chemicals & toxins.
---
Safe Hair Products for Pregnancy
Green Baby Deals is reader-supported. When you buy through links on our site, we may earn an affiliate commission. As an Amazon Associate, we earn from qualifying purchases.  Learn more.
Connect with others from pregnancy through motherhood (on a free app). Join community now.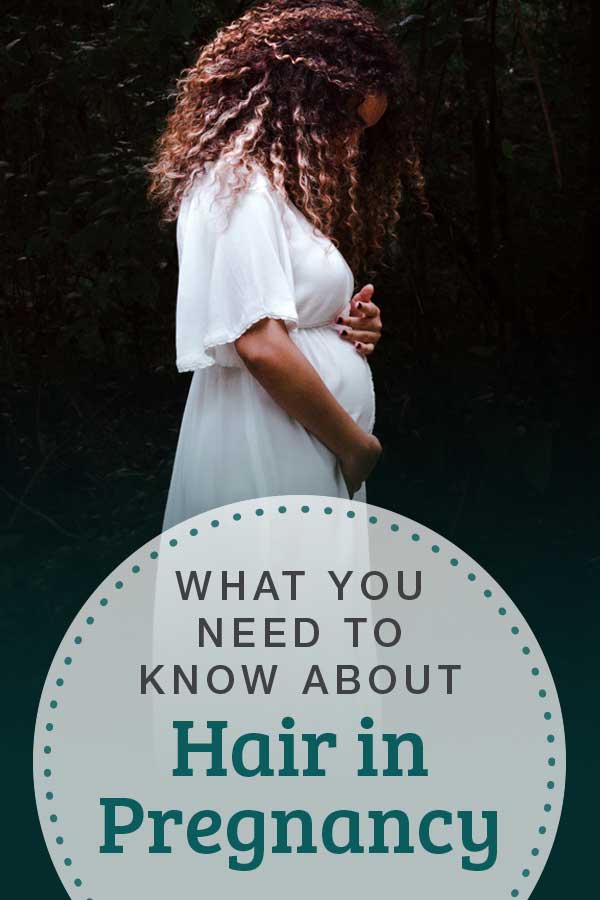 Ever think about what you put on your hair?
Hair follicles have entry points into your skin which means any chemicals you use can potentially get into your body.
While we can't avoid ALL chemicals, some have been proven to be harsher than others, and those are the ones you need to avoid. Choosing natural, safe hair products for pregnancy is definitely important, and here's why.
IN THIS ARTICLE:
How will my hair change during pregnancy?
Shampoo and conditioner ingredients to avoid
Is Suave a pregnancy safe shampoo brand?
Is it safe to bleach, dye, color, highlight, perm or relax my hair while pregnant?
Can I still blow dry my hair?
Pregnancy safe hairs pray and gel
What if I have dandruff during pregnancy?
Best natural shampoos and conditioners
Haircare summary
This is part of the Pregnancy Safe Skin Care Guide found here.
How Will My Hair Change During Pregnancy?
Ah, your hair will probably be one of the better changes during pregnancy: thicker and fuller.
Why? It's those pregnancy hormones again, along with more blood flow. Your hair will be less likely to fall out (hence the fullness), may grow faster and may be shinier than normal.
In addition, the extra vitamins, nutrients and minerals your clean, organic pregnancy diet (right?! ?) and prenatals are providing is helping your hair from the inside out.
This is a huge win, because it'll be easier to reduce some of the toxin-filled products you may be using right now.
Just a heads up: after you have your baby, your hair may become thinner and you may lose it fast (even come out in clumps). Don't be scared — it's just making up for lost time. We'll cover ways to deal with that soon.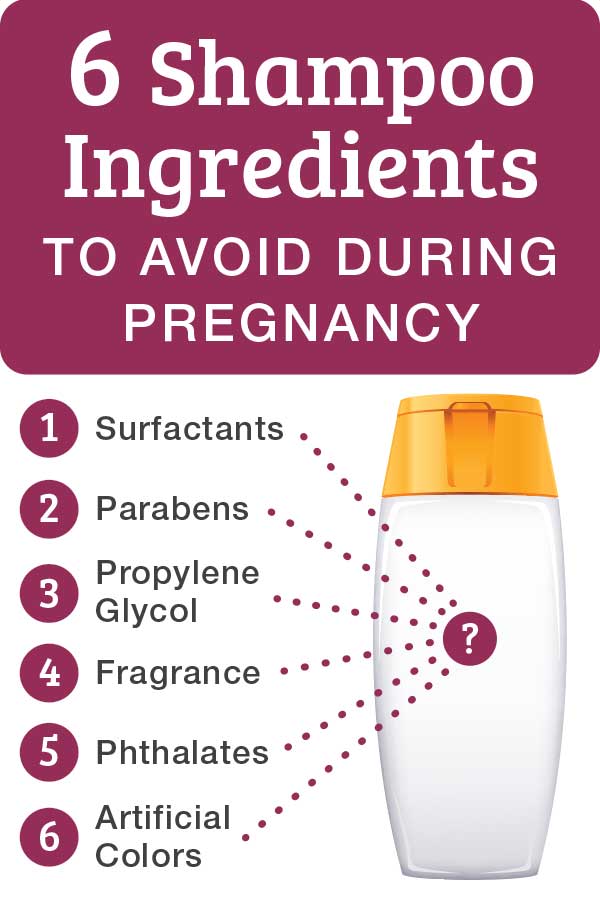 Shampoo and Conditioner Ingredients to Avoid
Take a look at the hair products you're currently using. Do they contain any of these ingredients?
Surfactants
Surfactants get an "F" rating on Environmental Working Group (EWG). There is some evidence of "suspicion to cause cancer, genetic defects, and female reproductive toxicity.1

They're typically found in shampoos so you get the suds. But this is a chemical reaction and really unnecessary. The suds and "squeaky clean" feeling is only drying out your hair and stripping away the natural oils your hair needs to be healthy.
Look for: Polysorbates, Sodium Lauryl Sulfate (SLS), Sodium Laureth Sulfate (SLES), Ammonium Lauryl Sulfate, Sodium Ttrideth Sulfate, Cocamidopropyl Betaine, Cocamide DEA, MEA, TEA or MIPA, and Lauramide DEA.
Surfactants also show high chronic toxicity to aquatic life. Since our shampoo goes down our drains, they end up in our waters. Not good.
Parabens
Parabens are basically preservatives. They may be listed as methylparaben, propylparaben, butylparaben, benzylparaben, isobutylparaben, methyl 4-hydroxybenzoate and propyl 4-hydroxylbenzoate. These are absorbed through the skin, mimic estrogen (more hormones ugh), and its use is linked to breast cancer.2 No thanks.
Propylene Glycol
Propylene glycol or Polyethylene glycol (often listed as PEG or PG) are probably the most common ingredients but you should still avoid them. Why? They actually help other chemicals get deeper into the skin. They're also considered a moderate health hazard by Environmental Working Group.3
Artificial Colors
Look for FD&C or D&C followed by a color and/or number. These are artificial colors and are derived from petroleum or coal tar sources.4 They're typically found in food but also show up in many beauty products.
They're completely unnecessary. They can "induce adverse behavioral effects in children."5 Maybe they make your hair product a pretty color, but who cares? It's best to skip.
Fragrance
This is a big one. Since companies (in the U.S.) don't have to disclose all of their ingredients, the term "fragrance" can contain hundreds of ingredients, including phthalates (listed below) and other chemicals linked to hormone disruption and cancer.6
Fragrance is considered a high health hazard by the Environmental Working Group and has "been associated with allergies, dermatitis, respiratory distress and potential effects on the reproductive system."7
Phthalates
You'll want to avoid phthalates as much as you want to avoid attempting to pronounce it (but if you're curious – it's "tha-lates"). This ingredient is used to make other ingredients more flexible.
Phthalates may show up in haircare ingredients as DBP (di-n-butylphthalate), DEP (diethylphthalate), DMP (dimethyl phthalate) or BzBP (benzylbutyl phthalate). Or, they may just categorize it under "fragrance".
What's wrong with phthalates? It's another hormone disruptor AND it can cross the placental membrane.8 Phthalates have been shown to impact fetal development in pregnant women, and "phthalate exposure is associated with a shorter duration of pregnancy."9 Avoid, avoid, avoid.
So what can you do about all this crap in your hair products?
Environmental Working Group (EWG) is working hard to raise awareness. Join them and they will send you occasional petitions to sign to help stop putting these toxins and chemicals into our products and food.
Join EWG here. It's free, easy and worth it.
Is Suave a Pregnancy Safe Shampoo Brand?
Is Suave lurking in your shower? Let's check out the ingredients for "Suave Professionals for Natural Hair":
Water, Cocamidopropyl Betaine, Sodium Methyl Cocoyl Taurate, Sodium Chloride, Fragrance, Citric Acid, Sodium Benzoate, Stearamidopropyl Dimethylamine, Polyquaternium-10, Disodium EDTA, Butyrospermum Parkii (Shea) Butter, Cocos Nucifera (Coconut) Oil, Hexyl Cinnamal, Linalool.
We wanted to love this line, because it's sulfate-free and made with natural shea butter and pure coconut oil. But always look beyond the front label.
The first ingredient is water, the second is one of the harsher surfactants. It also has fragrance, hexyl cinnamal and linalool. The latter two are both types of fragrances that are "possible human immune system toxicants or allergens.".10,11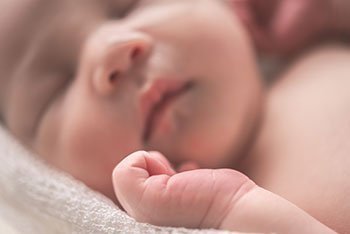 Is it Safe to Bleach, Dye, Color, Highlight, Perm or Relax My Hair While Pregnant?
Do you need to worry about all these as well?
Of course we're not going to recommend it. They often contain ammonia, peroxide, persulfates, parabens and propylene glycol. Even going to a salon where someone is getting a treatment, the air can be loaded with fumes.
Still really need to color your hair during pregnancy? Consider these options and tips:
Since highlighting doesn't touch your scalp, it's the better option. Balayage and ombre highlighting techniques are trendy and can help you gradually come back to your natural color.
Use an organic, plant-based, non-toxic dye: Indus Valley has great ingredients, but a lot of mixed reviews for performance and color.
Only looking to cover the grays? Consider Hairprint® Color Restorer.
Not comfortable coloring at home? Most chemical-free organic salons will use what you bring. See if they'll work with Indus Valley or Hairprint.
Always talk to your doctor or midwife before treating your hair during pregnancy.
Skip the perms and relaxing treatments altogether during pregnancy. They often contain gross formaldehyde — a known human carcinogen.12

Can I Blow Dry My Hair During Pregnancy?
Yes, of course you can blow dry your hair. But consider the electromagnetic field (EMF) level. EMF exposure — from cell phone towers, laptops, Bluetooth and Wi-Fi — are all around us and unavoidable. But the less you can be exposed to, the better.
Research shows high levels of man-made EMFs (abundant in today's society) can have negative effects at the cellular level. They can not only attack your blood-brain barrier, but also your placental barrier.13
Studies involving EMF exposure are increasing rapidly. The EPA came close to reporting some significant findings years ago. Check out this shady story.
Honestly, we don't know the long-term effects from this type of radiation that's more frequent and stronger today with all of our devices. We just hope the education and awareness continues.
NERD ALERT: Interested in learning more about EMFs? Check out The Body Electric book. Also read this guide on Pregnancy EMF Protection. If you'd like to test your levels throughout your house, get a TriField EMF Meter Reader.
We can't control all of the EMFs around us. But since you do have control of the ones in your hair dryer, would you consider letting your hair air dry? If you really can't live without it, choose a low-EMF one. And make it affordable with this one.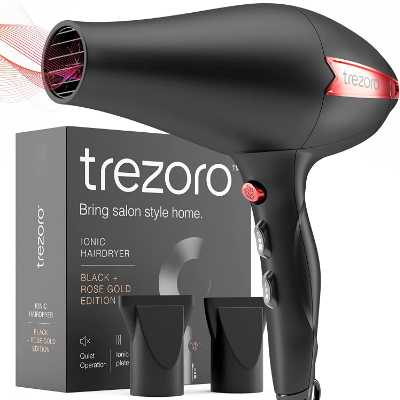 Pregnancy Safe Hair Spray, Gel and Paste
One study links hair spray to hypospadias (a rare birth defect).15
The hair spray in question contained hormone-disrupting phthalates, which we would never recommend.
Use hair spray sparingly and consider gel or paste instead. General rule of thumb: the less ingredients the better. Check out these:
What if I Have Dandruff During Pregnancy?
Don't run for the Head and Shoulders just yet. It contains harsh SLS, fragrance, and artificial colors.
There are many things that can cause dandruff. But if you don't typically have it before pregnancy, it's probably your PH level changing.
Try regulating your PH level with an apple cider vinegar (ACV) rinse:
Choose an organic, raw ACV: we love Bragg ACV.
Must dilute! Mix 1 part ACV with 3 parts water in a spray bottle.
After shampooing (or make sure your hair is wet) spray evenly from roots to ends.
Rinse after 5 minutes. The smell is strong but will dissipate.
Tea tree oil has also been shown to be effective in treating dandruff. But it's not proven to be safe to use during pregnancy, particularly during the first trimester. After checking with your doctor or midwife, consider using a shampoo bar that contains tea tree.
Best Natural Shampoos and Conditioners for Your Pregnancy
Ultra Cheap & Ultra Crunchy
Ever hear of the "no poo" method? Since your hair is likely fuller and shinier during your pregnancy, now is the time to try this. You basically wash your hair a lot less and without shampoo.
Note you REALLY have to give this a few weeks to work. Your body has been overproducing oils for your hair so it needs time to adjust.
TIP: While baking soda is a great natural cleaner for your household, skip it on your hair. It's too abrasive and can cause breakage with fine hair.
We haven't been brave enough to give this a try, but gals have claimed softer, fuller, cleaner-feeling hair. And of course, it's a serious beauty bargain. Check it out here: The No Poo Method.
Cheap & Crunchy
Save your dough and help the planet by ditching the plastic and choosing a shampoo bar. They can last up to 80 washes (about 2-3 bottles). Bars have better ingredients because they don't need the chemicals and additives to form a liquid.
Get a good lather in your hands, then distribute throughout your hair. We love Chagrin Valley Shampoo Bar for its awesome ingredients and the generous oversized 5.8 oz. bar.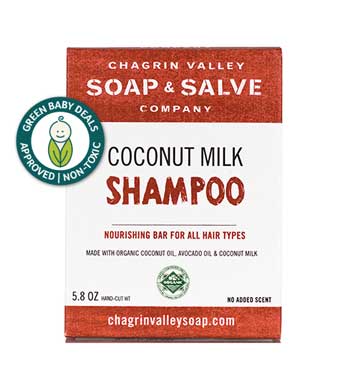 Ingredients: Organic Coconut Oil, Organic Sunflower Oil, Organic Sweet Almond Oil, Organic Avocado Oil, Organic Coconut Milk, Water, Organic Castor Bean Oil, Sodium Hydroxide*, Organic Palm Oil (Sustainable), Organic Canola Oil,Organic Rosemary Oil Extract (ROE).
* Used in the saponification process to turn oil into soap. None remains in the finished product.
TIP: Help keep your shampoo bar dry with this silicone soap drainer dish.
Do you have curly and/or dry hair? Too much shampoo may be causing more harm than good. Consider co-washing. It's basically washing your hair with conditioner only.
A few co-washing conditioners — kinda like a shampoo and conditioner in one, but with more conditioner — have come onto the market recently, but we're not loving their ingredients. Instead we recommend using the shampoo bar occasionally.
You may only need to co-wash once a week, depending on your hair. That's how you'll save with our fave conditioner: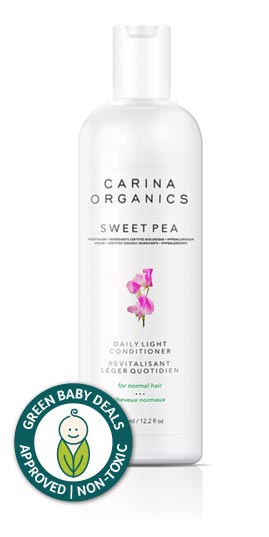 Ingredients: Filtered Aqua, Cocos nucifera (coconut) oil, Pinus banksiana (pine) extract, Matricaria chamomilla (chamomile) flower extract, Urtica dioca (nettle) leaf extract, Taraxacum officinale (dandelion) leaf extract, Trifolium pratense (clover) flower extract, Acetic Acid (Apple Cider Vinegar), Olea europaea (olive) fruit oil, Cucurbita pepo (pumpkin) seed oil, and Lathyrus odoratus (sweet pea) flower extract.
Kinda Cheap & Kinda Crunchy
Still really can't live without the lather?
Carina Organics is your best bet. Based in Canada, part of their mission is to provide products completely free of cortisone, steroids, DEA (diethanolamine), sulfates, salt (sodium chloride), propylene glycol, aluminum, synthetic fragrances, and dyes.
TIP: If you can wait for the shipment or want a larger size, save by ordering directly from Carina Organics. It's typically cheaper than Amazon, even with shipping.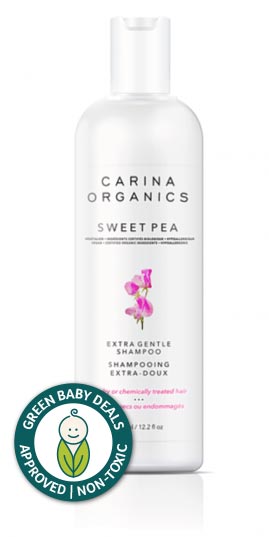 Ingredients: Filtered Aqua, Potassium Cocoate (saponified Cocos nucifera / Coconut oil), Glycerin (vegetable), Pinus banksiana (pine) extract, Magnesium Chloride (Magnesium Oil), Olea europaea (olive) fruit oil, Matricaria chamomilla (chamomile) flower extract, Urtica dioca (nettle) leaf extract, Taraxacum officinale (dandelion) leaf extract, Trifolium pratense (clover) flower extract, Acetic Acid (Apple Cider Vinegar), Cucurbita pepo (pumpkin) seed oil, and Lathyrus odoratus (sweet pea) flower extract.
Natural Haircare Wrap-up
That's all there is to it, mamas. Congrats on taking one more easy step toward living a safer greener life for you and baby.
Ready for more? Take the FREE Pregnancy Challenge or check out all the baby registry must-haves here.
Peace love & baby kicks.
Care to share?
Jen Brady — Chief Green Mama
Mom of two. Wife of one. Holistic nutritional consultant. Amateur biohacker. Guide of the Green Yourself Pregnancy Challenge. Author of the Green Your Baby Registry Guide.
I'm wild about pregnancy and babies (in a sane way) and I need to steer you away from harsh chemicals and hormone disruptors. Stick with me to keep it lean and green.
Sources
1 "Surfactants." EWG's Guide to Healthy Cleaning, Environmental Working Group, https://www.ewg.org/guides/substance_groups/49-Surfactants
2 "Parabens." Breast Cancer Prevention Partners, https://www.bcpp.org/resource/parabens/
3 "Propylene Glycol." Skin Deep®, Environmental Working Group, https://www.ewg.org/skindeep/ingredient/705315/PROPYLENE_GLYCOL/
4 "Color Additives: FDA's Regulatory Process and Historical Perspectives", U.S. Food and Drug Administration, 2003, https://www.fda.gov/ForIndustry/ColorAdditives/RegulatoryProcessHistoricalPerspectives/default.htm
5 "Synthetic Food Colors and Neurobehavioral Hazards: The View from Environmental Health Research" PMC, National Center for Biotechnology Information, January 2012, https://www.ncbi.nlm.nih.gov/pmc/articles/PMC3261946/
6 "Expert Panel Confirms that Fragrance Ingredient Can Cause Cancer." Environmental Working Group, 7 August 2014, https://www.ewg.org/enviroblog/2014/08/expert-panel-confirms-fragrance-ingredient-can-cause-cancer
7 "Fragrance." Skin Deep®, Environmental Working Group, https://www.ewg.org/skindeep/ingredient/702512/FRAGRANCE/#
8 "In utero exposure to phthalates and fetal development." PubMed, National Center for Biotechnology Information, 2006, https://www.ncbi.nlm.nih.gov/pubmed/17017909
9 "Cumulative Chemical Exposures During Pregnancy and Early Development." PubMed Central®, National Center for Biotechnology Information, December 2015, https://www.ncbi.nlm.nih.gov/pmc/articles/PMC4626367/
10 "Hexyl Cinnamal." Skin Deep®, Environmental Working Group, https://www.ewg.org/skindeep/ingredient/702841/HEXYL_CINNAMAL/
11 "Linalool." Skin Deep®, Environmental Working Group, https://www.ewg.org/skindeep/ingredient/703568/LINALOOL/
12 "Formaldehyde and Cancer Risk." National Cancer Institute, National Institutes of Health, https://www.cancer.gov/about-cancer/causes-prevention/risk/substances/formaldehyde/formaldehyde-fact-sheet
13 "EMF and the Blood Brain Barrier." Shield Your Body, 18 June 2018, https://www.shieldyourbody.com/2018/06/emf-and-the-blood-brain-barrier/
14 "New Study Raises Concern About Hair Spray Use During Pregnancy." Colleen de Bellefonds, Everyday Health, Inc., 8 March 2018, https://www.whattoexpect.com/news/pregnancy/study-raises-concern-hair-spray-use-during-pregnancy/