FREE PREGNANCY CHALLENGE: say bye-bye to harsh chemicals & toxins.
---
The Best, Safest Sunscreen for Your Pregnancy
Green Baby Deals is reader-supported. When you buy through links on our site, we may earn an affiliate commission. As an Amazon Associate, we earn from qualifying purchases.  Learn more.
Connect with others from pregnancy through motherhood (on a free app). Join community now.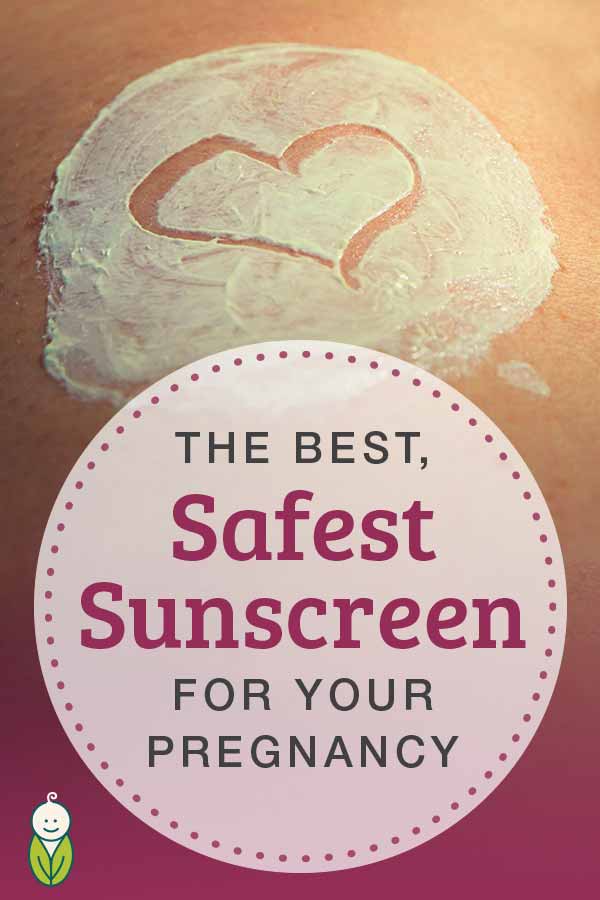 What's so great about soaking in the sun if you have to lather yourself in a sunscreen full of toxins?
Don't worry mamas: there are alternatives. You can enjoy some sunshine AND keep yourself protected in a natural and affordable way.
This is part of the Pregnancy Safe Skin Care Guide found here.
IN THIS ARTICLE:
Sunscreen ingredients to avoid
What about Neutrogena, the #1 sunscreen lotion?
Can't I just eat my sunscreen?
How do I avoid getting a sunburn?
What if I've already gotten a pregnancy sunburn?
The best sunscreen for pregnancy

SPOILER ALERT: Go with the Badger Baby Natural Mineral Sunscreen for you and the entire family.
Your skin is your largest organ and has the ability to absorb whatever it wants.
This is why you need to look at your sunscreen labels. Just say no to the chemical sunscreens and choose a mineral, non-toxic one for yourself and baby.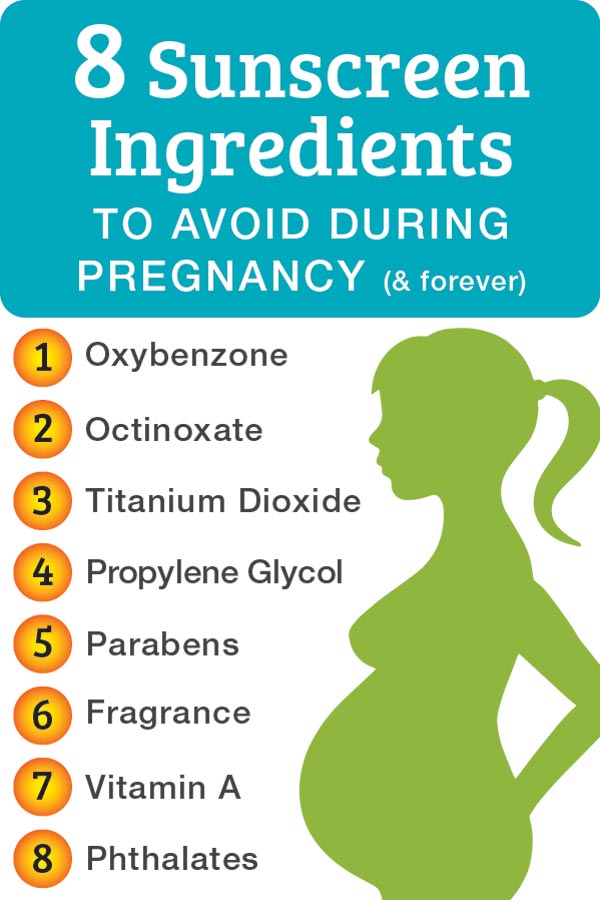 Sunscreen ingredients to avoid
Take a look at the sunscreen you currently have. Does it contain any of these ingredients?
Oxybenzone & Octinoxate
We have to group these together because Hawaii and Key West have BANNED these chemicals to help protect our coral reefs. "Even a small drop is enough to damage delicate corals…and about 14,000 tons of sunscreen lotions end up in coral reefs around the world each year."1
They're still widely available in brands such as Hawaiian Tropic, Coppertone and Banana Boat.
Do your part and help protect our environment. Wherever you live, please don't use these chemicals.
Hey, we're passionate about the future of our oceans. If you're procreating, you need to be too. Check out the documentary Chasing Coral. It explains coral bleaching, how our oceans are changing, and what we can do.
Need more convincing? Oxybenzone is a synthetic estrogen and gets a score of 8 by Environmental Working Group (EWG) This is a bad score. The chemical absorbs through the skin in significant amounts and it "contaminates the bodies of 97% of Americans according to research by the Centers for Disease Control and Prevention."2
Octinoxate scores a 6 on EWG showing a high concern of endocrine disruption. You do NOT want anything messing with your hormones when pregnant. It's "shown to have hormone-mimicking effects on laboratory animals, and is found in humans, including mothers' milk samples." 3
Vitamin A
Vitamin A is great when it's naturally found in your food, but don't put it on your skin. Its synthetic forms are commonly seen on sunscreen labels as retinyl palmitate or retinol.
Retinol gets a score of 9 by EWG. It "may speed the development of skin tumors and lesions on sun-exposed skin. FDA, Norwegian and German health agencies have raised a concern that daily skin application of vitamin A creams may contribute to excessive vitamin A intake for pregnant women."4

Parabens
Parabens are basically preservatives. They may be listed as methylparaben, propylparaben, butylparaben, benzylparaben, isobutylparaben, methyl 4-hydroxybenzoate and propyl 4-hydroxylbenzoate. These are absorbed through the skin, mimic estrogen (more hormones ugh), and its use is linked to breast cancer.5 No thanks.
Propylene Glycol
Propylene glycol or Polyethylene glycol (listed as PEG or PG) are probably the most common ingredients but you should still avoid them. Why? They actually help other chemicals get deeper into the skin.
You want the sunscreen to protect you but stay on TOP of your skin, not get absorbed. Propylene glycol is also considered a moderate health hazard by Environmental Working Group.6
Fragrance
This is a big one. Since companies (in the U.S.) don't have to disclose all of their ingredients, the term "fragrance" can contain hundreds of ingredients, including phthalates (listed below) and other chemicals linked to hormone disruption and cancer.7
Fragrance is considered a high health hazard by the Environmental Working Group and has "been associated with allergies, dermatitis, respiratory distress and potential effects on the reproductive system."8
Titanium Dioxide
While titanium dioxide claims to have low skin penetration and is only a possible cancer-causing human carcinogen through inhalation,9 it's best to avoid.
Why avoid titanium dioxide? Studies are still inconclusive about its long-term use, including putting it on your skin. "Until relevant toxicological and human exposure data that would enable reliable risk assessment are obtained, TiO2 nanoparticles (titanium dioxide) should be used with great care."10
Phthalates
You'll want to avoid phthalates as much as you want to avoid attempting to pronounce it (but if you're curious – it's "tha-lates"). This ingredient is used to make other ingredients more flexible.
Phthalates may show up in soap ingredients as DBP (di-n-butylphthalate), DEP (diethylphthalate), DMP (dimethyl phthalate) or BzBP (benzylbutyl phthalate). Or, they may just categorize it under "fragrance".
What's wrong with phthalates? It's another hormone disruptor AND it can cross the placental membrane.11 Phthalates have been shown to impact fetal development in pregnant women, and "phthalate exposure is associated with a shorter duration of pregnancy."12 Avoid, avoid, avoid.
So what can you do about all this crap in your sunscreen? Environmental Working Group (EWG) is working hard to raise awareness. Join them and they will send you occasional petitions to sign to help stop putting these toxins and chemicals into our products and food.
Join EWG here. It's free, easy and worth it.
What about Neutrogena: the #1 sunscreen lotion?
Neutrogena advertises the "#1 Dermatologist Recommended Suncare Brand for 10+ Years. For the whole family."
Let's check out the ingredients for Neutrogena Ultra Sheer Dry Touch Water Resistant Sunscreen – SPF 100:
Active ingredients: Avobenzone 3%, Homosalate 15%, Octisalate 5%, Octocrylene 10%, Oxybenzone 6%

Inactive ingredients: Water, Styrene/acrylates Copolymer, Silica, Beeswax, Cyclopentasiloxane, Ethylhexylglycerin, Glyceryl Stearate, PEG-100 Stearate, Acrylates/dimethicone Copolymer, Acrylates/c10-30 Alkyl Acrylate Crosspolymer, Fragrance, Chlorphenesin, Triethanolamine, Diethylhexyl 2,6-naphthalate, Dipotassium Glycyrrhizate, Disodium EDTA, BHT, Methylisothiazolinone.
Run from this type of label which includes Oxybenzone, propylene glycol and fragrance.
Is your dermatologist recommending this sunscreen to you? Consider switching to a more holistic doctor.
Can't I just eat my sunscreen?
You may have heard this term about eating the right foods to prevent sunburn. There are facts to back it up13 but proceed with caution: you still need to lather up if you're sunbathing.
Being sunburned is a sign of inflammation. Diet is crucial when it comes to inflammation in the body. If you consume more anti-inflammatory foods, your chance of getting sunburned decreases.
Try the following to help complement your safe sun routine:
Stay away from processed foods, vegetable oils and sugars: even with your cravings — try to limit chips, soda and polyunsaturated oils (soybean, cottonseed and corn).
Add healthy Omega-3s: oily fish (such as wild-caught salmon and trout), cod liver oil, walnuts, flax and chia seeds.
Cook with organic virgin coconut, avocado oil or grass-fed ghee (clarified butter).
Add Vitamin D3: wild-caught salmon, cod liver oil, eggs and portabello mushrooms. If possible, check your vitamin D levels at your next doctor's visit. You may be deficient.
Add Vitamin C: strawberries, citrus fruits, kiwi, bell peppers and dark leafy greens.
Add lycopene: choose recipes with organic tomatoes and tomato paste. Studies show lycopene has the ability to protect free radicals from too much sunlight exposure.14
Add dark chocolate: don't go crazy gals, but satisfy some pregnant cravings with a square of high-antioxidant dark chocolate. Yum.
How do I avoid getting a sunburn?
Aside from choosing an anti-inflammatory diet, use these best practices to prevent yourself from getting burned:
Don't lather up if you're going outdoors for a half hour in mild sun. The sun is a natural source of Vitamin D and you need it.
Focus on applying most to face and top of hands, which are more likely to get melanoma than arms and legs.
Avoid sun exposure for long periods of time, especially during peak hours (10 a.m. – 4 p.m.).
Find shade or bring shade. Use umbrellas, beach tents, large-brimmed hats, sunglasses and clothing that labels SPF.
If you're out in the sun and you feel hot and notice a pink hue, this could be the start of a sunburn. Your pregnancy can intensify these effects (thanks hormones). It's important to get out of the sun or apply/reapply sunscreen. LOOK OUT: This can also be a sign of dehydration, which could potentially lead to premature labor. Drink extra water when you're outside, ladies.
Follow the directions on the sunscreen label: make sure you're applying enough and reapply as directed.
Check out the dminder app here. It's free and can help you avoid sunburns while maximizing the sun's benefits.
For babies: Keep babies under 6 months out of the hot sun. Use a stroller sun shade. The sun damage can start early. Most skin cancers that appear when you're older are actually from when you were exposed to the sun too much as a baby or child. Use extra sun caution with babies and kids.

"Go slow. Be mindful. A day in the sun is great, but a lifetime of healthy skin is even better."
— Badger Slow Sun Safety
What if I've already gotten a pregnancy sunburn?
Sorry to hear, but now you've got an excuse to stay inside and relax. Also try:
Vinegar: it has a way of "sucking out the heat" and providing healing and relief for you. Keep this apple cider vinegar (ACV) in your cupboard for many purposes. Use half ACV and half water in a spray bottle and cover the entire sunburn. Cover with a towel to help skin absorption.
Aloe: a common, soothing remedy. Use a plant if you have one or choose an organic aloe vera gel.
Coconut oil: use after skin has cooled. It's super moisturizing and can greatly reduce itching and peeling. As always, choose an organic one.
Witch hazel: not only great for cleansing and postpartum pads, witch hazel can also relieve you from a sunburn. Choose an organic witch hazel.
Stay out of the sun: Pretty obvious, but the worst thing for a burn is another burn. Let your body heal by staying inside for a bit.
Keep hydrated: Start from the inside to help your drying skin. Water is the best choice for the fastest recovery. Make it more fun by adding a twist of lemon or lime.
Stay away from harsh soaps: The best non-toxic soaps to use are here.
Listen to your body: Call your doc or midwife if you have a fever, bad headache, chills, if your sunburn is blistering and/or isn't healing within a few days.
Best sunscreen for pregnancy
…and your entire family.
You're looking for a few things when you choose your sunscreen:
Mineral
Broad-spectrum UVA and UVB
Uncoated zinc oxide
SPF 30+
Lotion (spray goes on unevenly and sunscreen shouldn't be inhaled)
Minimal, simple ingredients: look for less than 10 inactive ingredients and make sure it doesn't contain any of the sneaky ingredients listed above.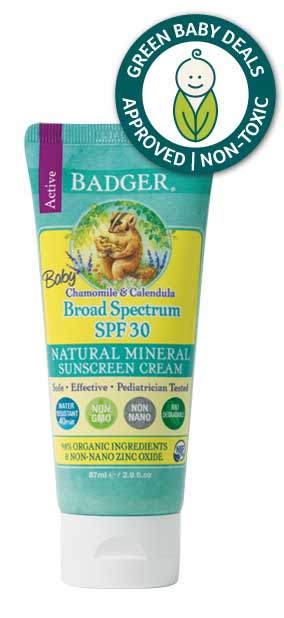 Why you'll love Badger Baby sunscreen
Non-nano, uncoated zinc oxide with only 6 other ingredients: organic helianthus annuus (sunflower) seed oil, organic cera alba (beeswax), tocopherol (sunflower Vitamin E), organic anthemis nobilis (roman chamomile) flower Oil, organic calendula officinalis (calendula) flower extract, and organic hippophae rhamnoides (seabuckthorn) fruit extract.
Broad-spectrum UVA and UVB.
Non-GMO, Hypoallergenic, pediatrician tested and approved.
Water-resistant for 40 minutes.
Reef friendly, biodegradable, and certified cruelty-free.
Good price for the value: if you're not a huge sunbather it will last you through the season.
Super easy to have one sunscreen you can use for your body, your face, your baby, everyone.
That's all there is to it, mamas. Congrats on taking one more easy step toward living a safer greener life for you and baby.
Ready for more? Take the FREE Pregnancy Challenge or check out all the baby registry must-haves here.
Peace love & baby kicks.
Care to share?
Sources
1 "Hawaii Approves Bill Banning Sunscreen Believed To Kill Coral Reefs", National Public Radio, Inc., 2 May 2018, https://www.npr.org/sections/thetwo-way/2018/05/02/607765760/hawaii-approves-bill-banning-sunscreen-believed-to-kill-coral-reefs
2 "Oxybenzone." Skin Deep®, Environmental Working Group, https://www.ewg.org/skindeep/ingredient/704372/OXYBENZONE/
3 "Octinoxate." Skin Deep®, Environmental Working Group, https://www.ewg.org/skindeep/ingredient/704203/OCTINOXATE/
4 "Oxybenzone." Skin Deep®, Environmental Working Group, https://www.ewg.org/skindeep/ingredient/706889/RETINOL_%28VITAMIN_A%29/
5 "Parabens." Breast Cancer Prevention Partners, https://www.bcpp.org/resource/parabens/
6 "Propylene Glycol." Skin Deep®, Environmental Working Group, https://www.ewg.org/skindeep/ingredient/705315/PROPYLENE_GLYCOL/
7 "Expert Panel Confirms that Fragrance Ingredient Can Cause Cancer." Environmental Working Group, 7 August 2014, https://www.ewg.org/enviroblog/2014/08/expert-panel-confirms-fragrance-ingredient-can-cause-cancer
8 "Fragrance." Skin Deep®, Environmental Working Group, https://www.ewg.org/skindeep/ingredient/702512/FRAGRANCE/#
9 "Titanium Dioxide." Skin Deep®, Environmental Working Group, https://www.ewg.org/skindeep/ingredient/706561/TITANIUM_DIOXIDE/
10 "Titanium dioxide in our everyday life; is it safe?" PMC, National Center for Biotechnology Information, December 2011, https://www.ncbi.nlm.nih.gov/pmc/articles/PMC3423755/
11 "In utero exposure to phthalates and fetal development." PubMed, National Center for Biotechnology Information, 2006, https://www.ncbi.nlm.nih.gov/pubmed/17017909
12 "Cumulative Chemical Exposures During Pregnancy and Early Development." PubMed Central®, National Center for Biotechnology Information, December 2015, https://www.ncbi.nlm.nih.gov/pmc/articles/PMC4626367/
13 "Skin Texture, Cancer and Dietary Fat." Whole Health Source, 25 March 2009, http://wholehealthsources.blogspot.com/2009/03/skin-texture-cancer-and-dietary-fat.html
14 "Dietary tomato paste protects against ultraviolet light-induced erythema in humans." PubMed Central®, National Center for Biotechnology Information, January 2014, https://www.ncbi.nlm.nih.gov/pubmed/23931284
"Creating my natural baby registry will be fun & stress-free."
— said no mama, ever.
Let's get real.
Jen Brady — Chief Green Mama
Mom of two. Wife of one. Holistic nutritional consultant. Amateur biohacker. Guide of the Green Yourself Pregnancy Challenge. Author of the Green Your Baby Registry Guide.
I'm wild about pregnancy and babies (in a sane way) and I need to steer you away from harsh chemicals and hormone disruptors. Stick with me to keep it lean and green.