FREE PREGNANCY CHALLENGE: say bye-bye to harsh chemicals & toxins.
---
Is Jergens Natural Glow Safe During Pregnancy? [3 Reason Why I Pass]
Green Baby Deals is reader-supported. When you buy through links on our site, we may earn an affiliate commission. As an Amazon Associate, we earn from qualifying purchases.  Learn more.
Connect with others from pregnancy through motherhood (on a free app). Join community now.
If that "natural pregnancy glow" isn't all you expected, you may be tempted to slather on a self tanner, but is it safe for you and baby?
Let's dig into Jergens Natural Glow, a popular self-tanning moisturizer.
Disclaimer time: I'm not a doctor or a biochemist. I just research ingredients since we all need to look out for ourselves. My goal is to choose what I believe is "safer" based on what I discover. If you have any concerns about the products below or any others, please ask your doctor or midwife.
Also, anyone can have a sensitivity to anything, even if it's considered a safer ingredient. So whenever you buy something new, especially makeup, I always suggest you do a 24hr. skin test in a small area on the back of your hand before applying it to your face.
What is Jergens Natural Glow?
Jergens® Natural Glow® is a line of tanning moisturizers. It's from the Andrew Jergens Company which was acquired by the international beauty company Kao in 1988.
Jergens Natural Glow comes in a variety of options such as "+ Firming", "Wet Skin", and "with Sunscreen".
In this article, we'll focus on the ingredients in what seems to be the original: "Jergens Natural Glow Daily Moisturizer" made with antioxidants and vitamin E.
Here are the ingredients (as of this article writing):
Water, Glycerin, Zea Mays (Corn) Starch, Cetearyl Alcohol, Dihydroxyacetone, Mineral Oil, Ethylhexyl Isononanoate, Propanediol, Ceteareth-20, Dimethicone, Steareth-2, Fragrance, Octyldodecyl Myristate, Stearic Acid, Petrolatum, Hydroxyethyl Acrylate/Sodium Acryloyldimethyl Taurate Copolymer, Isohexadecane, Caprylyl Glycol, Erythrulose, BHT, Polysorbate 60, Olea Europaea (Olive) Fruit Oil, Cocos Nucifera (Coconut) Oil, Avena Sativa (Oat) Meal Extract, Calendula Officinalis Flower Extract, Persea Gratissima (Avocado) Oil, Simmondsia Chinensis (Jojoba) Seed Oil, Camellia Sinensis Leaf Extract, Benzoic Acid, Caramel.
Jergens Natural Glow Daily Moisturizer is cruelty-free and now paraben-free, which is great.
But in order for it to have the tanning effect, it contains dihydroxyacetone (DHA), which may cause DNA damage.1 I was also disappointed to see the formulation includes fragrance and petrolatum.
Things to Consider When Using Jergens Natural Glow During Pregnancy
Here's what makes me hesitant to use Jergens Natural Glow during pregnancy:
1. Dihydroxyacetone (DHA)
Sunless tanning methods often use dihydroxyacetone (DHA). It's a chemical approved by the FDA, but there are some concerns, including potential DNA damage.1
It's also not permitted by the FDA to be used in the eye area (including eyebrows) and the lips.2
Not sure about you, but if I'm putting something on my face, I personally want it to be safe for my entire face. I don't want to worry about whether it's going to touch my eyebrows yikes.
2. FRAGRANCE
Since DHA is so stinky, it makes sense the formulation includes fragrance to help mask it. But what's the risk here?
Since companies (in the U.S.) don't have to disclose all of their ingredients, the term "fragrance" can contain hundreds of ingredients, including phthalates and other chemicals linked to hormone disruption and cancer.3
Fragrance is considered a high health hazard by the Environmental Working Group and has "been associated with allergies, dermatitis, respiratory distress and potential effects on the reproductive system."4
3. PETROLATUM
Petrolatum is a mineral oil jelly that is used to moisturize skin. It can be contaminated with polycyclic aromatic hydrocarbons (PAHs), which are associated with cancer.5
The European Union classifies petrolatum a carcinogen and restricts its use in cosmetics because of this.6 PAHs in petrolatum can also cause skin irritation and allergies.
Join the FREE PREGNANCY CHALLENGE and say bye-bye to harsh chemicals & toxins.
(By entering your email you agree to receive emails from Green Baby Deals. No spam, just awesome. Unsubscribe anytime.)
Is Jergens Natural Glow Safe for Pregnancy?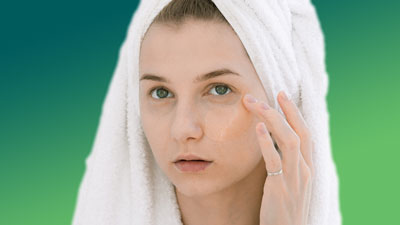 Given the formulation includes dihydroxyacetone, fragrance and petrolatum, I personally wouldn't use any Jergens Natural Glow product during my pregnancy.
What Does Jergens Say About Using This Self Tanner During Pregnancy?
Jergens' blog article discusses the safety of DHA. They note since DHA may penetrate the skin, they (and the American Pregnancy Association) recommend waiting until after the first trimester to use any self-tanning products.
Jergens Natural Glow Conclusion and Alternatives
Although a natural tanner sounds tempting, I'm taking a hard pass on Jergens Natural Glow during pregnancy. Or if I'm being honest, at any time.
If you'd like your skin to look freshly tanned, go for an all-natural bronzer like EWG Verified™ Mineral Fusion's Bronzer Duo (on Amazon here).
That's all mamas, hope this helps! Congrats on taking one more easy step toward living a greener life for you and baby.
Ready for more? See the Pregnancy Safe Skin Care Guide here, where you'll learn all about safer deodorant, soap, non-toxic makeup, and laundry detergent.
Peace love & baby kicks.
Care to share?
Sources
1. Gallagher, Mary, MSN, FNP-C. "Exposure to Dihydroxyacetone in Sunless Tanning Products: Understanding the Risks." Dermatology Nurses' Association, January 2018, https://nursing.ceconnection.com/ovidfiles/01412499-201801000-00002.pdf
2. "Sunless Tanners & Bronzers." FDA, U.S. Food and Drug Administration, 2 February 2022, https://www.fda.gov/cosmetics/cosmetic-products/sunless-tanners-bronzers
3. "Expert Panel Confirms that Fragrance Ingredient Can Cause Cancer." Environmental Working Group, 7 August 2014, https://www.ewg.org/enviroblog/2014/08/expert-panel-confirms-fragrance-ingredient-can-cause-cancer
4. "Fragrance." Skin Deep®, Environmental Working Group, https://www.ewg.org/skindeep/ingredient/702512/FRAGRANCE/#
5. "Exposure to polycyclic aromatic hydrocarbons with special focus on cancer." Asian Pacific Journal of Tropical Biomedicine, Volume 5, Issue 3, March 2015, ScienceDirect, Elsevier B.V. https://www.sciencedirect.com/science/article/pii/S2221169115300034
6. "Substance Infocard: Petrolatum." European Chemicals Agency, https://echa.europa.eu/substance-information/-/substanceinfo/100.029.428
Jen Brady — Chief Green Mama
Mom of two. Wife of one. Holistic nutritional consultant. Amateur biohacker. Guide of the Green Yourself Pregnancy Challenge. Author of the Green Your Baby Registry Guide.
I'm wild about pregnancy and babies (in a sane way) and I need to steer you away from harsh chemicals and hormone disruptors. Stick with me to keep it lean and green.