Join the FREE PREGNANCY CHALLENGE and say bye-bye to harsh chemicals & toxins. Get 7 days of inbox fun about simple swaps for a better pregnancy.
(By entering your email you agree to receive emails from Green Baby Deals. No spam, just awesome. Unsubscribe anytime.)
---
How to Make an Organic Padsicle for Postpartum Recovery
Green Baby Deals is reader-supported. When you buy through links on our site, we may earn an affiliate commission. As an Amazon Associate, we earn from qualifying purchases.
Learn more.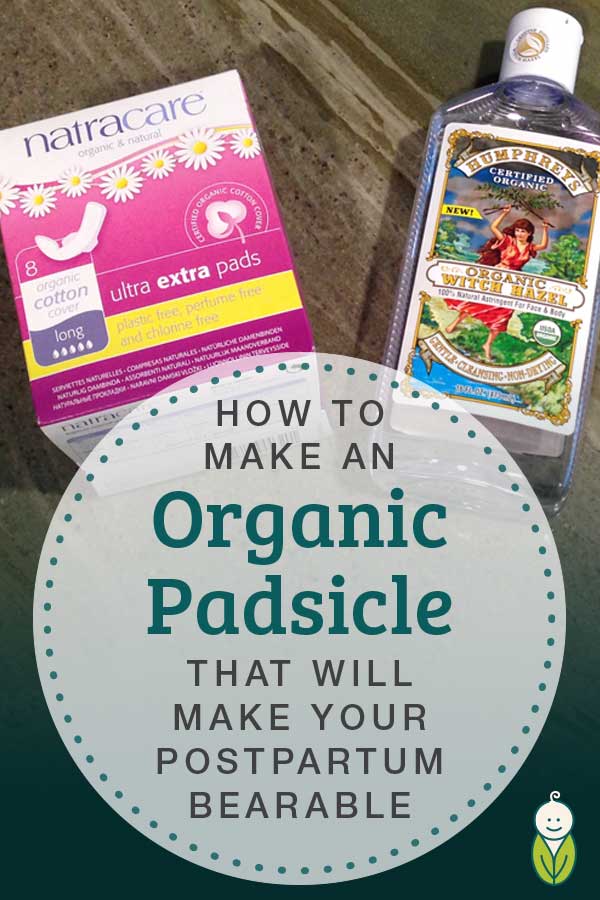 There is one thing you MUST have in your freezer before giving birth.
Making natural padsicles (aka postpartum pads) ahead of time and having them ready in your freezer will help immensely for a speedy recovery down there.
What are postpartum padsicles?
Padsicles – also known as witch hazel postpartum cold pads – are essential for healing after birth. They can help reduce swelling from perineal tears and episiotomies. These postpartum symptoms can be painful but remember it's temporary. Our bodies are designed to give birth and they have an amazing ability to heal.
Basically, padsicles are pre-soaked maternity pads you place in the freezer and take them out as needed for postpartum recovery. They can be purchased premade online here, but see below for a more natural (and cheaper) option.
What you'll need:
That's it! Keep reading to see why we recommend skipping aloe vera gel and essential oils.
Here's a quick video:
How to make postpartum natural padsicles: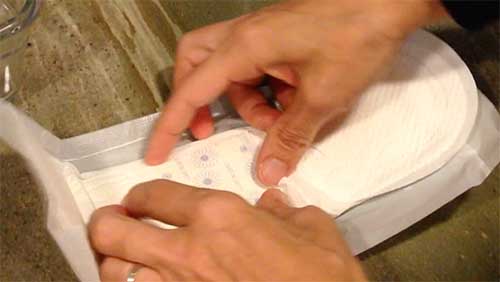 STEP 1:  Unfold pad and remove wing tabs (save tabs for later).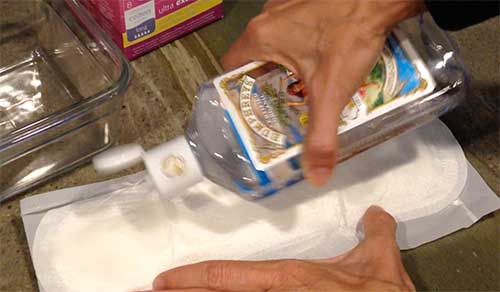 STEP 2: Soak pad with Humphrey's organic witch hazel (about 2 tablespoons).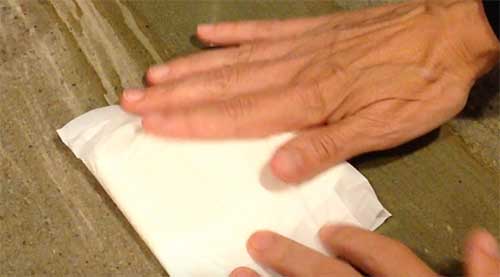 STEP 3: Reseal wing tabs and refold pad.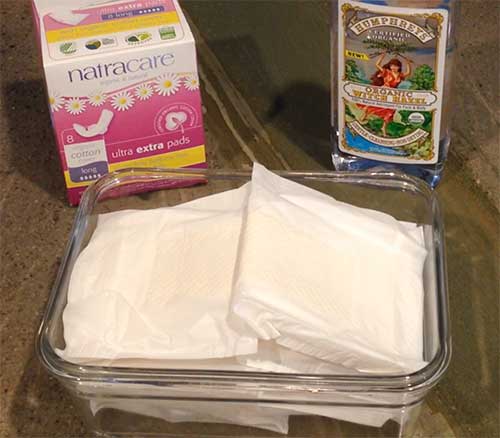 STEP 4: Repeat process for all pads. Place in airtight container, cover and store in your freezer.
How to use postpartum padsicles:
When you're ready and need relief, take one padsicle out of the freezer and use as you would a normal pad. Expect a very heavy flow postpartum, and always change pads as soon as they are fully saturated.
A note on aloe vera gel and essential oils:
Many DIY padsicle recipes include aloe vera gel and essential oils. We choose to skip. Aloe vera can become a sticky mess and it doesn't always agree with some mamas. And, although essential oils are sometimes soothing, sometimes they're not. They aren't for everyone and a few drops spread along a pad won't do much for healing.
So, save your money and just make the padsicle that has the most essential soothing and healing ingredient: organic witch hazel.
Padsicle Q&A
Are they safe?
Natural padsicles are safe. Full-strength essential oils can be a concern near an open wound, which is one of the reasons we don't suggest. However, witch hazel has been used for thousands of years and is considered safe. Having an allergic reaction to witch hazel is very rare, but discontinue using these pads if a rash or any other irritation occurs. Disclaimer time: always consult with your healthcare provider before using this or any treatment we suggest.
Are they worth making?
Our personal opinion: absolutely. If you'd like more reassurance, here are a few responses from other mamas:
"YES! I loved them so much I made some for my sister after she had her baby. She said I was her favorite person in the entire world after she tried it the first time!" (source)
"Yep, worth it :)" (source)
"I absolutely needed them, the pain and swelling are real." (source)
"Made them with my first…. Totally worth it! I'm planning to remember to take a few to the hospital this time too. I think they were a major part of my healing success!" (source)
Why use organic pads?
We always carefully choose where to spend a little extra money, and this is the time. While organic pads are typically higher in cost, there's no better time to use them than postpartum.
Conventional cotton has been referred to as one of the dirtiest crops in the world. In addition, most feminine hygiene products are bleached in chlorine. This can lead to the creation of dioxins. The World Health Organization has flagged dioxins as having the capability to disrupt hormones and damage the immune system when exposure levels are too high, and in extreme cases could cause reproductive and development issues.
Feminine care brands aren't required to disclose ingredients. Scary stuff. So, we must choose a brand we feel we can trust.
The Natracare pads we suggest using are certified organic cotton, plastic-free, chlorine-free and compostable.
(If you're interested in reading more about feminine care products, we recommend this article.)
Will they leak/are they absorbent?
The padsicles won't leak just from adding witch hazel, and they will be just as absorbent as a normal pad. However, expect your flow to be very heavy after birth and change your pads often (usually every 1-3 hours the first few days).
How many do I need?
We suggest around 20. Even if you don't necessarily need them all, they can still be used as regular pads. In this case, it's always better to have more than not enough. And should you need more, you'll be a rockstar at making them.
How often should I wear padsicles?
This will depend on your comfort level and healing journey. There is a wide range postpartum for mamas: some only bleed a little, some a lot. Some have hemorrhoids, some are lucky not to.
Wait what? Hemorrhoids?
Well yes, maybe. You've done a bit of work and it can take a toll on all surrounding areas. The (kinda) good news is, these padsicles will be super healing with hemorrhoids as well.
Why not just use Tucks?
Tucks is a common brand for hemorrhoid relief. There are two reasons we don't recommend:
The witch hazel is not organic.
The inactive ingredients include methlyparaben and propylparaben, which are two ingredients you should avoid whenever possible.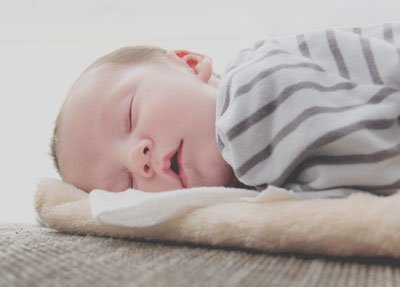 Cute baby photo break… just a little reminder this is all worth it  😉
How long will they last in the freezer?
Indefinitely. Most likely you will begin to think about making padsicles in the third trimester. As long as they are in an airtight container, they'll be fine. And don't wait too long to make — you never know when your little one will choose to make their appearance!
Can you buy padsicles instead of making them?
They are actually available premade here, but we've never actually used them or thoroughly checked the ingredients. We're not typically "DIY everything", but our organic padsicle recipe is easy enough, promise.
Do I still need them if I'm having a C-section?
If you're not sure you will have vaginal or C-section, we definitely suggest having them pre-made. If you're having a planned C-section, we've actually heard from a few mamas that they are helpful to place right on the incision. And, hemorrhoids are still possible with a C-section, so they will be healing for them.
What if they're too cold?
This is a very rare complaint, but if the padsicles aren't initially soothing to you, let them sit out of the freezer for a bit until they warm up.
Can't I just do a sitz bath instead?
In theory, a sitz bath sounds very soothing, relaxing and healing. In all honesty, getting in a two-minute shower when you're caring for a newborn is more the reality. If you are lucky enough to get that time away, we recommend the Earth Mama Herbal Sitz Bath.
Why choose Humphrey's organic witch hazel over Thayer's alcohol-free witch hazel?
Many suggest an alcohol-free witch hazel for postpartum padsicles. We disagree. Here's why:
The ingredients for the popular Thayer's alcohol-free witch hazel (unscented) are:
Purified Water, Aloe Barbadensis Leaf Juice (Certified Organic Filet of Aloe Vera), Glycerin (Vegetable), Hamamelis Virginiana Extract (Made from Certified Organic Witch Hazel), Citric Acid, Citrus Grandis (Grapefruit) Seed Extract.
The actual witch hazel is pretty far down the list so we're not sure how therapeutic it would actually be.
We recommend a pure organic witch hazel for its known healing properties as a true antiseptic. Genuine witch hazel extract will naturally contain 14% alcohol because of the way it's distilled. Otherwise, it will not provide soothing, antiseptic qualities (which is what you need for postpartum healing). You can find more details about the process of making genuine witch hazel here.
Cost of the best postpartum pads/organic padsicles:
(prices are accurate at time of publishing)
1 Natracare organic ultra extra pad with wings: $0.59
About 2 Tbsp. of Humphrey's organic witch hazel (make sure you get the pure witch hazel option) $1.14
So, about $1.73 for an all-organic padsicle. Not too bad for some serious postpartum relief. 
That's all there is to it, mamas. Congrats on taking one more easy step toward living a safer greener life for you and baby.
Ready for more? Take the FREE Pregnancy Challenge or check out all the baby registry must-haves here.
Peace love & baby kicks.
Care to share?
"Creating my natural baby registry will be fun & stress-free."
— said no mama, ever.
Let's get real.
Jen Brady — Chief Green Mama
Mom of two. Wife of one. Holistic nutritional consultant. Amateur biohacker. Guide of the Green Yourself Pregnancy Challenge. Author of the Green Your Baby Registry Guide.
I'm wild about pregnancy and babies (in a sane way) and I need to steer you away from harsh chemicals and hormone disruptors. Stick with me to keep it lean and green.