FREE PREGNANCY CHALLENGE: say bye-bye to harsh chemicals & toxins.
---
Organic Maternity Clothes: 14 Delightful Brands That'll Make You Smile
Green Baby Deals is reader-supported. When you buy through links on our site, we may earn an affiliate commission. As an Amazon Associate, we earn from qualifying purchases.  Learn more.
Connect with others from pregnancy through motherhood (on a free app). Join community now.
Ah, clothes. You know that fresh factory smell you get from purchasing new clothes?
I can't stand it. The smell multiplied when I was pregnant.
But interestingly, when I purchase organic, the smell is there, but not nearly as strong. What's going on?
Fewer chemicals. And that's always better for you and baby.
When you're pregnant, it's natural for your focus to shift to your growing baby. Maternity clothes may not be top of mind. But remember you're growing too.
So take a break from all the cute baby essentials, and focus on you.
What will you wear for all that time, since your current wardrobe won't fit much longer?
And where could you find sustainable brands that are also safe for you and your baby?
That's where organic maternity clothes come in. Organic maternity brands are constantly pursuing more environmentally-friendly ways of making high-quality clothing. Responsibility and organic often go hand-in-hand. So they're helping the planet as they help you.
When you search for organic maternity clothing, you'll want to check:
What materials are used to make it?
Where and how are the clothes made?
What type of packaging is used?
Here are the top 14 organic maternity clothing brands. Let's dig in.
Best Organic Maternity Clothes
1. Kindred Bravely
Kindred Bravely was started by a team of moms to serve moms. They make maternity and nursing wear with a wide variety of organic maternity clothing options. These include organic cotton and ribbed cotton collections.
The organic cotton options are made from sustainably sourced, 100% GOTS-certified organic cotton fabric that's extra gentle on sensitive skin. GOTS is the best certification you can get for organic.
Kindred Bravely's clothing is manufactured carefully in a chemical-free environment at a factory that's Fair Trade certified.
They're not only passionate about creating sustainable clothing, but also clothing that is comfortable, breathable, stylish, and versatile.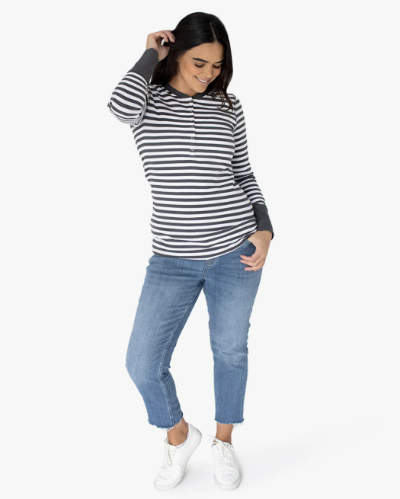 Get 15% OFF with code GREENBABYDEAL15.
---
2. Storq
Storq makes clothing and accessories for maternity, nursing and beyond. They focus on designs that are comfortable, versatile and useful.
Here's what's great: the maternity pieces are designed to be wearable even after pregnancy.
Storq believes that you shouldn't need to replace everything in your closet during pregnancy. Instead, maternity clothing should fill in the gaps between clothing that no longer functions or clothing that's just become uncomfortable.
Storq is constantly seeking out soft and breathable fabrics that are eco-friendly or made from natural fibers. They're also keen on finding fabrics that compliment the body beautifully, stretch and recover well.
They try to avoid clothing labels and hang tags altogether, which your kids will certainly thank you for. Instead they use heat transfer labels to reduce waste and improve comfort.
Storq products are made in the U.S., Peru, and China as ethically as possible. They're serious about selecting manufacturers that uphold their standard of quality, compliance with worker safety, fair wages, and a commitment to minimizing environmental waste.
Their packaging is kept at a minimum where possible by using environmentally-friendly material. It's an ongoing effort to source packaging components that are are truly sustainable without compromising functionality. They need to be reusable, recyclable and made from recycled materials.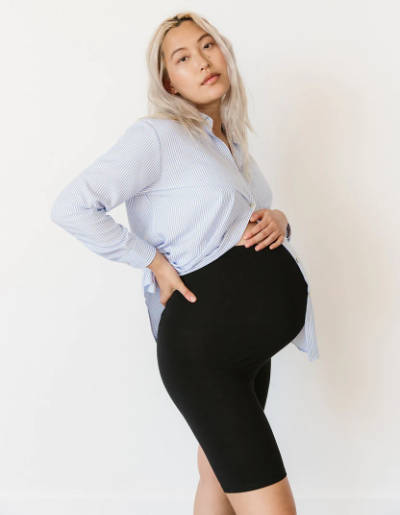 ---
3. PACT
PACT believes that the safety of the planet, and all those on it, is more important than fashion.
For this reason, PACT is a proud partner with Fair Trade USA, Global Organic Textile Standard and SimpliZero. This ensures products and processes support people and the planet.
Through their partnership with Fair Trade, they ensure factories have safe working conditions, community support, and transparent supply chains.
They've also partnered with SimpliZero to offset the carbon footprint of their entire supply chain.
PACT has a wide selection of sustainable clothing for mother, child and even fathers. They also carry household essentials under their bedroom and bathroom collections.
For packaging, they no longer use plastics, but paper bags that are carbon-neutral, FSC™ certified and recyclable.
It's possible you'll want to live in Pact's maternity dresses: incredibly soft organic cotton with just the right amount of stretch.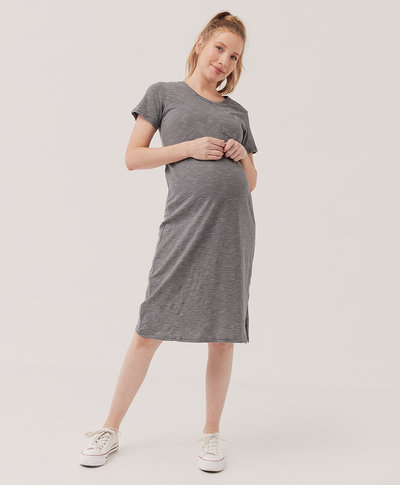 ---
MOST AFFORDABLE
4. Frugi
Frugi are designers and crafters of organic clothing and accessories for both kids and moms.
They have a pretty incredible story. Frugi started as a husband and wife company in 2004, after the couple struggled to find clothing that could comfortably cover their baby's cloth diapers.
Their mission then was to show the world that it's possible to create a rock-solid brand that supports strong ethical and environmental values.
Fast forward to today and they offer organic clothing for everyone, including expecting moms.
Frugi has won numerous awards, including two Queen's awards for Enterprise, Sustainable Development and International Trade.
How did they get here? By sticking to the mission and ethos that they started out with.
From the start, Frugi has only used organic non-toxic cotton grown by farmers they know and trust.
90% of Frugi clothing is made from GOTS-certified organic cotton. Their waterproof outerwear, bags and swimwear are made from recycled plastic bottles.
They're always looking for new ways to improve, innovate and put people and our planet first.
That shows when they donate 1% of their turnover (more than profit) every year with their own charity project: Little Clothes BIG Change.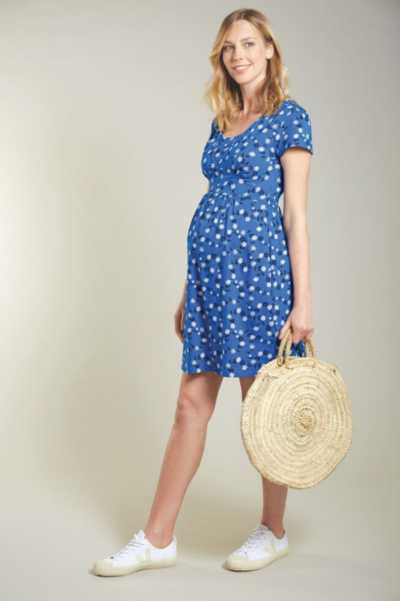 ---
5. Viverano
Viverano is a family-owned American brand. Their materials are ethically produced at a Fair Trade and GOTS-certified facility in India. It's all organic, sustainable and eco-conscious.
The question is: can you get through your pregnancy and postpartum without a cozy organic cotton poncho?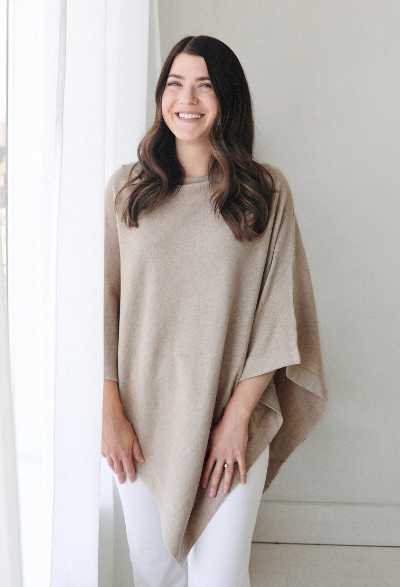 ---
BEST USED OPTION
6. ThredUp
ThredUp is an online consignment and thrift store that's committed to progressing in a sustainable fashion future.
All designs are secondhand, reused or recycled. ThredUp uses poly mailer for packaging which is 100% recyclable and reusable.
ThredUp carries sustainable maternity wear, plus-size adult clothing, kids wear, accessories, handbags and shoes.
They also carry designer brands such as Gucci, Burberry and Giorgio Armani.
ThredUp was my go-to for maternity clothes. I love that you're buying used and that can be just as sustainable as organic. A win-win is when you can find used organic on there. And of course, second-hand always helps your baby bank as well.
Check out ThredUp and search "organic" or any of the brands I'm listing here.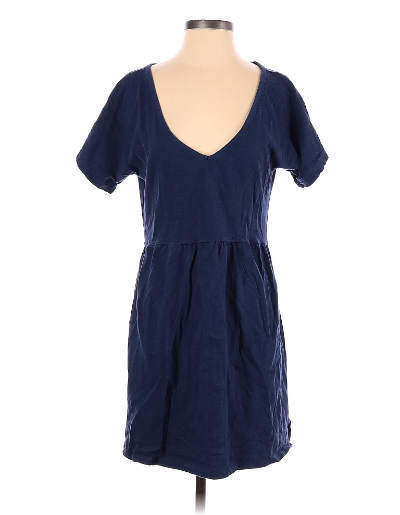 ---
7. Magnetic Me
Magnetic Me is a baby clothing company that specifically designs magnetic baby wear. They also have a small selection of clothing items for the entire family.
Magnetic Me clothing makes sustainable clothing that is safety-tested and eco-friendly. They use two main eco-friendly fabrics: TENCEL modal and organic cotton.
TENCEL Modal is made from 100% natural fibers of sustainably-grown beechwood trees. It's created as efficiently as possible to reduce the use of resources and energy.
It's a very durable fabric that's spill and fade-resistant, which is awesome for passing it on from baby to baby.
The organic cotton is 100% GOTS-certified organic cotton, which is super soft and gentle on baby's sensitive skin. All GOTS-certified cotton should meet social and environmental criteria, to ensure that occupational health and safety standards are met.
Magnetic Me also has Re-loved, which is a sustainable marketplace for pre-loved Magnetic Me items that are bought and sold to further reduce waste.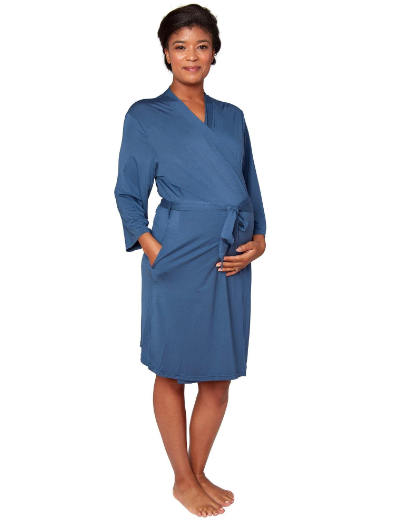 ---
BEST ORGANIC MATERNITY DRESS
8. Christy Dawn
Christy Dawn is a sustainable clothing company that carries organic maternity options. They go beyond sustainability to adopting regenerative practices that will ultimately secure our future.
The fabrics used by Christy Dawn include regenerative cotton, regenerative alpaca, deadstock, organic cotton and alpaca. Some of these fabrics are repurposed, such as deadstock — scraps from fashion companies — to create dresses and other items of clothing.
Christy Dawn is passionate about regeneration and has started and sustained a farm-to-closet initiative. This initiative is a beautiful way to include regenerative farms, farmers, and trusted local craftsmen.
It's a vision of using traditional and organic methods to replenish the soil, the planet and the people.
What I love: they have a maternity-friendly section that'll fit your style for years later. Check out the timeless dresses.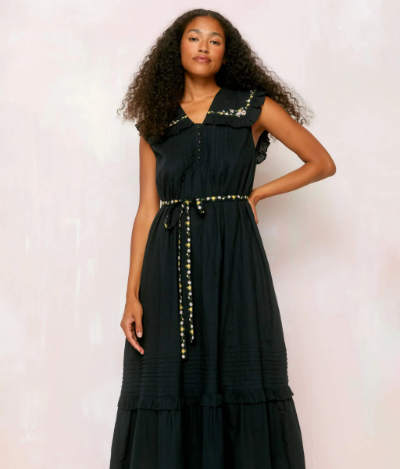 ---
BEST BORROW OPTION
9. Rent the Runway
What's more sustainable than borrowing?
Unfortunately this isn't like the library where it's free, but renting a few items for your maternity wardrobe is a solid option.
The fashion industry has a gross excess, and renting reduces waste.
Organic options are few, so this is a bit of a trade-off. When I don't go all organic, I always look for 100% cotton.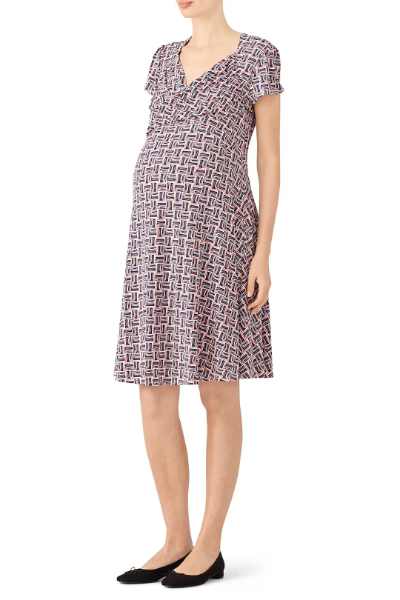 This link will take you to the abundant maternity collection:
---
10. Motherhood
Motherhood is a go-to for maternity clothes.
Unfortunately the fashion industry can still be known for having terrible conditions for workers.
Motherhood commits to only working with partners who maintain fair labor and working conditions, including child and forced labor.
You'd think this would be a given, but it's sadly not always the case.
While the famous Motherhood isn't all organic, there are some organic maternity clothing options.
One of my faves is the organic cotton jumpsuit shown. It can go from small belly to postpartum belly. Dress it up or down.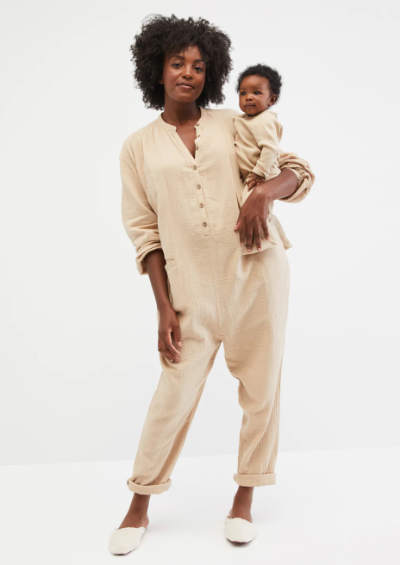 This link will send you to all the organic options Motherhood offers:
---
11. MajestyNation
MajestyNation is an awesome GOTS-certified all-organic shop on Etsy. Every. Single. Product.
Not only is it organic, but it's Turkish cotton (arguably the best cotton in the world). Turkish cotton is a premium cotton that's soft and fluffy.
Bonus: the more you wash it, the smoother it gets.
And the cost for all this? Surprisingly very affordable. I love the leggings. Check 'em out.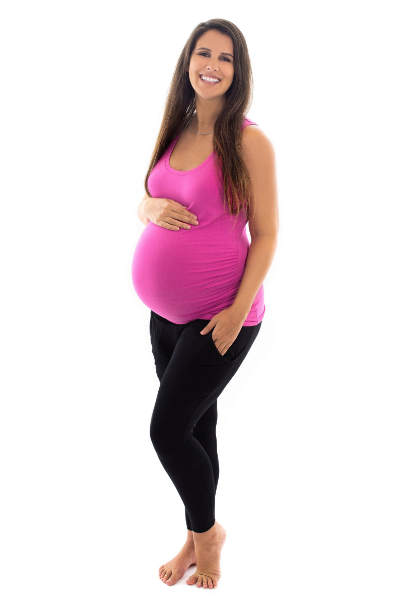 ---
12. Natural Fibres Organic
"Made in Melbourne. Sourced from nature. Created with love."
Natural Fibres has a need to give back to Earth. Their goal is to be kind to the environment, and that certainly starts with organic clothing.
Many options are designed to be worn post-maternity. Here's how: the elastic on the sides are sewn from underarm to hem so it becomes a side gather design as your body changes.
Although based in Australia, shipping to U.S. is pretty reasonable.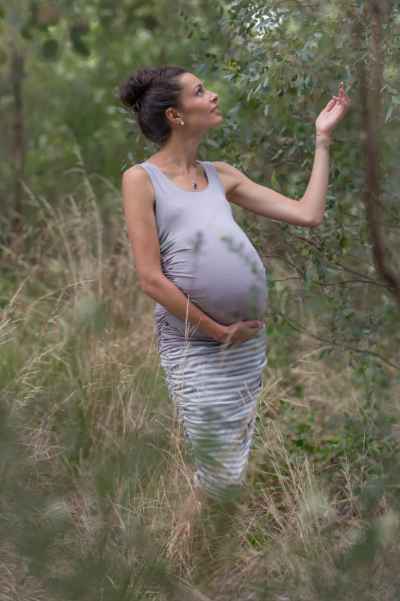 ---
13. Hatch
Hatch is everything pregnancy.
While not everything is organic, they have some cool organic options. And they're stylish.
Hopefully they'll continue to make this collection larger as time goes on.
They also partner with two non-protfits to help execute a much-needed formula drive.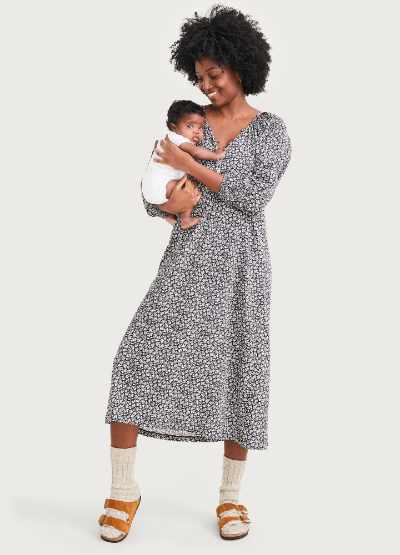 This link takes you to the organic maternity options:
---
BEST ORGANIC MATERNITY JEANS
14. Seraphine
Here's a brand that surprised me with many organic options.
If you're anything like me, you need a go-to pair of jeans throughout your pregnancy (and beyond).
There are typically two maternity jeans options: over the bump and under the bump.
I always preferred over the bump for the extra support (also eliminating the need for the trusted belly band that day).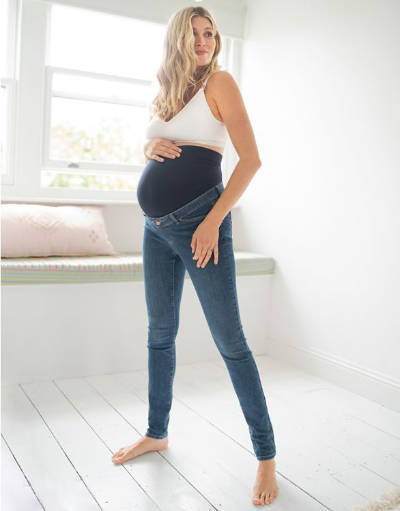 Seraphine has some awesome options, and here's a link directly to the organic maternity jeans:
---
Organic Maternity Clothes Wrap-up
If you've been struggling to find organic maternity clothing that's sustainable, affordable, comfortable, versatile and all of the above, your struggle is over.
It's possible to have the motherhood experience you've been longing for that will keep your baby and the planet safe. So explore all the brands shared above and stick with the one that most aligns with what you need.
Hope this list helps, mamas! Peace love & baby kicks.
Care to share?
Jen Brady — Chief Green Mama
Mom of two. Wife of one. Holistic nutritional consultant. Amateur biohacker. Guide of the Green Yourself Pregnancy Challenge. Author of the Green Your Baby Registry Guide.
I'm wild about pregnancy and babies (in a sane way) and I need to steer you away from harsh chemicals and hormone disruptors. Stick with me to keep it lean and green.