FREE PREGNANCY CHALLENGE: say bye-bye to harsh chemicals & toxins.
---
6 Eco-friendly Pregnancy Tips That'll Save You Money (and Stress)
Green Baby Deals is reader-supported. When you buy through links on our site, we may earn an affiliate commission. As an Amazon Associate, we earn from qualifying purchases.  Learn more.
Connect with others from pregnancy through motherhood (on a free app). Join community now.
Congrats on your pregnancy! Now, how can we keep up with having a baby and keeping it sustainable?
… and save money …. and reduce stress. Tall order? Let's dig into these 6 steps for an eco-friendly pregnancy.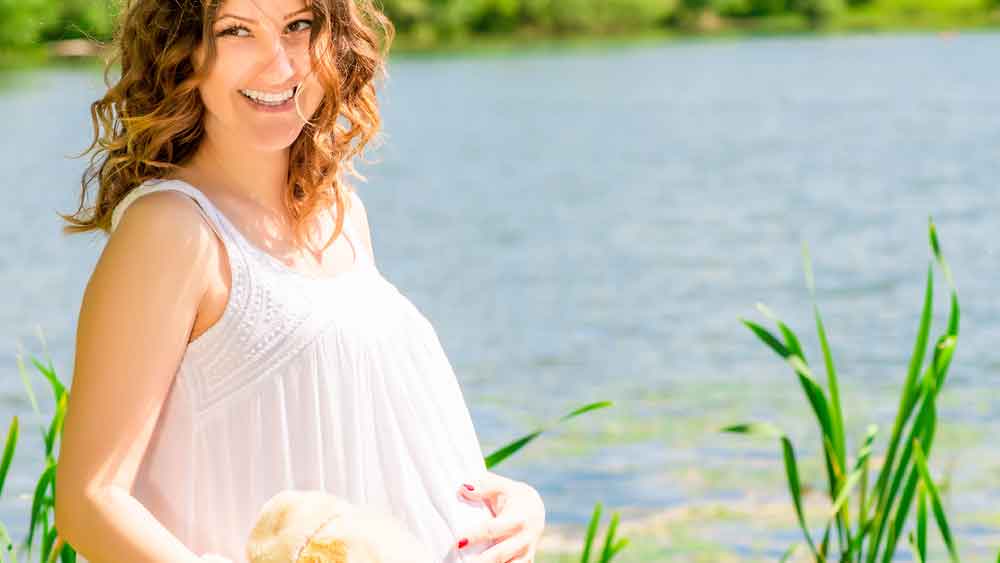 ---
1. Buy used maternity clothes.
Huge money saver: don't buy new maternity clothes.
Just like baby clothes, maternity clothes are rarely worn for long. Oftentimes at consignment and thrift stores, the tags are still on them.
Sad stat:
Every second, the equivalent of one garbage truck of clothing is landfilled or burned. UNEP, 2018
Find your local thrift store at TheThriftShopper.com, or do a local search online with "maternity consignment + (your zip code)".
If you prefer online, check out thredUP. Their clothing descriptions are very accurate and I've always had a great experience there. You can also turn in clothes you no longer wear for some extra $$$.
See more ways to save on maternity clothes here.
---
2. Think ahead.
If you're anything like me, you're living in the moment. Most times, it's a good thing. But with a baby on the way, well…
One thing I wish I'd done with my pregnancies is to plan a little better. A little research and time make going more sustainable easier. Consider:
---
3. Go with organic food.
Not only is organic food better for you and baby, it's also much better for our environment.
Going organic means you're supporting sustainable farming practices. Organic farms typically use biodiversity and composting to produce food. This helps to conserve water and energy. These practices also help protect the environment. 
"Choosing organically grown vegetables during pregnancy was associated with reduced risk of pre-eclampsia." PUBMED, 2014
Check out healthy pregnancy snacks with ways to save on healthier snacks.
---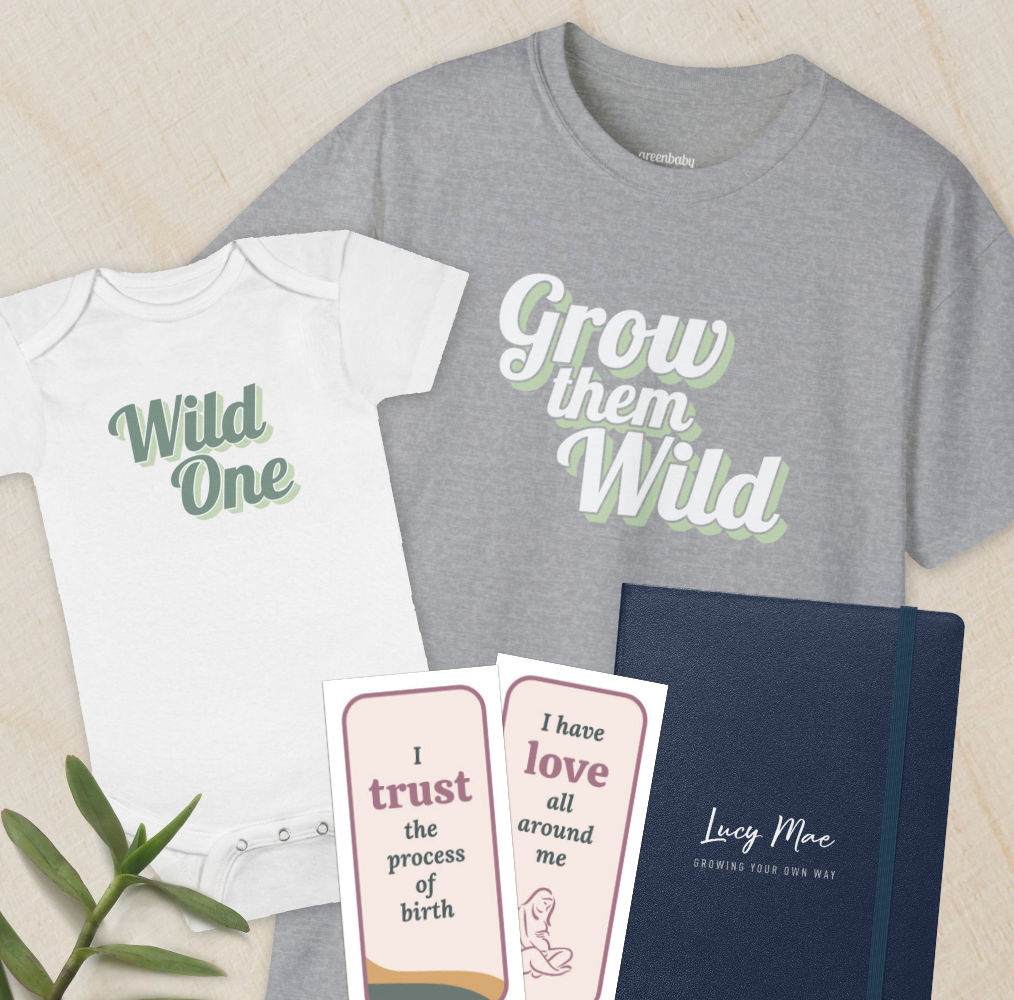 From Bump to Baby
Discover eco-friendly clothing, sustainable pregnancy journals, baby checklists and more.
---
4. Reduce your chemical exposure.
In addition to thinking about what you put in your body, consider what you put on your body. Even something as simple as "fragrance" can include potential hazards for both you and baby.
Fragrance is considered a high health hazard by EWG and has "been associated with allergies, dermatitis, respiratory distress and potential effects on the reproductive system." EWG SKIN DEEP
Join the Green Yourself FREE Pregnancy Challenge for a kickstart to going non-toxic. You'll learn all about what may be lurking in your deodorant, soap, hair products and more. And I'll show you how to make simple swaps. It's a win-win for the planet and your pregnancy.
---
5. Spend now, save later.
In some instances, you may have to spend a little more upfront to reap the benefits later. Part of being green is buying quality (plus used if possible) products that last and/or have multiple uses. These may include:
Buying a convertible car seat (reducing materials by only needing one seat from birth to booster size).
Cloth diapering and reusable wipes (save tons of money doing this).
Glass breastmilk storage jars (these can later be used for baby food, then toddler snacks, then little kid lunches, then small food/sauce storage).
You can check out more at the baby registry must-haves list.
---
Join the FREE PREGNANCY CHALLENGE and say bye-bye to harsh chemicals & toxins.
(By entering your email you agree to receive emails from Green Baby Deals. No spam, just awesome. Unsubscribe anytime.)
---
6. Face time
No, not the app. There's nothing more valuable and precious than one-on-one time. During pregnancy it can be with your partner, friend or family member. Turn off the phone, TV, laptop, etc. Get outside and breathe in the fresh air. Or sit by a fire. Do a puzzle together. Chat.
And after pregnancy? Do this with your child. An infant doesn't need toys — he needs your touch and warmth. A toddler doesn't need electronic toys or TV — he's discovering his world with you by being outside or playing with safe household items. Connecting with your child in this way is priceless (um, literally), and you'll cherish these moments forever.
---
Eco-friendly Pregnancy Wrap-Up
If you're still reading, it means you care about the planet your little one will soon be able to explore. Even if you can't do all the steps mentioned, you're still doing your part and it's much appreciated.
Congrats on taking one more easy step toward living a greener, more sustainable life for you and baby.
Peace love & baby kicks.
Care to share?
Jen Brady — Chief Green Mama
Mom of two. Wife of one. Holistic nutritional consultant. Amateur biohacker. Guide of the Green Yourself Pregnancy Challenge. Author of the Green Your Baby Registry Guide.
I'm wild about pregnancy and babies (in a sane way) and I need to steer you away from harsh chemicals and hormone disruptors. Stick with me to keep it lean and green.