FREE PREGNANCY CHALLENGE: say bye-bye to harsh chemicals & toxins.
---
9 Yummy Hospital Snacks for Dad
Green Baby Deals is reader-supported. When you buy through links on our site, we may earn an affiliate commission. As an Amazon Associate, we earn from qualifying purchases.  Learn more.
Connect with others from pregnancy through motherhood (on a free app). Join community now.
Hey, and congrats on being close to delivering your baby! If you're already packing some hospital bag snacks for yourself, you may as well include some for your partner.
Not only do you need energy, but they do too. Here are some great hospital snacks for Dad/partner/whoever will be with you in the delivery room.
Since I studied holistic nutrition, I always recommend a good balance of fiber, protein and healthy fats. I also always go for organic whole foods whenever possible.
If it's a packaged product, I focus on these things:
Fiber
Sugar
Protein
Non-GMO
Ingredient list
Let's dig in.
---
Best Hospital Snacks for Dad/Partner
1. Protein bar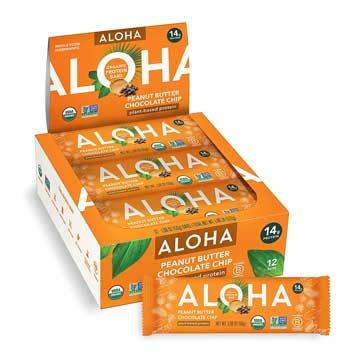 For a high protein, high fiber, and zero natural flavors, my fave is ALOHA Organic Bars.
This bar is easy to pack and quick to eat but still filling. It'll satisfy, even with the excited, anxious feeling your partner will have.
The dark chocolate, rich peanut butter and a bit of sea salt pair perfectly without the bad stuff.
Certified B Corp, vegan, non-GMO and organic.
---
2. Organic Crackers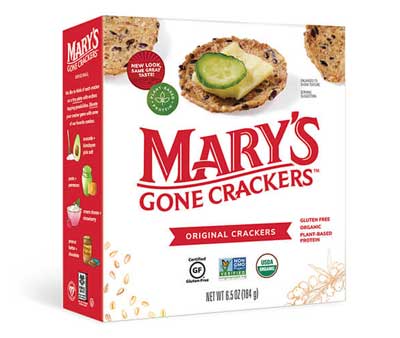 Mary's Gone Crackers does it right. Free of sugar, natural flavors, and gluten. And delicious.
These crackers have a great balance of fat, fiber, and plant-based protein, keeping them full (and full of energy).
The ingredients list is short and organic. It includes organic tamari, which hits the salt craving without a gross amount of sodium.
If there's a mini-fridge nearby, dip in hummus or top with cheese.
---
3. Walnuts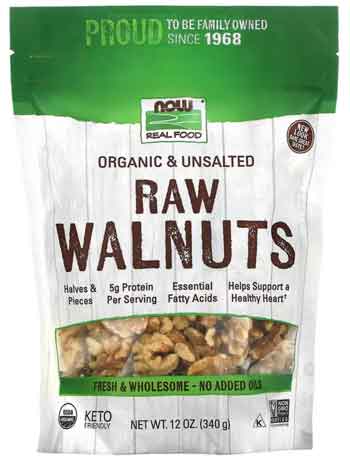 Here's another easy one to stick in your hospital bag.
What's so great about walnuts? The Omega 3:6 ratio. Most standard diets aren't getting nearly enough Omega-3 fats. Walnuts will help you get them back in balance. They can also help you stay full after eating fewer calories.
I always go for raw and organic with nuts. They don't have any extra added oils.
INGREDIENTS TIP: Added oils can be a sneaky ingredient — most of them are cheap oils that aren't good for you.
If you've got the time before you go, roast these on a pan, add a little salt, and pack them up.
---
Join the FREE PREGNANCY CHALLENGE and say bye-bye to harsh chemicals & toxins.
(By entering your email you agree to receive emails from Green Baby Deals. No spam, just awesome. Unsubscribe anytime.)
4. Muesli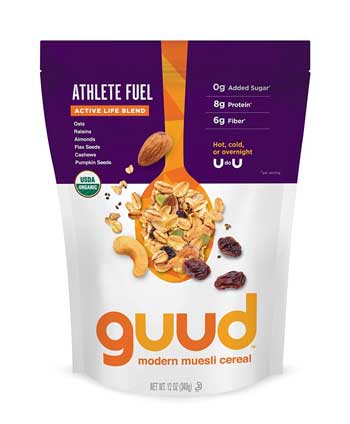 They call it "athlete fuel" for a reason: it provides sustained energy — perfect for the partner by your side.
This organic muesli has zero added sugar but you get a bit of natural sweetness from the raisins.
The ingredients are organic and simple with no junk added: oats, raisins, almonds, flax seeds, cashews, and pumpkin seeds.
This gives them a nice hit of healthy fat, fiber, protein and iron.
The almonds and cashews give it a nice crunch. Eat it right from the bag or enjoy with greek yogurt or milk.
Make it vegan with non-dairy yogurt or milk.
---
5. beef stick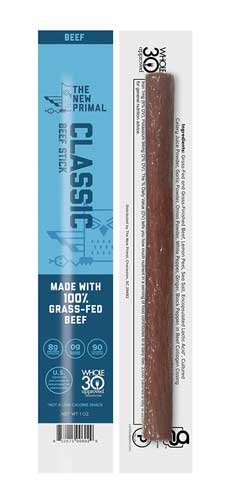 If they need a quick snack that has a bit of protein, consider a beef stick.
I always try to go for grass-fed and grass-finished.
The New Primal beef stick is made with grass-fed and grass-finished beef. The Classic Beef option provides 8g of protein and 0g of fiber and sugar.
It's also gluten-free, Whole 30-approved, and paleo/keto friendly.
Although not certified non-GMO, it doesn't contain ingredients that would lend itself to contain any GMOs. The lactic acid is derived from non-GMO cane sugar and palm oil.
---
6. Sandwich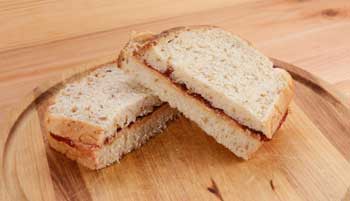 Tom Brady eats an almond butter and jelly sandwich before every single game.
The almonds make this snack filling and nutritious. Perhaps it also calms some nerves.
If your partner's go-to is a sandwich, almond butter and jelly is an easy one to pack.
---
7. Hard-boiled eggs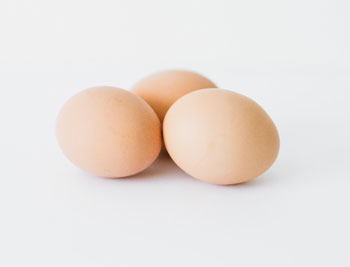 You'll need to keep these cold and put in the fridge when you arrive.
Chances are the hospital has eggs; chances are they're not organic.
Hard-boiled eggs are super easy to make, are a nutritional powerhouse, and will keep in the fridge for about 1 week after you make them.
---
8. Trail Mix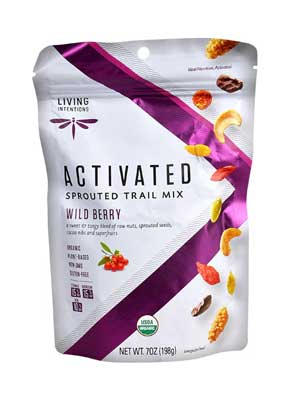 The classic snack for energy on-the-go. But not all trail mixes are created equally. Many have added hydrogentaed oils that defeat the purpose of this nutritious snack.
This one's easy enough to make at home with nuts and raisins, or anything you have in your cupboard really.
If you prefer to purchase, check out Living Intentions Activated Trail Mix. It's gluten-free, sprouted, non-GMO and organic.
---
9. Popcorn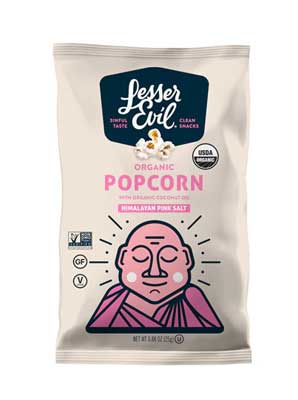 Popcorn's filled with fiber and polyphenols. It'll also keep them full and easy to snack on while waiting.
Because it's corn, be sure to choose certified non-GMO.
I love Lesser Evil popcorn and they have some yummy flavors. No bad stuff.
---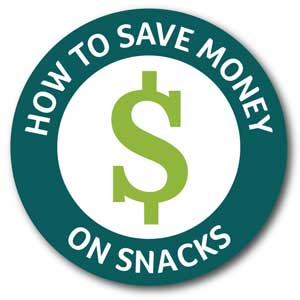 How to Save Money on Snacks
1. Join TopCashBack. It's free and the savings add up fast. Vitacost is on there and it's often up to 6% cashback. It's easy to redeem as well.
2. Use Honey. Forget trying to look up coupon codes. Use Honey and it'll find the best usable codes when you go to checkout. I've saved hundreds.
3. Vitacost. No membership fee and there's always a coupon code. Use TopCashBack and Honey with Vitacost, and your savings are huge.
4. Use Amazon's Subscribe & Save for up to 15% off (up to 20% off with Prime membership).
That's all mamas, hope this helps! Congrats on taking one more easy step toward living a greener life for you and baby.
Ready for more? Take the Green Yourself Pregnancy Challenge here.
Peace love & baby kicks.
Care to share?
Jen Brady — Chief Green Mama
Mom of two. Wife of one. Holistic nutritional consultant. Amateur biohacker. Guide of the Green Yourself Pregnancy Challenge. Author of the Green Your Baby Registry Guide.
I'm wild about pregnancy and babies (in a sane way) and I need to steer you away from harsh chemicals and hormone disruptors. Stick with me to keep it lean and green.
Up Next:
• 11 Easy Hospital Pregnancy Snacks
• 7 Healthy Pregnancy Snacks That Kick the Cravings