FREE PREGNANCY CHALLENGE: say bye-bye to harsh chemicals & toxins.
---
7 Healthy Pregnancy Snacks That Kick the Cravings
Green Baby Deals is reader-supported. When you buy through links on our site, we may earn an affiliate commission. As an Amazon Associate, we earn from qualifying purchases.  Learn more.
Connect with others from pregnancy through motherhood (on a free app). Join community now.
Are you feeling ridiculously hungry during meals? Aside from my nauseous first trimester, "always hungry" was a good way to describe my pregnancies.
Since I studied holistic nutrition, I knew what I needed for healthy pregnancy snacks: a good balance of fiber, protein and healthy fats. I also always go for organic whole foods whenever possible.
And of course, these snacks need to be delicious and kick any pregnancy cravings you might have at the time.
If it's a packaged product, I focus on these things:
Fiber
Sugar
Protein
Non-GMO
Ingredient list
These 7 snacks were my go-to. And some are super easy for on-the-go snacking. All are vegetarian, some vegan, and I give some vegan alternatives in the recipes. Let's dig in.
---
1. ALOHA Organic Protein Bar
VEGAN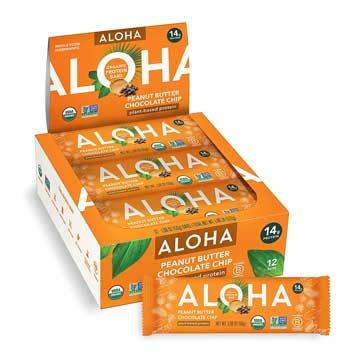 For an on-the-go snack between meals with high protein, high fiber, low sugar and zero natural flavors, go with ALOHA Organic Plant Based Protein Bars.
This bar got me through the occasional midnight pregnancy craving when I was way too tired to put together a snack.
They're also a great option postpartum while nursing, as you can replenish those precious calories that are quickly sucked away. 
The dark chocolate, rich peanut butter and a bit of sea salt will satisfy a few cravings (without the bad stuff). 
Certified B Corp, vegan, non-GMO and organic.
Check out the ALOHA Organic Protein Bar on Amazon here.
---
2. Zucchini Bombs
Vegetarian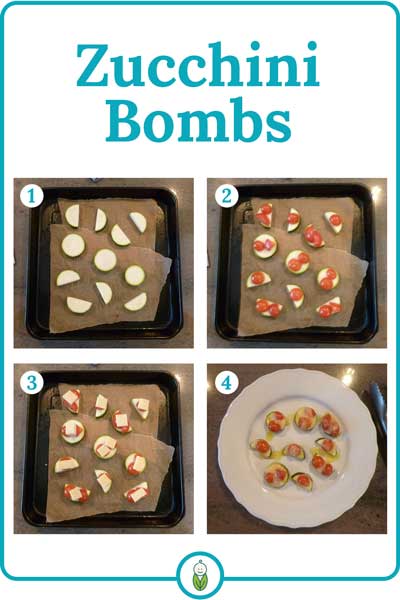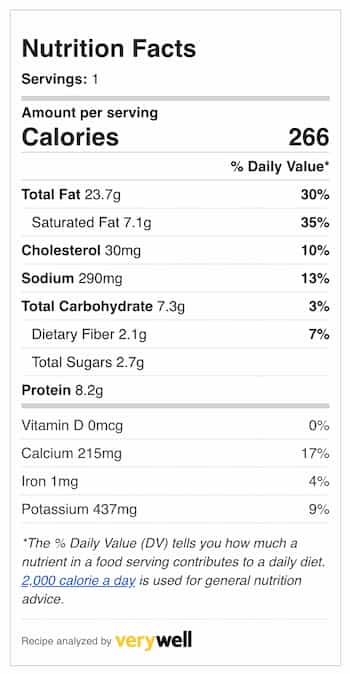 If you've got a little time to chop and bake, these zucchini bombs will satisfy sweet, salty and savory cravings. They're packed with fiber, protein, and also have a nice amount of calcium and iron.
These bombs really are well, you know. Not only a great snack, but I've been known to have them for a quick lunch or dinner as well.
PREGNANCY TIP: This study concluded "choosing organically grown vegetables during pregnancy was associated with reduced risk of pre-eclampsia." Go organic when you can.
INGREDIENTS
1/2 medium zucchini
Handful of cherry tomatoes
1 oz. of good melting cheese (I like cheddar or gouda)
1 Tbsp. of extra virgin olive oil
DIRECTIONS
Slice zucchini about 1/2 inch thick and place them on baking pan.
(You want them to be bite-size rounds, so if it's a large zucchini you may need to slice the rounds in half.)
Slice the cherry tomatoes in half and put one on each zucchini piece.
(Grape tomatoes and larger tomatoes can also work — just cut them smaller.)
Cut cheese into small blocks and place them on top of the tomatoes.
Cook at 350º in oven or toaster oven for 10 minutes.
Drizzle with extra virgin olive oil.
Want these bombs vegan? Replace the cheese with refried beans (spread under the tomatoes).
---
3. Organic Crackers
VEGAN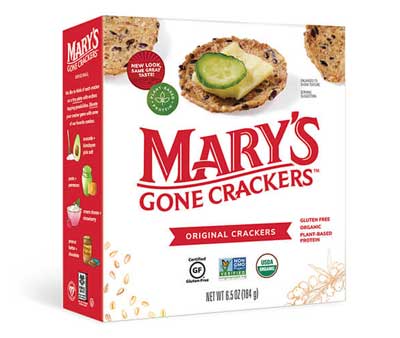 Craving something crunchy? Take a hard pass on that bag of Cheetos or Doritos.
Mary's Gone Crackers does it right. Free of sugar, natural flavors, and gluten. And so delicious you'll need to hide the package from yourself.
These crackers have a great balance of fat, fiber, and plant-based protein, keeping you full and satisfied until your next meal.
The ingredients list is short and organic. It includes organic tamari, which hits the salt craving without a gross amount of sodium.
Snack on them alone or top them with a bit of hummus, cheese, cucumbers, or whatever else you might find in your fridge.
I talk about all the best crackers for pregnancy here.
You can get Mary's Gone Crackers on Vitacost here or on Amazon here.
---
4. Banana & Almond Butter
VEGAN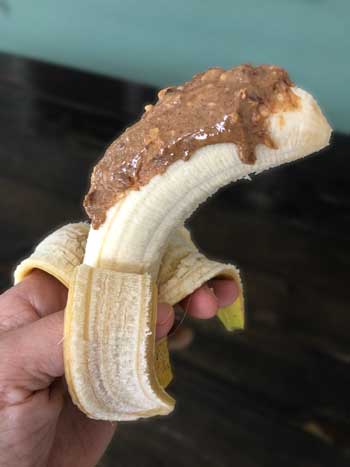 I love the banana and almond butter snack because it's quick with no cutting involved.
Raw almond butter can sometimes be a bit dry, but pair it with a banana and you've got the perfect combo.
Although bananas are a bit high in sugar, they'll kick that sweet craving with a natural source. And, the almond butter will help keep your blood sugar level from spiking.
This yummy combo is packed with healthy fat, fiber, protein, iron and potassium.
Grab the raw, organic almond butter on Amazon here.
INGREDIENTS
1 banana
1 TBSP almond butter
---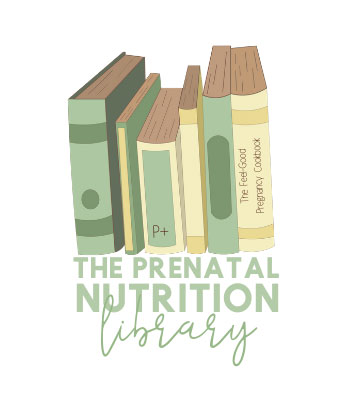 STOP
Are you overwhelmed trying to figure out what to eat during your pregnancy? Check out The Prenatal Nutrition Library.
5. Walnuts
VEGAN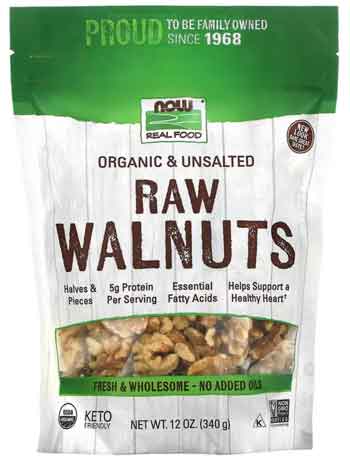 Here's another one without much prep.
What's so great about walnuts? The Omega 3:6 ratio. Most standard diets aren't getting nearly enough Omega-3 fats. Walnuts will help you get them back in balance. They can also help you stay full after eating fewer calories.
I always go for raw and organic with nuts. They don't have any extra added oils.
INGREDIENTS TIP: Added oils can be a sneaky ingredient — most of them are cheap oils that aren't good for you.
If you've got the time, roast these on a pan and add a little salt. Do a few servings and they'll be ready for you later.
You can get raw organic walnuts on Vitacost here. You can also get these walnuts on Amazon here.
---
Join the FREE PREGNANCY CHALLENGE and say bye-bye to harsh chemicals & toxins.
(By entering your email you agree to receive emails from Green Baby Deals. No spam, just awesome. Unsubscribe anytime.)
6. Muesli with Yogurt
VEGETARIAN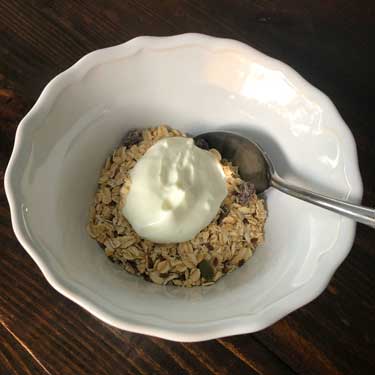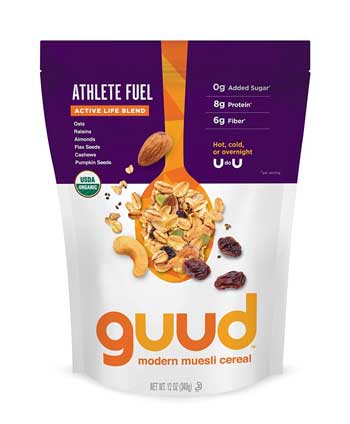 Muesli is a perfect breakfast, but it can also be an awesome snack.
This organic muesli has zero added sugar but you get a bit of natural sweetness from the raisins.
The ingredients are organic and simple with no junk added: oats, raisins, almonds, flax seeds, cashews, and pumpkin seeds.
This gives you a nice hit of healthy fat, fiber, protein and iron.
The almonds and cashews give it a nice crunch. I enjoy with greek yogurt or milk.
Make it vegan with non-dairy yogurt or milk.
You can get guud muesli on Amazon here.
---
7. Stove-Top Popcorn
VEGAN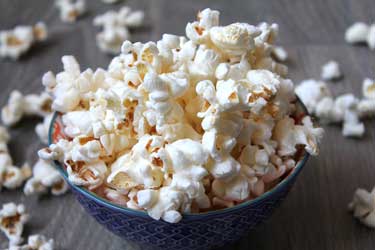 Don't settle for microwave popcorn. You might also be consuming TBHQ, low-quality oil, and flavoring.
Seriously, the typical ingredients in a bag of microwave popcorn just aren't great for human consumption.
PREGNANCY TIP: Don't zap that popcorn. The microwave bags can contain PFAS, which can have adverse pregnancy outcomes.
Make your own stovetop almost as quickly as the crappy bag variety.
Use avocado oil because it's healthier than most and has a high smoking point.
Save by buying organic popcorn kernels in bulk.
INGREDIENTS
3 TBSP of avocado oil
1/3 cup organic popcorn kernels
DIRECTIONS
Heat the oil in a 3-quart saucepan on medium high heat.
After it starts to get hot, put the kernels in and cover. Shake the pan around a while on the burner.
Try to keep the lid slightly ajar to let the steam from the popcorn release. Once the popping slows down, take off heat and dump into a bowl.
Add toppings. Be creative depending on your craving. You can mist on a little extra virgin olive oil to get the seasonings to stick (some topping ideas: paprika, cinnamon, chives, onion powder, sea salt, pepper, parsley, dill, rosemary, garlic powder, cayenne, cumin, chili powder, even hot sauce!)
This makes enough for two people; store in an air-tight container and it'll stay fresh for a few days.
MY FAVE TOPPINGS: A spritz of apple cider vinegar and organic nutritional yeast flakes (for a cheesy flavor).
You can get the avocado oil, organic popcorn kernels, apple cider vinegar and nutritional yeast flakes on Amazon here.
Are Snacks Safe in Pregnancy?
Yes, snacks are safe during pregnancy. A snack is a small amount of food eaten between a meal. Snacks can help prevent nausea. Always try to choose healthy snack options.
How to Save Money on Snacks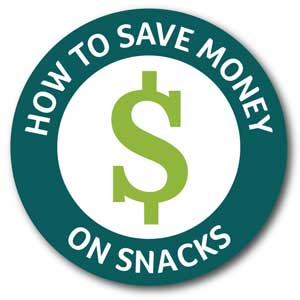 1. Join TopCashBack. It's free and the savings add up fast. Vitacost is on there and it's often up to 6% cashback. It's easy to redeem as well.
2. Use Honey. Forget trying to look up coupon codes. Use Honey and it'll find the best usable codes when you go to checkout. I've saved hundreds.
3. Vitacost. No membership fee and there's always a coupon code. Use TopCashBack and Honey with Vitacost, and your diaper savings are huge.
Healthy Pregnancy Snacks Wrap-Up
Eating a healthy diet is essential for both you and your baby. But I understand what's considered "healthy" can be confusing. I like to keep it simple and that always means simple ingredients.
I know organic can be pricier and the opposite of saving money. I believe in putting your money where it matters most, and that's definitely food, especially when you're expecting. See the tips above to get the best deals.
That's all mamas, hope this helps! Congrats on taking one more easy step toward living a greener life for you and baby.
Ready for more? Take the Green Yourself Pregnancy Challenge here.
Peace love & baby kicks.
Care to share?
Jen Brady — Chief Green Mama
Mom of two. Wife of one. Holistic nutritional consultant. Amateur biohacker. Guide of the Green Yourself Pregnancy Challenge. Author of the Green Your Baby Registry Guide.
I'm wild about pregnancy and babies (in a sane way) and I need to steer you away from harsh chemicals and hormone disruptors. Stick with me to keep it lean and green.
Up Next:
• Is Ka'Chava Safe for Pregnancy?
• Why I Wouldn't Drink BODYARMOR While Pregnant
• 11 Easy Hospital Pregnancy Snacks