FREE PREGNANCY CHALLENGE: say bye-bye to harsh chemicals & toxins.
---
Best Yumi Review: Deep Thoughts from a Baby and Toddler
Green Baby Deals is reader-supported. When you buy through links on our site, we may earn an affiliate commission. As an Amazon Associate, we earn from qualifying purchases.  Learn more.
Connect with others from pregnancy through motherhood (on a free app). Join community now.
Choosing food for your baby can be super simple for some, and extremely exhausting for others.
Fresh, organic and homemade was my plan. Then reality set in. Luckily there are so many options today — maybe too many.
Is Yumi organic baby food delivery service worth it? Will your baby like it? Let's dig into a Yumi review (not paid or sponsored by anyone).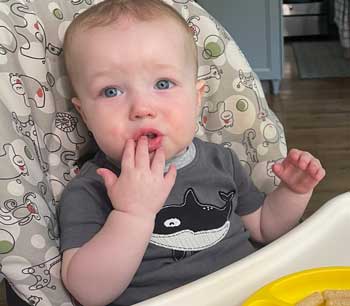 Here's what's in this review:
Disclaimer time: Subscription plans are forever changing. I'll update as much as possible, but all information is accurate at time of article publication.
What is Yumi Baby Food?
Yumi is a food delivery service that ships organic, fresh baby food to your home weekly. Yumi foods contain:
No gluten
No dairy
No "big 9" allergens (milk, eggs, fish, crustacean shellfish, tree nuts, peanuts, wheat, soybeans, and sesame)
No preservatives
No GMOs
No added sugars
Never fortified
No rice as a "filler ingredient"
Co-founder and CEO Angela Sutherland was fed up with the lack of baby food options. She knew nutrition in the first 1,000 days of your baby's life is one of the most important factors in development.
She believes it's "Yumi's responsibility — and the responsibility of all food companies — to lead with science, to nourish with real foods, and to fight for a better tomorrow."
Do organic ingredients really matter?
I'll always choose organic over conventional whenever possible, especially for my baby. Here are a few reasons why:
Fewer fertilizers, pesticides, antibiotics and hormones.
No GMOs.
More Omega-3 fatty acids and antioxidants.
You can read all about the benefits of organic baby food here.
What about heavy metals?
In 2021, the Subcommittee on Economic and Consumer Policy released its report entitled "Baby Foods Are Tainted with Dangerous Levels of Arsenic, Lead, Cadmium, and Mercury." The results are shocking, yet no foods are recalled.
That's bad news for babies and their tiny developing brains. These chemicals have been shown to lower their IQ. Many jarred organic baby foods are on here too. Read the full report here.
"Research shows that during the first 1,000 days, babies' vulnerable bodies and brains are far more sensitive to harmful metals and chemicals."source
Many organic baby food delivery companies, including Yumi, are working hard to ensure their food is at an acceptable level. Here's what Yumi does:
No rice — Rice is known to be a major factor in heavy metals. Yumi uses nutritious alternatives like sorghum flour.
Cooking and handling — Yumi cooks their blends in small batches and uses light processing to keep your food tasting like food.
Soil selection — Yumi partners with the best farms by looking at federal data on soil contamination. They also partner with farms that are USDA Certified Organic and Non-GMO Project Verified.
Regular testing — Yumi is the recipient of the Clean Label Project Purity Award, which means their food is third-party rigorously tested for over 400 environmental and industrial toxins (including heavy metals).
Yumi: the Full Review
I was beyond excited to try out Yumi's organic baby food delivery service. Here's the review from start to finish:
ORDERING
Yumi's website is extremely easy to navigate. I loved how I could see the meals and nutrition info without having to enter any personal information (a peeve of mine).
That said, in order to see plans and pricing, you'll need to hit that "Get Started" button and enter some info.
This is where the sign-up and subscription process begins.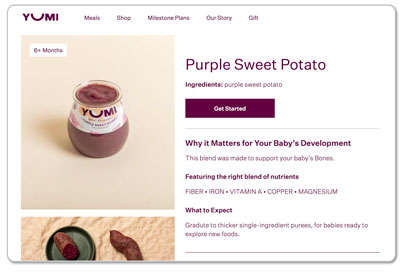 MILESTONE PLANS
This is a unique set-it-and-forget-it plan. Yumi asks for your baby's birthday and delivers age-appropriate food. Then as your baby grows and reaches certain developmental milestones, the food changes.
SKIPPING MEALS
Yumi is made fresh and delivered weekly, but I wanted to be sure I could skip meals when needed.
The process was simple. The website design is user-friendly and it was super easy to skip meals.
CANCELLING
Cancelling the subscription was easy as well. I cancelled easily under my account info. They did offer me a percentage off to come back again. Other than that, they weren't annoying about it (as I've unfortunately experienced with other subscriptions).
DELIVERY
Yumi was great about letting me know when the order would arrive. You can expect your box to arrive Monday – Wednesday by 9 p.m. from Los Angeles, CA. (Available only in 48 U.S. states; Hawaii and Alaska are "coming soon".)
And, in case there was any doubt, it was clear I needed to put everything in the fridge pronto.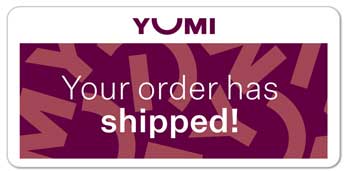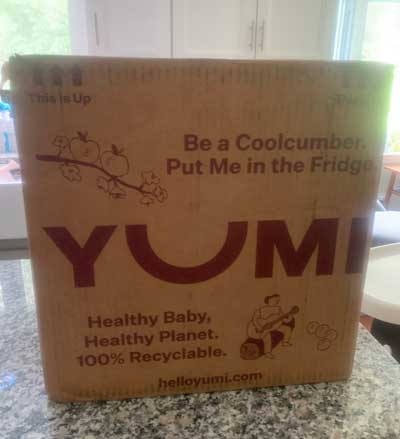 PACKAGING
Here's how Yumi meals stay fresh during shipping (and how they attempt sustainability):
It's shipped in temperature-controlled boxes.
Thermal-liners are made of recycled water bottles and a non-toxic and non-caustic icepack.
The jars, boxes, and trays are all recyclable. The insulation is curbside recyclable.
The custom ice packs are reusable (or recycle them: #4 plastic).
Even though it's a lot of packaging, I do love that it's all recyclable. And, no preservatives or fillers are added to the food so it's a tradeoff to keep the food fresh.
The jars are BPS and BPA free plastic and is curbside recyclable. Don't heat up the food in it. I love that Yumi  lets the food cool completely before filling the jars.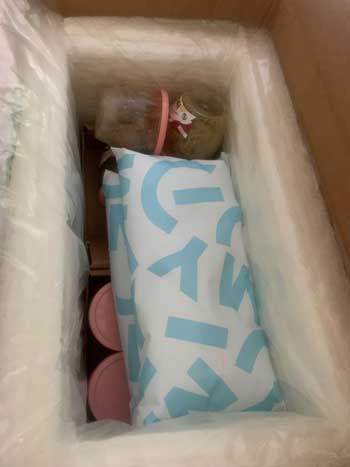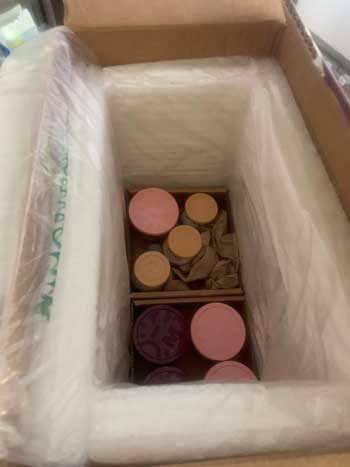 The FOOD
On to the most important: will babies eat this food?
Spoiler alert: it wasn't our fave.
I ordered a variety of options: from pudding to puffs.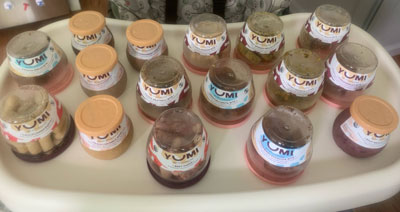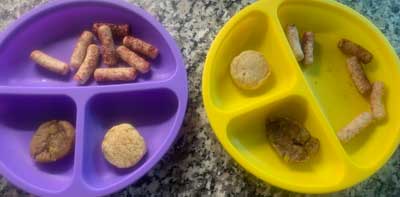 They liked the puffs! This is a win because it's made with organic sorghum flour and a nice break from the common rice and wheat.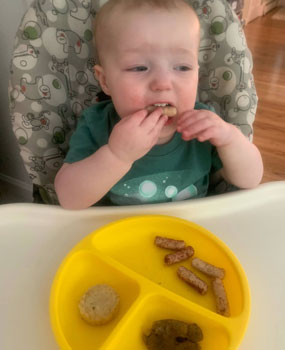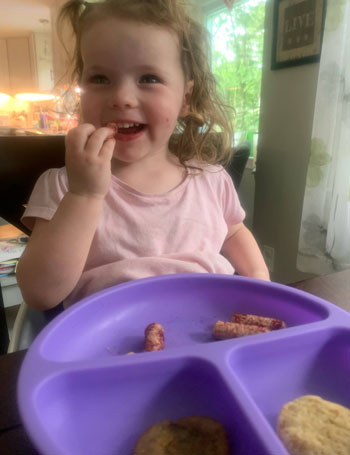 The bites are next. I was excited about these because they have a bit more fiber protein, vitamins and minerals.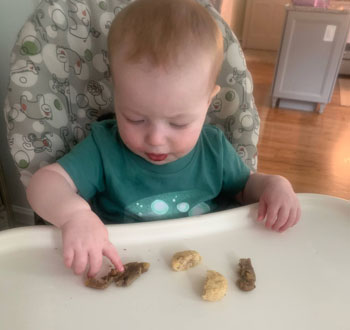 Here are some "pinchables" (10+ months):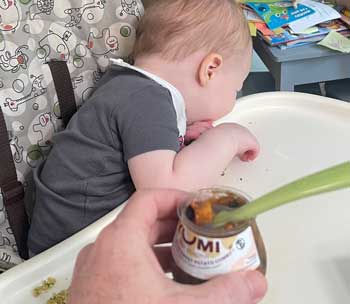 OK, how about chocolate pudding? Made with nutrient-packed ingredients: unsweetened coconut cream, banana, white beans, coconut milk powder, cacao powder, vanilla extract, peppermint ground, and chia seed.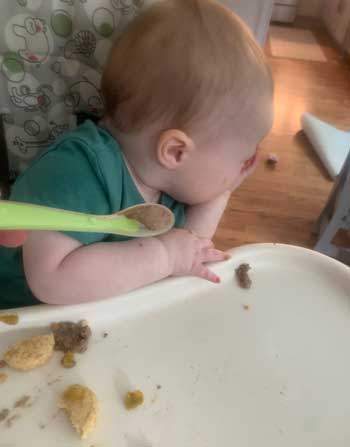 The kids couldn't put it into words, but what did the parents think of this one?
"I can taste dry beans yet it's moist. Strange. Almost too intense flavor for a young palate."
Note, we tried this for a few nights in a row. Admittedly these kids are picky. Regardless, this convenient, organic baby food delivery service won't work in this house.
Here are some Yumi FAQs:
How long does Yumi baby food last?
Yumi baby food meals are freshly made and stay good in the refrigerator for 7 days, 2 months in the freezer and 24 hours once opened. 
Is Yumi baby food worth it?
Yumi baby food is absolutely worth it considering it's organic, fresh and ready to eat when delivered to your doorstep.
Is Yumi safe for babies?
Given that Yumi baby food is fresh, minimally processed, certified USDA Organic, Clean Label Project Purity Certified, and contains no "big 9" allergens, Yumi can be considered one of the safest organic baby foods money can buy.
Please note although Yumi food doesn't contain peanuts, it's produced in a facility that also processes peanuts. 
---
Yumi Review Conclusion
Knowing this Yumi adventure was a personal failure, would I recommend you try Yumi?
100% absolutely yes.
Here's why:
Every baby is different.
There are a ton of great reviews from Yumi. I don't believe these are fake reviews; otherwise, the company would be out of business. There are negative reviews too, which is why this is such a personal choice and worth a try.
Get through the "try" period.
…and Yumi may be your go-to for baby food.
This is a tough concept because this food is pricey (and wasting food, in general, is bad news). Unless you'll eat it yourself, in those first feedings you may find the food is wasted.
Although I only tried a handful of times, research suggests it could take as many as 15x before a baby will accept a new food. 
"Studies show infants have a 'flavor window.' It likely opens at four months and closes around 18 months."source
So, the goal is to repeatedly have your baby taste these new foods during the flavor window, and they're more likely to eat these foods. It starts the cycle: they're more likely to try new foods, flavors (and veggies) as they grow.
Yumi offers variety I can't provide.
I mean, I could provide it, but I don't have hours a day to spend in the kitchen.
It's super easy to cancel (or skip deliveries).
I hate subscriptions that make it impossible to cancel. Yumi is truly easy to cancel.
I love the skip deliveries option as well, so you could skip a week here and there if you're sticking to a monthly food budget.
If you're struggling in the kitchen, give Yumi a try:

Get 50% OFF your first order with code GREENBABY
---
How to Save Money on Yumi Baby Food
1. Join TopCashBack. It's free and the savings add up fast. Yumi is on their and the current offer is $10 cash back (in addition to the 50% you'll save on your first order).
2. Use code GREENBABY and save 50% on your first order.
That's all mamas, hope this helps! Congrats on taking one more easy step toward living a greener life for you and baby.
Peace love & baby kicks.
Care to share?
Jen Brady — Chief Green Mama
Mom of two. Wife of one. Holistic nutritional consultant. Amateur biohacker. Guide of the Green Yourself Pregnancy Challenge. Author of the Green Your Baby Registry Guide.
I'm wild about pregnancy and babies (in a sane way) and I need to steer you away from harsh chemicals and hormone disruptors. Stick with me to keep it lean and green.
Up Next:
• Benefits of Organic Baby Food: Why I'll Always Choose Over Conventional
• Here are the 7 Best Organic Baby Food Delivery Options