10 Sustainable Mother's Day Gifts for 2023
---
Green Baby Deals is reader-supported. When you buy through links on our site, we may earn an affiliate commission. As an Amazon Associate, we earn from qualifying purchases.  Learn more.
Connect with others from pregnancy through motherhood. Join community now.
I always have a hard time in my mind putting together "sustainable" and "gift-giving". I typically go for experiences. But with my mom living far, experiences together don't happen as often as I like.
If you're in the same bind, here's a list I put together to help with some sustainable Mother's Day gifts. Happy Mother's Day to all!
---
1. Reusable K-Cups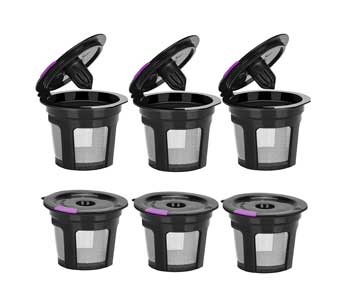 I'm not an owner of one of these myself, but I continuously read about how many of those little cups end up in the landfill.
In addition, heating up that disposable plastic can act like estrogen and mess with your hormones.
If your mom already has a Keurig, gift her these reusable K-cups. It's a win-win.
Make sure they're compatible and pair with her favorite brew.
---
2. Zero-Waste Starter Kit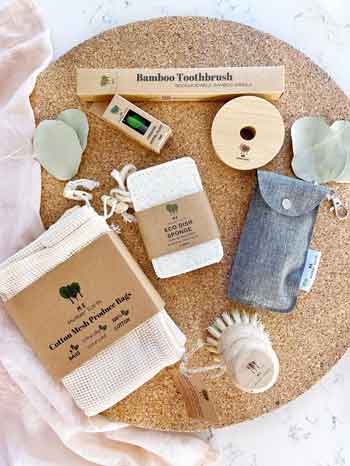 If you're anything like me, you're the green chicky in the family and always introducing ways to reduce waste to other family members.
A zero-waste starter kit as a gift can be an easy way to ease someone into a more sustainable lifestyle.
And, I've found they typically appreciate these gifts and might think twice about accepting that straw at the restaurant.
I love this starter kit from MeMotherEarth because it has a little bit of everything.
---
3. Beautiful Glass Storage Containers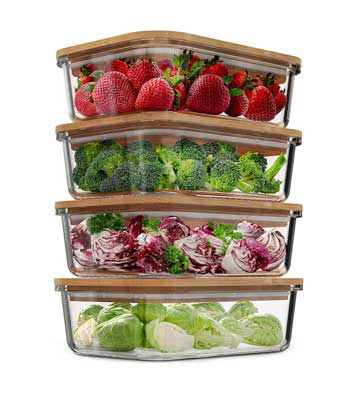 If your mom's still using the plastic containers that you grew up with, they're most likely leaching chemicals and it's time for a change.
Gift these containers made with borosilicate glass and air-tight bamboo lids. They're dishwasher, oven, microwave, and freezer safe.
---
4. Persian Violet Terrarium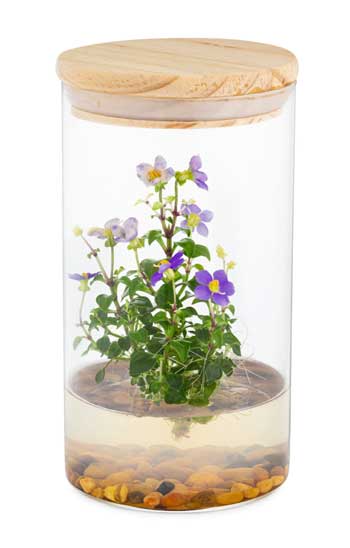 Whether the mom you're buying for has a green thumb or not, it's easy to keep flowers alive in a terrarium. (Seriously, even I can do it.)
Why buy flowers that'll only last a week or two? These will bloom all year with no water or feeding. Wow.
---
5. Plantable Notebook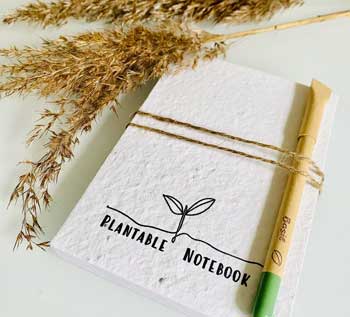 I've always been fascinated with plantable paper.
Two gifts in one: let your mom know she'll get those beautiful flowers… eventually 😉
---
6. Non-Toxic Deodorant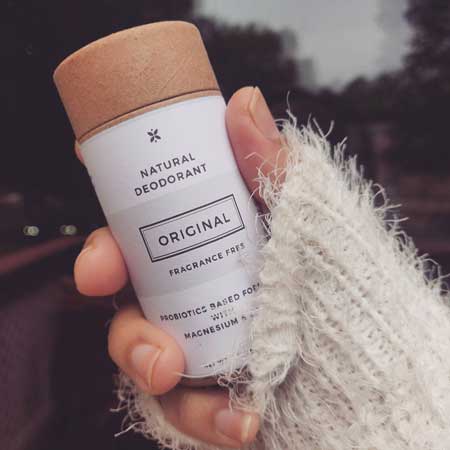 Is your mom still using deodorant filled with fragrance, parabens and phthalates?
Deodorant might seem like a strange gift… let her know it's not a hint or anything! But hey, I always think introducing someone to a more natural way is the start to making a difference. Even if it's deodorant.
And, it's certainly not a gift that'll go to waste.
The natural deodorant I recommend is handmade, fresh, vegan, cruelty-free and organic.
The main ingredients are magnesium hydroxide, coconut oil, arrowroot powder, shea butter, zinc and probiotics. Free of baking soda, alcohols, aluminum, parabens, sulfates and synthetic fragrances.
It's in a biodegradable push-up paper tube and, the packaging is beautiful.
---
7. Recycled Jewelry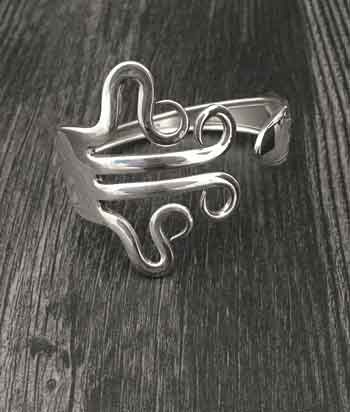 Jewelry can be such a personal choice, but you know who you're buying for, right?
Etsy has a plethora of eco-friendly, sustainable, recycled jewelry made from talented artists. You're sure to find something just right for her, perhaps a fork bracelet.
---
8. 100% Beeswax Candle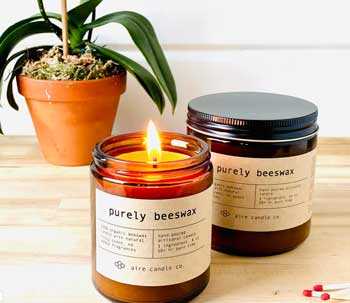 I'm not crazy about the scented candles, even if it's natural.
Check out this 100% pure beeswax candle made from local U.S. beekeepers. It has a naturally pleasant honey aroma.
These candles come in a glass amber jar that emits a vibrant warm tone when lit. They burn 50+ hours.
---
9. The Nest Thermostat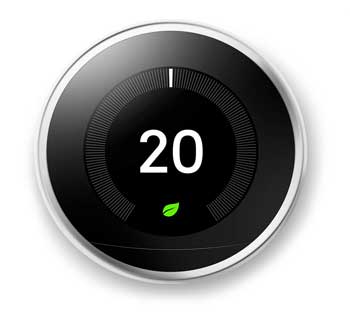 Give the gift that keeps on giving… money in mom's pocket.
I love the Nest thermostat because it saves energy without a lot of work.
If the mom you're buying for hasn't yet upgraded to this thermostat, now might be the time.
---
10. Organic Weighted Blanket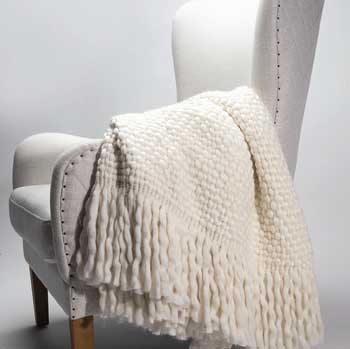 Weighted blankets have been shown to help eliminate insomnia, reduce anxiety and stress, and even alleviate pain.
This 100% pure, organic merino wool has a knit style to help with temperature regulation. It's also made in the USA.
If the mom you're buying for has always wondered about trying weighted blankets, this is the one to gift.
---
Sustainable Mother's Day Gifts Wrap-up
Mother's Day doesn't have to be about gifts just to give a gift. If you're not digging anything on this list, consider a gift certificate to her favorite restaurant or spa. That's all for now. Thanks for checking out the gifts and keepin' it green!
Care to share?
Jen Brady — Chief Green Mama
Mom of two. Wife of one. Holistic nutritional consultant. Amateur biohacker. Guide of the Green Yourself Pregnancy Challenge. Author of the Green Your Baby Registry Guide.
I'm wild about pregnancy and babies (in a sane way) and I need to steer you away from harsh chemicals and hormone disruptors. Stick with me to keep it lean and green.