FREE PREGNANCY CHALLENGE: say bye-bye to harsh chemicals & toxins.
---
7 First Trimester Pregnancy Snacks [What I Could Eat with Nausea]
Green Baby Deals is reader-supported. When you buy through links on our site, we may earn an affiliate commission. As an Amazon Associate, we earn from qualifying purchases.  Learn more.
Connect with others from pregnancy through motherhood (on a free app). Join community now.
I was extremely nauseous during my first trimester. Both times. I couldn't stand the smell of certain foods, much less eat them. I was the one wearing the anti-nausea bands (and still don't really know if they helped).
It's called morning sickness because it's typically the worst in the morning. For most it seems to last all day.
Admittedly the majority of my diet consisted of salted crackers, hard ginger candies, and ice-cold carbonated water. When my second trimester finally arrived I was ready for waffles topped with tuna, but that's another story.
Everyone's nausea and food aversion/tolerance in their first trimester will vary. Hopefully, some of these options will be palatable for you. I'm also hoping the mention of tuna and waffles didn't cause you to run to the loo. 
Since I studied holistic nutrition, I knew what I needed for healthy first trimester pregnancy snacks: a good balance of fiber, protein and healthy fats. I also always go for organic whole foods whenever possible.
If it's a packaged product, I focus on these things:
Fiber
Sugar
Protein
Non-GMO
Ingredient list
I'm listing snacks because most have found the best way to keep nausea at bay is by eating small portions frequently. Always talk to your doctor or midwife about the best plan for you.
Let's dig in!
First Trimester Pregnancy Snacks
1. Smoothie
If you can't eat your nutrients, consider drinking them.
I needed my smoothies to be ice cold.
Ideally, you want a good mix of protein, fat and fiber.
Here's a recipe I love but substitute with whatever you have in the fridge (and whatever you can stomach):
PREGNANCY TIP: This study concluded "choosing organically grown vegetables during pregnancy was associated with reduced risk of pre-eclampsia." Go organic when you can.
INGREDIENTS
1 banana
Handful of strawberries with tips cut off
1 Tbsp. peanut butter
1/4 cup unsweetened coconut
1 cup of milk, non-dairy milk or water
Handful of ice cubes
DIRECTIONS
Place all ingredients into blender.
Blend until smooth.
(Hopefully) enjoy.
---
2. ALOHA Organic Protein Bar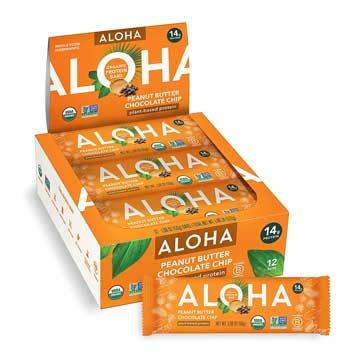 For an on-the-go snack between meals with high protein, high fiber, low sugar and zero natural flavors, go with ALOHA Organic Plant Based Protein Bars.
This may be flavor overload for you, or it may be a savior to get in some nutrients when you're too tired to put anything together.
They're also a great option postpartum while nursing, as you can replenish those precious calories that are quickly sucked away. 
The dark chocolate, rich peanut butter and a bit of sea salt will satisfy a few cravings (without the bad stuff). 
Certified B Corp, vegan, non-GMO and organic.
You can get ALOHA on Amazon here.
---
3. Toast or Bagel
Sometimes all you can eat is toast or a bagel, and that's ok.
If you can stomach it, try topping it with ghee, fruit spread, extra virgin olive oil or nut butter for some extra calories and nutrients.
Also try grain variety by choosing something non-wheat (I love millet bread).
---
4. Crackers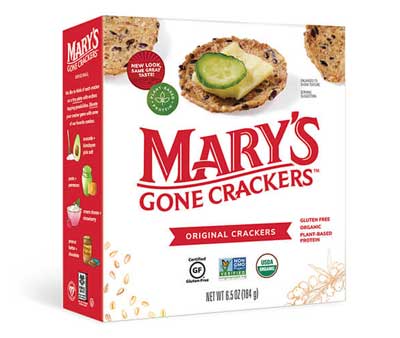 If you can handle more than just a salted cracker, try these.
Mary's Gone Crackers does it right. Free of sugar, natural flavors, and gluten.
These crackers have a great balance of fat, fiber, and plant-based protein, keeping you full and satisfied until your next meal.
The ingredients list is short and organic. It includes organic tamari, which hits the salt craving without a gross amount of sodium.
Snack on them alone or if you can, top with a bit of hummus, cheese or fruit.
You can get Mary's Gone Crackers on Vitacost here or on Amazon here.
---
5. Meusli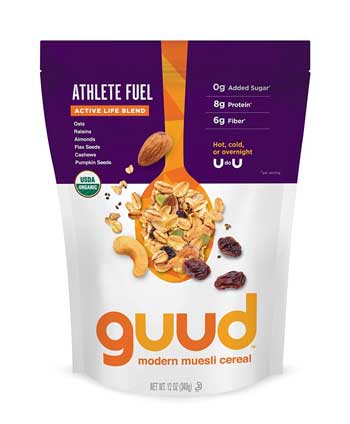 See if you can do a well-balanced snack with simple ingredients.
This organic muesli has zero added sugar but you get a bit of natural sweetness from the raisins.
The ingredients are organic with no junk added: oats, raisins, almonds, flax seeds, cashews, and pumpkin seeds.
This gives you a nice hit of healthy fat, fiber, protein and iron.
The almonds and cashews give it a nice crunch. Add a little greek yogurt or milk if tolerable.
Make it vegan with non-dairy yogurt or milk.
You can get guud muesli on Amazon here.
---
6. Stove-Top Popcorn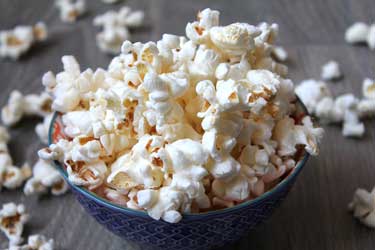 This classic snack may or may not work for you depending on your nausea level.
Don't settle for microwave popcorn. You might also be consuming TBHQ, low-quality oil, and flavoring.
Seriously, the typical ingredients in a bag of microwave popcorn just aren't great for human consumption.
PREGNANCY TIP: Don't zap that popcorn. The microwave bags can contain PFAS, which can have adverse pregnancy outcomes.
Make your own stovetop almost as quickly as the crappy bag variety.
Use avocado oil because it's healthier than most and has a high smoking point.
Save by buying organic popcorn kernels in bulk.
INGREDIENTS
3 Tbsp. of avocado oil
1/3 cup organic popcorn kernels
DIRECTIONS
Heat the oil in a 3-quart saucepan on medium high heat.
After it starts to get hot, put the kernels in and cover. Shake the pan around a while on the burner.
Try to keep the lid slightly ajar to let the steam from the popcorn release. Once the popping slows down, take off heat and dump into a bowl.
Add toppings. Be creative depending on your craving. You can mist on a little extra virgin olive oil to get the seasonings to stick (some topping ideas: paprika, cinnamon, chives, onion powder, sea salt, pepper, parsley, dill, rosemary, garlic powder, cayenne, cumin, chili powder, even hot sauce!)
Store in an air-tight container and it'll stay fresh for a few days.
MY FAVE TOPPINGS: A spritz of apple cider vinegar and organic nutritional yeast flakes (for a cheesy flavor).
You can get the avocado oil, organic popcorn kernels, apple cider vinegar and nutritional yeast flakes on Amazon here.
---
7. Banana (and maybe some almond butter)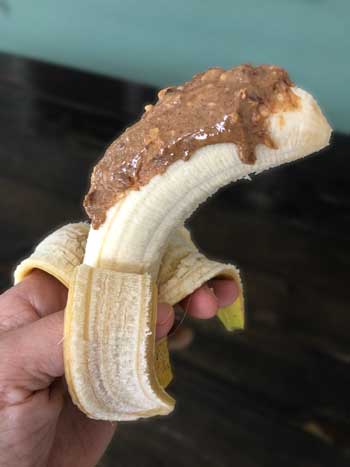 Most can stomach a banana and the fructose in it can help with your morning sickness.
FUN FACT: Fructose is the main ingredient in most anti-nausea medications.
Add the almond butter if you can: it's a great combo and will help keep your blood sugar level from spiking.
This combo is packed with healthy fat, fiber, protein, iron and potassium.
Grab the raw, organic almond butter on Amazon here.
INGREDIENTS
1 banana
1 Tbsp. almond butter
---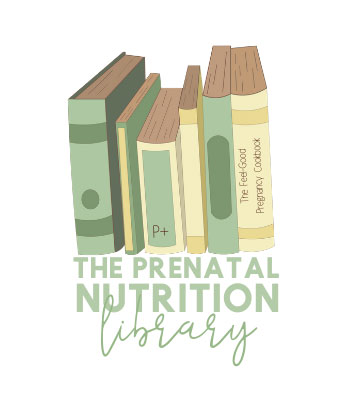 STOP
Are you overwhelmed trying to figure out what to eat during your pregnancy? Check out The Prenatal Nutrition Library.
Morning Sickness Hacks
I talked with a few other moms and here are some things that worked for them:
Fruits that helped: apples, pears, grapes, and bananas.
Eat frequently in small amounts (hunger can contribute to nausea).
Start the day with 1 tsp. of sea salt and 1 tsp. of sugar dissolved in a cup of water.
Keep something you can stomach bedside and have a little of it before getting up in the morning.
Eat bland carbs in small amounts.
How to Save Money on Pregnancy Snacks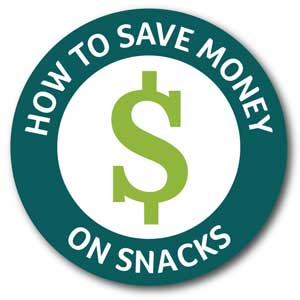 1. Join TopCashBack. It's free and the savings add up fast. Vitacost is on there and it's often up to 6% cashback. It's easy to redeem as well.
2. Use Honey. Forget trying to look up coupon codes. Use Honey and it'll find the best usable codes when you go to checkout. I've saved hundreds.
3. Vitacost. No membership fee and there's always a coupon code. Use TopCashBack and Honey with Vitacost, and your savings are huge.
First Trimester Pregnancy Snacks Wrap-Up
Morning sickness is the worst. I experienced it first-hand a few times and I really feel for you if it lasts throughout your entire pregnancy. Luckily for most, it vanishes once the second tri comes around.
From all the moms I chatted with: eating small snacks throughout the day to keep nausea at bay helped the most.
I wish you the best in your journey and I hope this has been helpful for you!
Peace love & baby kicks.
Care to share?
Jen Brady — Chief Green Mama
Mom of two. Wife of one. Holistic nutritional consultant. Amateur biohacker. Guide of the Green Yourself Pregnancy Challenge. Author of the Green Your Baby Registry Guide.
I'm wild about pregnancy and babies (in a sane way) and I need to steer you away from harsh chemicals and hormone disruptors. Stick with me to keep it lean and green.
Up Next:
• Healthy Pregnancy Snacks (That Kick Cravings)
• Is Ka'Chava Safe for Pregnancy?