FREE PREGNANCY CHALLENGE: say bye-bye to harsh chemicals & toxins.
---
Birth Center vs Hospital: Which One Is Right for You? (and What I Did)
Congrats on your pregnancy and considering a birth center!
I went down a long road when deciding between a birth center vs hospital. During my first pregnancy, I switched care/providers three times. I'm here to help and hope this doesn't happen to you (who has enough to think about).
Let's dig into birth centers and hospitals, and find the best one for you.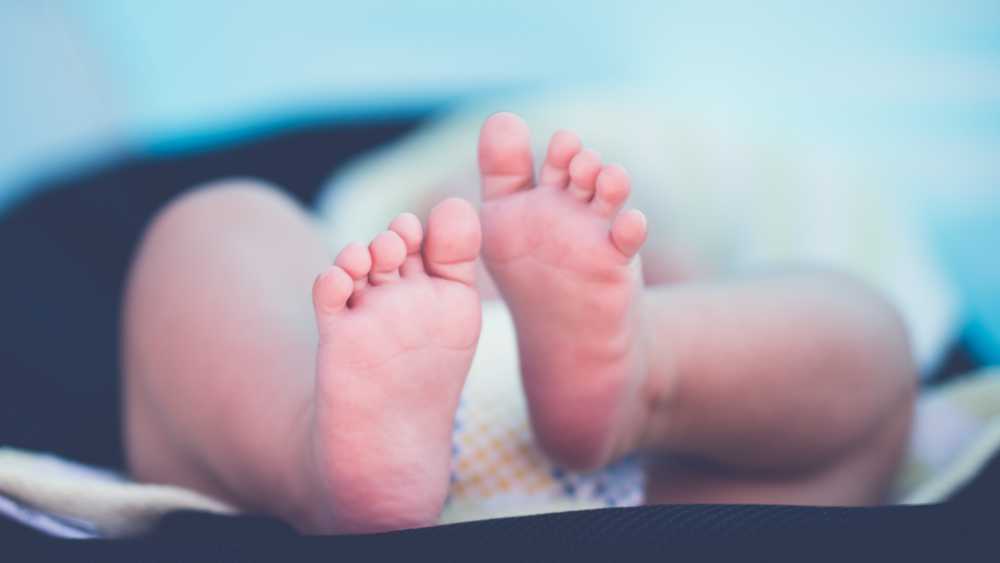 ---
Birth Center vs Hospital: First, What's a Birth Center?
Sometimes areas inside hospitals are referred to as "birth centers".
For the purposes of this article, when I refer to "birth center" it means "freestanding birth center".
A birth center is a type of healthcare facility that offers birthing services and support from midwives. They focus on non-medicated childbirth and often have more personalized service than a hospital.
Birth centers are for "low-risk" pregnancies, which is determined by a number of factors.
Birth centers will have established partnerships with nearby hospitals in case of transferring during labor.
You can find a birth center near you here.
---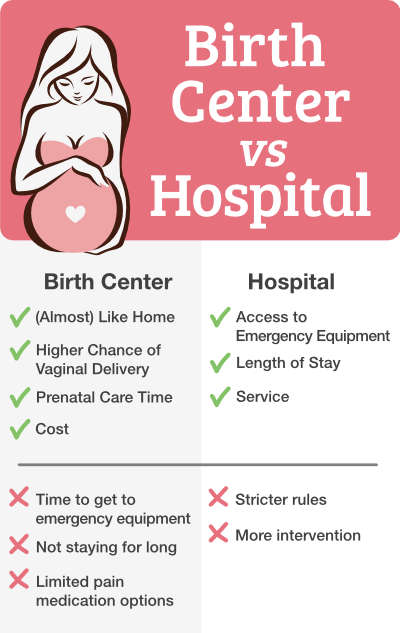 Birth Center vs Hospital: Pros & Cons of Birth Centers
Birth centers are very unique. They attract those who seek a more natural, unmedicated childbirth.
BIRTH CENTER PRO #1: (Almost) Like Home
When you walk into a birth center room, it may feel similar to your bedroom. Medical devices are often tucked away and the environment is soothing.
During the initial stages of labor, you can usually eat, drink, walk around, crank some tunes, pin up your hypnobirthing affirmations, sit on a birthing ball, and do whatever's comfortable for you.
Nearby or in the room will be a tub for water therapy and possible waterbirth.
Monitoring is intermittent vs. continual. This means fewer wires are attached to you during labor and delivery.
BIRTH CENTER PRO #2: Higher Chance of Vaginal Delivery
Hospital cesarian deliveries in the U.S. are high: 31.8% according to the CDC.
Birth center cesarian delivery rate in the U.S.: about 6% according to this study.
There are a number of factors why this is, including optional and necessary cesarians. Labor intervention also tends to happen sooner in a hospital.
If you want the lowest chance of a C-section, consider a freestanding birth center.
BIRTH CENTER PRO #3: Prenatal Care Time
I'm going to add in some personal experience here. When I had my first interviews/appointments with doctors, it just didn't feel right. I felt rushed and like a number.
Enter midwives: wow. My experience with midwives was incredible. They took the time to answer any questions I had and were unbelievable at explaining everything. Not only explaining, but educating.
It's important to note: not all midwives have the same credentials. In the U.S. there are three designations (see more details here):
Certified Nurse-Midwife (CNM)
Certified Midwife (CM)
Certified Professional Midwife (CPM)
I personally felt most comfortable with choosing a birth center with CNMs.
BIRTH CENTER PRO #4: Cost
The cost of a birth center can be considerably lower than a hospital. Here's the estimated cost for an uncomplicated vaginal birth (source):
Birth center average: $7,240
Hospital average: $12,156
BIRTH CENTER CON #1: Not In a Hospital
It can be strange and scary to think that you're not actually having a baby in a hospital.
A freestanding birthing center typically does not have on-site access to an operating room or neonatal care.
However, due to their close proximity to a hospital, they're able to easily transfer the mother and baby in the event of an emergency.
BIRTH CENTER CON #2: You're Not Staying for Long
Some may see this as a pro: going to the comfort of your home to be with your newborn in peace. But after my first was born and they were sending me on my way about 6 hours later, admittedly I didn't feel ready.
(Thoughts included: I'm solely responsible for this tiny human being? But I've been up for hours, just pushed a baby out and all I want is sleep!)
Many birth centers offer the option to stay longer but you'll most likely have to pay.
BIRTH CENTER CON #3: Limited Pain Medication Options
If you change your mind and decide you want an epidural during labor, you're out of luck at a birth center.
Good birth centers will educate you on managing your pain in other ways. I learned visualization techniques I still use today.
Some birth centers offer nitrous oxide (aka "laughing gas") which can be helpful.
---
Birth Center vs Hospital: Pros & Cons of Hospitals
HOSPITAL PRO #1: Access to Emergency Equipment
Staying in a hospital provides immediate care if needed.
This includes surgical care (C-section) and access to neonatologists (to handle high-risk newborn situations).
HOSPITAL PRO #2: Service and Length of Stay
The typical time you stay in a hospital after delivering your baby is longer than at a birth center. You'll also have meals served to you.
HOSPITAL CON #1: Stricter Rules
Depending on the hospital and your situation, you may not be able to move around freely or give birth in the position that's most comfortable.
You also may not be able to eat or drink whatever you'd like.
HOSPITAL CON #2: More Intervention
You'll most likely have an IV and continuous fetal monitoring during labor.
Your chance of medical interventions is also greater. These include induction, episiotomy, and cesarian delivery.
Depending on the hospital, you may not be able to hold your baby right away. Although, many hospitals are now recognizing now the benefits and importance of delayed cord clamping.
If you're considering a hospital, ask about delayed cord clamping and c-section rates.
---
Birth Center vs Hospital Statistics
Many think: "I don't care where or how my baby is born, I just want them to be safe." Makes sense.
With all the places I interviewed, my first question was always "Have you had any deaths?"
It's the elephant in the room and very scary and sad. None of us want to think about it.
I didn't put this as a Pro or Con because the studies are so controversial.
There's an interesting "Dueling Statistics" article here where two studies were done with OOH (out-of hospital) births.
One study concluded more fetal, perinatal, and neonatal deaths in OOH plans of birth while the other study concluded no difference.
Both studies agreed on this:
"…OOH birth reduces cesarean surgeries, a severe adverse outcome in its own right on the maternal side with potential for severe adverse perinatal outcomes down the line."
With so many c-sections happening now in the US, the article brings up a valid question: Is hospital birth safe for low-risk women? There's a good case for the answer to be no.
---
Birth Center vs Hospital: What I Chose
So for me in the end, after switching three times, I went with a freestanding birth center. It was an AABC-established birth center and CABC-accredited. All the midwives were CNMs (certified nurse midwives). It was an incredible experience for me.
There is no one-size-fits-all here. It's excellent you're weighing the options; whatever you choose will be the right choice. For you.
Above I've given you general stats, pros and cons of birth centers vs hospitals. But each birth center and hospital will have its differences so it's best to check locally.
The best advice I can give: narrow down to a few and then plan a visit to tour and meet your doctor or midwives. The earlier the better.
I hope this is super helpful and best wishes on your journey! Peace love & baby kicks.
Jen Brady — Chief Green Mama
Mom of two. Wife of one. Holistic nutritional consultant. Amateur biohacker. Guide of the Green Yourself Pregnancy Challenge. Author of the Green Your Baby Registry Guide.
I'm wild about pregnancy and babies (in a sane way) and I need to steer you away from harsh chemicals and hormone disruptors. Stick with me to keep it lean and green.