FREE PREGNANCY CHALLENGE: say bye-bye to harsh chemicals & toxins.
---
Best Pregnancy Cereal: 3 Must-Trys Depending on Your Pregnant Needs
Green Baby Deals is reader-supported. When you buy through links on our site, we may earn an affiliate commission. As an Amazon Associate, we earn from qualifying purchases.  Learn more.
Connect with others from pregnancy through motherhood (on a free app). Join community now.
When you're expecting, there's a lot of information flying around your head — which is why it's so important to get healthy, nutritious foods into your system as early as possible.
And what better way to do that than with a good bowl of cereal?
But don't be fooled: there's a lot of crap out there, and despite the marketing, they're not the best way to start your day.
Since I studied holistic nutrition, I know what I need for healthy pregnancy cereal: a good balance of fiber, protein and healthy fats. I also always go for organic whole foods whenever possible.
When I'm looking at a label, here's what I focus on:
Fiber
Sugar
Protein
Non-GMO
Ingredient list
Let's dig in and find you the best pregnancy cereal.
1. Best All-Around Cereal: Muesli for Pregnancy
Guud Muesli Cereal
Muesli is often over-looked and most go for oatmeal. But because muesli has added ingredients in addition to oats, it's typically higher in protein and overall nutrient content.
It's also more versatile: have it cold with milk or yogurt. Or prepare just like you would hot oatmeal. This stuff is awesome and will keep you feeling full for a long time.
Guud muesli is certified organic, non-GMO and vegan. It has zero added sugar but you get a bit of natural sweetness from the raisins. This is the best muesli for pregnancy.
The ingredients are organic and simple with no junk added:
Oats
Raisins
Almonds
Flax seeds
Cashews
Pumpkin seeds
This packs a nice punch of fiber (6g) and protein (8g) per serving. The almonds and cashews give it a nice crunch (and healthy fats).
It's called "athlete fuel" and you need it: you're making a baby all day long.
Keep it vegan with non-dairy yogurt or milk.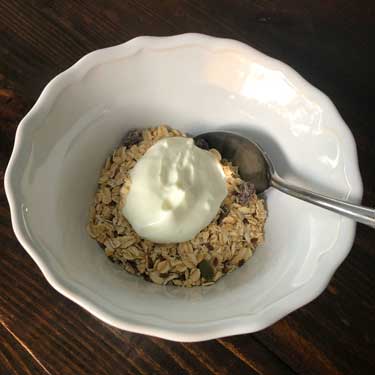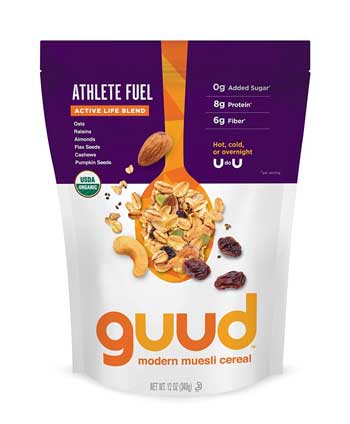 2. Best Crunchy Cereal for Pregnancy
Cascadian Farm Organic Blueberry Vanilla Granola Cereal
Sometimes you just need some crunch. Many moms-to-be crave the crunch while on the go or anytime really.
I love Cascadian Farms "no added sugar" cereal options. They're sweetened with organic dried fruit. I don't love the sneaky "natural flavors" in the ingredient list, but at least they're organic.
Certified organic and non-GMO. A good amount of fiber (4g) and protein (5g) per serving make this cereal a great choice.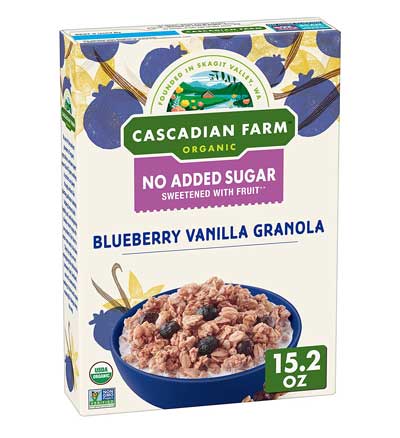 3. Best Pregnancy Cereal for Morning Sickness
Cascadian Farm Organic Purely O's Cereal
Bland, bland and blander is what might get you through the day here.
It's called morning sickness because it's typically the worst in the morning. For most it seems to last all day.
I was extremely nauseous during my first trimester. Both times. I couldn't stand the smell of certain foods, much less eat them.
One tip is to eat bland food in small amounts. This cereal's very limited ingredients might do the trick.
Tip #2: Salt can also be helpful. I actually ate this cereal sprinkled with sea salt. It got me through.
Certified organic and non-GMO. You'll also get in some good nutrients and fiber (4g) and protein (4g) per serving.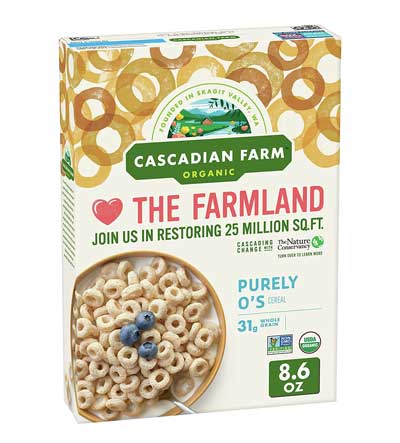 Best Pregnancy Cereal FAQs
Is cereal safe for pregnancy? 
Yes, cereal is safe for pregnancy. Choose a cereal that's certified organic and low in added sugars. Naturally sweeten your cereal with fresh fruit. Always ask your doctor or midwife if have concerns about consuming something during your pregnancy.
Is muesli good for pregnancy?
Yes, muesli is my #1 choice for a balanced breakfast during pregnancy. Choose an organic muesli with no added sugar and high in fiber and protein.
Is granola good for pregnancy?
Granola can be a good source of fiber and protein, but watch out for the amount of added sugar. Choose an organic granola.
Are Honey Bunches of Oats OK during pregnancy?
I don't recommend Honey Bunches of Oats during pregnancy. Here's why: 1. It's not certified organic. 2. The third ingredient is sugar. 3. It contains added vitamins which may interfere with your prenatal. 4. It contains, corn syrup, caramel color, natural and artificial flavors.
Are Honey Nut Cheerios OK for pregnancy?
Although Honey Nut Cheerios has a fairly small ingredient list, I don't recommend eating them during pregnancy. Here's why: 1. It's not certified organic. 2. The second ingredient is sugar.
If you've got the craving (I get it!), consider Cascadian Farms Honey Nut O's — at least it's organic. Although it still has added sugar, it's less per serving compared to Honey Nut Cheerios. It also has slightly more protein.
What's the best cereal brand for pregnancy?
Choose a brand that's certified organic and non-GMO. This is an easy way to avoid artificial preservatives, colors and flavors.
Does dry cereal help with nausea?   
Yes, dry cereal can help with nausea. Listen to your body, eat in small amounts, and consider a little sea salt which may also help with nausea.
What's the best cereal for pregnancy constipation?
The best cereal for pregnancy constipation is one that's packed with insoluble fiber, such as wheat bran.
Nature's Path Organic Smart Bran cereal will surely get things moving. Although I'm not crazy about the added sugar, the wheat bran, oat fiber and psyllium seed husk gives this cereal a whopping 17g of fiber per serving. This could be your morning constipation cure.
Hope these cereals are helpful for you — peace love & baby kicks!
Care to share?
Jen Brady — Chief Green Mama
Mom of two. Wife of one. Holistic nutritional consultant. Amateur biohacker. Guide of the Green Yourself Pregnancy Challenge. Author of the Green Your Baby Registry Guide.
I'm wild about pregnancy and babies (in a sane way) and I need to steer you away from harsh chemicals and hormone disruptors. Stick with me to keep it lean and green.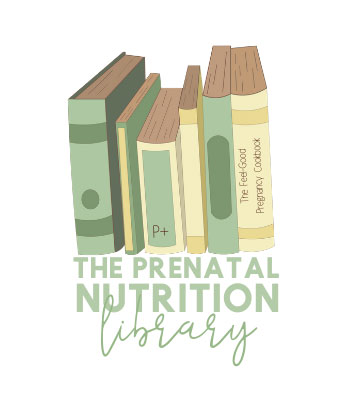 STOP
Are you overwhelmed trying to figure out what to eat during your pregnancy? Check out The Prenatal Nutrition Library.