The best portable silicone place mat for babies and toddlers
Green Baby Deals is reader-supported. When you buy through links on our site, we may earn an affiliate commission. As an Amazon Associate, we earn from qualifying purchases.
Learn more.
This article contains clickable affiliate links, which means I get paid if you click on a link and purchase something. It doesn't cost anything to you. For more information, see the disclosure here.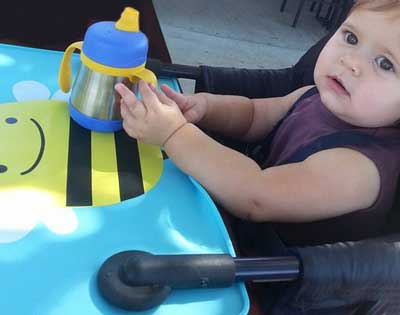 Dining out should be fun and stress-free, even with kids.
While we can't always control our little ones, we can control the potential food messes they make, or at least help contain them.
We're not germ freaks, but we also don't want our babies eating right off the table at restaurants (and we can't quite trust them with a plate yet).
If you're on the search for the perfect, non-toxic place mat for easy cleanup and portability, get the Skip Hop fold and go place mat.
Why should you use silicone for a baby or toddler place mat?
Silicone is a man-made polymer and has a backbone of silicon and oxygen. Many green folks use it as an alternative to plastic. Food-grade silicone does not react with food or drinks or produce any hazardous fumes. Therefore, we see silicone as a safe option that won't leach harmful chemicals into your food. It's also extremely durable, so it can be donated when your babies outgrow silicone products. And, while not biodegradable, silicone can be recycled. Always look for 100% food grade silicone.
The built-in loop closure makes it super easy and convenient to fold up and stick into diaper bag.
If the mat is used for a baby, it fits perfectly under your portable high chair.
As your child gets older, that mat can still be used as a fun dining experience for them.
Easy-wipe silicone gets most of the mess off, then thoroughly wash when you get home.
Made of non-slip, 100% food-grade silicone and free of BPA, PVC, lead, latex, and phthalates.
At first we weren't crazy about the "roll-up" method because it transfers whatever is underneath (similar to rolling up a yoga mat). Then we discovered a better way to fold. Check out this video: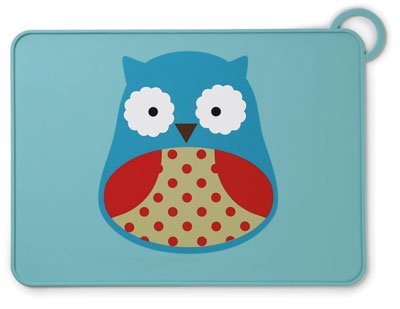 Grab your Skip Hop place mat on Amazon here, and happy dining. 
See more natural baby products here.
Expecting? Congrats! Take the FREE pregnancy challenge here or our create your natural baby registry in a snap here.
Save
Save
Save
Save
Save
Save