FREE PREGNANCY CHALLENGE: say bye-bye to harsh chemicals & toxins.
---
What are the Best Crackers for Pregnancy? 6 Satisfying Options
Green Baby Deals is reader-supported. When you buy through links on our site, we may earn an affiliate commission. As an Amazon Associate, we earn from qualifying purchases.  Learn more.
Connect with others from pregnancy through motherhood (on a free app). Join community now.
Craving a crunchy cracker? Don't run to the Ritz. Go for something that'll be packed with the good (for you) stuff in every bite.
If you're nauseous, you might say the best crackers for pregnancy are the ones you can keep down. This is a valid point. But if you can, choose the ones that are also packed with nutrition and not loaded with the bad stuff.
INGREDIENTS TIP: Added oils can be a sneaky ingredient — most of them are cheap oils that aren't good for you.
Are Crackers Healthy During Pregnancy?
Some crackers can be healthy during pregnancy, but not all crackers are created equally.
What are the Best Crackers for Pregnancy?
The best crackers for pregnancy are low in salt and have a good balance of fiber, protein and healthy fats.
Since I studied holistic nutrition, I know what I need for a healthy cracker. I also choose organic whenever possible.
Here's what I focus on:
Fiber
Sugar
Protein
Non-GMO
Ingredient list
Let's dig in.
---
1. Mary's Gone Crackers
VEGAN & GLUTEN FREE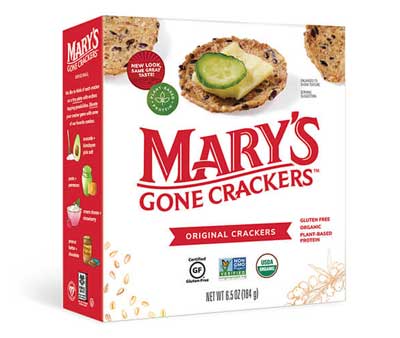 Mary's Gone Crackers does it right. Free of sugar, natural flavors, and gluten. And so delicious you'll need to hide the package from yourself.
These crackers have a great balance of fat, fiber, and plant-based protein, keeping you full and satisfied until your next meal.
The ingredients list is short and organic. It includes organic tamari, which hits the salt craving without a gross amount of sodium.
Snack on them alone or top them with a bit of hummus, cheese, cucumbers, or whatever else you might find in your fridge.
You can get Mary's Gone Crackers on Vitacost here or on Amazon here.
---
2. Ak-mak Sesame Crackers
VEGETARIAN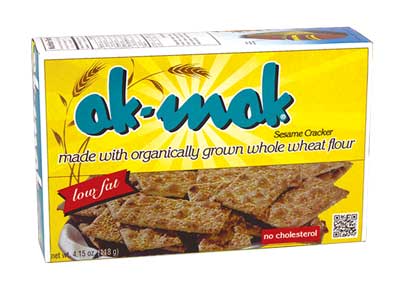 Here's another winner made with organically-grown whole wheat.
It's the "Original Armenian Cracker Bread". The ingredients are simple with no added flavors or preservatives.
Ak-mak crackers pair best with cheese and spreads. But they have the type of flavor that will pretty much work with anything.
You can get Ak-mak crackers on Vitacost here or on Amazon here.
Join the FREE PREGNANCY CHALLENGE and say bye-bye to harsh chemicals & toxins.
(By entering your email you agree to receive emails from Green Baby Deals. No spam, just awesome. Unsubscribe anytime.)
3. Hu Crackers
VEGAN & GLUTEN FREE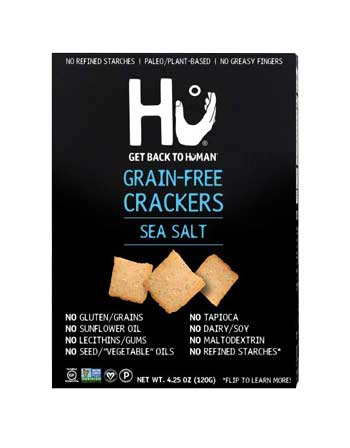 Part of Hu's mission is they "help people get back to human."
Their goal is to combine high-quality ingredients with great taste. And they deliver (from crackers to cookies to chocolate, yum).
You'll pay a prettier penny for these, but you may end up eating less as their nutrition facts are superior.
You can get Hu crackers on Vitacost here, on Amazon here, or order directly from Hu here.
---
4. Quinoa Crackers
VEGAN & GLUTEN FREE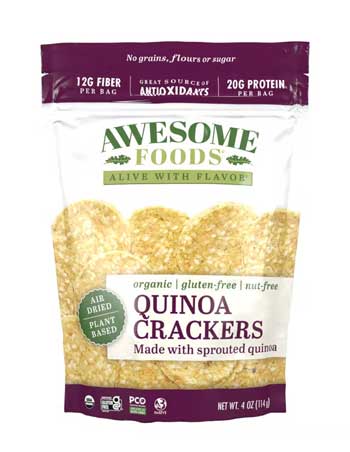 Quinoa is a unique complete protein: it contains all nine essential amino acids and is packed with fiber.
Awesome Foods' quinoa crackers are made with organic extra virgin olive oil, which is hard to find.
They're raw, organic, vegan, nut-free and gluten-free.
Admittedly this is the one cracker I haven't tried on this list. I've read some comments that they're a bit dry, so consider pairing with cheese or hummus.
Try these quinoa crackers on Vitacost here.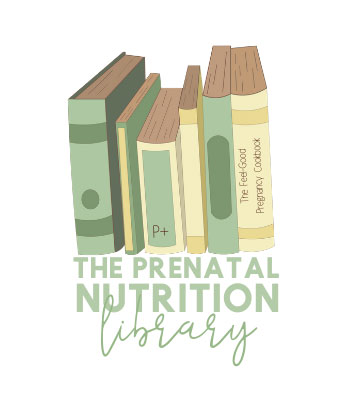 STOP
Are you overwhelmed trying to figure out what to eat during your pregnancy? Check out The Prenatal Nutrition Library.
5. Wasa Crackers
VEGAN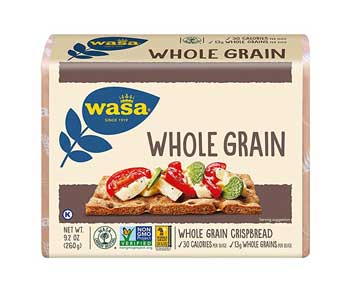 It doesn't get much simpler than a Wasa crispbread. The ingredients are few with no oil added.
My go-to is a Wasa with nut butter, but you can top it with anything. The thins are also good if you find the regular is a little too hearty.
Bonus: Wasa is carbon neutral.
You can get Wasa crackers on Vitacost here or on Amazon here.
---
6. Homemade Crackers
VEGAN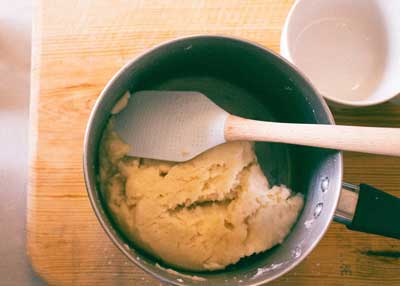 If you've got a little time, are you up for making your own crackers?
It may sound daunting, but the ingredients are few and it beats a packaged product any day.
INGREDIENTS
2 cups of flour (I use Jovial organic einkorn flour)
1 tsp. of sugar
2 tsp. of sea salt
3 Tbsp. of extra virgin olive oil
2/3 cup of water
Optional toppings: pepper, fennel, dill, rosemary, onion powder, garlic powder, chili powder, whatever flavors you like.
DIRECTIONS
Whisk the dry ingredients in a large bowl (flour, sugar and salt).
Add the oil and water and mix until it becomes a dough. If it's too dry, add a little water. If it's too sticky, add a little flour.
Place dough onto a lightly-floured surface. With a rolling pin, flatten to about 1/8″ thickness.
Add toppings (optional).
Cut the dough into desired cracker size (I use a pizza cutter).
Transfer to a lightly-floured baking pan (or use parchment paper). Prick the tops of crackers a little with a fork so bubbles don't form.
Cook in 400º preheated oven for 10-15 minutes (look for browning on the sides).
Let cool and store in an airtight container.
---
How to Save Money on Crackers
1. Join TopCashBack. It's free and the savings add up fast. Vitacost is on there and it's often up to 6% cashback. It's easy to redeem as well.
2. Use Honey. Forget trying to look up coupon codes. Use Honey and it'll find the best usable codes when you go to checkout. I've saved hundreds.
3. Vitacost. No membership fee and there's always a coupon code. Use TopCashBack and Honey with Vitacost, and your diaper savings are huge.
---
Best Crackers for Pregnancy Final Thoughts
If you're going for packaged food, it's important to look at the ingredients and choose the best possible.
I realize this means a higher price tag. But I believe in putting your money where it matters most, and that's definitely food, especially when you're expecting. See the tips above to get the best deals.
That's all mamas, hope this helps! Congrats on taking one more easy step toward living a greener life for you and baby.
Ready for more? Take the Green Yourself Pregnancy Challenge here.
Peace love & baby kicks.
Care to share?
Jen Brady — Chief Green Mama
Mom of two. Wife of one. Holistic nutritional consultant. Amateur biohacker. Guide of the Green Yourself Pregnancy Challenge. Author of the Green Your Baby Registry Guide.
I'm wild about pregnancy and babies (in a sane way) and I need to steer you away from harsh chemicals and hormone disruptors. Stick with me to keep it lean and green.