Note: I will be updating this article as much as I possibly can as new information comes out.
This article focuses on U.S. current stats. I am not a doctor and this content is not intended to be a substitute for professional medical advice, diagnosis, or treatment. Always seek the advice of your healthcare professional with any questions you may have regarding a medical condition.
If you're pregnant during a pandemic, things can certainly be scary. I do believe pregnant women have a crazy kind of superpower, and that's mostly due to a stronger immune system. And that, at least, is great news during a global pandemic. 
What are the stats for pregnancy and COVID-19? 
This is straight from the CDC (Centers for Disease Control and Prevention):
"We do not currently know if pregnant people have a greater chance of getting sick from COVID-19 than the general public nor whether they are more likely to have serious illness as a result. Based on available information, pregnant people seem to have the same risk as adults who are not pregnant."
Can I continue breastfeeding if I have COVID-19? 
Again from the CDC: "In limited studies, COVID-19 has not been detected in breast milk; however we do not know for sure whether mothers with COVID-19 can spread the virus via breast milk."
Basically, they're leaving it up to the mother at this point (and to talk to your healthcare provider). Because breast milk is such an incredible nutrition source for baby (including building her own immune system), it would be personally hard for me to stop. CDC recommends always washing hands thoroughly and wearing a face mask while nursing. 
How can I strengthen my lungs and immune system?
Although your immune system is generally stronger during pregnancy, it can still flux a bit as your body's working extra hard. 
Now's not the time to experiment with alternative immune-boosting options (I love my elderberry and mushroom teas, but passed when I was expecting). Keep it simple and natural:
• Vitamins. I took two supplements during pregnancy: a prenatal and a DHA. I wanted something easy on my belly so I went with Nature's Plus Prenatal Liquid. For DHA I took the Nordic Naturals Prenatal DHA. Both are pretty affordable and have A+ ratings on Pure Market.

Also consider upping your Vitamin C intake with Thorne Vitamin C with Flavonoids.
• Sleep. Get enough of it or it will lower your immune system.
• Probiotics. A big part of your immune system is actually in your gut, so keep it healthy. Load up on sauerkraut, yogurt and kimchi. Also consider supplementing. 
• Water. Drink up — important for strong lungs and everything else. Skip the bottled water and if you can swing it, get a whole-house filter like the  iSpring WGB32B 3-Stage available here. 
• Easy on the sugar. It reduces your ability to fight disease and increases inflammation. Skip the refined sugar and use these alternatives when you have a crave: coconut sugar, honey and organic maple syrup.
• Smoothies. Citrus, organic greens, ginger, raw garlic, broccoli. If you don't have an awesome blender yet, consider a Vitamix. Also think about what you put into that "immune-boosting" smoothie and try just eating it in different ways, or whatever you can stomach 🙂
• Diaphragmatic and deep breathing. Keep good posture and take long deep breaths so your belly moves, not your chest. Your baby will love and also amazing for stress. Check out how Homeveda Parenting does it here.
• Purify your indoor air. Essential now that you're home and fantastic for baby too. Breathe in air that's free of 99. 97% of 0.3 micron airborne particles such as dust, bacteria, and pollen. The one I love at my house is the Levoit Air Purifier available here.
How can I avoid getting COVID-19? 
Aside from keeping your lung and immune system healthy, the number one thing we must do as a society right now is social distancing! What we need to do is "flatten the curve" so hospitals aren't overwhelmed with sick patients.
The disease is here and we can't stop it, we have to slow it down, and we do that by keeping our distance. It truly is the only way.
Unfortunately this puts us into a terrible economic state, but we WILL recover. Safety first. And the faster we can have a shutdown, the better. Here are some helpful visuals: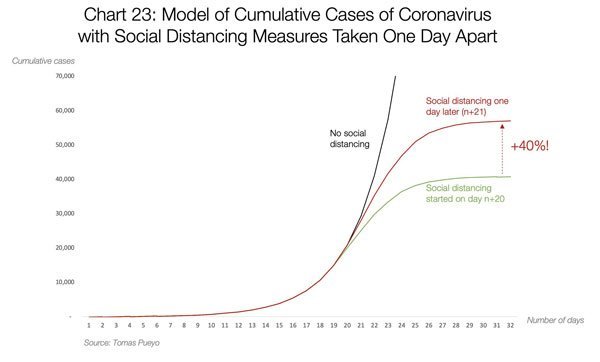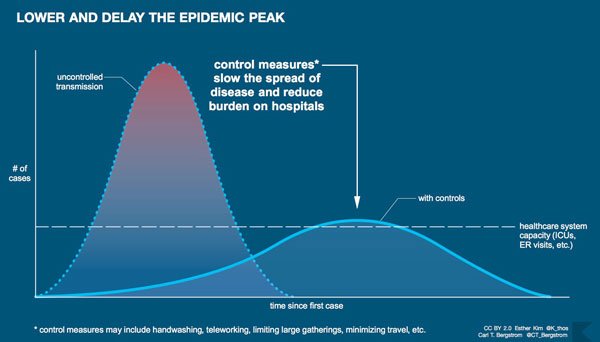 What if I can't stay home? 
If you work in a hospital or other, first, thank you. Second, depending on where you are in your pregnancy, could you consider taking an early maternity leave? 
If you have an employer who's insisting you stay in the office but you could potentially work from home, please ask them to reconsider.
Otherwise, follow the guidelines which I know you're familiar with by now: 
• Wash hands thoroughly for at least 20 seconds and avoid touching your face.
• No handshaking or touching others; keep your distance as much as possible. The recommendation is 6 feet.
• Continuously sanitize things people touch often, like doorknobs, tables, chairs, etc.
• Stay home if you're sick.
What can I do at home? 
If you're an extrovert and thrive from external sources, this will be more challenging for you. Add to that: potential anxiety, fear and sadness.
The four basic states of emotions are mad, sad, glad and scared. When our sense of safety and security is taken away from us, we become scared. This can lead to stress on our bodies.
I know I've had lots of anxiety. Even when things aren't directly affecting me or my family, I'm extremely sympathetic of things going on around the world. It fills me with sadness and anxiety if I don't control it.
It's why I basically don't watch the news, ever. To keep up on current events, I listen to 10 minutes of NPR in the morning.
I know lecturing "don't stress!" is ridiculous. But you've got to do everything you can to keep the stress level down, for the health of you and baby.
You need space and grounding within the fear. A settled mind. Wisdom. Courage. Coping skills. Less resistance.
If nothing else, remember this: You can only control what you can control.
So what in the world does that really mean during this pandemic? I absolutely love this graphic from Carrie Stephens Art and The Counseling Teacher: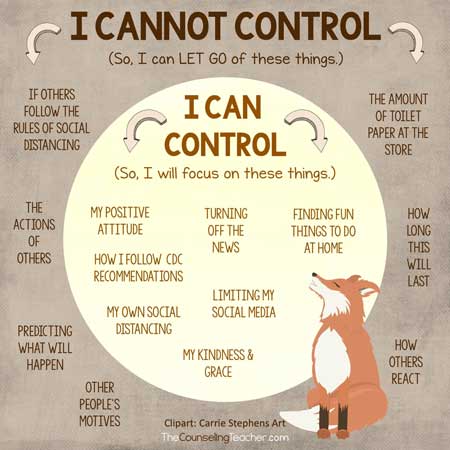 Here are some other tips to get you through pregnancy during Coronavirus:
1. Get outside: Take a walk. Soak in sunshine if you have it. Breathe in fresh air. 
2. Connect: FaceTime, Skype, social media, whatever. We all need support and connection at this time.
3. Movement: Moving your body increases happiness and decreases stress. Check out SarahBeth Yoga on YouTube.
4. Meditation: Always, always remember to breathe. Release stress and create empowerment about birth with this 5-Minute Pregnancy Meditation on YouTube.
5. Start your baby registry. Amazon is still going and many of these items are still available. Start a non-toxic baby registry here.
6. Nesting: Wow with my pregnancies I felt like I never had enough time to get everything ready. Take advantage of this time. Stock up on food and prepare some meals for the freezer. Check out my preparing for baby article here.
7. Make padsicles: Essential for your postpartum recovery. Here's an easy padsicle recipe.
8. Consider a virtual baby shower: Yes this may actually have to happen! If people have to send you gifts through the mail, have a video call to express your thanks and catch up. Then consider a gathering when things are better. Bonus: they'll all be able to meet your baby.
9. Rest rest rest: No explanation needed. 🙂
10. Remember it's not forever: There may be a shutdown and we'll get through this. It will hopefully be a distant memory when your little one arrives.
What's so funny?
While taking a light-hearted approach to a global pandemic sounds obnoxious at first, consider Jerry Seinfeld's point of view (one of my all-time faves).
"Humor is an essential survival quantity… I've been seeing some stuff about these nurses and medical professionals and these horrible units where they're losing people so regularly. And I heard this one nurse say, she said, 'You cry for a while and then you tell jokes.' And that seems like the most human you can be." (Read the entire article here.)
Well said, Mr. Seinfeld. So here's a few from kids during lockdown…
My 5yo said about my 3yo son: "Mama, do we really have to have him here?" (Oh she doesn't know how lucky she is…)
"My 8yo son just LOVES being in his underwear 24/7!! The other day during dinner (in his underwear) he turned to me and said: 'When we go back to normal, what if clothes hurt me and I can never wear them again?'"
— Lauren, IG @makeupartist_lv
A 7yo girl has a kitten who bites and scratches as all kittens do. The little girl responds with: "I am social distancing from my kitty right now."
— Stacey Greene, www.StaceyGreeneCoaching.com
A caring mom, feeling disheartened that she had to break the news to her 6yo daughter that schools would be closed until the end of the year. Her daughter's response: "Oh goodie, the caronavirus vacation is even longer now!"
— Bev Feldman, www.bevgoesgreen.com
And, as our lives are being centered around eating…
"Can we swap mealtimes? Can we have dinnertime first, then lunchtime, and finally morning? I prefer it that way." (6yo)
"What's for breakfast tomorrow? Because I am already hungry." (9yo)
— Snezhina Piskova, Exceltemplate.net
"My 5yo daughter suddenly took the remote control and gave it to me with the following words: 'Daddy, I want to listen to some music, I am tired of all these news for coronavirus.'"
— SimeonK, Globo Outdoors
Need an entire book of humor? Check out Hold On, But Don't Hold Still by Kristina Kuzmic.
Resources
THE BASICS:
CDC Pregnancy and Nursing
WHO Advice for Public
GOOD READS:
How to Flatten the Curve
Coronavirus is Serious, Panic is Optional
HELPING OUT:
Feeding America
SURVIVAL TIPS:
Working from home with Kids: Montessori Style
And, some words I loved: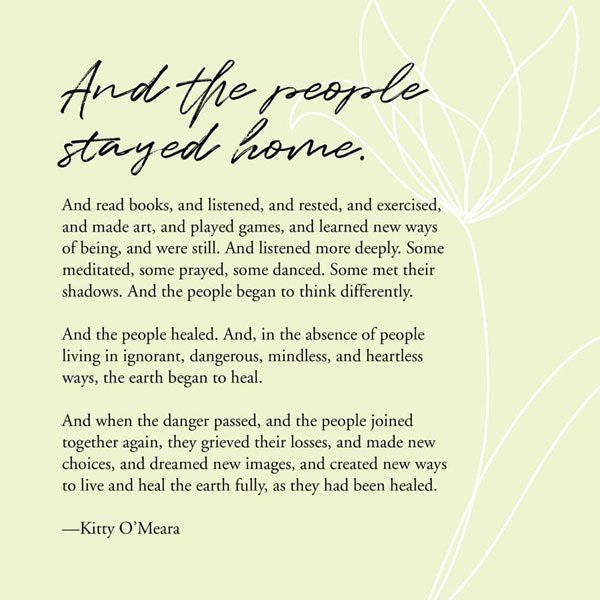 We're all in this together. The irony is, we have to be apart to make it better. But we'll get there. Be well and keep safe.
Share this article: