Keep it simple, natural and under budget.
This post may contain clickable affiliate links. It's free for you and could help keep our site running. For more information, see the disclosure here.
Why go minimal?
---
If you're like us, all the "stuff" that supposedly has to come with a baby causes you tons of stress. We've taken the guesswork out of what you need and what you don't. And it's almost all non-toxic and natural — perfect for you and baby.
Keep in mind you can always buy used. Your baby will never know the difference, we promise. If you have the room, keep the original packaging for easy re-selling or donating for others to enjoy. Spend less time choosing and researching so you can have more time to focus on your little bundle of joy.
Click the buttons below to skip to a category:
---
Although not the prettiest, the IKEA Sniglar crib is the best combination of affordable and non-toxic. It's made of solid beech wood, so it doesn't have the concern of formaldehyde-filled MDF, particle boards or VOC off-gassing.
It's not advertised as a true convertible crib, but you can take off one side and use it as a toddler daybed without any additional purchases.
All of this makes it about the cheapest, most non-toxic crib on the market. And our babies don't know the difference between this and a $500 crib.
Almost-all-organic crib mattress
---
We've found the perfect balance between organic and budget-friendly: the L.A. Baby Organic 2-in-1 crib mattress. It's made with USDA Certified Organic cotton, CertiPUR-US high density soy foam and has an OKEO-TEX® Certified natural bamboo cover. The mattress has two sides: firm side for infants, and a semi-firm side for toddlers.
READ FULL REVIEW
Organic crib mattress cover
---
Even though the natural bamboo top layer on the mattress is easy to clean, the American Baby Company organic waterproof mattress cover is a must for removing and washing.
We suggest buying two, and actually layering them on top of each other. It makes middle-of-the-night-sheet-changing a breeze.
GOTS certified organic cotton crib sheet
---
Organic cotton swaddle blankets
---
Some babies love to be swaddled for sleeping; some don't. Either way, these GOTS certified organic muslin cotton swaddle blankets will be sufficient for swaddling and/or daytime blanket use as they grow.
Swaddling may seem hard and you may be tempted to buy a blanket with velcro or something similar, but they can get pretty pricey.
Just think about how they did it back in the day. And now we've got YouTube, woah. Click for some inspiration.
Baby monitor
---
You'll save a lot on purchasing a camera that's not marketed for the nursery. The Foscam FI8910W Camera should be hard-wired with Ethernet so you won't have to worry about the EMFs. (Read more about EMFs here.)
Once hard-wired, you can use your laptop, phone or Roku as the monitor. Instructions for setting this up can be found here.
Need something simpler? You really don't need to SEE your baby sleeping, but if you have a larger house and can't hear him, we recommend a good old-fashioned analog monitor you can buy here.
Dimmable light
---
For the feeding and diaper changing nights, you'll want an adjustable portable light. It can even be used as a bedtime stories lamp, and later on during toddlerhood trips to the bathroom. It's the OxyLED P01 Portable Globe Light.
Super easy to turn on in the dark, after a little practice of the button location.
No batteries required. It comes with a USB port (and the charge lasts a LONG time).
After multiple babies, we discovered a cool trick with this light: get a warm-colored piece of tissue paper and wrap it around the light. It's LED so it's not a heat or fire hazard. Warmer-colored lights such as red, yellow and orange have proven to be better for the nighttime hours (source).
Sound machine
---
Sound machines with a white noise option are extremely helpful during the newborn and infant stage. You don't need to spend a ton on one that looks like a stuffed animal.
The Big Red Rooster Baby White Noise Machine has 3 lullabies and 3 soothing sounds (including white noise). It's already a great price and here's how it saves you more money: battery option for on-the-go and plug-in for the nursery.
Bassinet (and travel crib)
---
This is a little pricier, but hear us out:
Save money by combining your bassinet, play yard, and travel crib. Since your baby will spend many hours in this (especially at the beginning), we choose to put our money into one that is super non-toxic.
Remember this: your baby may use this as a play area up to age THREE. The Guava Lotus bassinet and crib combo is GreenGuard Gold Certified and free of flame retardants, PVC, lead, phthalates, formaldehyde and heavy metals. It also comes with the crib and bassinet mattress.
The bassinet sits at bed level and you can choose between rocking and stationary.
What's included: a non-toxic travel crib, backpack, crib mattress, bassinet and bassinet mattress, all for under $300. That's a steal.
Organic bassinet sheet
---
The Guava Lotus bassinet is a bit of an odd size, but we've found this Kushies organic bassinet fitted sheet as an inexpensive alternative to their brand and will fit your Lotus bassinet. We suggest having two on hand.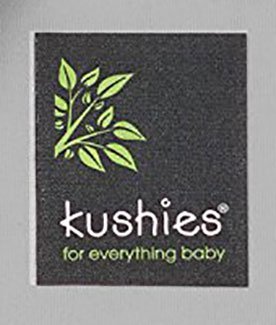 ---
The epitome of saving green and being green is choosing cloth diapers. With the plethora of options out there, we've taken the guesswork out and highly recommend stocking up on the bumGenius Freetimes. These all-in-one diapers are so very easy to use, quick drying, and the one-size feature (7-35+ lbs) will last you through almost the entire diaper stage. We recommend having 18 diapers and doing a load of laundry every other day. Tip: choose snaps over velcro. They will last longer and your toddler will be less intrigued to take them off.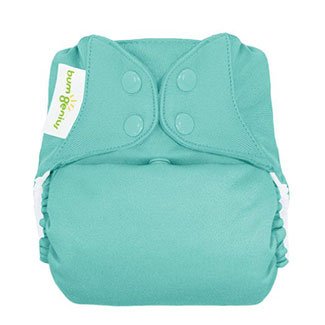 Cloth diaper detergent
---
We've tested many detergents and our favorite, most effective made-in-U.S.A. solution without harsh ingredients is the Rockin' Green unscented laundry detergent. It's free of enzymes, phosphates, optical brighteners, SLS, and parabens yet remains a powerful solution for your cloth-diaper washing.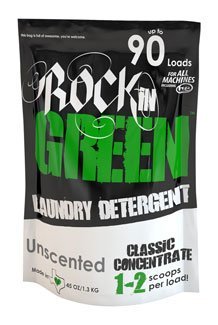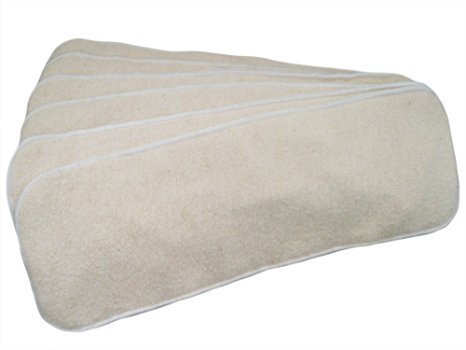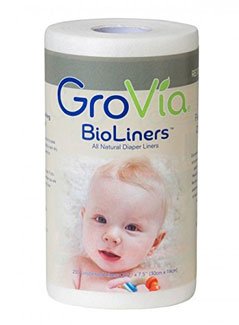 Natural baby wipes
---
Even if you're committed to using washable, reusable wipes, disposable wipes are great to have for daycare use or travel. WaterWipes are chemical free and made of only water and a drop or grapefruit seed extract. Tip: Because these wipes are preservative-free, use within 30 days of opening and do not store at high temperatures.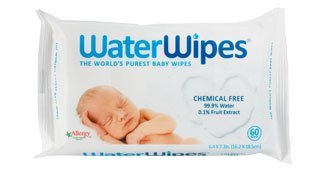 Diaper cream
---
Although diaper rashes are a lot less common with cloth diapers, they do happen occasionally. Clear them up quickly with Boudreaux's all natural butt paste. This cream is cloth-diaper friendly, but to avoid staining, use an insert between the diaper and cream.

Coconut oil
---
Keep this near your diaper changing area and every so often apply a thin layer to your baby's diaper area. It's anti-fungal, anti-viral, antibacterial and cloth-diaper friendly. Nutiva organic unrefined coconut oil is a fair-trade option we love. Tip: apply to very dry skin so it doesn't trap any moisture in, which can cause rashes.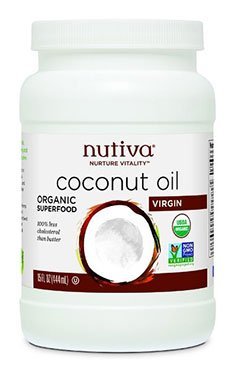 Diaper sprayer
---
Life in the cloth diaper lane is a whole lot easier with one of these. It's not as bad as it seems. Just keep in mind you're saving some serious money and helping out the planet. The Bumworks diaper sprayer kit comes with everything you need to hook up to your toilet.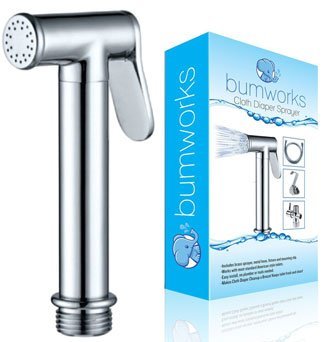 Cloth diaper wet bag
---
You'll need a few of these: for the bedroom, the bathroom, travel, and if needed, daycare. Just throw them in the wash with your diapers and you won't need to deal with scrubbing out diaper pails. The Thirsties wet diaper bag is an affordable, made-in-U.S.A. option that comes with a snappable hook — ideal for hanging on the doorknob (choose the large size). Three is a good number, and you'll find plenty of uses for them once the cloth diaper stage has ended.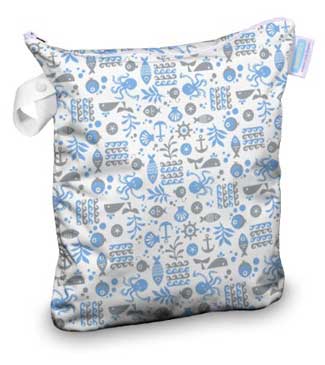 Non-toxic changing pad
---
Save money by passing on the changing table and instead using a simple changing pad on your dresser. The made-in-U.S.A. Colgate changing pad is by far the best value for a GREENGUARD Gold certified and CertiPUR-US certified safe foam pad.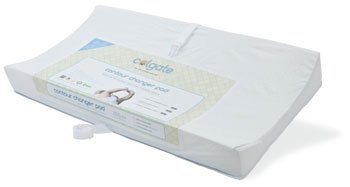 Organic changing pad cover
---
Although the changing pad is waterproof, it's nice to have a cover to easily remove and wash. We choose this affordable organic changing pad cover.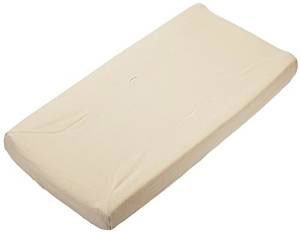 Organic changing pad liners
---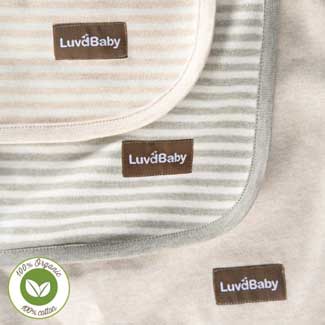 Newborn diapers
---
Newborn cloth diapers aren't used for very long and therefore aren't a great investment, in our opinion. Especially for new parents, it's easiest to start out with disposables until your baby is ready for the bundle of cloth diapers previously mentioned (typically around 8 lbs.). We choose the Bamboo Nature newborn diapers for the perfect balance of eco-friendly and affordability (and they win with absorbency as well).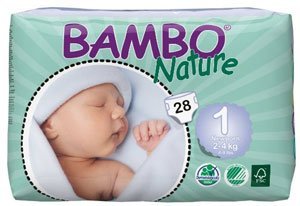 Cloth diaper inserts
---
We actually use the OsoCozy unbleached prefolds (size large) for everything but inserts: underneath your baby while changing, burp cloths and travel. Click here to see more uses for these fantastic absorbent cloths.
Non-toxic baby bathtub
---
There isn't a need for an infant-specific tub when you can have this non-toxic convertible one that will last through toddlerhood. The Primo Euro-Bath baby tub is an affordable, made-in-U.S.A. option that's free of BPAs, PVCs, phthalates and lead.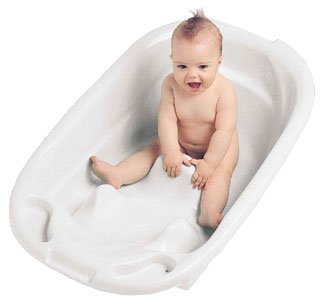 GOTS 100% organic hooded baby/toddler towel
---
Save money by passing on the small thin infant towels that don't absorb and don't last. This premium GOTS certified 100% Organic Turkish cotton hooded towel by The Good Baby is super soft, eco-friendly and large enough (52″ x 29″) to last at least a few years or more.
Organic washcloths
---
Although marketed as wipes, we love to keep the Charlie Banana organic cotton cloths within arm's reach to clean our baby's soft skin. We also love that it comes in a 10-pack and a percentage of the sale is donated to Operation Smile.
Baby bath sponge
---
The made-in-U.S.A. Baby Buddy natural bath sponge is our favorite soft sponge because it lasts a long time and is all natural, recyclable and renewable.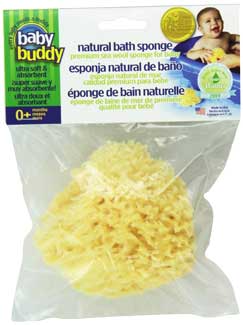 Baby soap and shampoo
---
Babies are pretty clean and don't need much soap. In fact, too much soap will strip your baby's natural oils and will dry out the skin. The all-natural Earth Mama Angel Baby body wash & shampoo is our favorite and will last quite awhile.
Click here to learn why we choose this soap over any other.
Convertible car seat
---
You can save on money and waste by skipping the infant seat and going straight to a convertible. Better yet, the Diono Rainier convertible car seat goes from 5 lb. to 120 lb., has a steel frame and is safe to use for 12 years. It also has a fantastic maximum rear-facing weight of 50 lbs. (rear-facing is 5x safer, so the longer your baby can sit rear-facing, the better). The price fluctuates often but if you're willing to sacrifice color preference, you should be able to get this seat for under $300. Unfortunately, all car seats sold in the U.S. are required to contain flame retardants. We choose Diono because they use a non-brominated flame retardant treatment and they do not treat the seat, plastic, steel and harness straps. Their independent testing has consistently rated very well in terms of low toxicity and out-gassing. Their seats do not contain traceable amounts of BPA, phthalates, chlorine or lead. They're also free of formaldehyde, PVC, heavy metals, triclosan, microban, nonylphenol ethoxolates and they use unbleached, AZO-free dyes.
Car seat angle adjuster
---
Once your baby can sit up, you'll want to install the Diono seat angle adjuster. It adjusts the rear-facing seat to angle up a little, allowing you a bit more room leg room in the driver or front passenger seat.
Baby stroller
---
Although this stroller is a little pricier, it will last throughout your baby years and has excellent resale value. Our favorite features: it easily reclines for an infant, has all-terrain wheels, has a large sun canopy, and is light-weight and easy-fold. The Baby Jogger City Mini GT stroller is free of flame retardants, PVC, BPA, latex, Teflon, phthalates, AZO dyes and Scotchguard.
Organic infant head support
---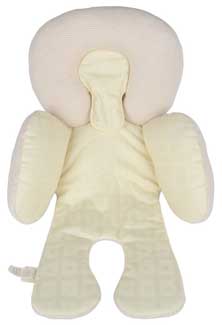 Baby carrier
---
Purchase just one carrier to fit all of your needs. The Boba 4G baby carrier has a front- and back-carry option, is made for 7-45 lbs., and includes an infant insert, sleeping hood and foot straps. It's a little pricier, but it's the only carrier you will need and we love the gender-neutral color options. This carrier is made with 100% cotton and free from any potential harmful materials or dyes (organic cotton option is also available for a little bit more).
Diaper bag
---
We don't think the organic diaper bag options are worth the cost, but you'll want to pay a little to go with a trusted brand that's known for its durability, since you'll be using this bag a lot. The Okiedog shuttle diaper bag is perfect for daily use and has extras for longer travel. It includes a changing pad, stroller clips, accessory pouch and an insulated bottle bag. It has fantastic organizer pockets (including a "parent zone"), and is available in patterns that mom or dad will be happy to carry aroud. We love that it's made in Germany, which typically means stricter guidelines to use of materials. We've verified that it's free of BPA, PVC, lead and phthalates. Click here to see the detailed video by Okiedog.
Travel wipes case
---
You'll want an easy-open wipe container when you're out and about. The Skip Hop Grab and Go wipes case is a great solution and comes with a convenient silicone strap. The case holds up to 25 wipes and is free of PVC and phthalates.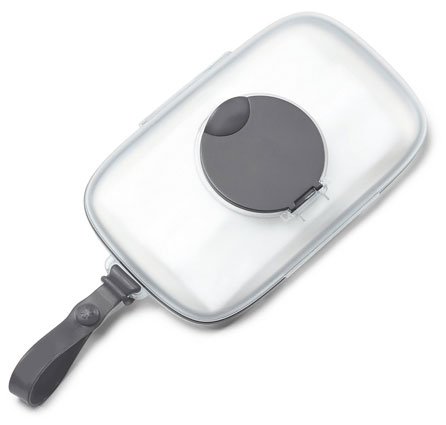 Portable rocker
---
The Fisher-Price Newborn-to-Toddler Portable Rocker is an affordable solution that will last from infancy up to 40 lbs. It's super easy to move through the house if your little one falls asleep and you want to keep an eye on them, and still get some chores done. The rocker is free of flame retardants, phthalates, latex, lead and BPA.
Travel place mat
---
A good place mat can be very helpful when your baby is ready to sit up and eat, but not quite ready to keep a plate or bowl on the table. The Skip Hop fold and go place mat has a built-in loop closure that makes it easy and convenient to fold up and stick into your diaper bag. As your baby grows, the mat can still be used as a fun dining experience for them. Easy-wipe silicone gets most of the mess off, then can be thoroughly washed when you get home. It's made of non-slip, food-grade silicone and free of BPA, PVC, lead, latex, and phthalates. Click here to see our favorite folding method.
Rectal thermometer
---
While not the most fun, the rectal thermometer has been clinically proven to be the most accurate for infants up to three months. We like the trusted, affordable Safety 1st gentle read thermometer which reads in 8 seconds and is designed with an over-insertion guard.
Baby nail file
---
Skip the nail clipper (and the accidental finger clip) by choosing a nail file. The Baby Blue Giraffe nail file is made from genuine Czech glass and is able to quickly and gently file your infant's nails safely and effectively.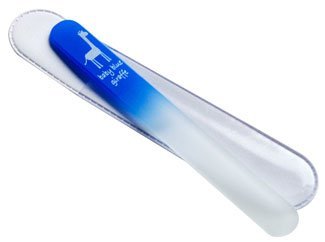 Teething rings
---
Skip the toxic soft plastic and stick these in your freezer instead. The Lifefactory teething rings are made in U.S.A. of medical grade silicone and are free of phthalates, PVC, BPA and latex.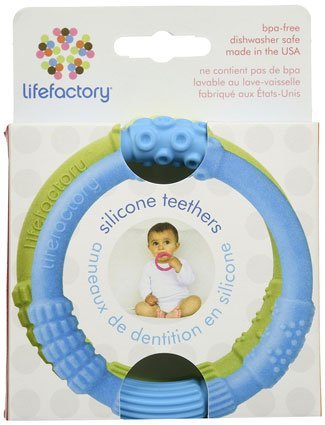 Fever reducer
---
A fever is a natural healthy response to infection or illness, so if it is not too high, it's best to wait it out and comfort your baby without medication. In rare extreme cases, dye-free infant Motrin ibuprofen can be used over 6 months of age. Always check with your pediatrician first.
Saline spray
---
Snots happen when you're a baby, so choose a gentle, natural solution. The made-in-U.S.A. Boogie Mist saline spray is non-medicated, hypoallergenic and free of preservatives.
Gripe water
---
Gas happens too, so try a natural solution. Pediatrician-recommended Mommy's Bliss gripe water is a safe, gentle liquid formula containing organic ginger and fennel extracts to relieve stomach discomfort and bloating. It's free of gluten, dairy, soy, artificial flavors, dyes, alcohol and parabens.
What's the best baby registry to use?
---